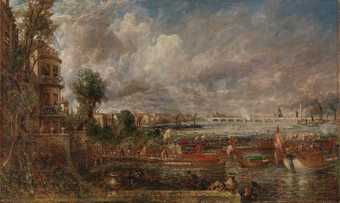 It took almost my entire sojourn, the years living and travelling from coast to coast in the USA, to finally settle within the British tradition of all-over landscape painting, especially that of Constable. Turner still feeds me, as does Gainsborough. Writing today, on the anniversary of the Battle of Waterloo, it might be no accident that my chosen picture is Constable's The Opening of Waterloo Bridge ('Whitehall Stairs, June 18th 1817').
It's the canvas surface painted all over, thick and thin paint distributed up from under, floating, brushing pats of colour stacked up on the surface painted wet into wet, nimbly describing the surface, tight as a drum. Its geometry drawn in arresting symmetry, its whole ineluctable pieceness.
After New York in the 1960s and early 1970s, my entire American experience of living and working within the aura of the first generation of Abstract Expressionists, making it new under the presence and pressure of Newman, Rothko and Still, especially Clyfford Still, the Tate display of Constable has put a different complexion on making it new, no longer on the way but there. Making renewed visits just like once upon a time from student days in the 1950s in the company of one Keith Critchlow.