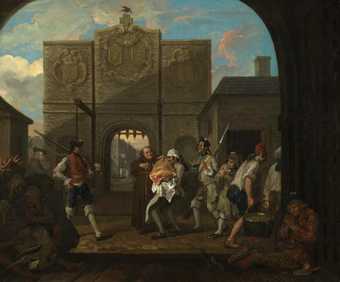 The first time I saw this painting - on my computer I'm afraid - it appealed to me because it looked like a popular street scene. I like working in the street, on temporary dwellings in shanty towns, capturing the everyday life of people.
Then I read texts about it and found out it was a political work. Even though I do not agree with Hogarth's insular attitude towards France and Europe (which is still an actual issue today), the painting fully accomplishes its objective: to show an historical point of view of the situation between England and France in 1748.
There is real story telling here, the star being the piece of beef in the midst of hungry French soldiers. A fat French monk (he is fat because he eats well, which means he isn't trustworthy) touches the meat with envy. Even the ray fish, with almost a human face, looks at the roast. Hiding himself in a corner, a Scottish Jacobite prays and does not dare to look at it. Hogarth himself is in the painting. Like a photographer or film-maker, he is capturing the scene.
What is fascinating is the engraving that Hogarth executed a year after he finished the painting. He was the first English artist to exploit the art of engraving in order to market his work. The original painting remained in Hogarth's possession before going into a private collection, whereas the engraving could reach a larger popular public. It was published in books, and printed multiples were sold for a few shillings. I feel rather close to this démarche, because I use photography and video in my own work, with the hope of reaching a wider audience.