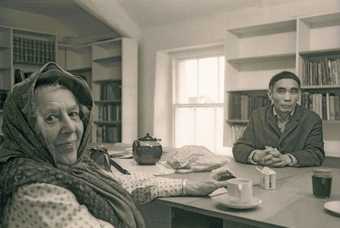 The elderly lady in a headscarf turns her kindly gaze to the camera, as a younger Chinese man looks on. This fascinating photograph documented the little-known friendship between two artists across generations and continents – Winifred Nicholson and Li Yuan-chia. On the face of it, an unlikely pairing: she born in the late 19th century and a painter of landscapes, and he a radical experimenter in painting, sculpture, installation, photography and poetry.
Li Yuan-chia (1929–1994) had moved to rural England in 1972 and bought a converted farmhouse near Hadrian's Wall from Nicholson, which he then transformed into a gallery, the LYC Museum, where over 10 years he would exhibit more than 300 artists, as well as show his own works. His best-known pieces are perhaps his large metallic circles, on to which he strategically placed magnetic objects. Winifred knew and admired these works. In a letter to Ben Nicholson she wrote: 'When Li places them they have meaning, when other people move them they have none.'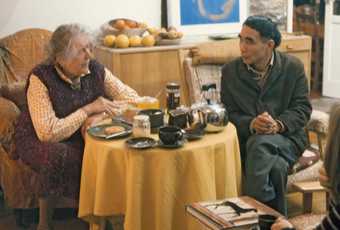 Li was born into a peasant family in rural Guangxi Province and moved to Taiwan after the communists came to power. Here he studied art and co-founded the Ton Fan Group in 1956; the works were some of the first abstracts in modern China. In the 1960s he went to Italy, where he established the Il Punto Group with Antonio Calderara and Japanese sculptor Kengiro Azuma, and later moved to Britain. He became friends with artists such as David Medalla and was soon exhibiting at both Signals and the Lisson Gallery.
Nicholson apparently was very fond of Li, but also enjoyed his quiet yet determined opinions. In her letter to Ben she wrote:
But I adore criticism. I am very grateful for it – I get all too little up here. The only person who gives me any is… Li.