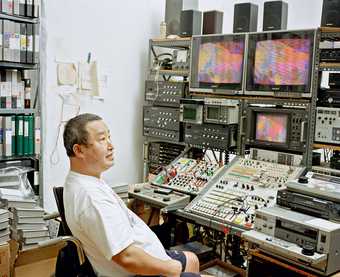 Described variously as 'joyful' and 'subversive', Nam June Paik (1932–2006), the pioneer of video and media art, fled his homeland of South Korea as a teenager during the Korean War and studied aesthetics, philosophy and art history in Japan. Following time spent in Germany, where he met experimental composer and music theorist John Cage and began working with the Fluxus group, he moved to New York in 1964.
It was through avant-garde music that Paik became interested in using technological objects, particularly TV sets, in his art, with his first solo exhibition – 1963's Exposition of Music – Electronic Television – debuting his television sculptures. Some of his best-known works incorporate old cathode ray tube TV sets, including the recent Tate acquisition Nixon 1965–2002, which consists of two monitors, placed side-by-side, both displaying the same close-framed image of former US president Richard Nixon giving a speech. The picture is periodically distorted by an electromagnetically charged copper coil attached to the front of each screen.
It wasn't simply the content being transmitted that intrigued Paik, but also the imposing physicality of television sets, their dominant domestic presence and their ability to captivate and pacify an audience.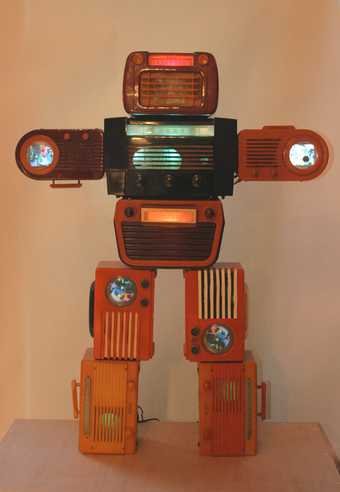 Such sentiments are taken to their extreme in Bakelite Robot 2002, also recently acquired by Tate, where a cluster of outdated Bakelite radios with inlaid TV monitors, set at different angles, gives technology its own human form. The work offers a whimsical take on Paik's much-deliberated self-set problem of 'how to humanise technology', making a wry comment on television's dominance in our lives