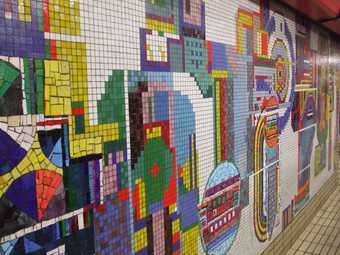 When I moved to London for two years in 2005, the year of Eduardo Paolozzi's death, it was his mosaics at Tottenham Court Road tube station (completed 1984) that provided one of my first visual impressions of the city. Their chaotic iconography of cameras, butterflies and saxophones found referents in the streets above, where I surfaced, blinded by autumn sunlight, under the golden statue of Freddie Mercury at the Dominion Theatre, five minutes' walk from my classes at Bedford Square. A decade later I live in Edinburgh, where Paolozzi was born – the portion of his mosaics that couldn't be accommodated by the Crossrail upgrade are now housed here.
For me, Paolozzi's mosaics provided the gateway to his extraordinary collages and screenprints, a selection of which I viewed at Tate's Prints and Drawings Rooms, alongside some ephemera – a driving licence, a plane ticket from 1973, a smallpox vaccination certificate – in the Tate Archive, including a beguiling prose-poem titled Wild Track for Ludwig (1965), apparently written under the influence of French poet Raymond Roussel. As with much of Paolozzi's collage and silkscreen work, the origins of his text are tantalisingly elusive – instead the collaging process itself feels foregrounded, as an intuitive way of finding 'fictional correlatives for his beliefs'.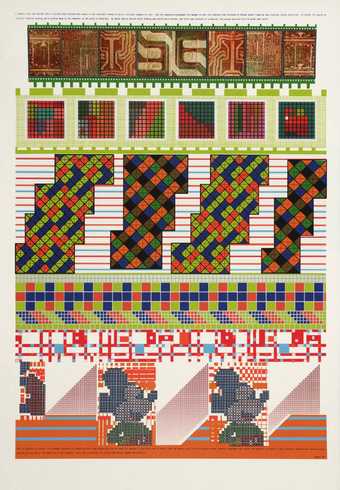 This linguistic phase of Paolozzi's practice was less familiar to me, but it turns out a substantial proportion of his prints from the 1960s are composed entirely of text borrowed from eclectic, readily-available sources – newspapers, technical manuals, genre fiction – flattened and compounded on vari-coloured backgrounds in columns, crosses, bands and blocks, heightening their opaque materiality. The near-illegibility of these works proposes a transformation of text back into image, a process which perhaps culminates in his mosaic's 'alphabet' of icons. In the technical complexity of his later prints, too, the compositions of newsprint remain, as if printed language has been shrunk down to pop-art graphemes that build up the busy layers – a pointillist Mickey Mouse, militaristic maps that resemble contemporary video games, horizons signalling the end of a transmission.
After a while, Paolozzi's aggressive combinations of industrial and commercial forms begin to look like a preoccupation with revealing the technologies that operate behind the surfaces of everyday life – the abstract machinery of From Early Italian Poets 1974–6, for example, actually shows cathode ray tubes inside a television set. The structures I found so arresting on the platforms of the Central Line might, then, be best read as depicting the linguistic machinery of the city – I always liked the way they make you feel like a material being processed in the station's narrow tunnels, a particle of fuel propelled though accelerated systems of exchange.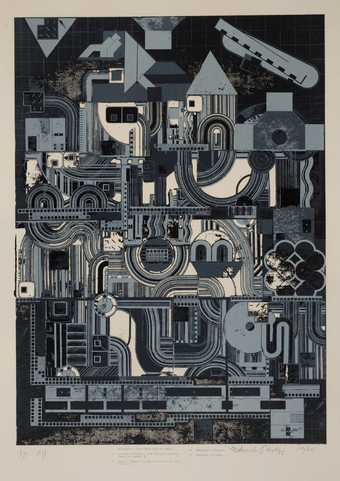 The two double-faced mosaic arches that stood above the escalators at the entrance (dismantled during the Crossrail renovations – shockingly, only 45% were preserved and transported to Edinburgh, the rest of the arches are presumed destroyed) were remarked on by Paolozzi as giving travellers 'an introduction to what lies beyond' – meaning the mosaics in the station's interior, or the city above ground. Yet their serried vertical lines seem, more than anything, to invoke the plumbing and cabling behind the walls.
Characteristically, Paolozzi's invitation to consider what 'lies beyond' seems to conceal the suggestion that his surfaces can be read as replications of the structures they were intended to disguise. That message feels especially timely in this part of London in 2016, where 'what lies beyond' is less and less the world of saxophones and butterflies, lively subterranean pubs, or the demolished Astoria with its actual punks, and more and more dreary 21st century homogeneity, expanding emptily from the vanishing point of the strange, colourful locality that Paolozzi referenced – as he put it, 'restoring the right of the individual to recognise their place in the city'.