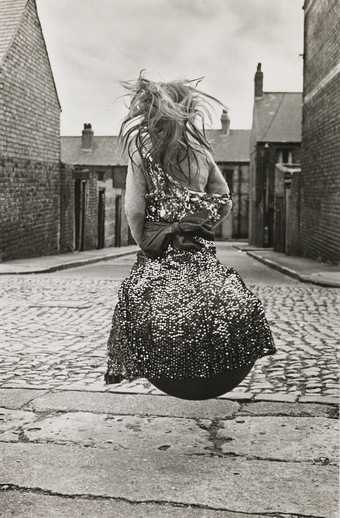 The photograph I took in 1971, Girl on a Spacehopper (Byker), seems to have become one of my signature pictures. I have been asked many times who she was, but the truth is, I never knew.
In the years since, a few people have come forward believing to be or to know her, but showing them another, slightly blurred view of the girl's face has always brought disappointment. She bounced past my camera that day to disappear down the cobbled lane with her dreams, her exuberant journeying and maverick splendour personifying the vibrant working-class community in Newcastle upon Tyne's Byker district, where I lived.
Forty years later, in an unannounced call to the Side Gallery here in Newcastle, I finally had the 'Spacehopper' (as I still call her) on the phone. She told me she was six years old when I took the photograph and was always dressing up in her mother's spangly clothes – a wild child! Soon after, her family had moved out of Byker, and she couldn't believe her eyes when her brother showed her the picture on the Amber film and photography collective website. She told me she sat transfixed in front of the screen for two hours, her childhood memories flooding back, both good and bad: 'I want you to know I am happy,' she said, 'my life has turned out well.' I sent her a handsome print of the Spacehopper and she told me she loved it and was proud to know that it was her. But I still didn't get to meet her…
Then, just three weeks ago, I was at the Amber workshop digitising my archive for a new book. My computer program froze on the image of the Spacehopper and I decided to sit down for a sandwich. The door opened. The girl on the Spacehopper entered, beaming.
She had her mother, sister and nephew with her. We were giddy with surprise and excitement at our meeting, and she says she didn't stop smiling for a whole week afterwards. This was the first time we had actually met since 1971, when she was just six years old and I was 23.