I like galleries. I've spent much of my life on the road and have always regarded them as places where I can slow down and think and be quietly inspired. I've never really minded if the art was considered good or bad. In fact, some of my favourite galleries have been quite provincial with provincial art on display – landscapes and portraits from the third division of the art world. I move freely in these spaces, observing the people observing the art. I love this relationship between the art objects and the people watching them. I marvel at how well behaved and reverential the people are. How quietly everyone speaks and how slowly they move, everything having a dream-like quality. Everyone walking through a collective unconscious that gives a sense of intimacy that is unique, different from being in a theatre or a cinema because one can still be an individual in motion, not a collective. I look at the art as well as the people, but for the most part I don't get so involved. The frames and the formality of it all create a distance that is useful for my own thought patterns.
Tate Britain in January was cool and neutral. But in some of the rooms I was aware of a contradiction in temperature. Warm air was gushing out of floor vents, while cooler air was being dispensed from portable machines in the same space. It reminded me of those department stores where you have to pass through very hot air to get in or out and I always take a deep breath. I mention this because the temperature of a gallery is a key factor – it has to be cool.
I enter Tate Britain with a brief: I'm looking for a single work that can inspire me to write an article for this magazine, so for once I am trying to focus not on the people, but on the objects. It's difficult. I become fascinated by one of the security guards; by the angle of his body and the way he is sitting and the fact that his shoes are very large. I do a quick sketch of him and then realise that he knows I'm sketching him, so I pretend to be sketching a painting.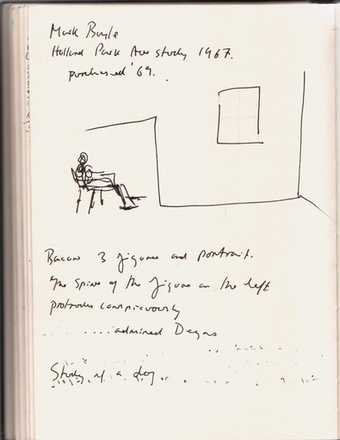 Then I see a work by Mark Boyle entitled Holland Park Ave Study (1967, purchased 1969), and I remember seeing either this piece or something similar at an exhibition at the old Arts Lab in Drury Lane in the late 1960s. And I realise how the image has stayed with me all these years. I have even done a series of photographs of pavements that clearly derived from this picture. But for the most part I proceed coolly through the spaces, keeping a nice distance. And then I enter the Francis Bacon room and everything changes. I stay in the room for a while. In fact, I have no desire to leave at all, but I decide to go somewhere else so I can come back again. I want to see what effect there will be entering a second time. I visit the Turners, but become impatient and begin walking faster. I get to the Bacon room and wait for a moment before going in. It is good to be back with them. I feel a connection that for me is unique. It is impossible to keep the images at a safe distance. I also feel very happy looking at them. There is much talk of the violence in Bacon's work, but for myself I see incredible beauty and a unique understanding of movement. They seem so modern; so much so that it is hard to imagine what could be more modern than Francis Bacon. What could be more modern than Beethoven's late quartets, or Eric Dolphy's 1964 album Out to Lunch? I particularly like Study of a Dog 1952 and I return several times to this. I am reminded of a film I saw as a teenager, Herostratus, by Don Levy. As far as I can find out Levy was an Australian who died some years ago and made two films. In Herostratus, as I recall, there are some Bacon-inspired images, some distortions of faces. I resolve to track down the film and check this out. Maybe Tate should screen it (maybe it already did).
Finally, I leave the room and go directly to the book-store to buy some 'research material'. I spend £200 on Bacon books and exit the gallery.