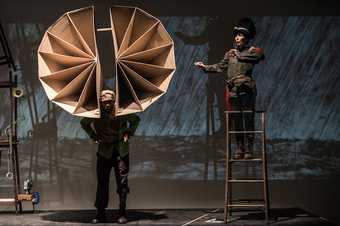 The visual geography of the First World War, such that can be intuited from the ravaged landscapes described by artists Otto Dix, Wyndham Lewis and Paul Nash, is unavoidably Gallic. Yet the first cracks of gunfire signalling the start of this horrific conflict sounded in Africa, not in France. A month after the so-called July Crisis – precipitated by the 1914 assassination of Archduke Franz Ferdinand – British colonial troops were fired upon by a German-led police force in Togo (then a German colony). The grim toll exacted by the ensuing war, both in Europe and Africa, is the fulcrum for The Head and the Load, a new theatrical spectacle directed by William Kentridge that will premiere on a 70-metre-long stage inside Tate Modern's Turbine Hall.
Loosely organised into nine movements, this ambitious production combines music, dance, spoken word, film projections, mechanised sculptures and shadow play. The project is the outcome of intensive collaborations between Kentridge and various collaborators, notably composer Philip Miller, musical director Thuthuka Sibisi and choreographer Gregory Maqoma. All have worked with Kentridge before, bringing a level of familiarity to an unwieldy creative process. 'William has this thing that once everyone walks into the studio you leave your public persona outside', says Sibisi, a former choirboy who recently graduated with a master's degree from the University of London. 'It becomes a room that is inspired.'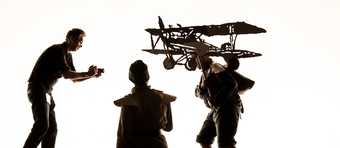 Both Kentridge and Miller describe The Head and the Load as 'an interrupted musical procession'. The interruptions are diverse in form, and sustained. Miller, who first collaborated with Kentridge on the score for his stop-animation film, Felix in Exile 1994, says the new production is different to the animated procession he and Sibisi oversaw for the unveiling of Kentridge's 500-meter frieze, Triumphs and Laments, on the bank of Rome's River Tiber in 2016. 'It is much more a theatrical-music piece. It is a series of tableaus, moments where you engage with different happenings along this extended stage.'
The central theme is the First World War and Africa's neglected contribution to it. Where Kentridge looked to the archives of London's Imperial War Museums for inspiration, Miller found his in sound recordings of African prisoners of war made between 1916 and 1918 at the Half Moon Camp near Berlin, now part of the Laut Archive at Humboldt University, Berlin.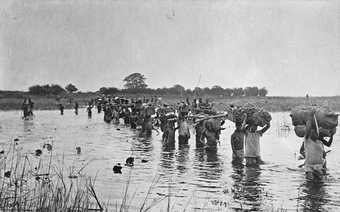 The new production reflects a deep engagement with troubling historical facts. The fourth movement, for instance, includes a tabulation of the extraordinary contribution of manpower made by Africans: 'From Nyasaland, 265,000 carriers / From Uganda, 190,000 carriers / From the Congo, 200,000 carriers / From Nigeria, 4,000 carriers each month / For every soldier, three carriers: for food, for ammunition, for boots / For every officer, nine carriers / For every machine gun, 12 carriers / For every cannon, 300 carriers.'
Co-commissioned by 14–18 NOW, a British arts programme marking the centenary of the First World War, New York's Park Avenue Armory, and Ruhrtriennale, an annual music and arts festival in northwest Germany with additional support from Holland Festival, Kentridge's decision to focus on the African contribution to the war is timely beyond the centenary of the end of hostilities. 'The First World War highlights all of the contradictions and questions of colonialism in a very heated way', says Kentridge, a multi-talented artist and director whose stage credits include two productions of Austrian composer Alban Berg's work – Lulu for the Metropolitan Opera, New York, in 2015, and Wozzeck at the 2017 Salzburg Festival. The contradictions Kentridge alludes to are summarised by the ambivalent attitude towards black soldiers at the time.
South African military leader Jan Smuts, who oversaw the conquest of German East Africa, viewed the training of black soldiers from Nyasaland (present-day Malawi) as posing 'a danger to civilisation'. And yet colonial-era armies such as the King's African Rifles, Senegalese Tirailleurs and Germanaligned Schutztruppe all made pivotal contributions to the war. In the main, though, black men were recruited as muscle to do menial labour. All counted, some two million Africans served in the war, of whom 200,000 died of disease or were killed in action.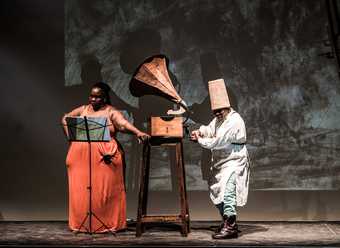 Africans were cognisant of their input. 'We understand that we have been invited to shed our innocent blood in this world's war', wrote John Chilembwe, an Americaneducated Baptist minister and anti-colonialist, in a 1914 letter to the Nyasaland Times that was suppressed by wartime censors. Chilembwe further speculated on the chances of 'any good prospects for the natives' after the hostilities. Actor Mncedisi Shabangu quotes from this letter in the production. Other texts cited include Sechuana (Tswana) proverbs collected by South African author and political leader Sol Plaatje and British war poet Wilfred Owen's 'Anthem for Doomed Youth' 1917, a bleak verse about the 'monstrous anger of the guns'.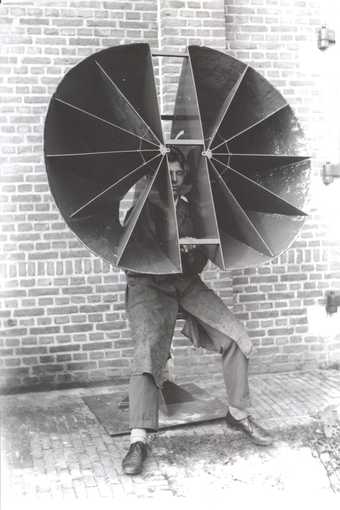 The Head and the Load commences with a recitation of various manifestos – in English, French, Italian, Swati and Zulu. The cacophonous medley of voices is a defining feature of the production, which at root explores what Kentridge describes as 'incomprehension: of Africa by Europe, of Europe by Africa'. Fittingly, the performance quotes from Berlin Dadaist Kurt Schwitters's celebrated sound poem, 'Ursonate' (1922–32). 'Fümms bö wö tää zää', it begins. The invocation of Schwitters, and Paul Hindemith's atonal piano compositions, add depth and range to the production. The Head and The Load is not singularly a performed lesson about a long-ago war, but rather something far more ambitious: a musically ranging, visually layered and textually rich enquiry into European high modernism and African aspiration at the time of the Great War.
The Head and the Load, co-commissioned by 14-18 NOW: WW1 Centenary Commissions, Park Avenue Armory, and Ruhrtriennale, with additional support from Holland Festival, produced by THE OFFICE performing arts + film in association with Quaternaire, The Turbine Hall, Tate Modern, 11–15 July. The Head and the Load acknowledges the kind assistance of Marian Goodman Gallery, Goodman Gallery and Lia Rumma Gallery in this project.
Sean O'Toole is an art critic and editor based in Cape Town, South Africa.