Everyone has a weather story. Snow Storm is Turner's, vividly capturing the wonder and awe – and the sense of danger – that fill us when we recognise the power of nature. And that power is exactly why climate change is so troubling.
When we think of what's affected by a changing climate, we might first imagine polar bears in the remote Arctic – and we would not be wrong. Yet for the seven-and-a-half billion humans on this planet, the most serious impact is not the effect on ice sheets or polar bears: it is how a changing climate is supercharging many of our extreme weather events, making them even more dangerous to humans.
Thanks to climate change, heatwaves are already stronger and more intense, and they can be devastating, as we witnessed with the 2003 European heatwave that led to more than 70,000 premature deaths. Heavy precipitation is also becoming stronger and more frequent: both rain and, where it's cold enough, snow too. Similarly, fed by warmer ocean water, coastal storms and hurricanes are strengthening and intensifying more quickly, and their effects are worsened by rising sea levels.
Turner's Snow Storm embodies the greatest threat to humans from a changing climate: how nature's already seemingly unlimited power is growing, due to our own actions. By continuing to burn fossil fuels, we are putting ourselves at risk. It's not about saving the planet: it will survive. It's all of us who call this planet home who will pay the price.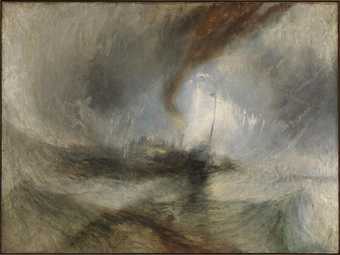 Snow Storm - Steam-Boat off a Harbour's Mouth was accepted by the nation as part of the Turner Bequest in 1856.
Katharine Hayhoe is an atmospheric scientist and professor of political science at Texas Tech University, where she is Director of the Climate Science Center.