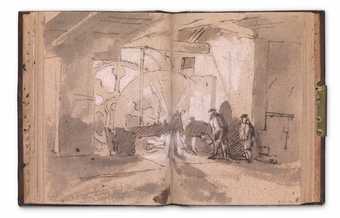 Looking at J.M.W. Turner's sketchbooks is an intimate experience, almost like reading someone's diary. It's as close as you can get to a private encounter with his art. The books themselves are extremely delicate, and, as some of them are unbound, they have to be handled with care. They vary considerably in size: some are thick and have hundreds of pages, while others are surprisingly tiny.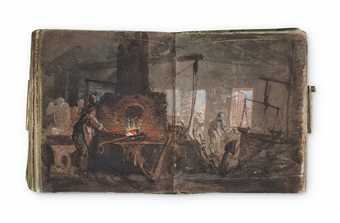 One of the smallest sketchbooks is the Wilson 1797, which is less than 20cm wide. In there you find all the elements of Turner's early art jostling for position. There are figure studies, life drawings, genre studies, sketches of cows and an industrial interior. While the Wilson sketchbook contains many detailed watercolour and gouache studies, other sketchbooks are filled with more cursory drawings with faint, graphite outlines. I don't know for certain, but I think it's possible that Turner may have often carried more than one sketchbook, choosing one for his preliminary graphite drawings and another for more finished watercolour studies.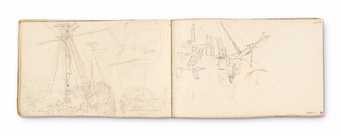 Throughout the 280 bound sketchbooks in Tate's collection, you can see Turner using them in this way to assemble ideas. In 1806, Turner visited Sheerness, Kent, where the HMS Victory was docked, having returned from the Battle of Trafalgar. Turner went aboard the Victory and made studies of the ship; he also interviewed sailors and documented their uniforms. In the sketchbook are technical drawings of the Victory from all angles, which suggests that Turner was walking around, making sketches of the ship in its entirety. It was almost in the manner of a photojournalist, going on site and shooting rolls and rolls of film to make sure that every detail that might be useful later on has been captured.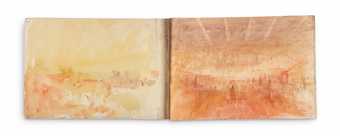 Turner was an itinerant artist, and every summer he would go on a sketching tour, taking several sketchbooks with him and recording scenes that interested him. These were his fact-finding missions. In 1817, just two years after the Battle of Waterloo, he made a tour of the battlefield site, already a tourist attraction. There, he jotted down everything he saw in preparation for his large painting The Field of Waterloo, exhibited in 1818. In this work Turner tried to reconcile the inevitable invention that he had to employ as someone portraying an event he didn't witness, while also striving for accuracy. He did as much as he could to ensure his depiction was based on empirical and verifiable evidence. The emotional weight of the picture owed much to other sources – Byron's poetry and the accounts of battlefield guides, for instance – but Turner's sketches provided the foundations for the painting's geography.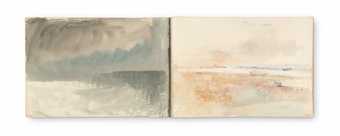 Turner's Modern World, Tate Britain, until 7 March. Supported by the Manton Foundation. With additional support from the Turner's Modern World Exhibition Supporters Circle, Tate Americas Foundation, Tate International Council, Tate Patrons and Tate Members. Organised by Tate Britain in association with the Kimbell Art Museum and the Museum of Fine Arts, Boston.
James Finch is Assistant Curator, 19th Century British Art at Tate Britain and a co-curator of Turner's Modern World. He talked to Figgy Guyver.