Editor's Note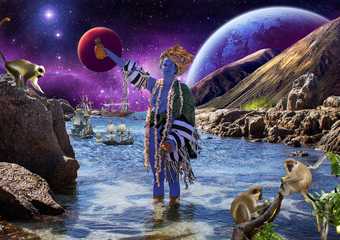 Welcome to our autumn issue. Our cover shows an artwork from the series Celestial Meditations by the Glasgow-based, Barbadian-born artist Alberta Whittle. Whittle's collaged image shows the artist standing ankle-deep in a rocky inlet, her hair intertwined with a snake and her neck hung with a garland of shells, while in one hand she holds aloft a pineapple. Behind her is a panorama of a coastal shore, a squadron of old sailing ships on the water, backlit by a planet gleaming in a sparkling celestial expanse.
Whittle's richly complex image evokes some of the personal and political histories that will feature in Tate Britain's much-anticipated exhibition Life Between Islands: Caribbean-British Art 50s – Now. Featuring over 40 artists across seven decades and including Aubrey Williams, Horace Ové, Sonia Boyce, Claudette Johnson, Isaac Julien, Hurvin Anderson and Whittle, this groundbreaking exhibition explores the rich, nuanced, multi-generational stories of Caribbean-British art for the first time. In these pages, Whittle beautifully describes how she sees this as creating 'a dreaming space for remembering those who've passed on [and] those who are running beside us'.
I imagine these words might resonate with the artist and activist Lubaina Himid, whose art often visualises politics as a continuing conversation between the present and the past, as we will see in her upcoming Tate Modern exhibition. And, as Jennifer Higgie writes, Himid not only eloquently explores 'tragic histories with great sensitivity', she is also 'adept at puncturing pomposity – be it individual or institutionalised – with humour and nuance'. Among Himid's vibrant and highly colourful figurative paintings, sculptural installations and objects is her piece A Fashionable Marriage 1986, a contemporary take on the work of the 18th-century artist William Hogarth, making the Hogarth and Europe exhibition at Tate Britain all the more timely.
This issue of Tate Etc. has been a special pleasure to bring to life, particularly as this is my last as Editor. Thank you to all the fabulous people – past and present – at Tate, across all departments and over four sites, who have helped to shape the magazine over the years, and to our readers, who have stayed with us on our journey. Thank you also to all of our contributors, from emerging talents to established voices, who have given a richness and continued insight into Tate's programme and beyond. Many of those writers have been artists, and it is to them that I offer my biggest thanks and admiration. It is you who make it all possible.
Simon Grant