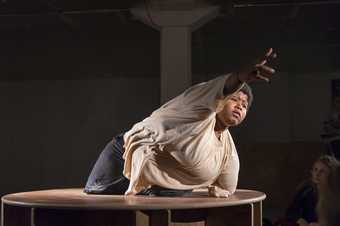 BILAL AKKOUCHE You are currently working on your Art Now exhibition called Let the Sunshine in. Could you tell us about the ideas behind it and what people can expect to see?
SHAWANDA CORBETT Let the Sunshine in is a letter to self-love. The title is taken from The 5th Dimension's 1969 song Aquarius, which I love. It's a song that is uplifting and quite inviting. What I wanted to get across with the title is that, even though I make and perform my work from my own particular perspective, that doesn't mean it's not relatable to other people from different backgrounds, because we all share the same range of emotions. It's about relating to one another. My work is about connecting with people, and that means that I have to expand and challenge myself to learn different ways of communicating visually. It's about reaching as many people as I can. There will be three parts to the exhibition: a film, a performance and some ceramic works. Usually for my performances the audience is sitting down, at the same level that I am performing, but for this new work I wanted to keep the space open and allow the audience to move around freely – I was thinking about alternative ways of performing during a pandemic. The film and the ceramics on their plinths will allow the work to last beyond the live performance.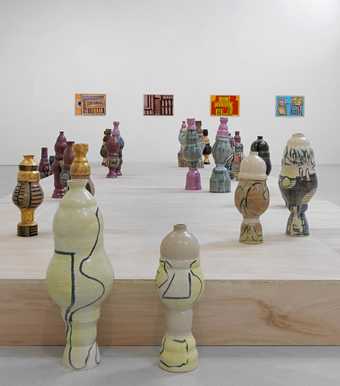 HANNAH MARSH How do your performances relate to your ceramics?
SC In Ancient Greece, vessels were often painted with scenes associated with the theatre and used to document performances. In my exhibition, the stage almost becomes a still life of the performance, with the ceramics representing the performers – like a tableau with ceramics. I kind of like that. Everything within my performance mirrors what I do with my ceramics; they feed into each other all the time.
HM Your vessels are often stand-ins for particular people or are inspired by people that you know. Is this also the case for the ceramics you're making for your exhibition at Tate Britain?
SC The dancers in the performance represent characters, and they play multiple characters in every scene. With the ceramics, I take a similar approach. They represent different aspects of the characters' personalities. I do it quite organically, depending on the temperament of the clay, in the same way that I assign people to different scenes.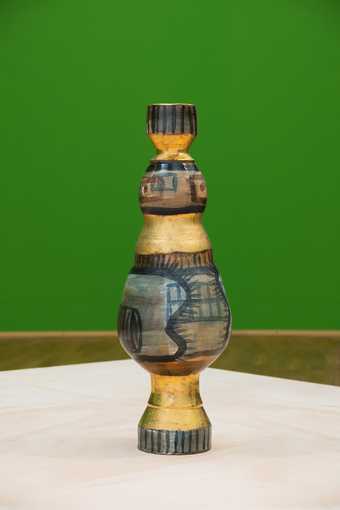 HM I love the idea that each batch of clay is different and has its own personality. You've been inspired by different ceramic traditions from around the world, from Japanese stoneware to West African pottery and Iranian tinware. What have you learned from these traditions and why are you interested in looking across the world for different techniques?
SC I started looking at other cultures because there are places around the world that have a better way of doing things. The way I was learning ceramics, for example – the Western way of doing it – just wasn't working for me. This had nothing to do with a lack of skill or talent, or lack of know-how on the part of the instructors – it was more about what was best for me. I can handle very voluminous things because it's what I instinctively want to do.
It's not about taking from different cultures, it's more about how I can apply their language to my work. I'm interested in learning how they do it. I just want to be able to get the clay off the wheel and I think that these techniques have definitely helped me to throw more efficiently, and effectively.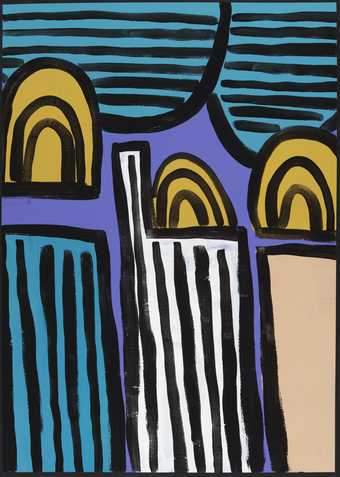 BA You've also been inspired by the writing of Donna Haraway, especially her cyborg theory. How have these ideas influenced you? SC To me, cyborg theory covers anything mechanical that's used to enhance someone's life. I really enjoyed reading Haraway's essay A Cyborg Manifesto (1985), which sets out some of these ideas. However, it's quite dated, and while it's based on feminist ideas I wanted to expand on it to include a person that has multi-identities, such as I do. So, for me, cyborg theory is about personhood. It's just me being comfortable being me.
Art Now: Shawanda Corbett: Let the Sunshine in, Tate Britain, 28 May – 4 September. Curated by Bilal Akkouche, Assistant Curator, Contemporary British Art and Hannah Marsh, Curatorial Assistant, Tate Britain. Art Now is supported by the Art Now Supporters Circle and Tate Americas Foundation.
Shawanda Corbett is an artist who lives and works between London and Oxford.