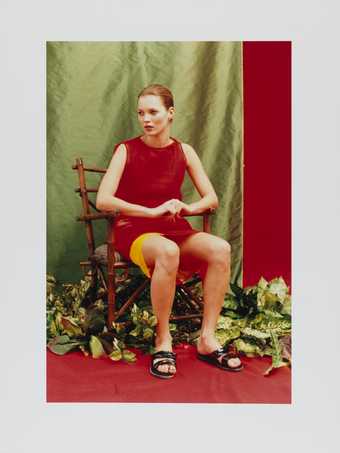 When Wolfgang Tillmans photographed Kate Moss in 1996, she was already a totemic figure in that period of London culture. This was three years after Kate had been featured on her first Vogue cover, with the coverline 'London Style… London Girls'. I had chosen her to epitomise a certain casual, independent freedom of style that the city has since made its own, and she was the ideal figurehead for a change in fashion's aesthetic from bouncing 1980s glamour to a more pared down (and literally slimmer) 'waif' style.
Tillmans was the first of an astonishing number of artists to choose this famous fashion model as an artistic subject. In general, artists rarely depict fashion models. Perhaps this is because their identities are so often already the creation of others – stylists, photographers, designers, and hair and make-up teams. However, over the past 40 years Kate has been an exception. For the May 2000 issue of British Vogue, we commissioned seven of the Young British Artists (YBAs ) group – Jake and Dinos Chapman, Tracey Emin, Gary Hume, Sarah Morris, Marc Quinn and Sam Taylor-Johnson (née Taylor-Wood) – to create an image of her for the magazine. American artists Chuck Close and Richard Prince also chose her as a subject; even Lucian Freud has painted her.
In Tillmans' portrait, the model, who at the time was known as a poster girl for so-called 'heroin chic', is shown as quite the opposite – a solid mädche, neither fragile nor unhealthy. She sits with her feet planted firmly, wide apart, wearing a version of the chunky, strapped black sandals that were once worn for orthopaedic support but have since become a fashion item. She is posed on a folksy wooden chair surrounded not by expensive roses or orchids but more pedestrian waxy leaves, like those of common houseplants. Her physicality is highlighted. We are aware of the cartilage of her ear, the bone of her knee. Her bare thighs, not skinny but robust, appear below a bright red, layered shift. Even her hair colour is a ruddier tone than her natural mousy blonde.
Kate gazes to the side, which accentuates her wide-set eyes, prominent cheek bones and full lips, as well as the snub nose that is an essential contributor to her elusive beauty. 'There is no excellent beauty that hath not some strangeness in the proportion', wrote the philosopher and statesman Francis Bacon in 1612. It is this dash of strangeness that has intrigued so many artists. She is both the pretty 'girl next door' and the wild child. She can appear louche or contained. Her eyes are those of a vixen and an angel. As a model she is prepared to be turned into whatever the many artists who have worked with her might want her to be. Yet, she remains, as she does here, resolutely Kate Moss.
Kate sitting was presented by Tate Patrons in 2007.
Alexandra Shulman is a journalist who lives in London. She was Editor-in-Chief of British Vogue, 1992–2017.
To read more of our special feature celebrating Tate Britain's rehang, visit www.tate.org.uk/tate-etc/issue-58-summer-2023/alex-farquharson-tate-britain-the-state-were-in