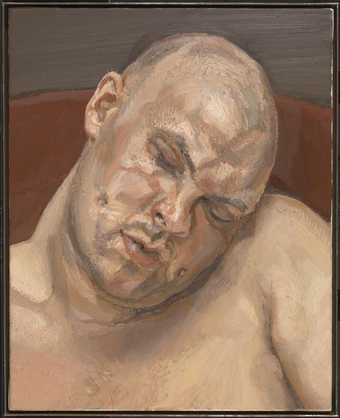 No matter what his subject, Lucian Freud's paintings are always fleshy. The sitters in his portraits appear almost real, especially when you get up close to the canvas. The depth of the oil paint and his mark-making create a sense of seeing right into the person. There is no filter – it's flesh and bones. While this might seem an invitation to get comfortable, or feel at one, with the sitter being depicted, you can also feel like a voyeur.
Leigh Bowery, the performance artist and fashion designer, was one of Freud's favourite models. But here, he isn't depicted dressed as the vision that we know as 'Leigh Bowery', renowned for his extravagant costumes and make-up. Rather, we are presented with his bare physicality, revealing a completely different side to him. I find this portrait, and the others that Freud made of Leigh, so moving because you can start to see into his psychology. Freud's works have the amazing ability to make you relate to – or be seduced by, or even fall in love with – the person he has painted.
When I was at university in the early 2000s, I became obsessed with researching and looking back at the specific moments in history that Leigh lived through. I think you are often most draw in by the things you weren't, or couldn't be, personally involved in. The 1980s and early 1990s were, or seemed to me, an incredible meeting of hot and cold water, when radical art was reacting against the politics of the time, creating a huge spawn of creativity. In 2023, it feels like we're living through a subdued version of that moment. A new type of angst has emerged from our strange, digital world.
Looking at this painting today, the combination of Freud and Leigh feels like an interesting pairing. In a way, Freud represents the old art establishment. He made commissioned portraits of members of very wealthy families, for instance – but here he is painting someone from a totally different part of culture. London in the 1980s and 1990s was a time of rebellion against the establishment. Even the art establishment was crashing. In this painting, maybe Freud too had come around to the idea that the world was shifting. It shows the changing of the tide.