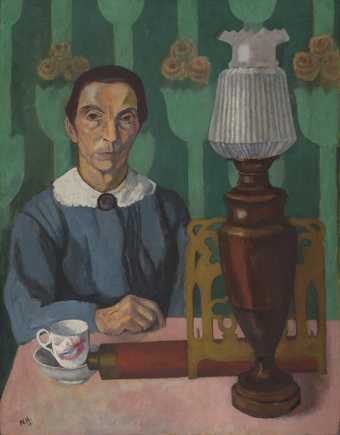 In this portrait, we meet the reproachful stare of a landlady able to undo you with a pursed lip or a quick flick of the eye. It's a relationship that could be from almost any point in modern history. However, completed in 1918, Nina Hamnett's painting was made during a period of change in Britain. It was a time that bridged the values of the old guard of conservative keepers of order and those of a new cohort of liberal artists and young bohemians – of which Hamnett was herself a member.
Hamnett's portrait turns an eye to this divide by creating a physical (as well as social) barrier between the viewer and the landlady, who is seated on the other side of a table. The objects between us – a lamp, a music stand, a telescope, a cup and saucer – act almost as a barricade. Their proportions are distorted and a geometric floral wallpaper churns in the background, all creating the disorientating impression of what it feels like to be on the receiving end of judgement. Our landlady, with her neatly fixed hair, holds the power in this painting, while her angular, sunken cheekbones and weary gaze suggest that she has seen many tenants come and go. While the occupants of the flat may change, the rigid structures of renting and the accompanying power dynamics remain the same.
Looking at this painting, I was reminded of being a prospective tenant at my own housemate auditions. What does it mean to perform the role of a good tenant in the eyes of a landlady? In our modern housing crisis, this is a question being asked by many people across the country, every day. But perhaps there is more to this work. Behind the impenetrable landlady is a backdrop of bunches of pink-tinted roses. We might have to get past her severe exterior to reach a softness. How much of this is the landlady's performance – an act to keep the tenant in check – and how much is real? What gives fascinating complexity to the painting is that her stare appears to convey a cautious willingness to understand the other per- son across the table.
To see this work is to witness a power dynamic in the grip of change – the tentative observation of a new generation of renting women, such as Hamnett, who may topple the order of things. Will they too revere the art of traditional homemaking? Perhaps such concerns were not all rooted in paranoia: one landlady was said to have taken Hamnett to court for urinating in the sink of her bedsit. Perhaps the artist should have taken more heed of that stare.