17 rooms in Historic and Early Modern British Art
This is a time of profound change: civil war, regicide and political revolution take place. New ideas are born and new kinds of art flourish
Civil war breaks out in 1642, leading to the execution of Charles I and a decade of strict Puritan rule under Lord Protector Oliver Cromwell. After Cromwell's death, the monarchy is restored in 1660 and Charles II becomes king. Some of the most talented artists in Britain thrive amid this turmoil, such as the Dutch painter Peter Lely, who is an official portraitist to Charles II. Other artists fall in and out of favour as the world around them is reshaped.
Across the globe, England starts to expand its colonial interests through the conquest of Ireland and Jamaica. The Anglo-Mughal War signals growing ambitions in India. The Hudson's Bay Company challenges French dominance over parts of North America, while the Royal African Company formalises the early transatlantic slave trade, with profits going to the monarch. At home, the 'Glorious Revolution' of 1688 gives birth to party politics. The Act of Union between England and Scotland in 1707 creates The Kingdom of Great Britain.
Amid these profound social and political changes, art in Britain is also being transformed. A new professional class now has enough money to buy paintings. To appeal to this new audience, artists from the Low Countries introduce new genres such as landscape, still life and battle painting. There are also more British born painters, fuelling arguments for a new 'British school' of art. For the very first time, these include successful professional women painters, most notably Mary Beale.
Sorry, no image available
Edmund Lilly

,

Portrait of Queen Anne

1706
1/19
artworks in Court versus Parliament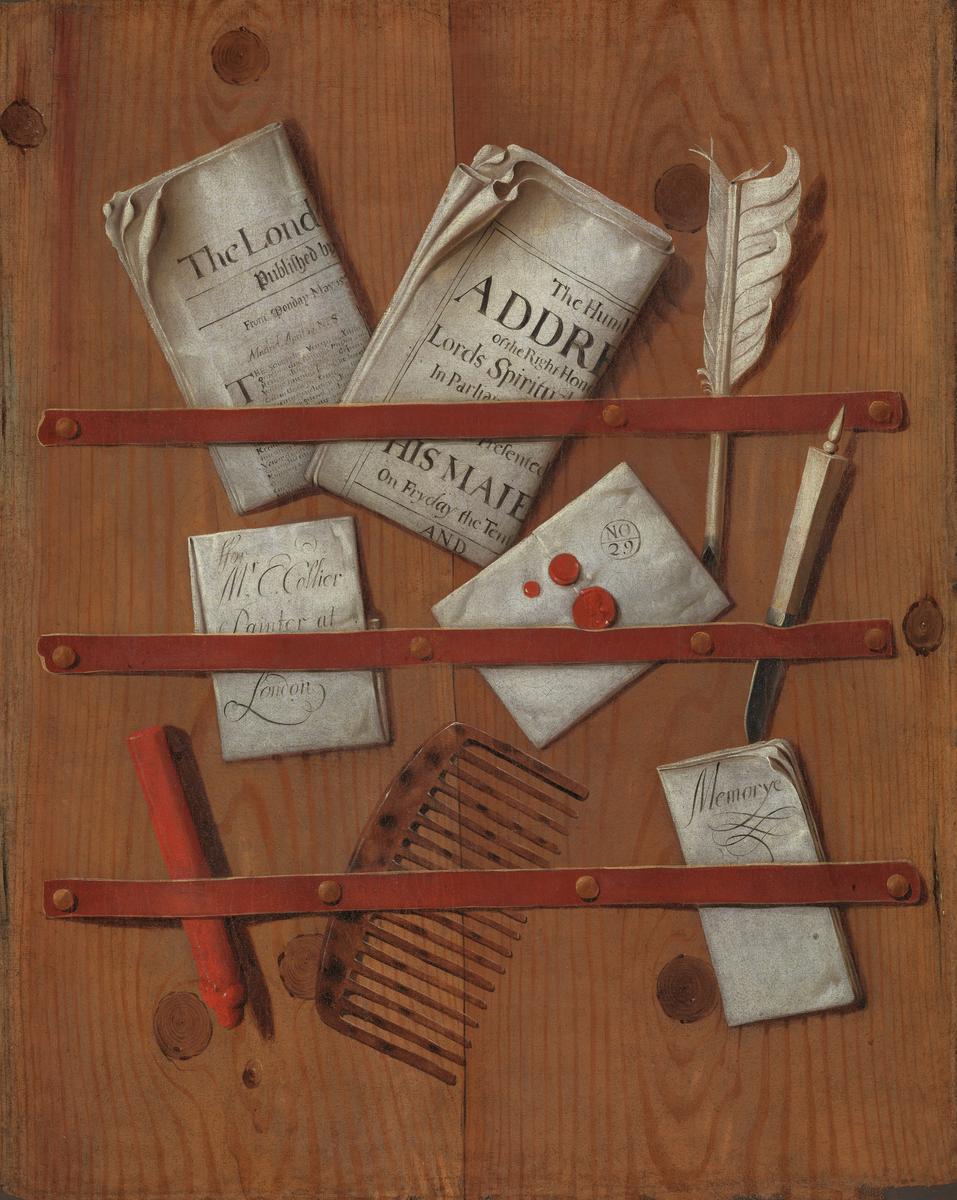 Edward Collier

,

A Trompe l'Oeil of Newspapers, Letters and Writing Implements on a Wooden Board

c.1699

Collier was particularly noted for his trompe l'oeil pictures, or 'deceptions', which were painted to impress the viewer with the artist's ability to create in paint the illusion of real, graspable objects. The letter rack with newspapers, notes, writing implements, seals and combs was one of Collier's favourite subjects. He painted many variations of it with similar objects slightly differently arranged, but always with different dates and printed texts.Although this picture bears no date, a clue is given by the folded London newspaper at the top of the rack which is dated 'Monday, May 15 ...': the only likely Monday to fall on this date was in 1699.

Gallery label, August 2004
2/19
artworks in Court versus Parliament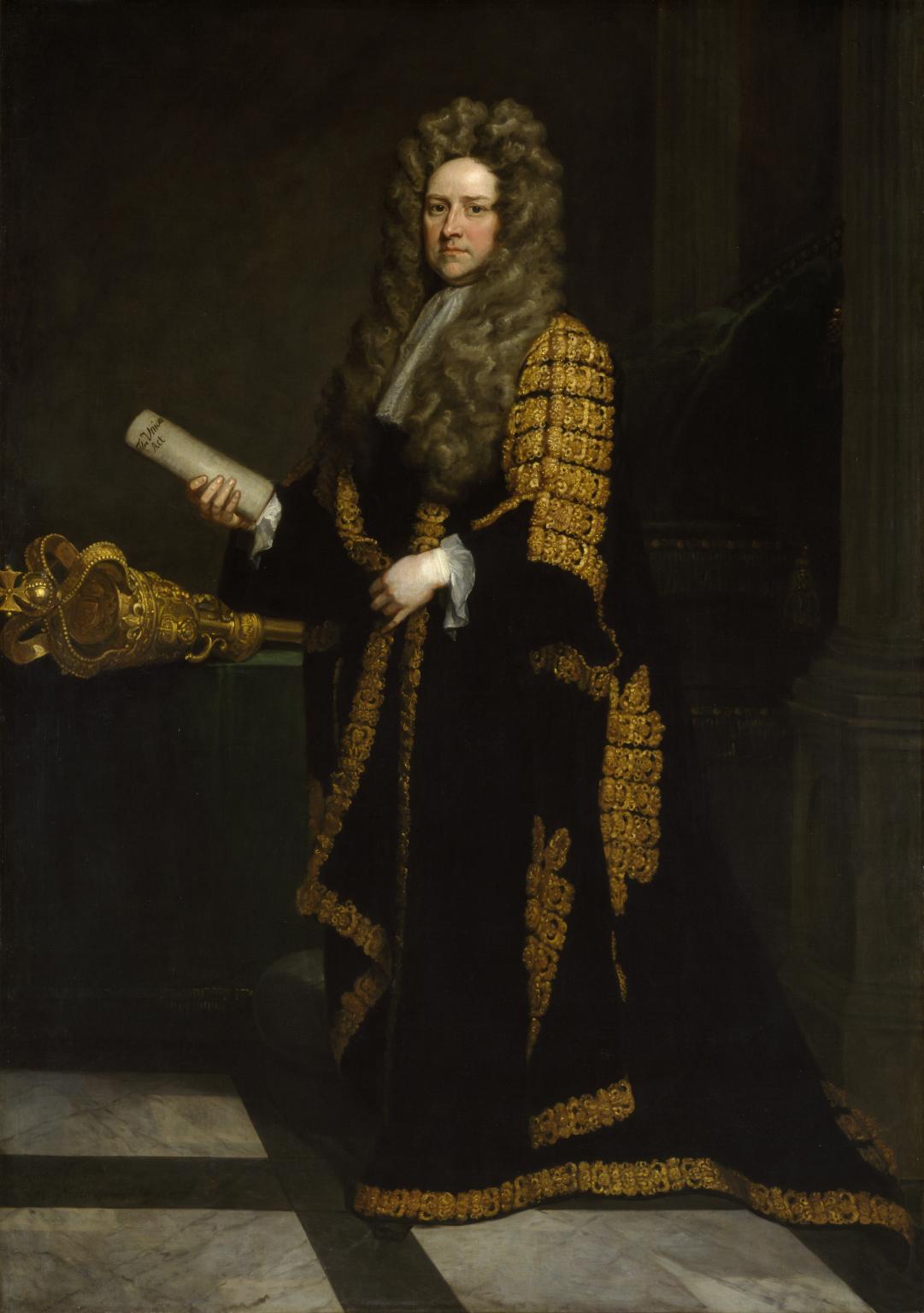 Sir Godfrey Kneller

,

John Smith, Speaker of the House of Commons

c.1707–8

John Smith (?1655–1725) was an eminent Whig politician who commanded much respect as a commissioner for arranging the union with Scotland. In 1707 he was re-elected as Speaker of the House of Commons. Kneller shows him in his Speaker's robes, the mace and chair behind him, holding a scroll inscribed 'The Union Act'. The composition is one of dignified regularity, the sweep of Smith's robe deliberately following the vertical black lines on the marble floor. German-born, Kneller was the most successful and prolific portraitist of his day. Principal Painter from 1688, he was created a baronet in 1715.

Gallery label, February 2016
3/19
artworks in Court versus Parliament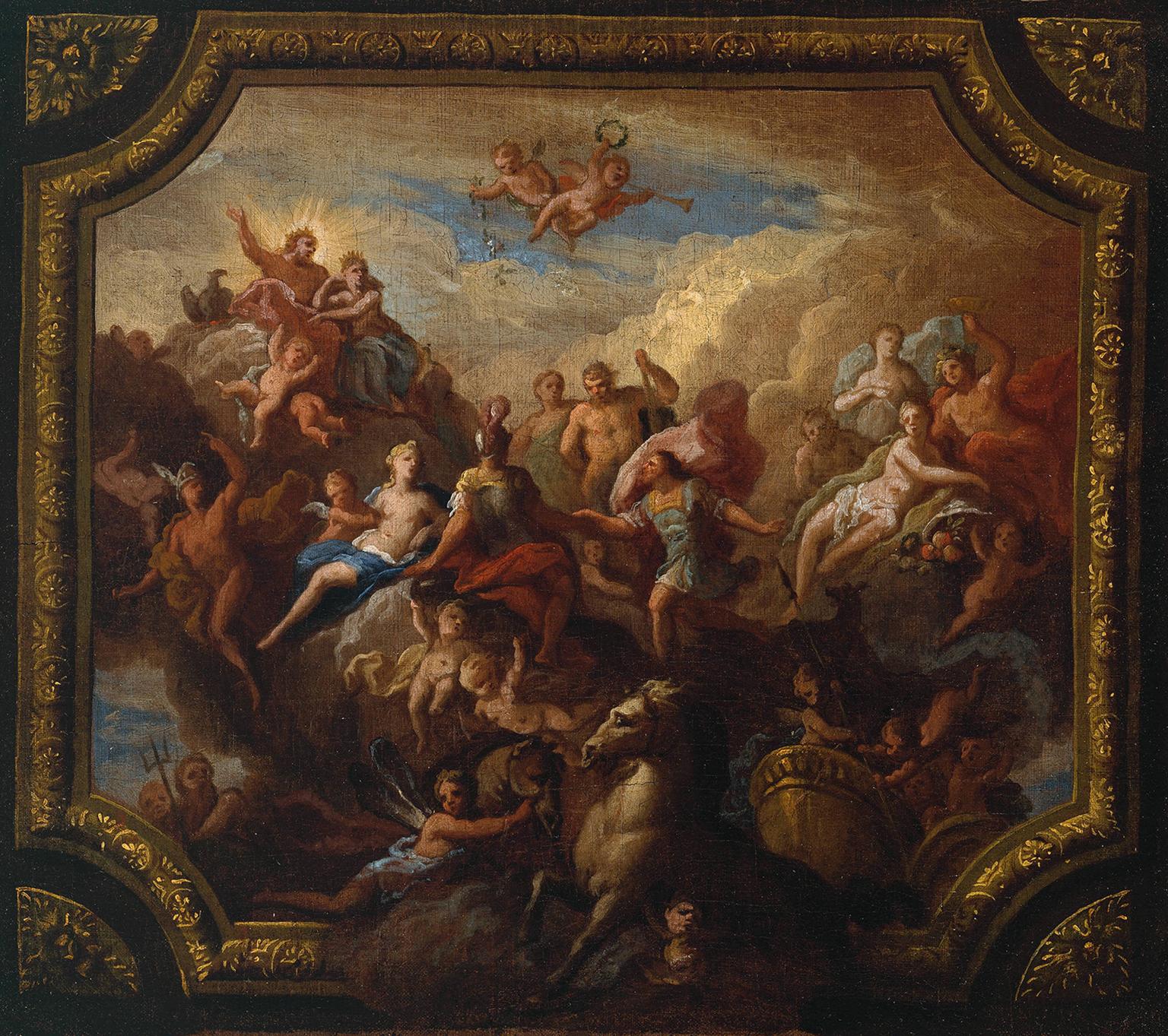 Sir James Thornhill

,

The Apotheosis of Romulus: Sketch for a Ceiling Decoration, Possibly for Hewell Grange, Worcestershire

c.1710

This is probably part of a decorative scheme for Hewell Grange, the seat of the Earl of Plymouth, which was destroyed in the nineteenth century. The story of Romulus and Remus, the founders of Rome, was a favourite subject for the mansions of landowners who prided themselves on their classical learning and who saw parallels between eighteenth-century Britain and the rise of the Roman Empire. As the only British-born decorative painter of note, Thornhill catered wholeheartedly for this taste and played on native pride to thwart foreign competition. Some of his aggressive chauvinism was later taken over by his son-in-law William Hogarth.

Gallery label, August 2004
4/19
artworks in Court versus Parliament
Sorry, no image available
Nils Norman

,

Sparkles of Glory

2022
5/19
artworks in Court versus Parliament
Sorry, no image available
Cornelia Parker CBE RA

,

Stolen Thunder Tarnish from Charles I's Spurs

1998
6/19
artworks in Court versus Parliament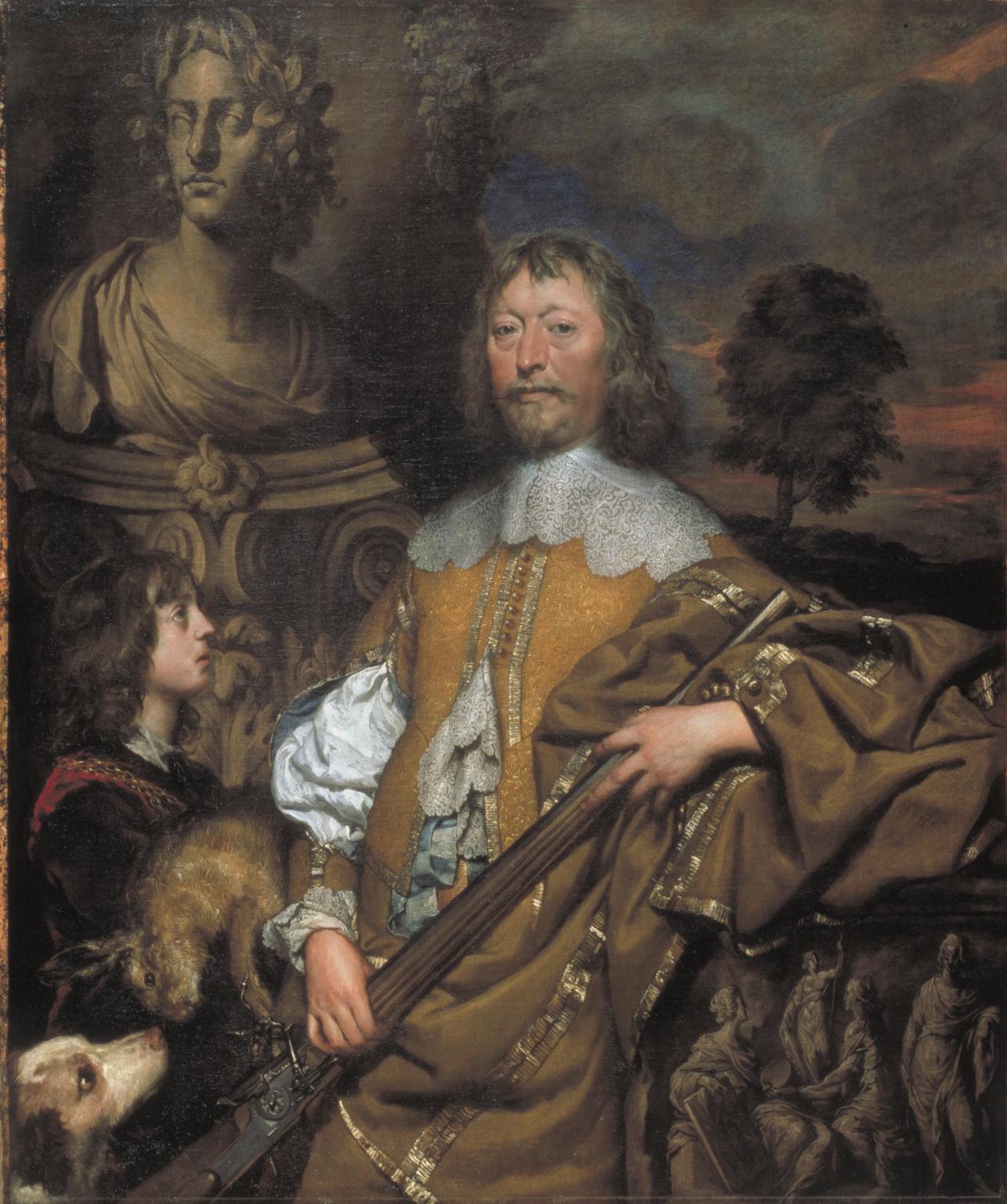 William Dobson

,

Endymion Porter

c.1642–5

Endymion Porter was a favourite courtier of Charles I, for whom he bought works of art. He is shown here as a huntsman with his kill, a possible reference to the ongoing Civil War. His patronage of the arts is indicated by the statue of Apollo and the classical frieze he is leaning on. Dobson painted this portrait at the exiled court of Charles in Oxford. The pose is taken from a portrait of the Roman Emperor Vespasian by Titian, which was then in Charles I's collection. Porter was later forced into exile in France.

Gallery label, February 2016
7/19
artworks in Court versus Parliament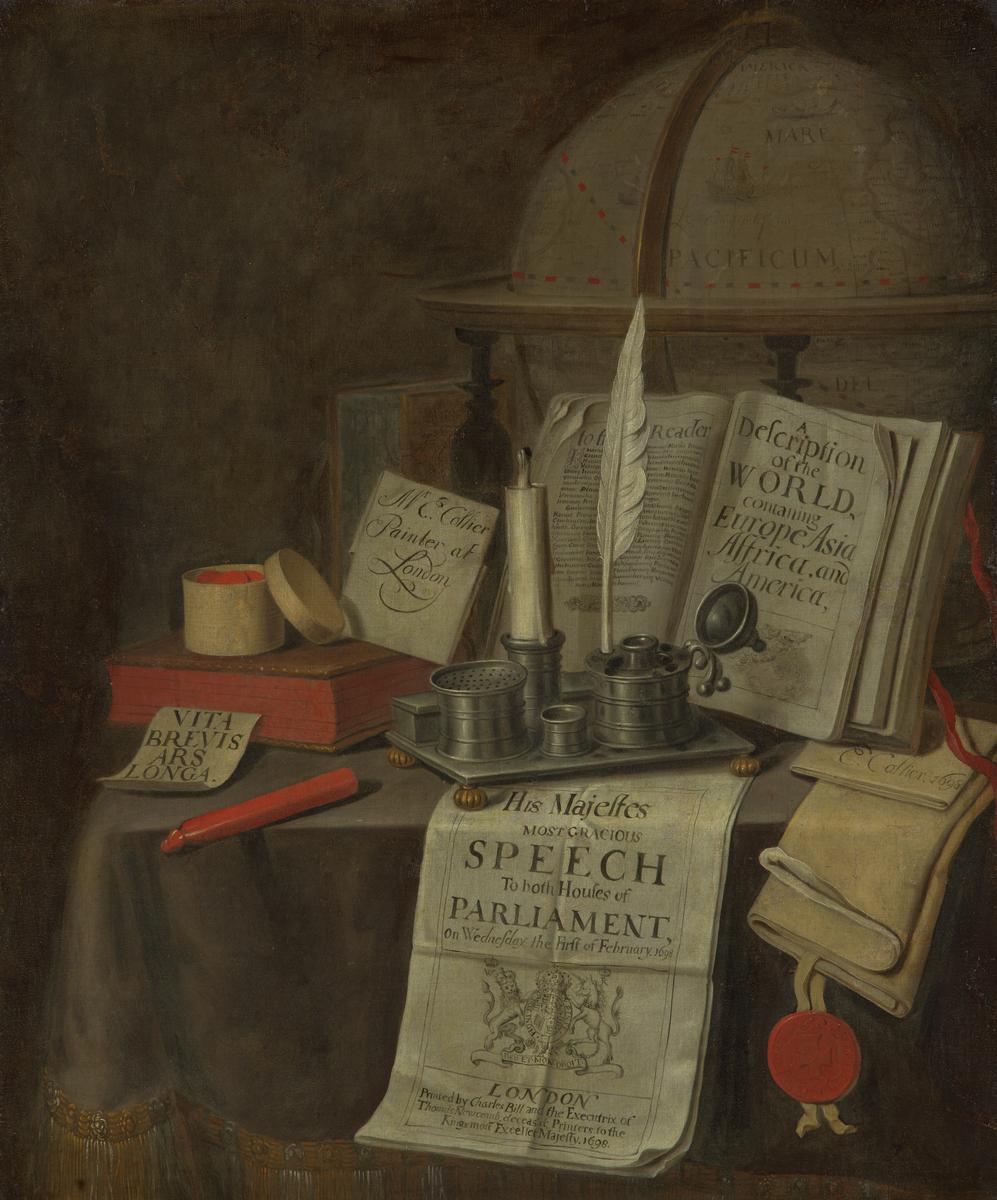 Edward Collier

,

Still Life

1699

This seemingly straightforward arrangement of objects alludes to several major themes of the period. The wider world is referred to by the globe and the atlas. A political element is included through the transcript of a speech delivered by William III to Parliament, concerning the disbandment of the army.

But is the painting wholly worldly, or does it have a more philosophical element? The Latin motto on the left translates as 'Life is short, but art endures'.

Gallery label, March 2011
8/19
artworks in Court versus Parliament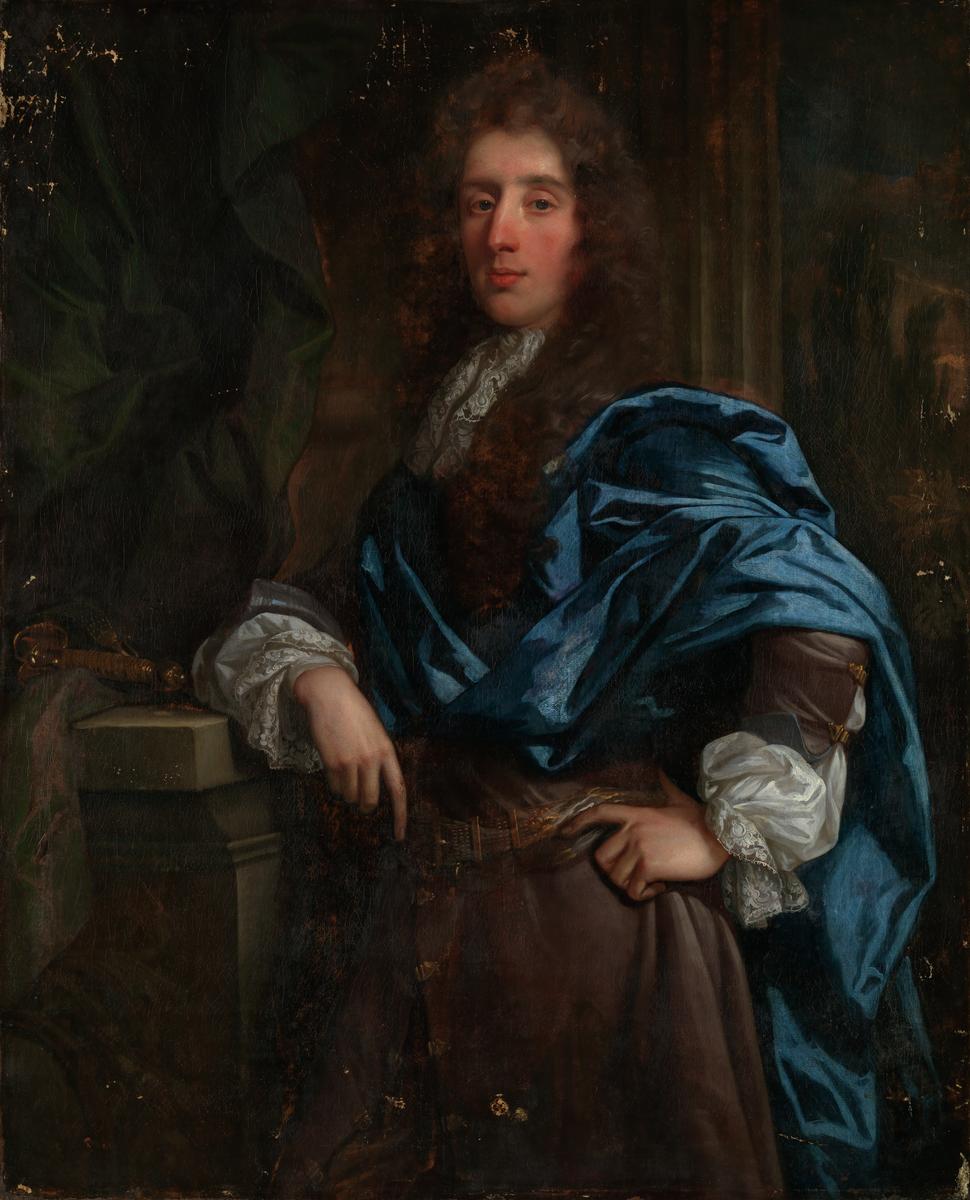 John Riley

,

James Sotheby

c.1690
9/19
artworks in Court versus Parliament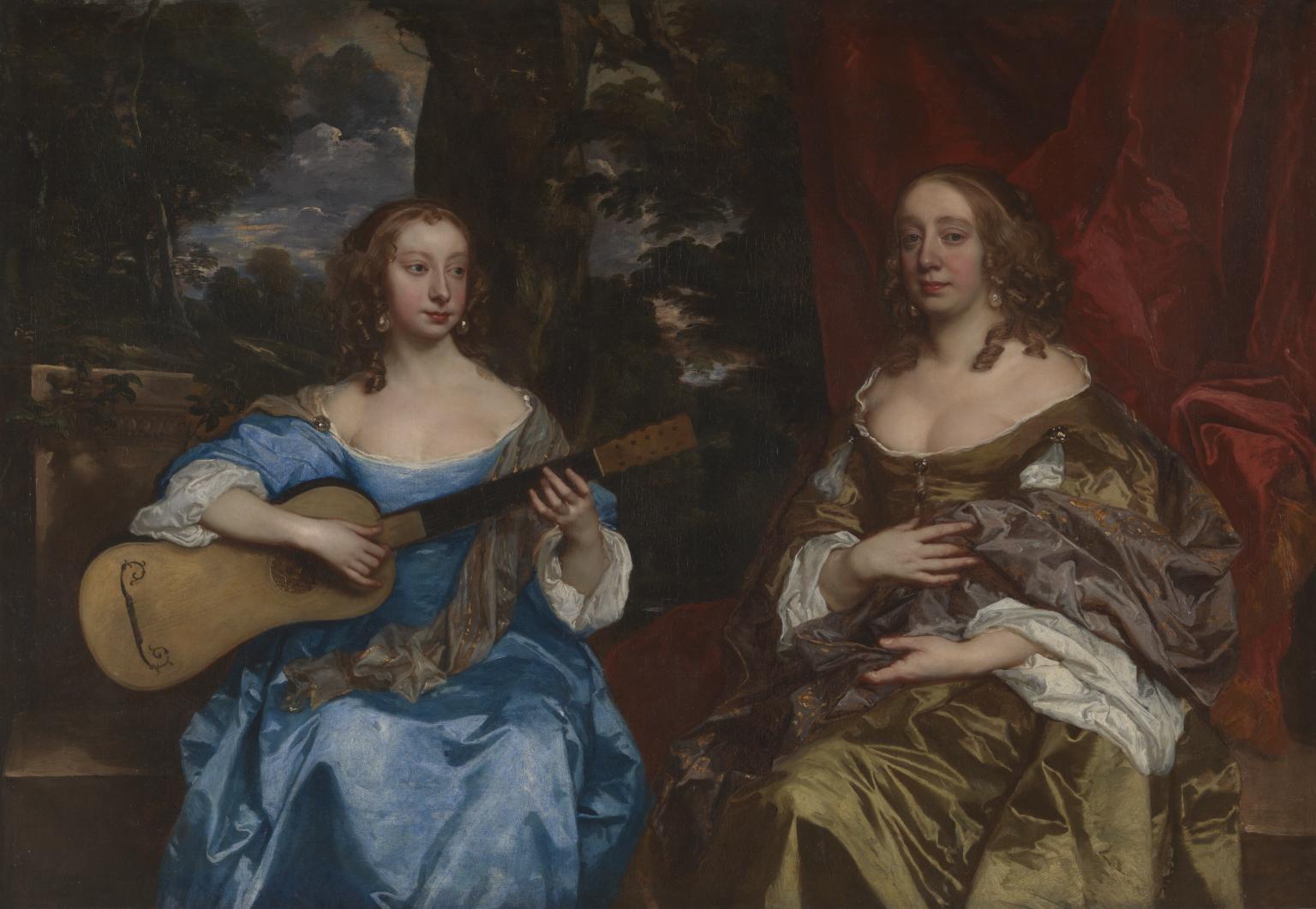 Sir Peter Lely

,

Two Ladies of the Lake Family

c.1660

The precise identity of these women is unknown but they have traditionally been associated with the Lake family of Cannons house and estate in Middlesex, later the property of the Duke of Chandos. Portraits of women by Lely, like this one, tend to conform to the standards of ideal beauty which were current at court. In such paintings, the artist was more concerned with asserting a sense of glamour and sophistication than conveying individual personalities. The woman on the left is shown playing a French-made guitar, the latest fashion to arrive from Paris.

Gallery label, February 2016
10/19
artworks in Court versus Parliament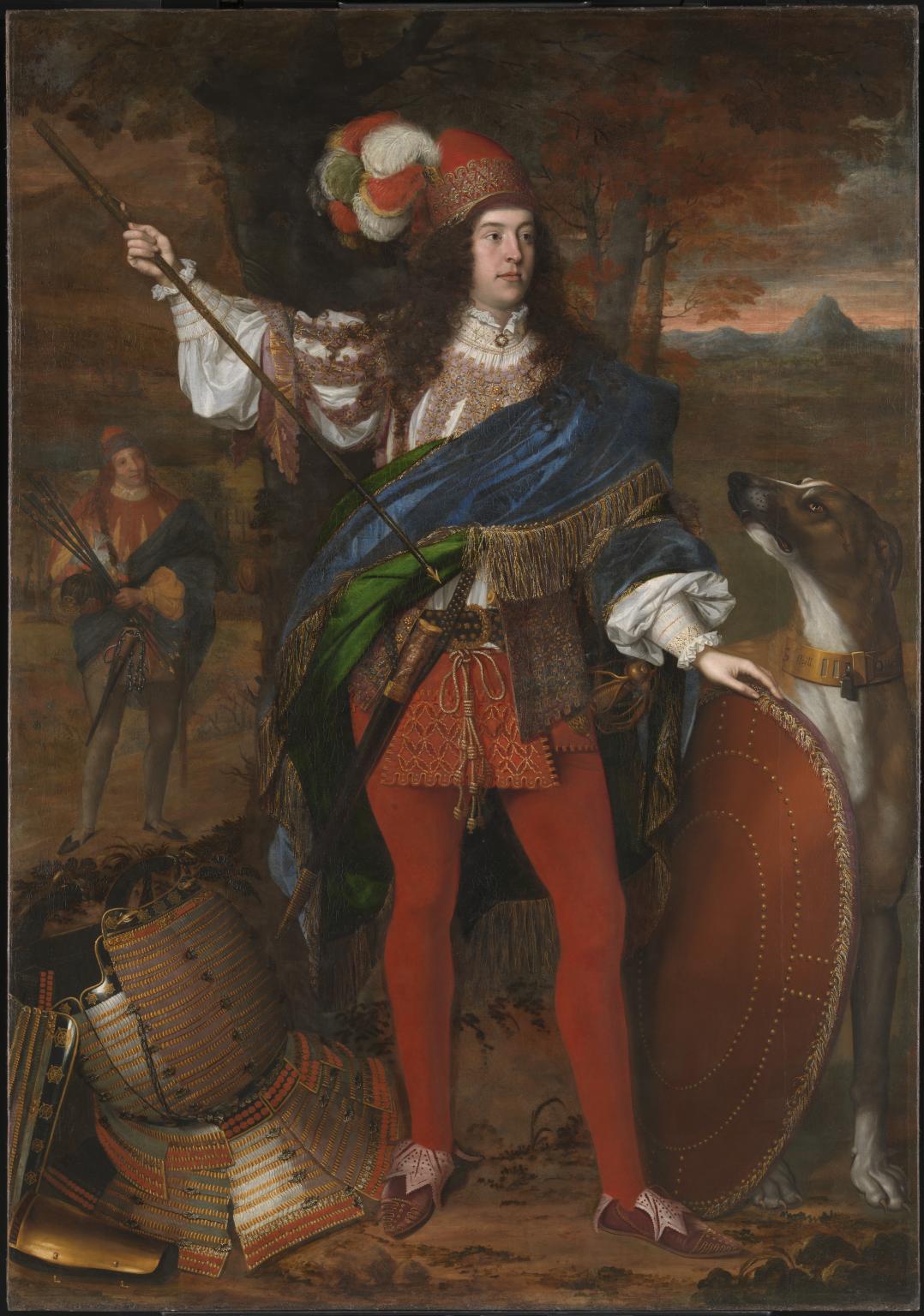 John Michael Wright

,

Sir Neil O'Neill

1680

Both the man shown here, Sir Neil O'Neill, and the artist, John Michael Wright, were Catholics. As a result of anti-Catholic legislation Wright was exiled from London to Dublin in 1679, where this work must have been painted. Sir Neil (?1658–1690) is shown in the richly ornamented costume of an Irish chieftain. Beside him is an Irish wolfhound, a valuable breed of dog whose export from Ireland was forbidden in 1652. At his feet is a rare suit of Japanese armour. This may be seen as a trophy representing victory over persecutors of Catholicism, among whom the Japanese were notorious at the time.

Gallery label, February 2016
11/19
artworks in Court versus Parliament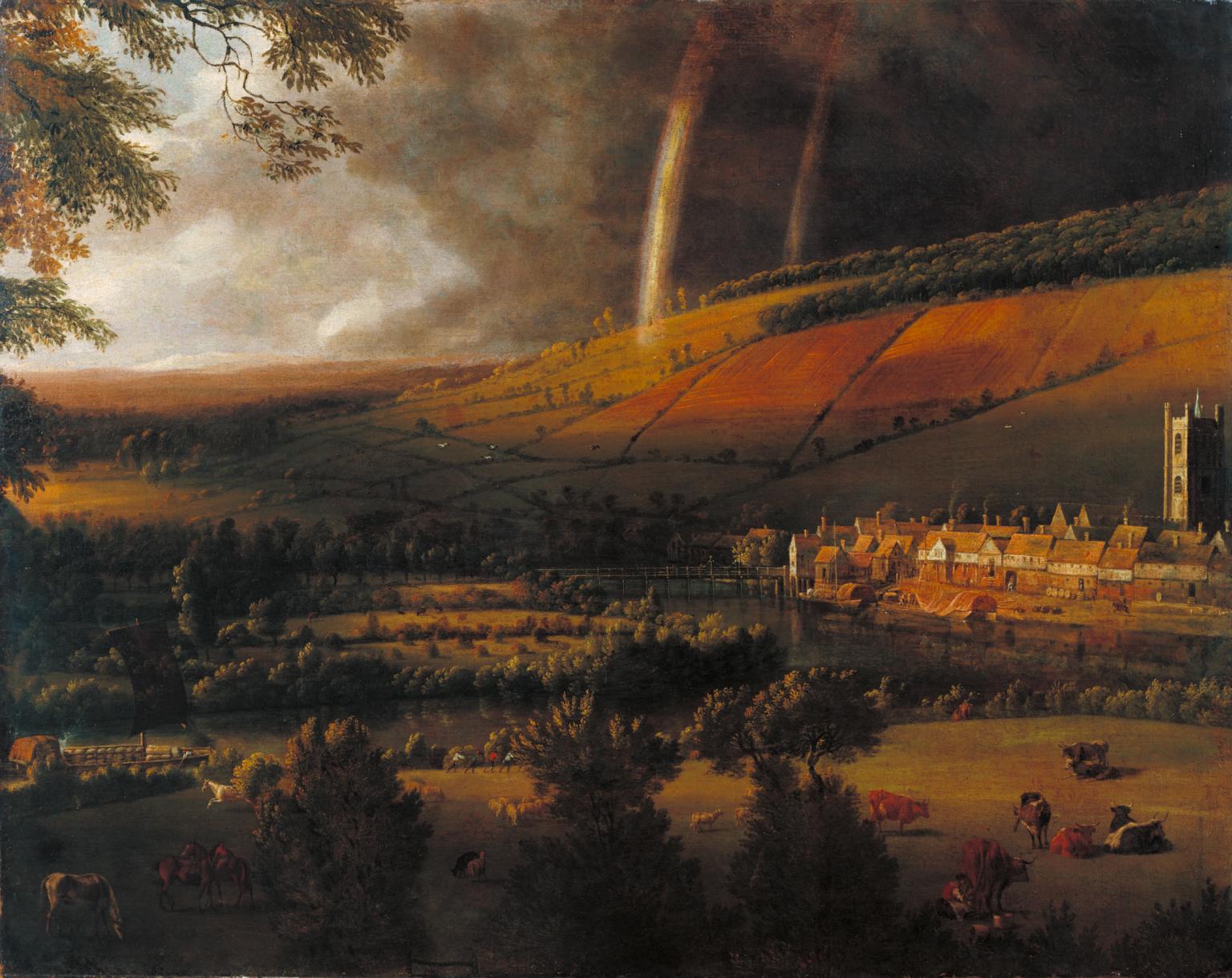 Jan Siberechts

,

Landscape with Rainbow, Henley-on-Thames

c.1690

We do not know why, or rather for what purpose, this painting was commissioned. It may have been produced for a landowner anxious to display his wealth, but it displays a greater concern with nature and the English landscape, and the effects of the weather.

However, the figures to the left, pulling the heavily-laden barge along the river Thames, remind us that this is a working countryside, and that waterways were vital for the transportation of food and goods to and from the urban centres.

Gallery label, September 2004
12/19
artworks in Court versus Parliament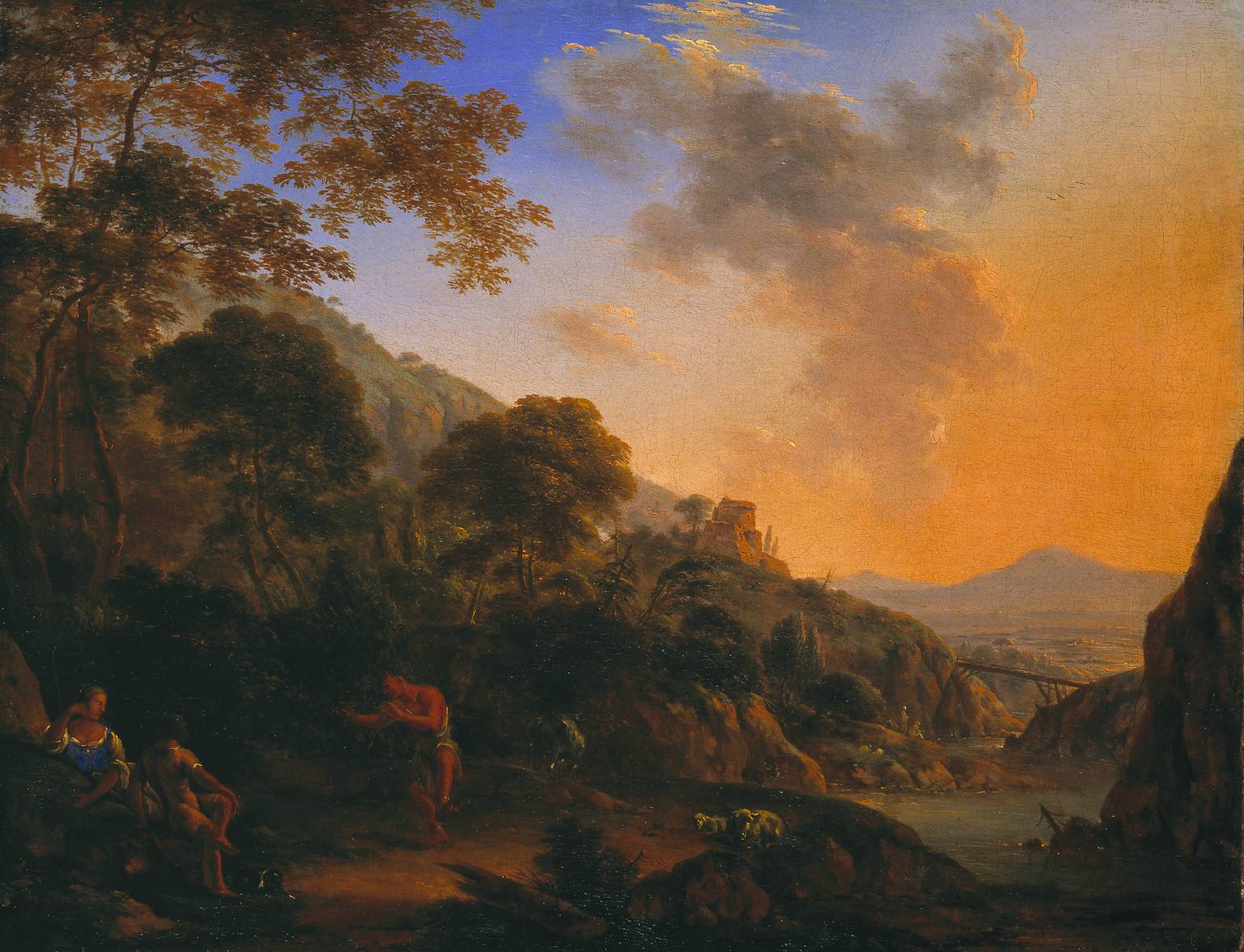 Henry Anderton

,

Mountain Landscape with Dancing Shepherd

c.1650–60

T03543

Gallery label, April 2005
13/19
artworks in Court versus Parliament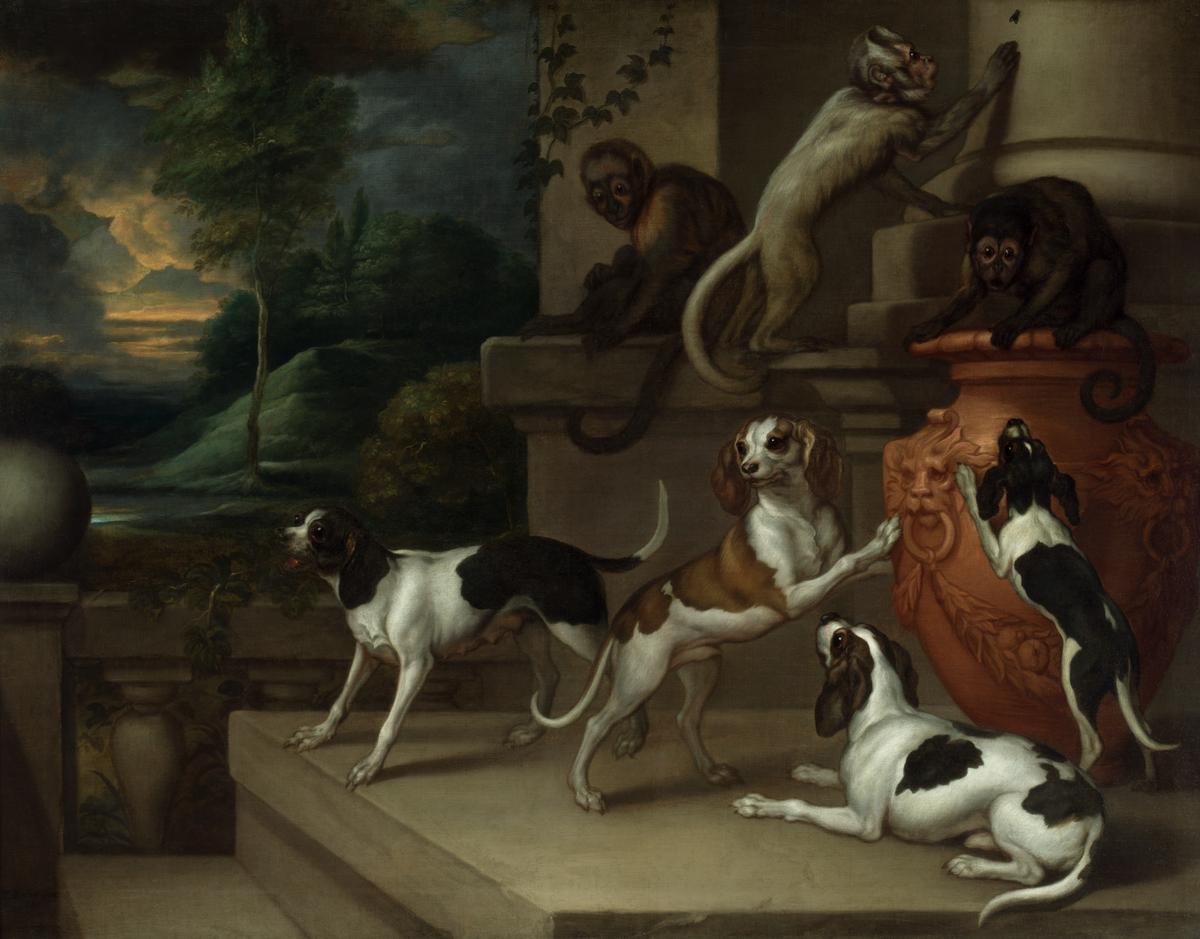 Francis Barlow

,

Monkeys and Dogs Playing

1661

Barlow is the earliest known British-born animal painter. During Barlow's lifetime animal paintings were still largely associated with decorative arts and the interior design of houses. This painting, like many animal pictures, was probably produced to hang over a door. The spaniels shown here may be portraits of particular dogs, so the painting may have been commissioned by their owner. Wealthy British families also kept foreign pets which they perceived as 'exotic' status symbols. The brown or tufted capuchin monkeys, from South America, may be intended to highlight the patron's cultivated affluence.

Gallery label, February 2022
14/19
artworks in Court versus Parliament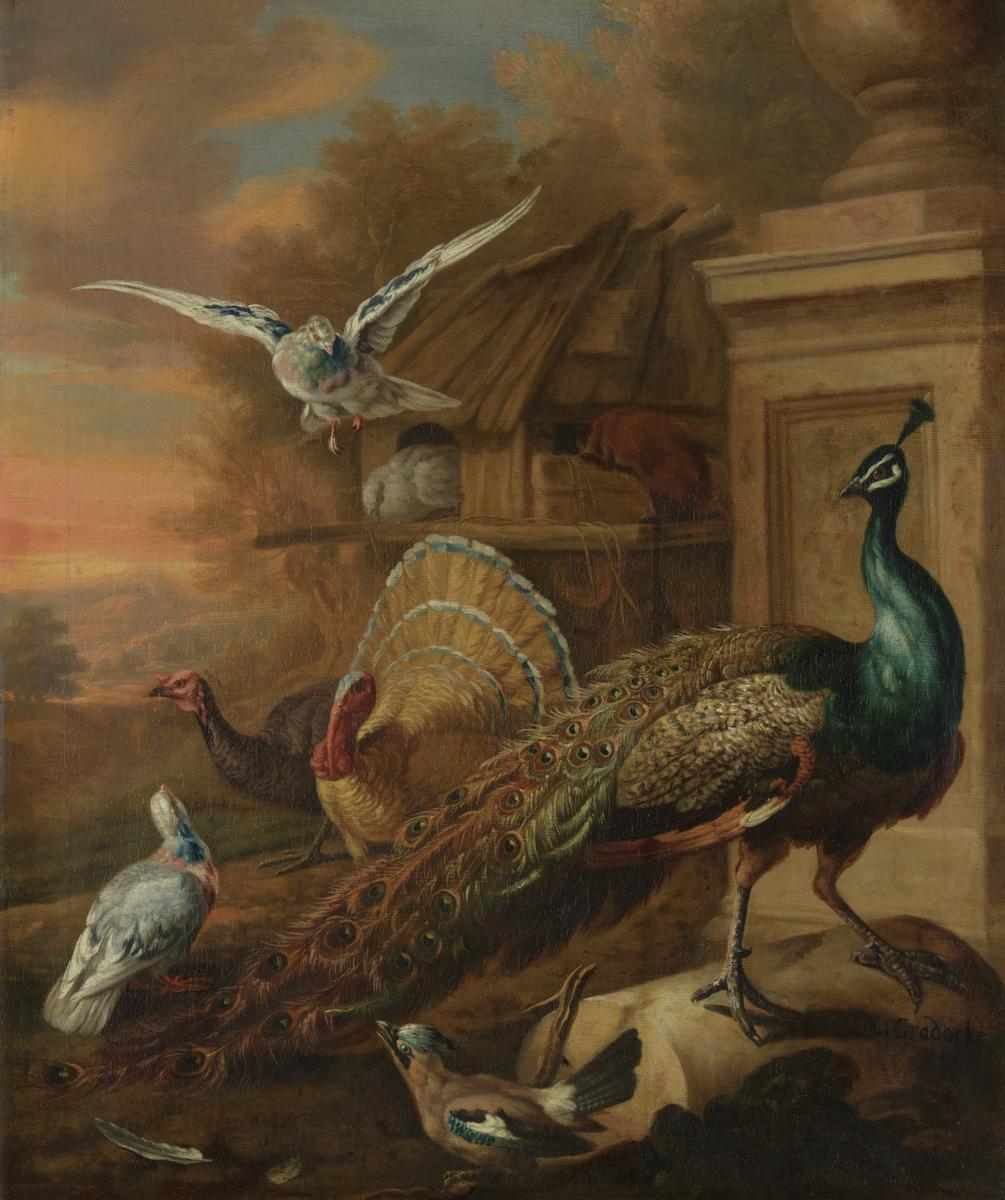 Marmaduke Cradock

,

A Peacock and Other Birds in a Landscape

c.1700

Marmaduke Cradock was one of the few British-born painters of birds and animals active in the late-17th century. This composition of turkeys, rock doves, a peacock and a jay shows the artist's careful observation of birds. The calm of the dovecote is disturbed by the danger of a predatory fox. However, the central focus of the painting is the peacock, a rare and exotic bird which could have been observed in London parks. Its rich and colourful plumage speaks of wealth and opulence.

Gallery label, February 2016
15/19
artworks in Court versus Parliament
Sorry, no image available
Mary Beale

,

Portrait of a Young Girl

c.1681

Mary Beale was the most prolific professional female portraitist working in England in the 17th century. This engagingly informal oil sketch was probably an experiment in attempting to finish a work in one session, rather than the more costly and time-consuming four or five. Mary Beale used members of her family and studio as models for such works. In 1681, for example, her female studio assistant and her godchild were painted 'in side face', as here.

Gallery label, February 2016
16/19
artworks in Court versus Parliament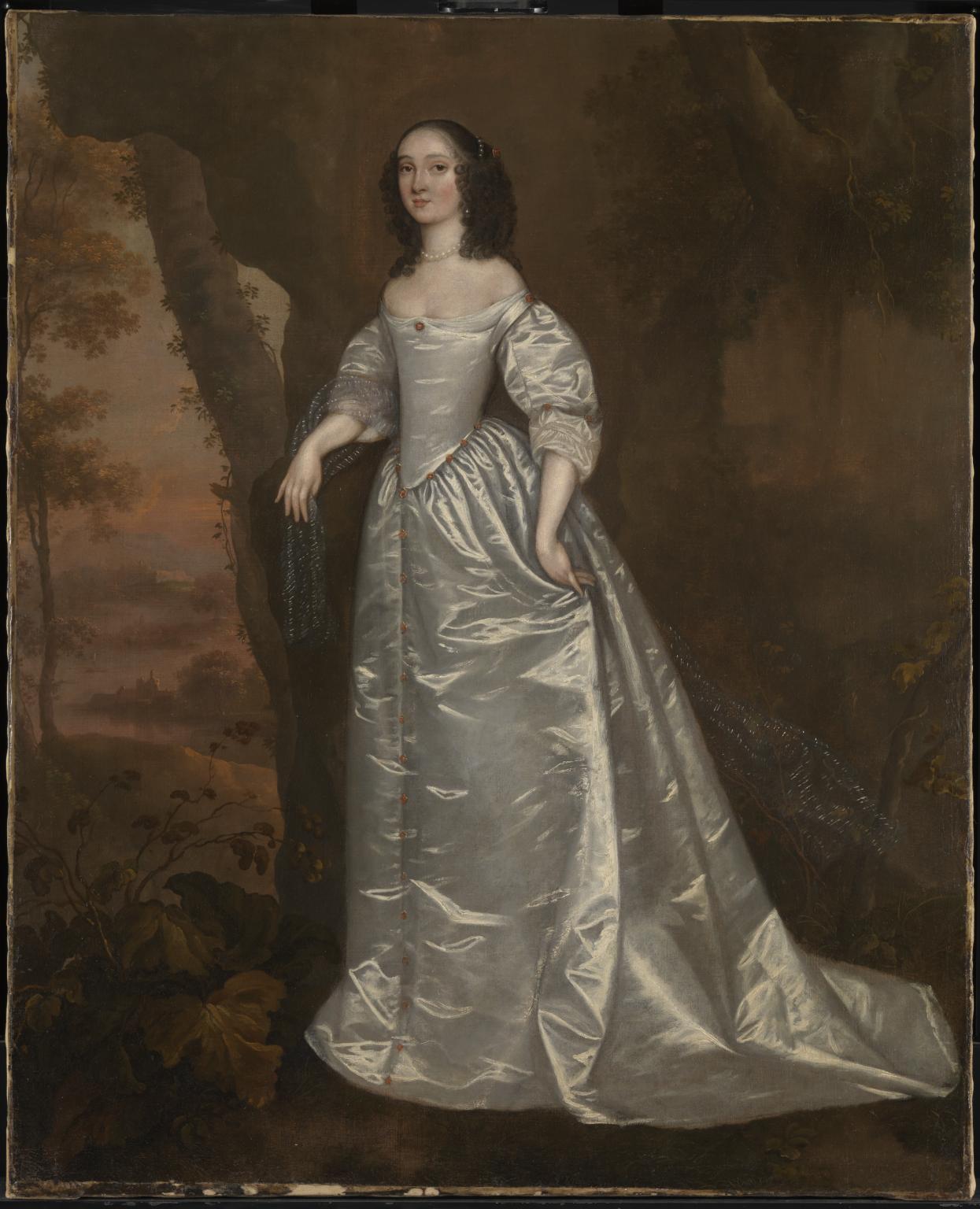 Joan Carlile

,

Portrait of an Unknown Lady

1650–5

This portrait depicting an unknown woman was made in 1650–5 by Joan Carlile, one of the earliest British female artists to work professionally in oil. The figure is shown full-length, wearing a white satin dress and standing in a rocky landscape setting, which opens onto a distant view of a sunset river valley to the right. The portrait has been cut down slightly, particularly on the left, but the landscape nevertheless remains a prominent feature of the composition.
17/19
artworks in Court versus Parliament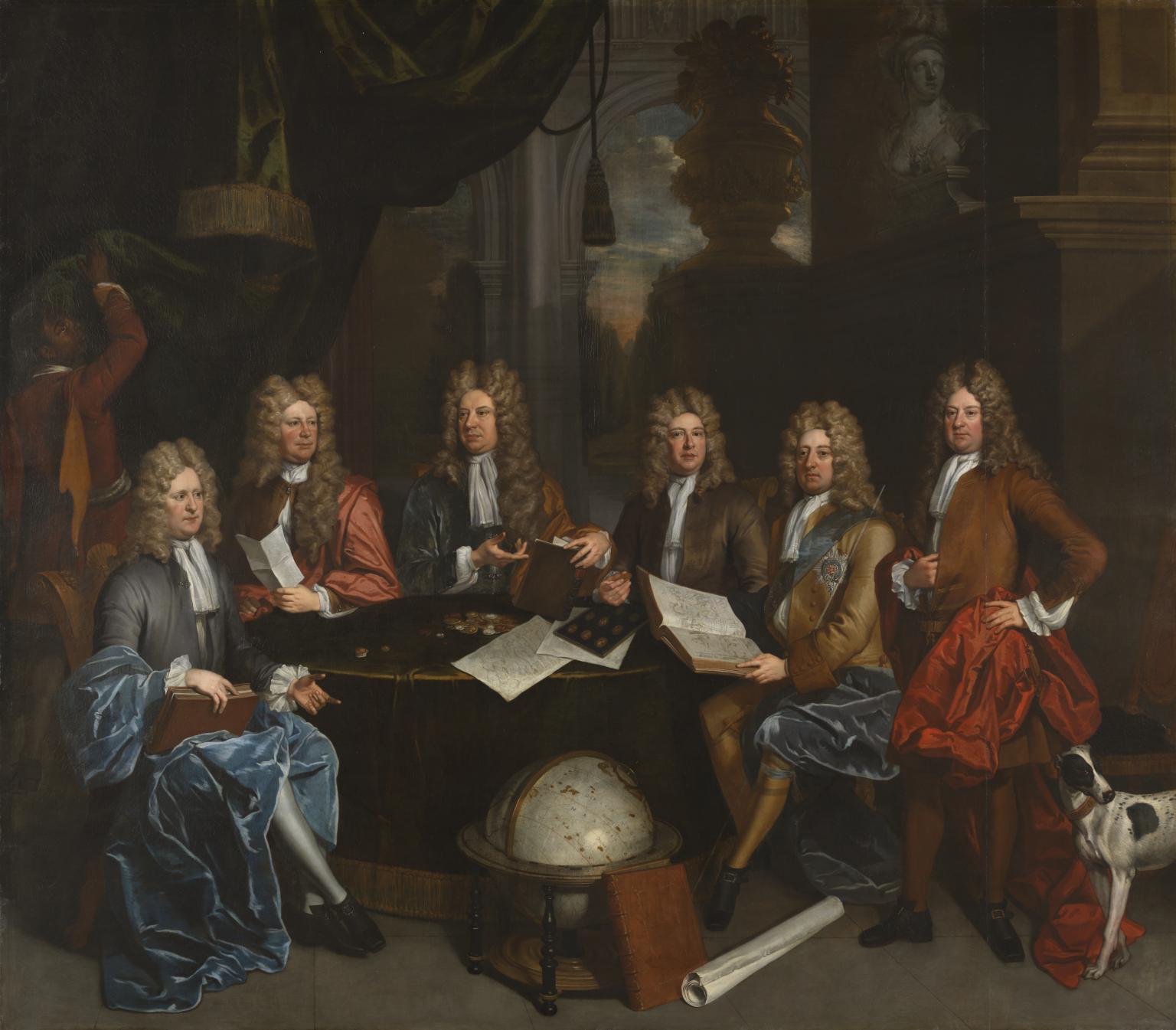 John James Baker

,

The Whig Junto

1710

This portrait shows the leaders of the political Whig party. Everything about it is designed to demonstrate their power. The first Earl of Orford, who commissioned the picture, stands on the right. A Black servant appears behind the gathered guests. We do not know the identity of the servant, or even if a Black servant worked in Orford's household. Britain was profiting from the increasing trade of enslaved people from West Africa. Most of the Black servants who worked in British households were enslaved. They were seen by the white British elite as symbols of their wealth and often depicted in paintings to reflect this. The imagined grand setting adds to the intended impression of affluence and power. The portrait advertises the Whigs' pro-war foreign policy. Prints of Roman victories emphasise Britain's current military successes in Europe. The globe may refer to British interest in accessing new trading routes.

Gallery label, August 2020
18/19
artworks in Court versus Parliament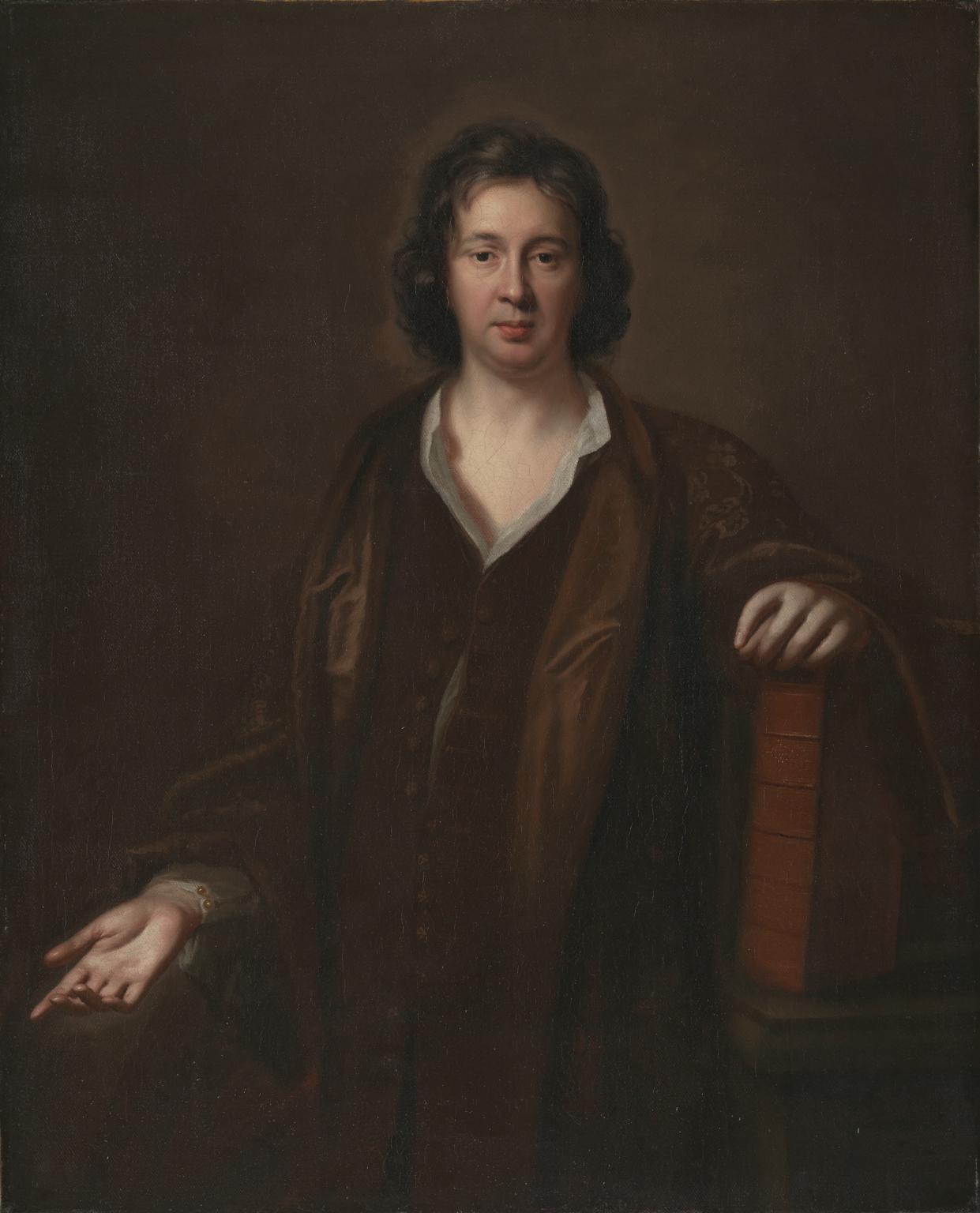 Mary Beale

,

Charles Beale

c.1680–5

This portrait in oil on canvas shows Charles Beale, the artist's husband, standing against a dark background. He wears a silk brocade gown and rests his hand on a large leather-bound volume, the pose marking him as a learned virtuoso. It was a role he aspired to, evidence for which is in the yearly notebooks he kept which, as well as documenting his wife Mary Beale's daily painting activities, also record the pictures they commissioned and owned, the prints he purchased, his visits to view – and his appreciation of – Sir Peter Lely's collection of Old Master drawings, and his desire to translate from Italian the lives of major Renaissance artists.
19/19
artworks in Court versus Parliament
Art in this room
Sorry, no image available
Edmund Lilly
Portrait of Queen Anne
1706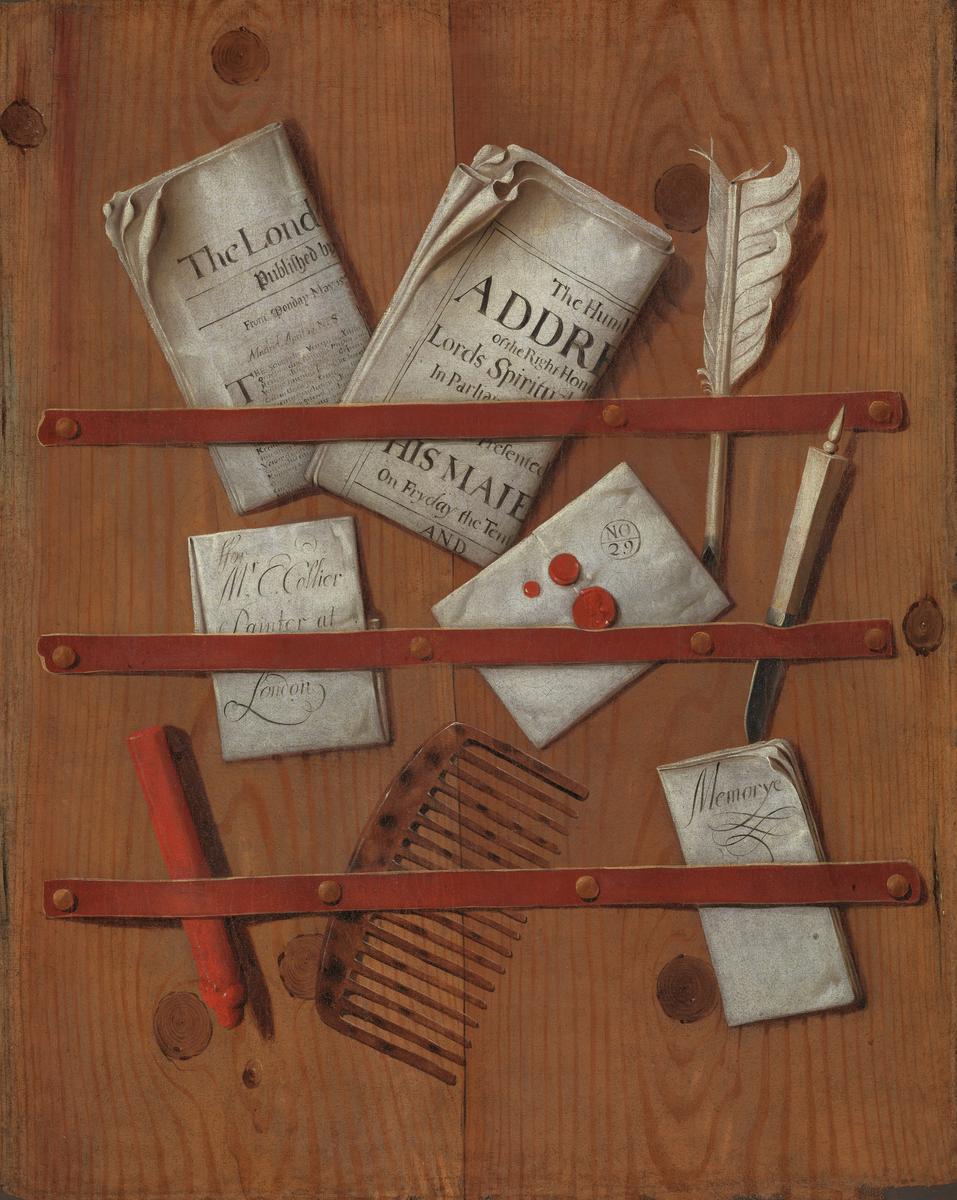 Edward Collier
A Trompe l'Oeil of Newspapers, Letters and Writing Implements on a Wooden Board
c.1699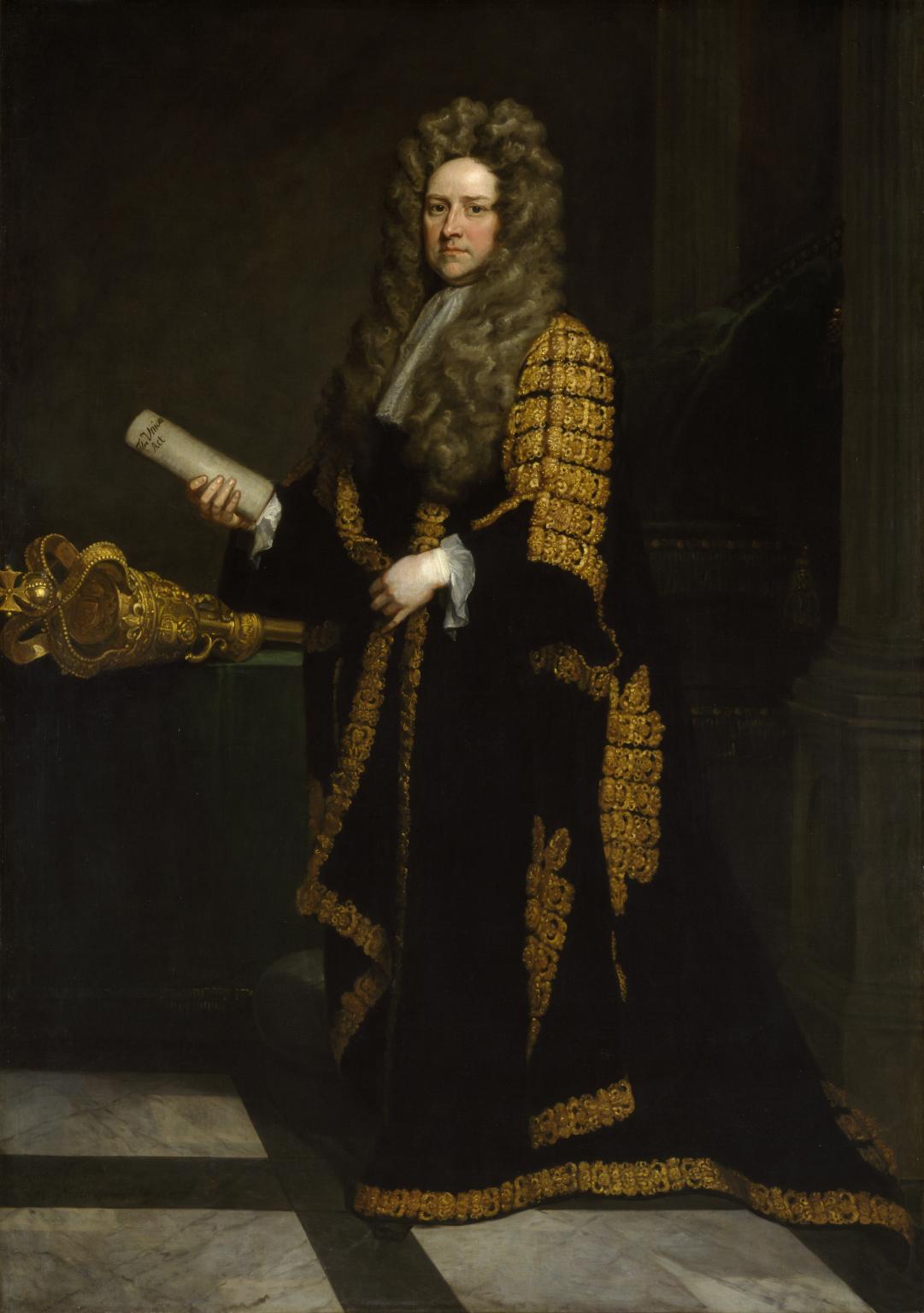 Sir Godfrey Kneller
John Smith, Speaker of the House of Commons
c.1707–8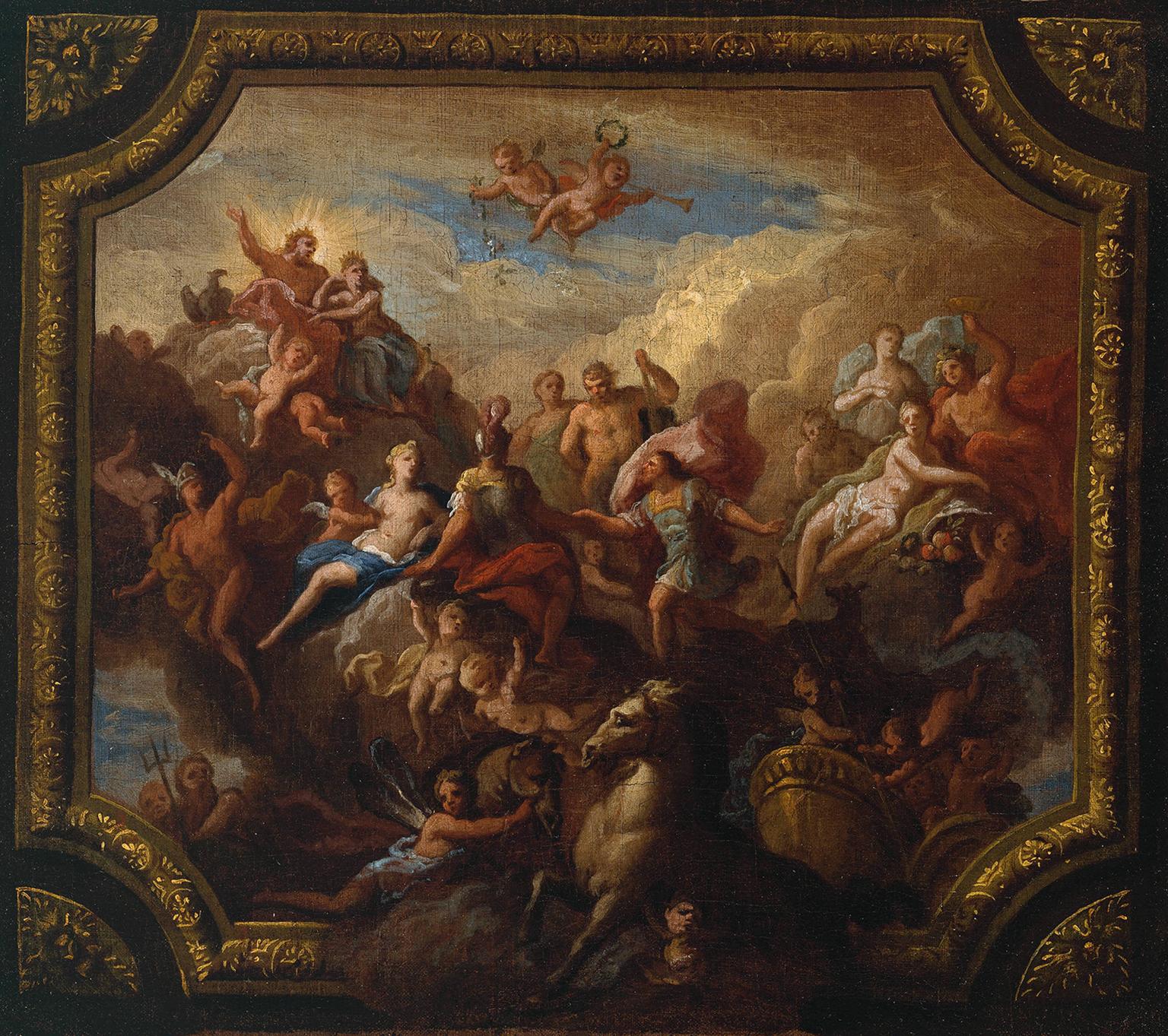 Sir James Thornhill
The Apotheosis of Romulus: Sketch for a Ceiling Decoration, Possibly for Hewell Grange, Worcestershire
c.1710
Sorry, no image available
Nils Norman
Sparkles of Glory
2022
Sorry, no image available
Cornelia Parker CBE RA
Stolen Thunder Tarnish from Charles I's Spurs
1998
You've viewed 6/19 artworks
You've viewed 19/19 artworks