17 rooms in Historic and Early Modern British Art
William Blake's driving ambition was to be recognised as an artist of national importance. He created art and poetry of great originality and imagination
Born in Soho in 1757, Blake lived in London most of his life. This was a time of significant societal upheaval and global unrest, and his art often resonated with the rapidly changing world around him. Blake was politically radical, writing poetry that criticised empire, slavery and social inequality.
Blake trained as an engraver, relying on commissions from commercial publishers and a small group of patrons to make money. He was often employed to illustrate texts like the Bible or Dante's Divine Comedy. Yet Blake wished to be recognised as an original artist. He aspired to paint grand public works, even staging a solo exhibition in 1809.
Regularly working late into the night, Blake pursued his own highly creative projects. He saw himself as a prophet, bridging spiritual and physical worlds through his art and poetry. He claimed to see visions, which inspired his characters and personal mythology. His work also drew on his deep religious beliefs and personal struggles. To fully express his imagination, Blake devised new techniques in painting and printing, too. His wife Catherine was a vital support to him and assisted in colouring his work.
While widely celebrated today, Blake was little appreciated in his lifetime beyond a small circle of friends and patrons who admired his independent spirit. His reputation grew in the 19th and 20th centuries as his works circulated among artists and collectors. In recent decades, numerous artists and writers have drawn inspiration from Blake, reflecting his enduring legacy in Britain and around the world.

Here, Blake's work is shown in dialogue with Chris Ofili's art.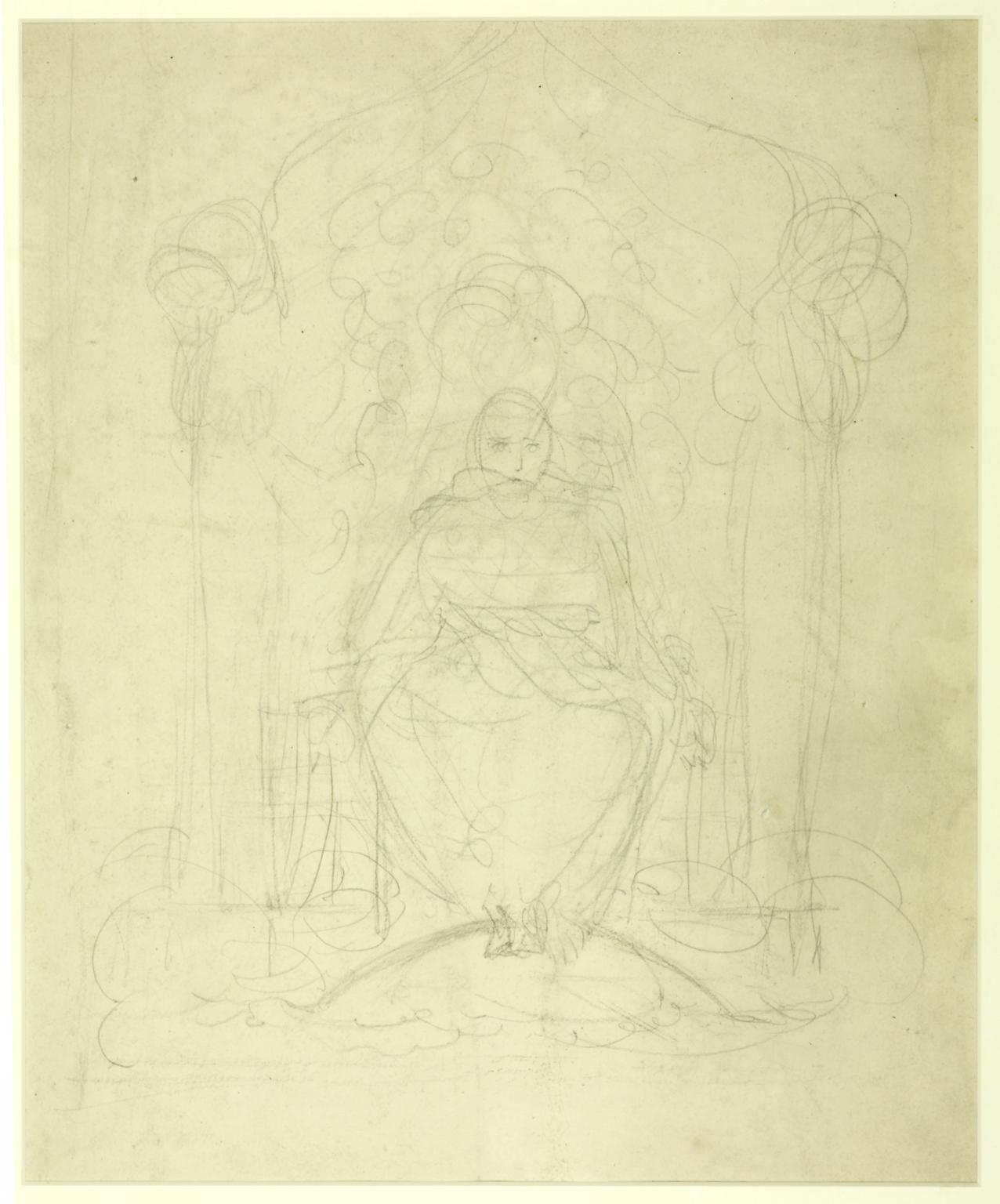 William Blake

,

Preliminary Sketch for 'Christ Girding Himself with Strength'. Verso: Standing Figure with One Arm Raised

c.1805, c.1805–10

Blake based this design on Psalm 93 in the Bible. He shows Christ sat on a throne, flanked by two standing figures. He roughly outlines the figures and composition in the sketch, in preparation for a more developed watercolour painting. After Blake's death, his wife Catherine gave this and other works to the young artist Frederick Tatham. Tatham was part of a small group called 'the Ancients' who greatly admired Blake. Together with Catherine – who acted as custodian and saleswoman of many of Blake's works – the Ancients helped to shape Blake's legacy.

Gallery label, October 2023
1/15
artworks in William Blake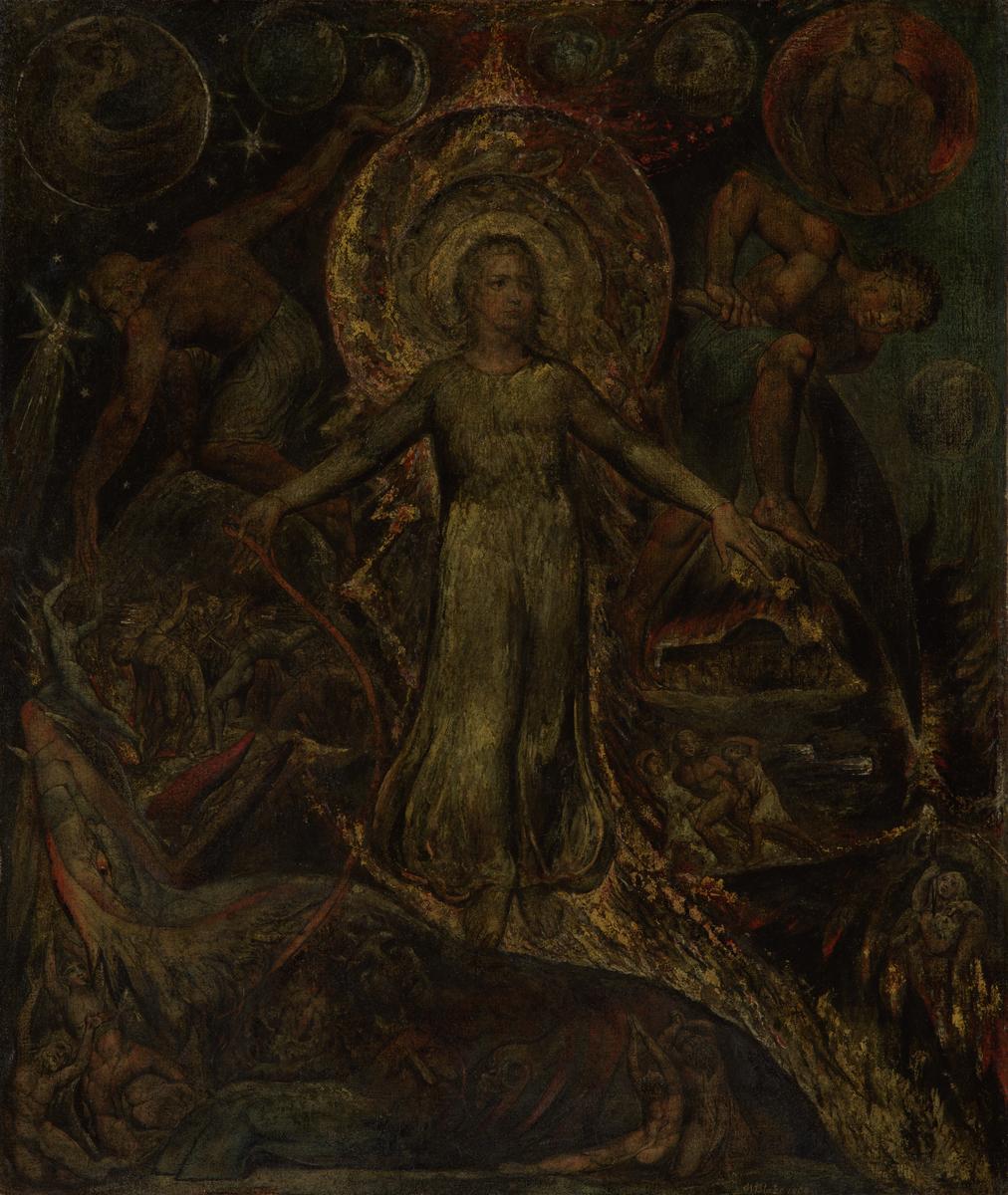 William Blake

,

The Spiritual Form of Pitt Guiding Behemoth

?1805

Here, Blake depicts the Prime Minister, William Pitt, at the centre of an apocalyptic vision of war. He stands astride the biblical beast known as the Behemoth. Pitt had led Britain into war against France following the 1789 French Revolution. Blake was critical of empire and violence in his writings. However, he may have regarded war as a necessary evil clearing the way for change. Blake showed this painting in his solo exhibition in 1809. He described this work as a 'fresco' painting, but Blake actually used his own experimental formula involving tempera, gum, glue, and chalks.

Gallery label, October 2023
2/15
artworks in William Blake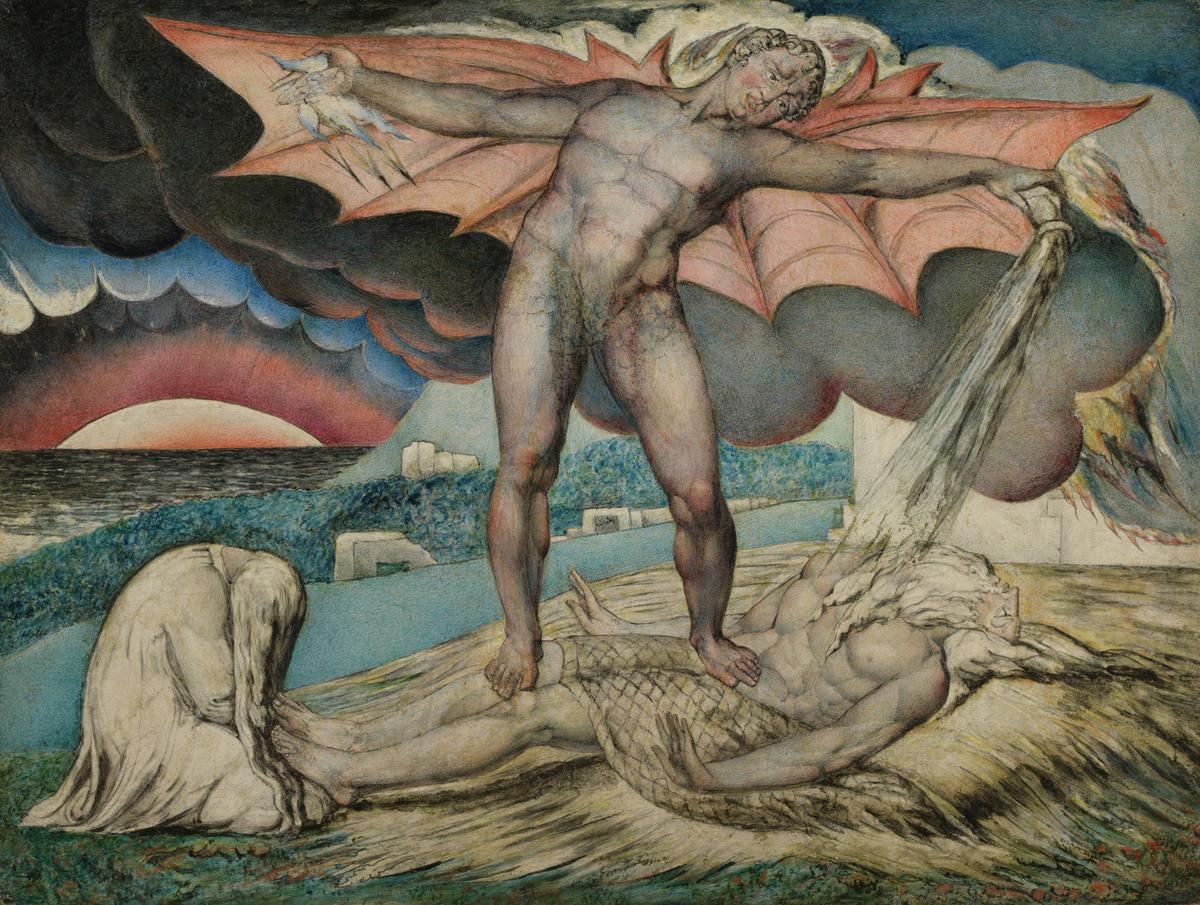 William Blake

,

Satan Smiting Job with Sore Boils

c.1826

In this image, Blake represents a scene from the biblical 'Book of Job'. Throughout the text, the presence of evil and suffering in a world created by a just, all-knowing God is questioned. God lets Satan test the devout Job's faith by inflicting various tortures on him. This vibrant watercolour shows one of these tortures. Blake depicts Satan in the centre, arms and wings outstretched, as he blasts Job with boils. This watercolour is a development of plate 6 of Blake's designs to the Book of Job, published in 1826.

Gallery label, October 2023
3/15
artworks in William Blake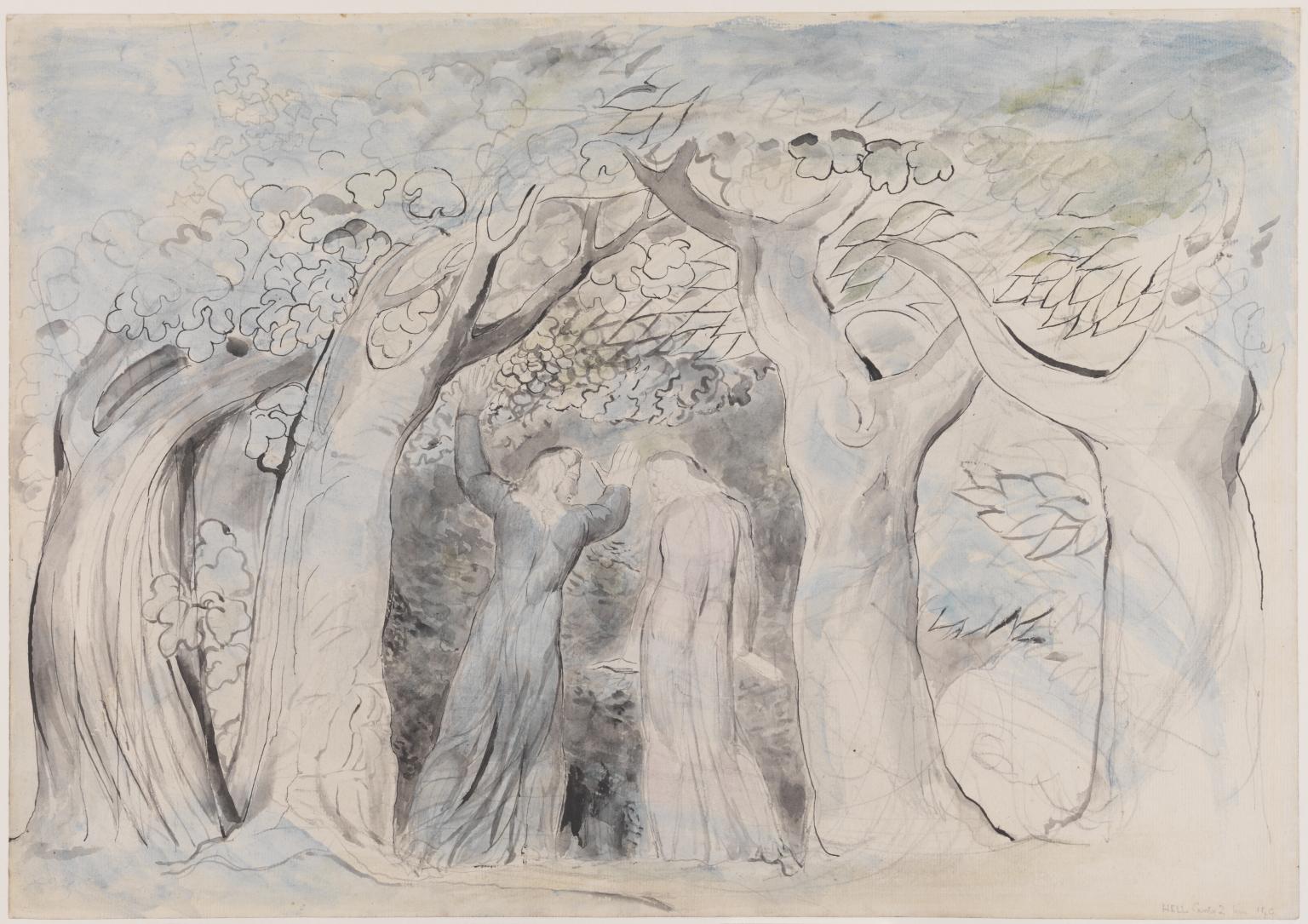 William Blake

,

Dante and Virgil Penetrating the Forest

1824–7

Blake was greatly inspired by the medieval poet Dante. He produced 102 watercolours illustrating Dante's poem The Divine Comedy, which imagines a pilgrimage through hell, purgatory and paradise. This watercolour is the second in the series (several other illustrations are shown nearby). Blake depicts the moment when the ancient Roman poet Virgil (in blue) comes to Dante (in red) to guide him safely on his journey. The work is unfinished, but Blake used some light blue and green washes for the sunny regions. He uses carbon black for the wood that lies ominously ahead of the figures.

Gallery label, October 2023
4/15
artworks in William Blake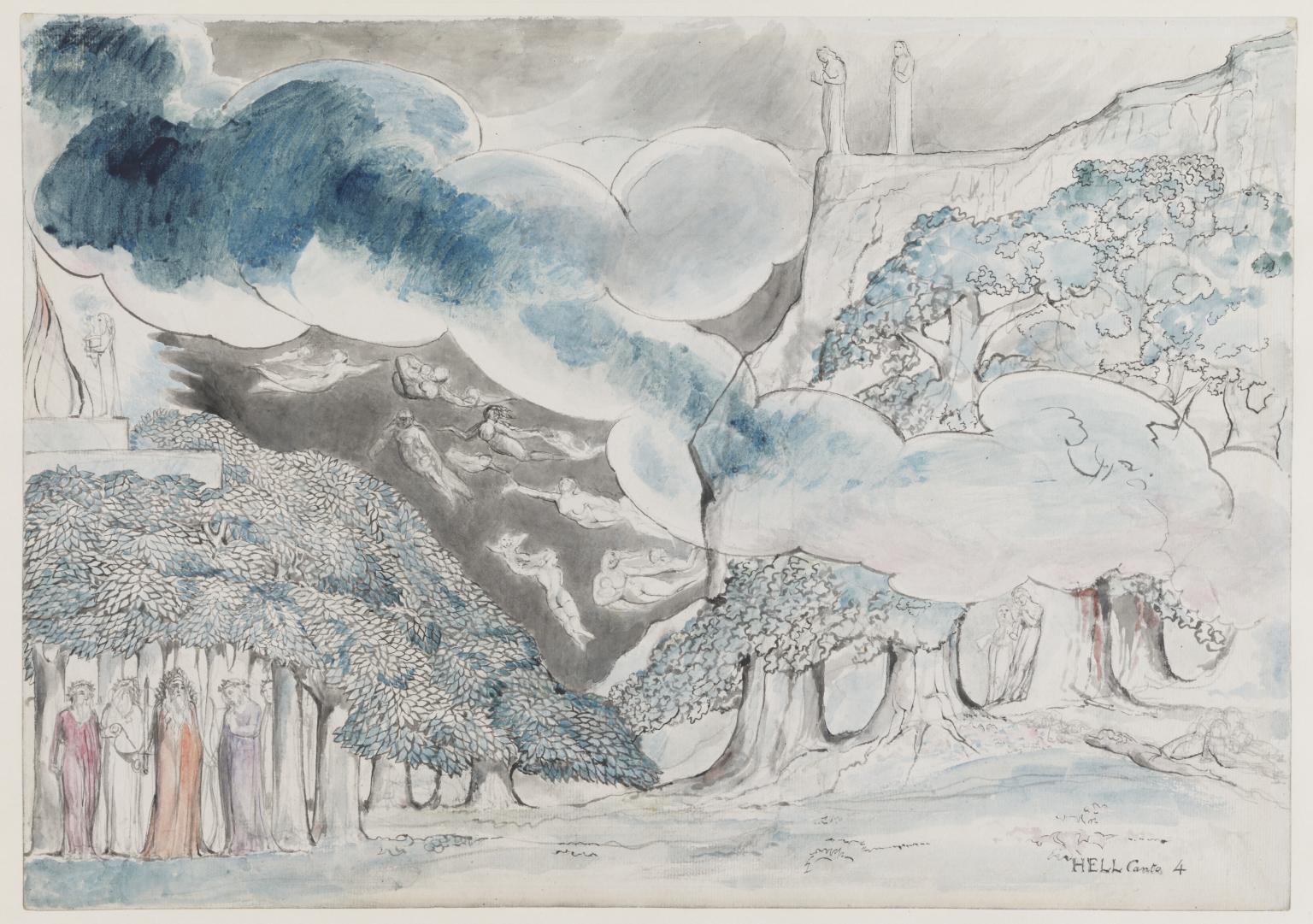 William Blake

,

Homer and the Ancient Poets

1824–7

This image depicts the first circle of Hell in Dante's 'Inferno' (the first part in his poem, The Divine Comedy) – Dante and Virgil look down from a cliff into 'Limbo', where they see a group of ancient Greek and Roman poets, including Homer. According to Dante's Roman Catholic theology, Limbo was a place for virtuous non-Christians (like the poets) who did not deserve eternal damnation. Homer is shown holding a sword, perhaps in reference to his poetry celebrating the Trojan war. Blake was opposed to war and described the Greek and Roman poets as 'slaves of the sword.'

Gallery label, October 2023
5/15
artworks in William Blake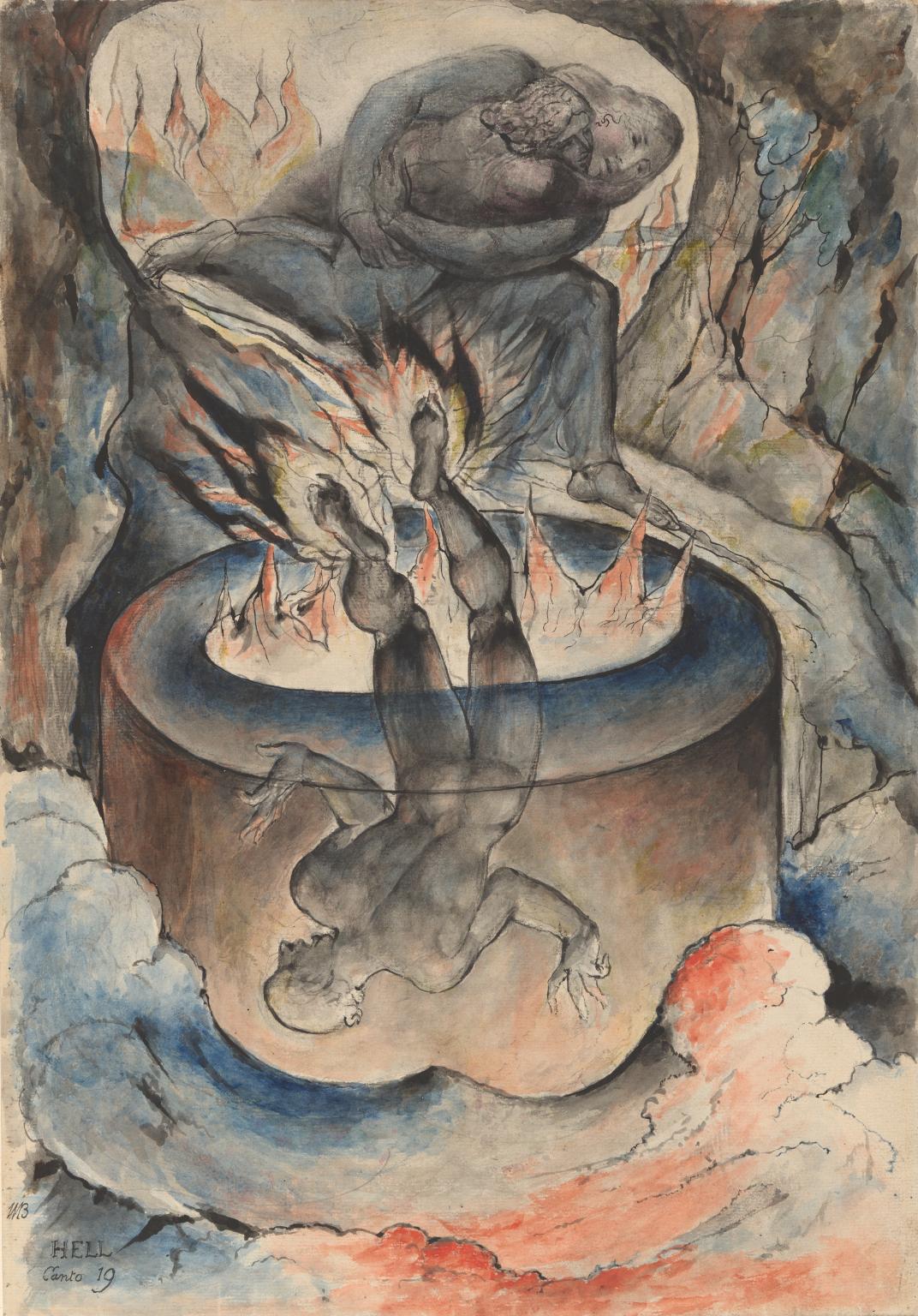 William Blake

,

The Simoniac Pope

1824–7

This violent scene illustrates the eighth circle of Hell described in Dante's 'Inferno'. Dante and Virgil witness the punishment of those souls guilty of simony (buying or selling church offices or positions). Here they encounter Pope Nicolas III, whose punishment is to be submerged headfirst into a well of fire, with flames also burning on the soles of his feet. This is to continue until the next sinner takes his place. Virgil clasps Dante in his arms, protecting him from the fiery pit.

Gallery label, October 2023
6/15
artworks in William Blake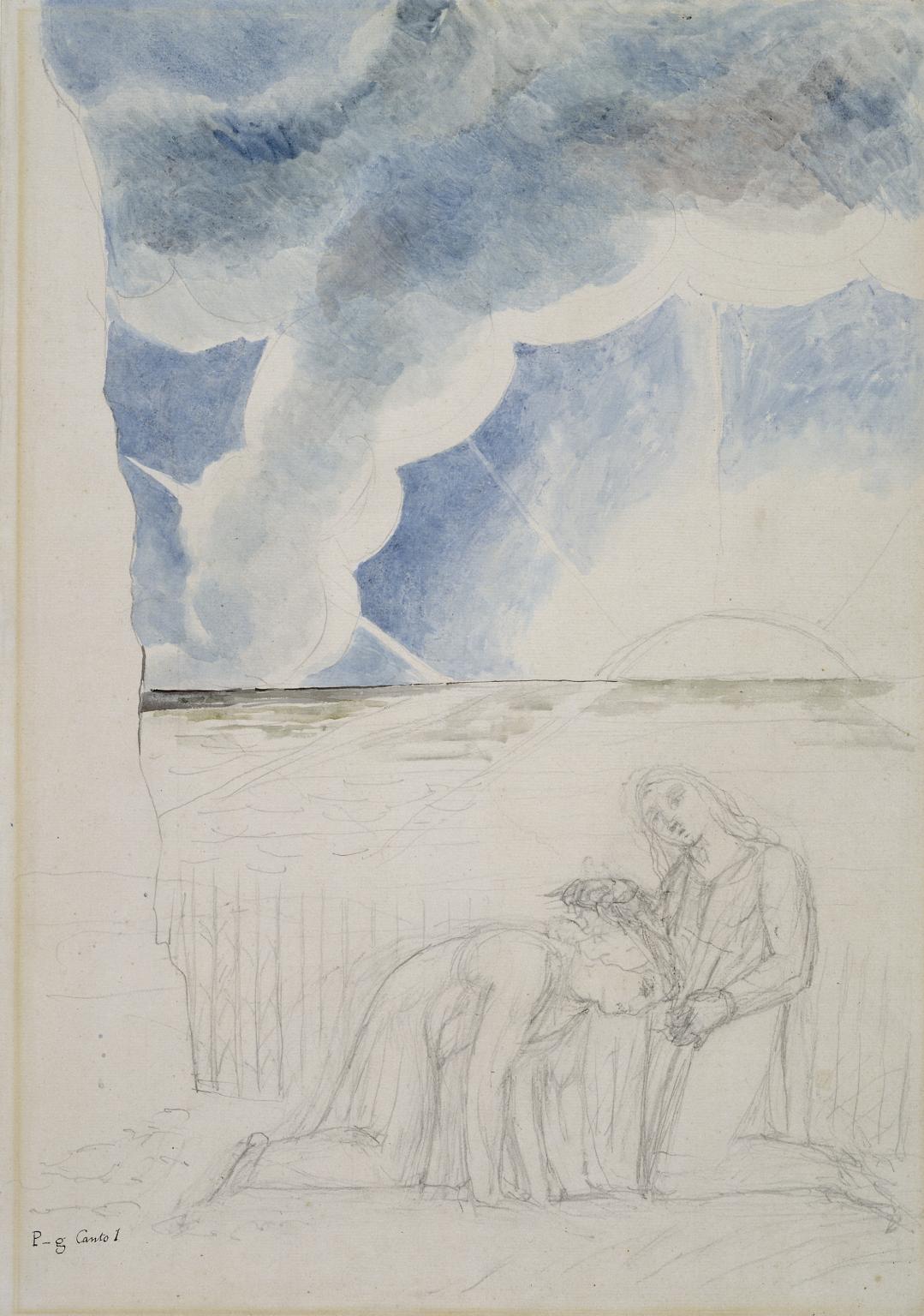 William Blake

,

Virgil Girding Dante's Brow with a Rush

1824–7

Here, Blake shows a scene from Dante's 'Purgatorio' (the second part in The Divine Comedy). Virgil is instructed by Cato – the guardian of the entrance to Purgatory – to bathe Dante's face and wrap his forehead with a rush. As Virgil does this, the sun rises enough to reveal the way up the Mountain of Purgatory. In Blake's work, sun imagery is often ambiguous. Blake associated the spiritual sun with divinity and the imagination, and the actual, material sun with the mundane world of the five senses. Purgatory is poised between these states.

Gallery label, October 2023
7/15
artworks in William Blake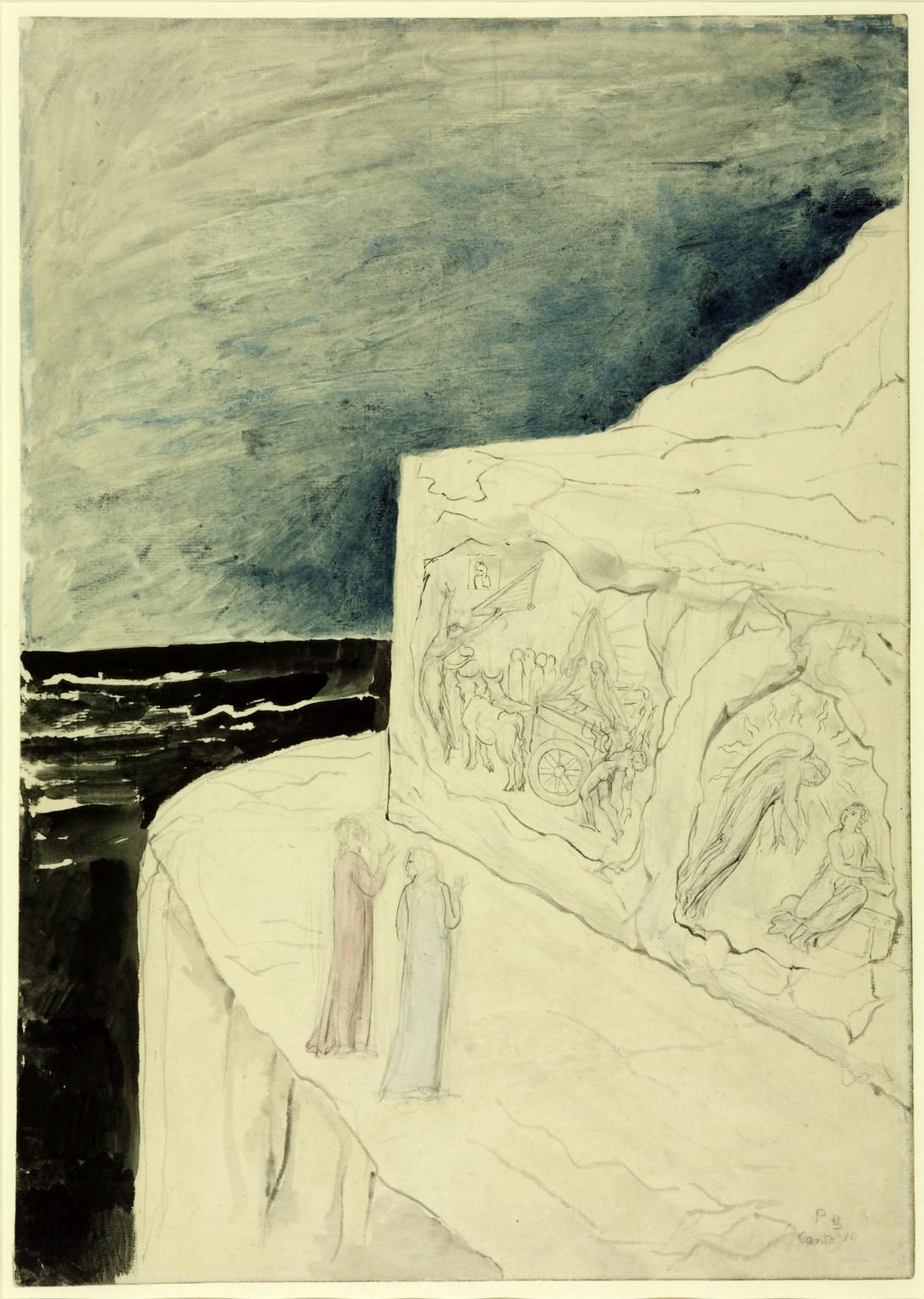 William Blake

,

The Rock Sculptured with the Recovery of the Ark and the Annunciation

1824–7

In this scene from Dante's 'Purgatorio', Dante and Virgil climb the Mountain of Purgatory. The poem describes scenes of humility carved into the mountainside. Blake shows the pilgrims studying a carving of the biblical story of the ark (a sacred chest holding the two stone tablets of the ten commandments) being returned to Jerusalem. King David dances in front of the ark as it enters the city. Its return signalled the liberation of Jewish people from the Philistines. Elsewhere, Blake compared the ark to a 'Dove of Peace.' He viewed Jerusalem as a symbol of peace and liberty.

Gallery label, October 2023
8/15
artworks in William Blake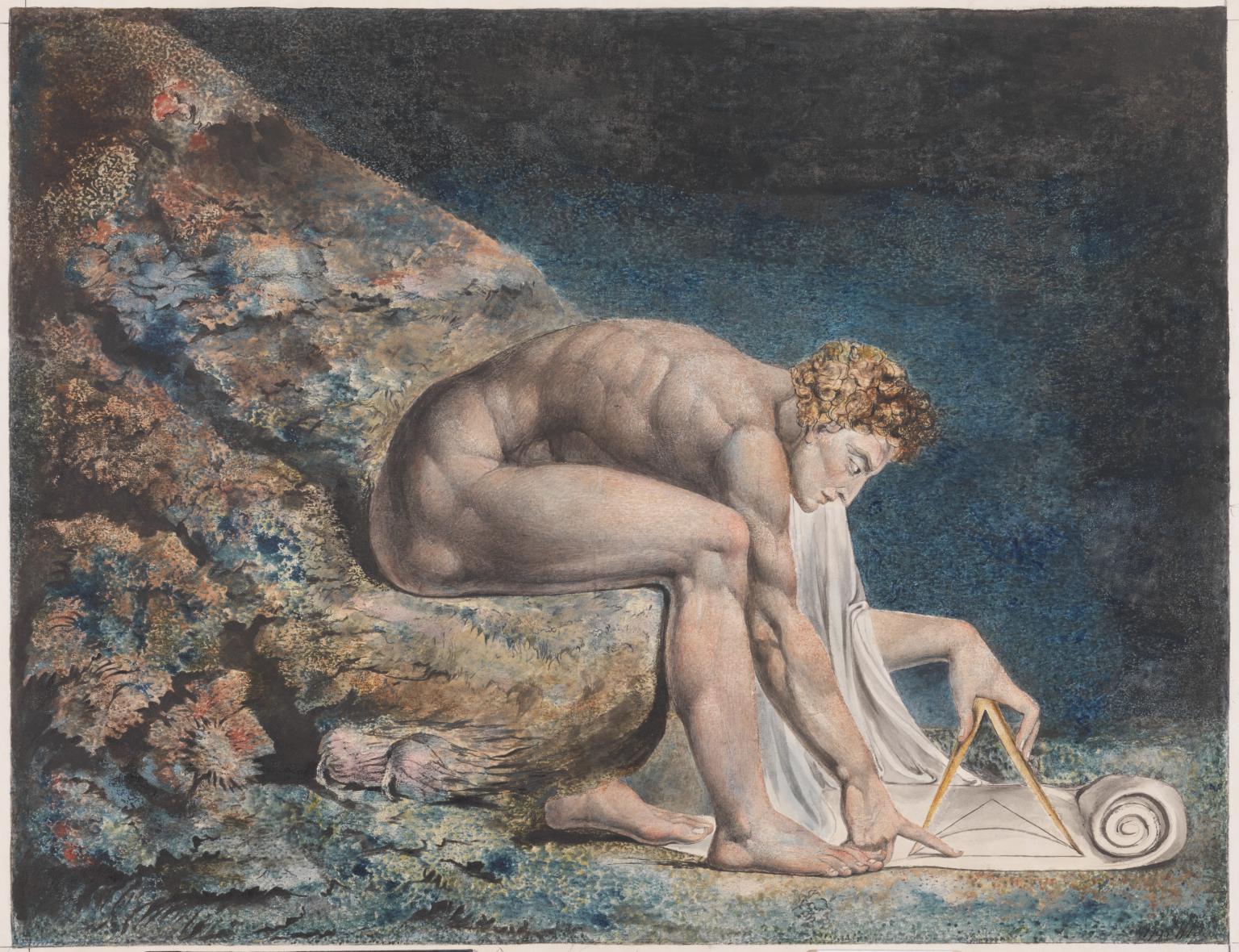 William Blake

,

Newton

1795–c.1805

Here, Blake satirises the 17th-century mathematician Isaac Newton. Portrayed as a muscular youth, Newton seems to be underwater, sitting on a rock covered with colourful coral and lichen. He crouches over a diagram, measuring it with a compass. Blake believed that Newton's scientific approach to the world was too reductive. Here he implies Newton is so fixated on his calculations that he is blind to the world around him. This is one of only 12 large colour prints Blake made. He seems to have used an experimental hybrid of printing, drawing, and painting.

Gallery label, October 2023
9/15
artworks in William Blake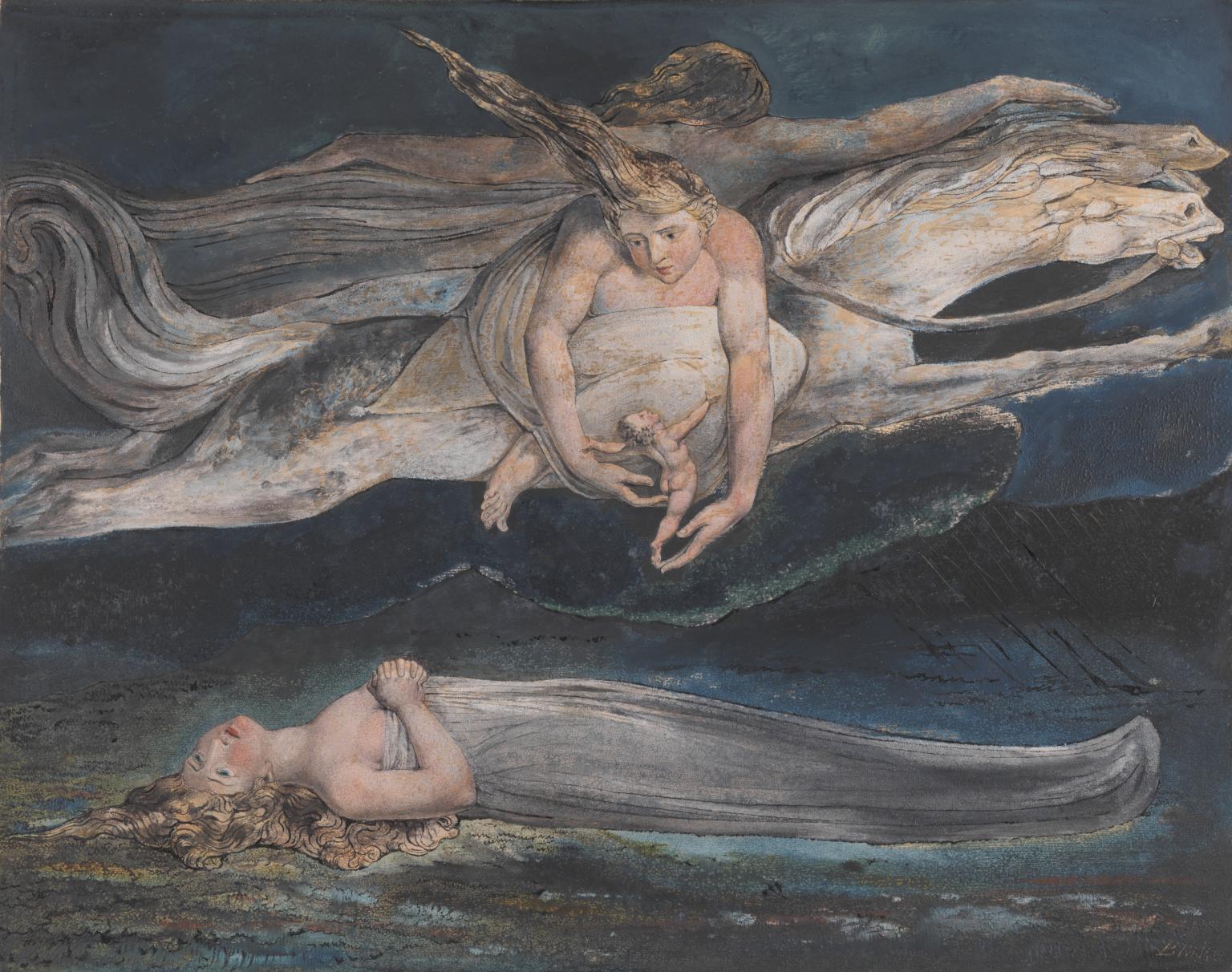 William Blake

,

Pity

c.1795

This picture is based on the playwright William Shakespeare's imagery in Macbeth. The play describes: 'pity, like a naked newborn babe / Striding the blast, or heaven's cherubin horsed / Upon the sightless couriers of the air, / Shall blow the horrid deed in ev'ry eye'. Blake's visualisation of 'pity' takes Shakespeare's words literally. Underneath the floating figures representing 'pity', Blake has included a young woman lying on the ground, her hands clasped as though in prayer. She may represent the infant's mother, or someone influenced by pity.

Gallery label, October 2023
10/15
artworks in William Blake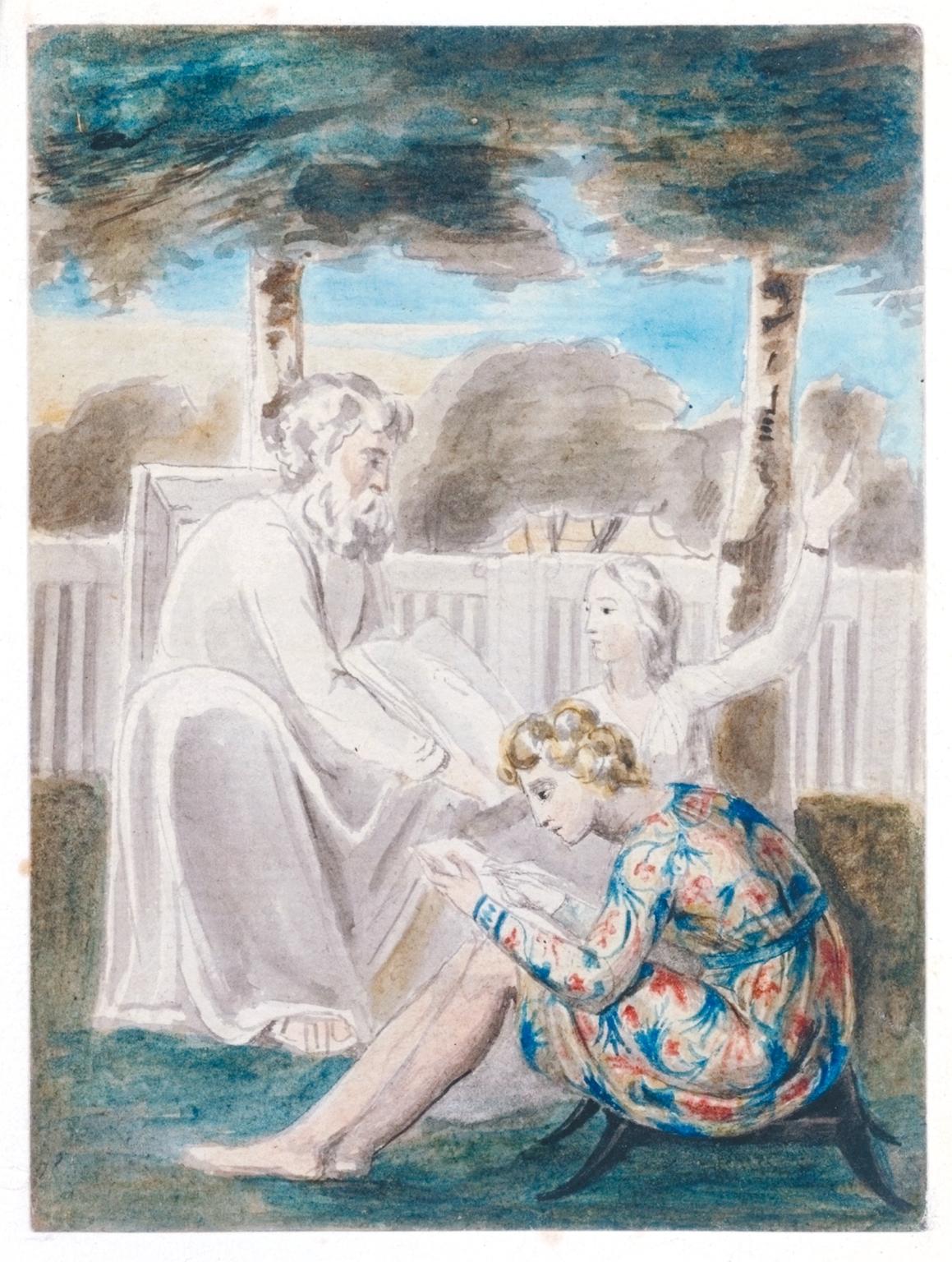 William Blake

,

Age Teaching Youth

c.1785–90

Blake was intrigued by the states of youth and old age. At first glance, this drawing appears to be an idealised image of education. However, it can also be understood as an allegory. Read in this way, the old man may represent an attempt to pass down restrictive law to the next generation. The child in floral clothes may symbolise a philosophy focused on nature and lacking true inspiration. By contrast, the child pointing upwards may represent an openness to imagination and the divine.

Gallery label, October 2023
11/15
artworks in William Blake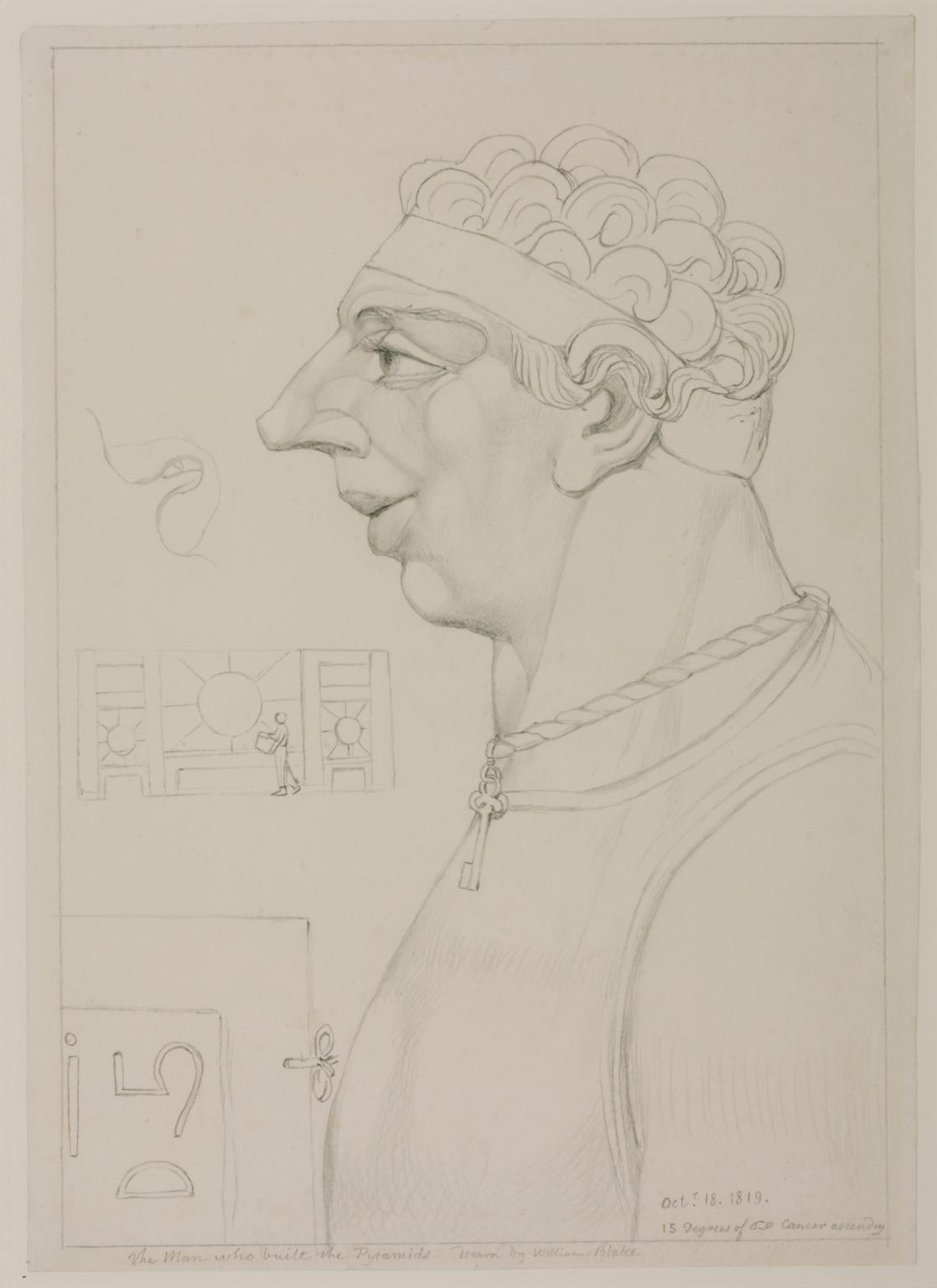 attributed to John Linnell

,

The Man who Built the Pyramids (after William Blake)

c.1825

The artist John Linnell was one of Blake's main friends and patrons in his later years. This drawing is a copy of one of Blake's designs for John Varley's projected 'Treatise on Zodiacal Physiognomy.' The designs are called 'Visionary Heads' because Blake reputedly based them on characters he had seen in his visions. The main figure is the architect of the pyramids, but Blake has made other drawings alongside this. These show the architect's open mouth, the 'Egyptian' interior where Blake's vision took place, and the architect's portfolio inscribed with hieroglyphics.

Gallery label, October 2023
12/15
artworks in William Blake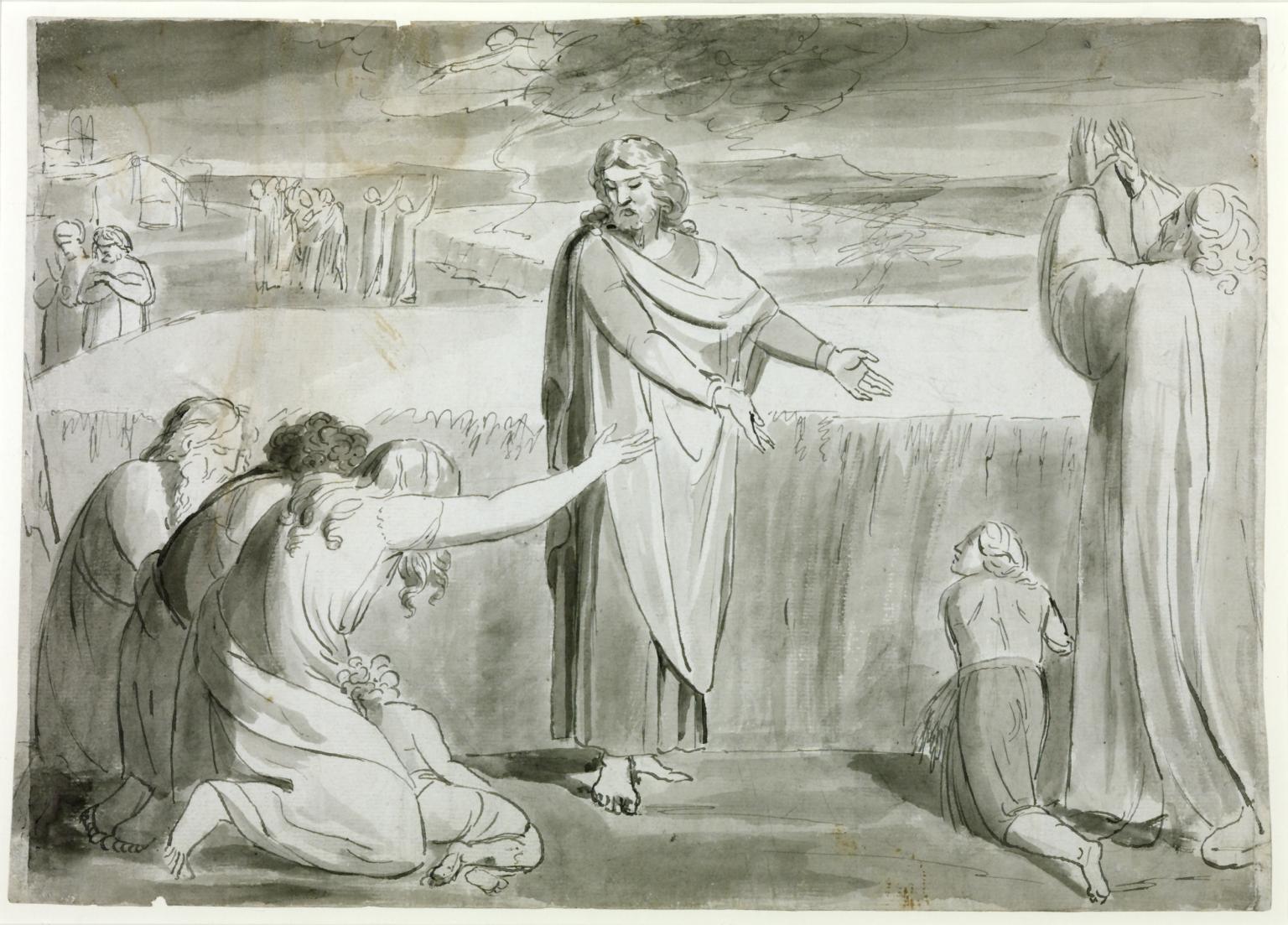 William Blake

,

The Good Farmer, Probably the Parable of the Wheat and the Tares. Verso: Rough Sketch of Two or Three Figures in a Landscape

c.1780–5

This pen and wash drawing is probably inspired by the biblical story of the wheat and the tares (weeds). Blake shows a Christ-like figure in the centre, appearing to differentiate between the two kneeling groups of people. In the background, a figure emerges from a threatening dark cloud, perhaps casting judgement on the group of figures below. This story is from the Gospel of St Matthew, when Jesus used the imagery of the harvest to describe the last judgement. Blake explored this subject in seven sketches in the 1780s.

Gallery label, October 2023
13/15
artworks in William Blake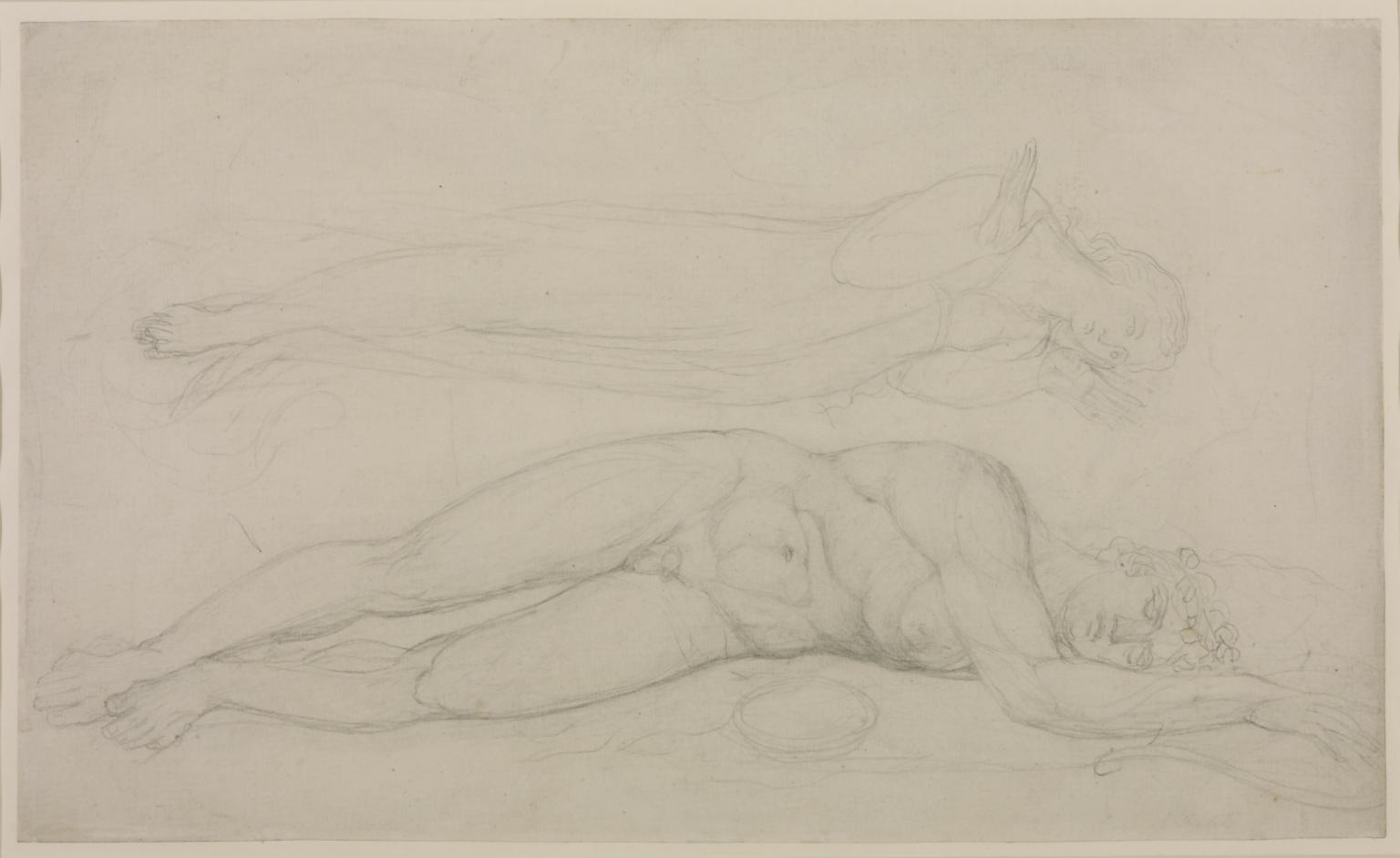 William Blake

,

The Soul Hovering over the Body Reluctantly Parting with Life

c.1805

This delicate sketch illustrates a passage from Robert Blair's poem The Grave, in which a soul laments departing from the body. Blake was commissioned to design and engrave the illustrations for a new edition of this poem in 1805. This was likely influenced by the popularity of 'graveyard poetry', meditating on death, burial and the afterlife. However, Blake was bitterly disappointed when the illustrations were engraved by Luigi Schiavonetti rather than himself. When published in 1808, the print had these lines added: 'How wishfully she looks/ On all she's leaving, now no longer hers!'

Gallery label, October 2023
14/15
artworks in William Blake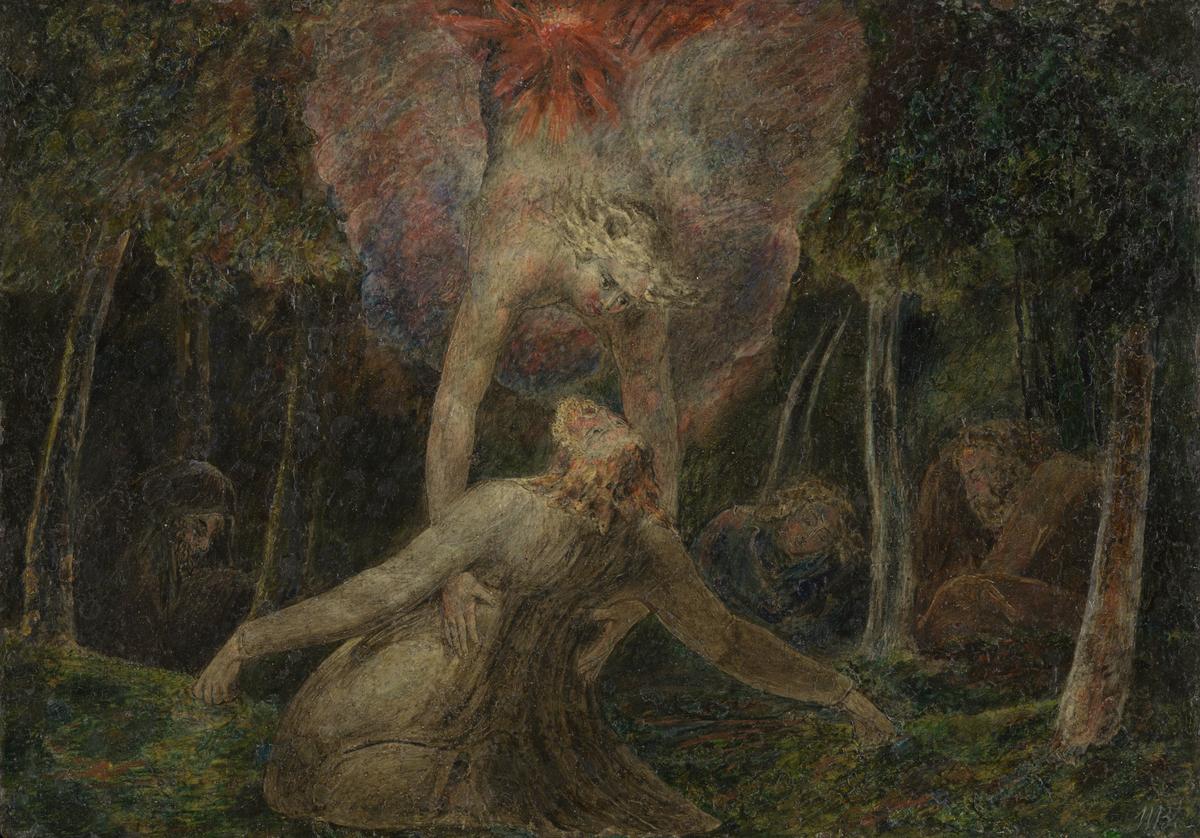 William Blake

,

The Agony in the Garden

c.1799–1800

One of Blake's patrons described him as 'a most fervent admirer of the Bible'. Here, Blake illustrates a scene from the Gospel of St Luke. While Christ prays in the Garden of Gethsemane (before being betrayed by Judas and arrested), an angel comes to give him strength. Blake depicts this moment of Jesus's spiritual agony, as his disciples sleep around him. This painting is one of a group of biblical subjects Blake made for his patron Thomas Butts. He used an experimental tempera formula that was very unstable, resulting in surface cracking and darkening over time.

Gallery label, October 2023
15/15
artworks in William Blake
Art in this room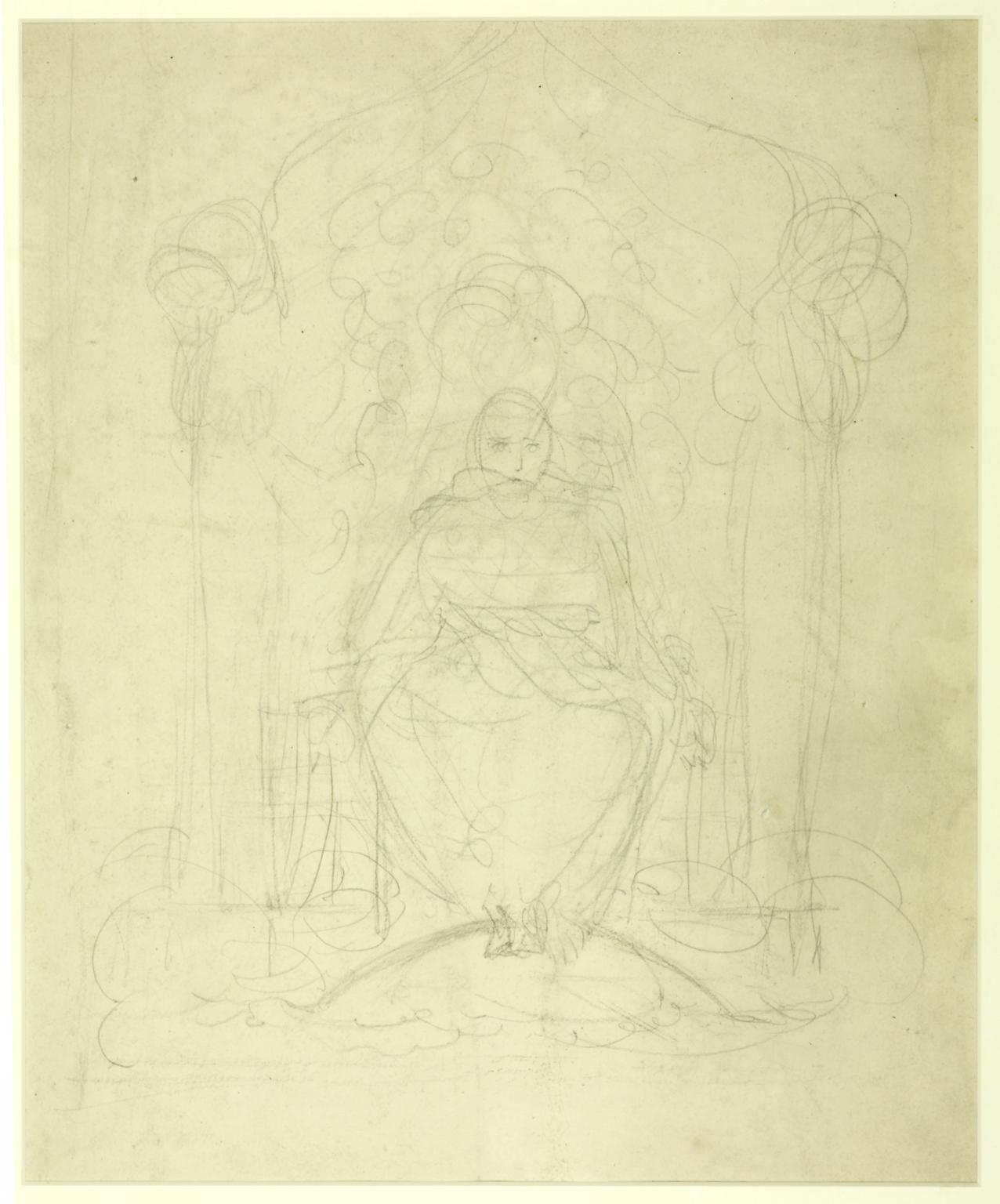 William Blake
Preliminary Sketch for 'Christ Girding Himself with Strength'. Verso: Standing Figure with One Arm Raised
c.1805, c.1805–10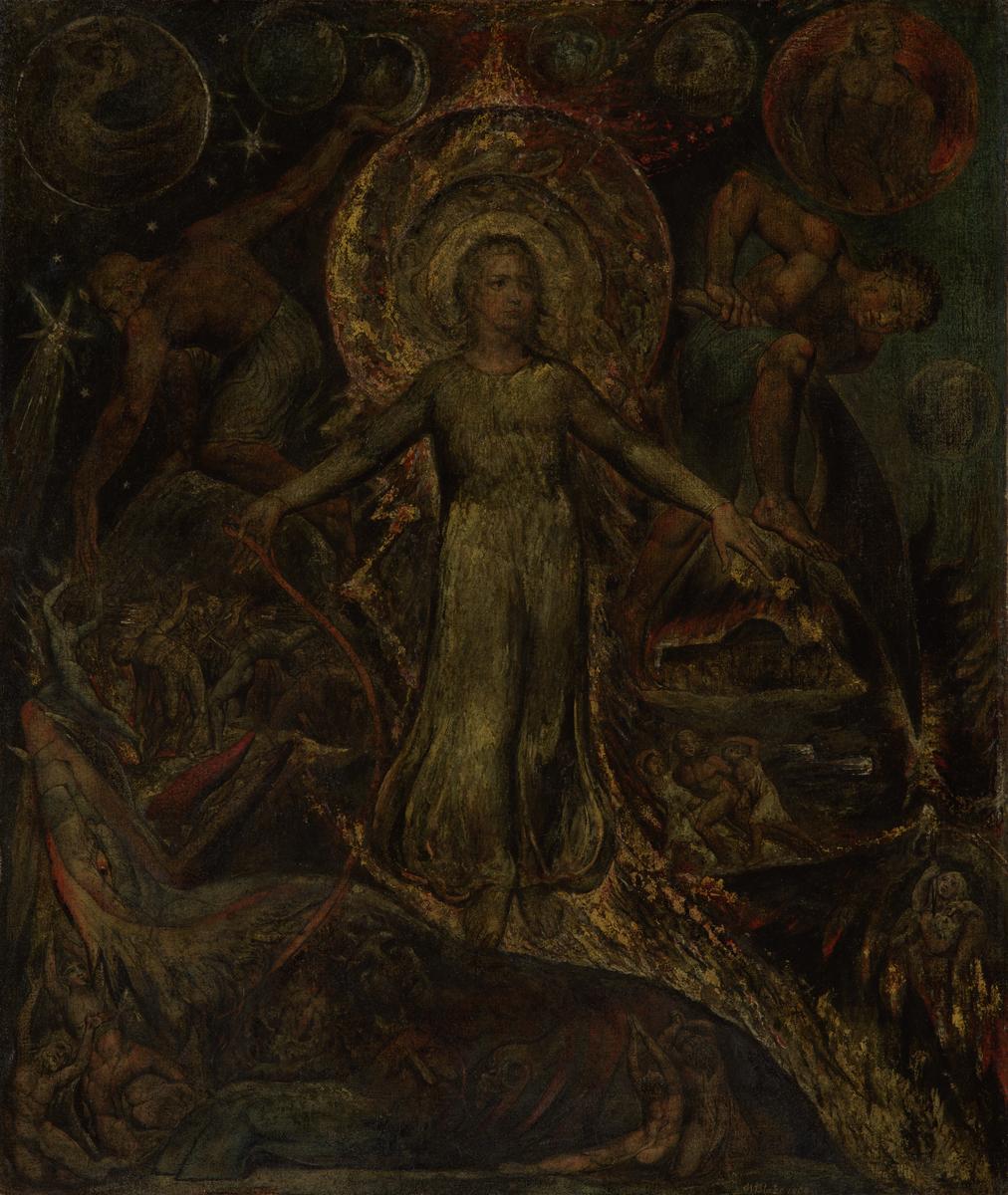 William Blake
The Spiritual Form of Pitt Guiding Behemoth
?1805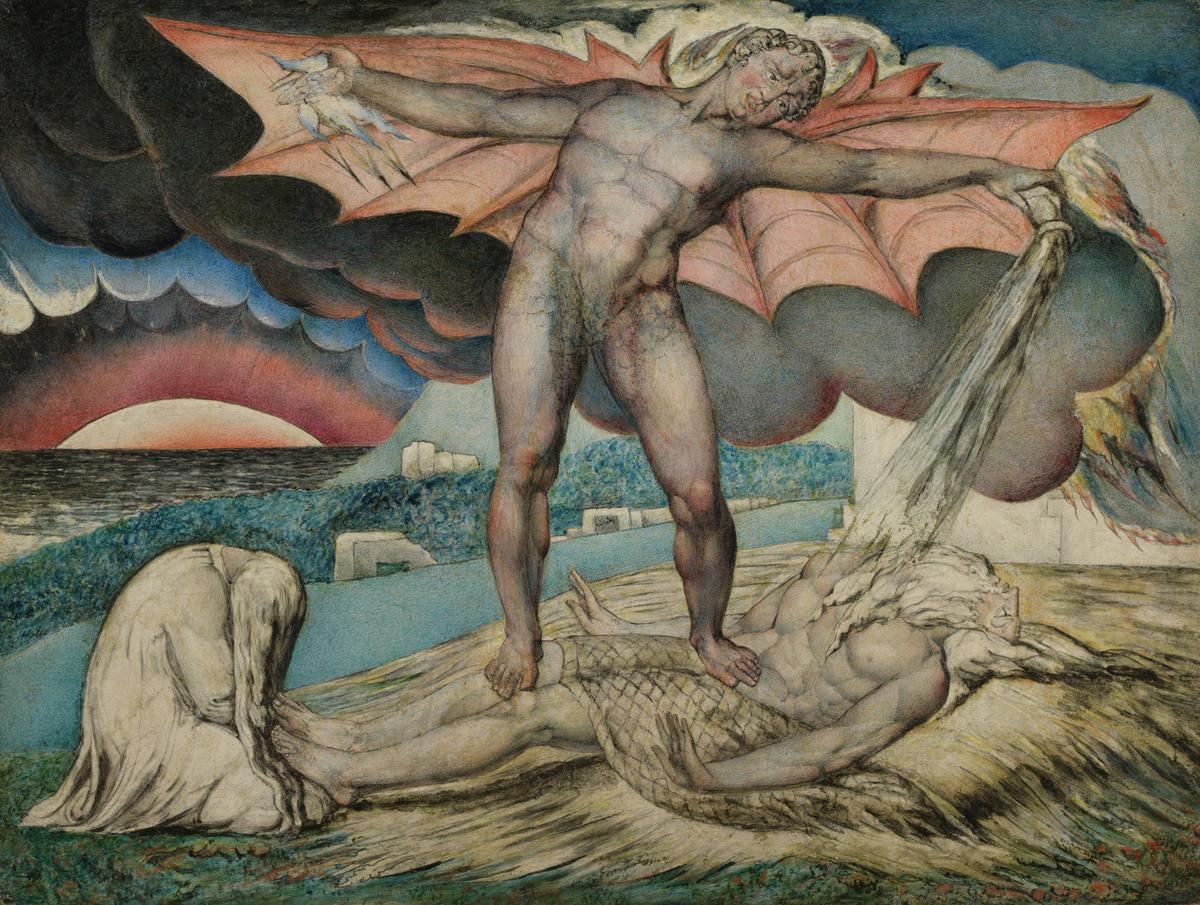 William Blake
Satan Smiting Job with Sore Boils
c.1826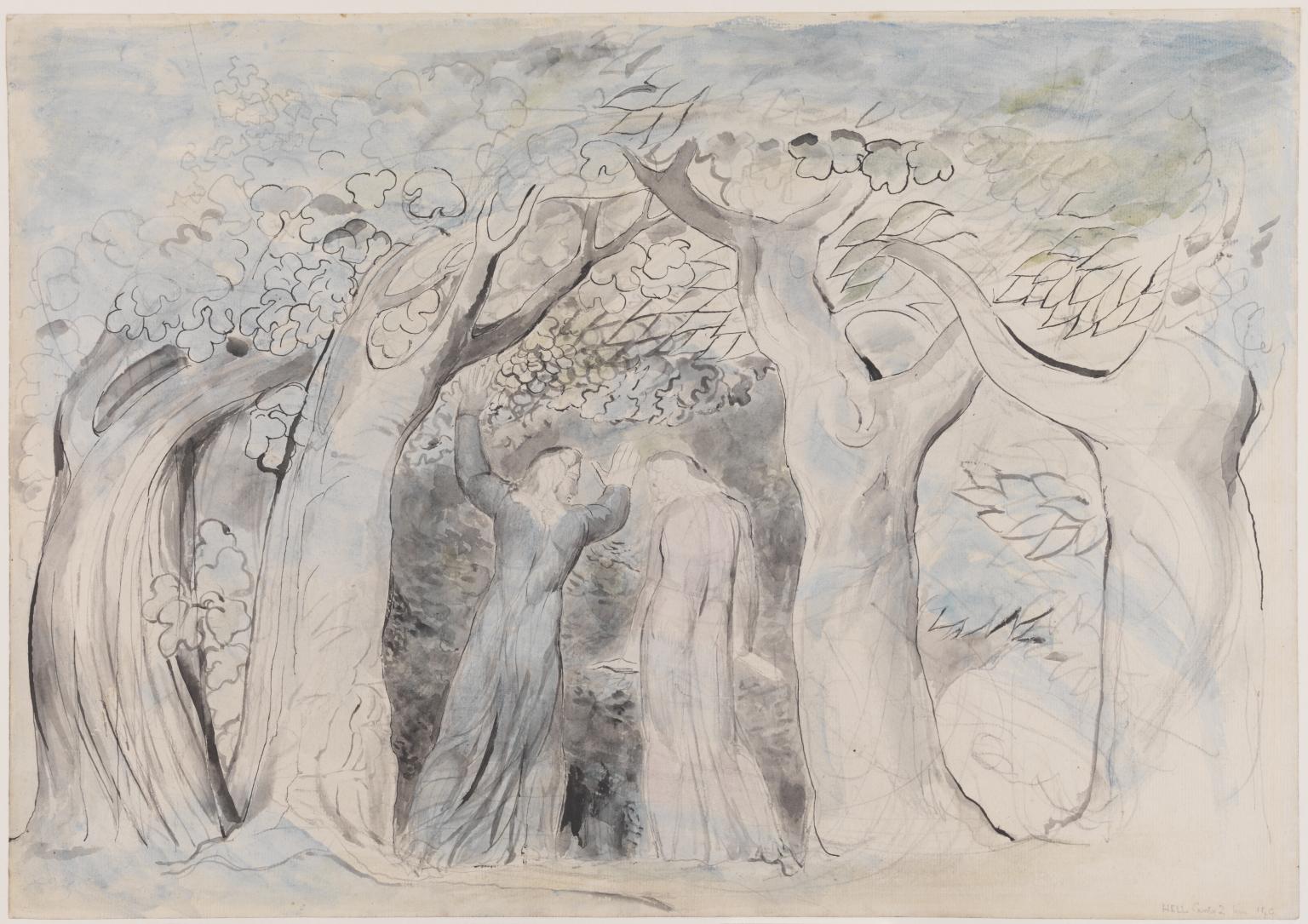 William Blake
Dante and Virgil Penetrating the Forest
1824–7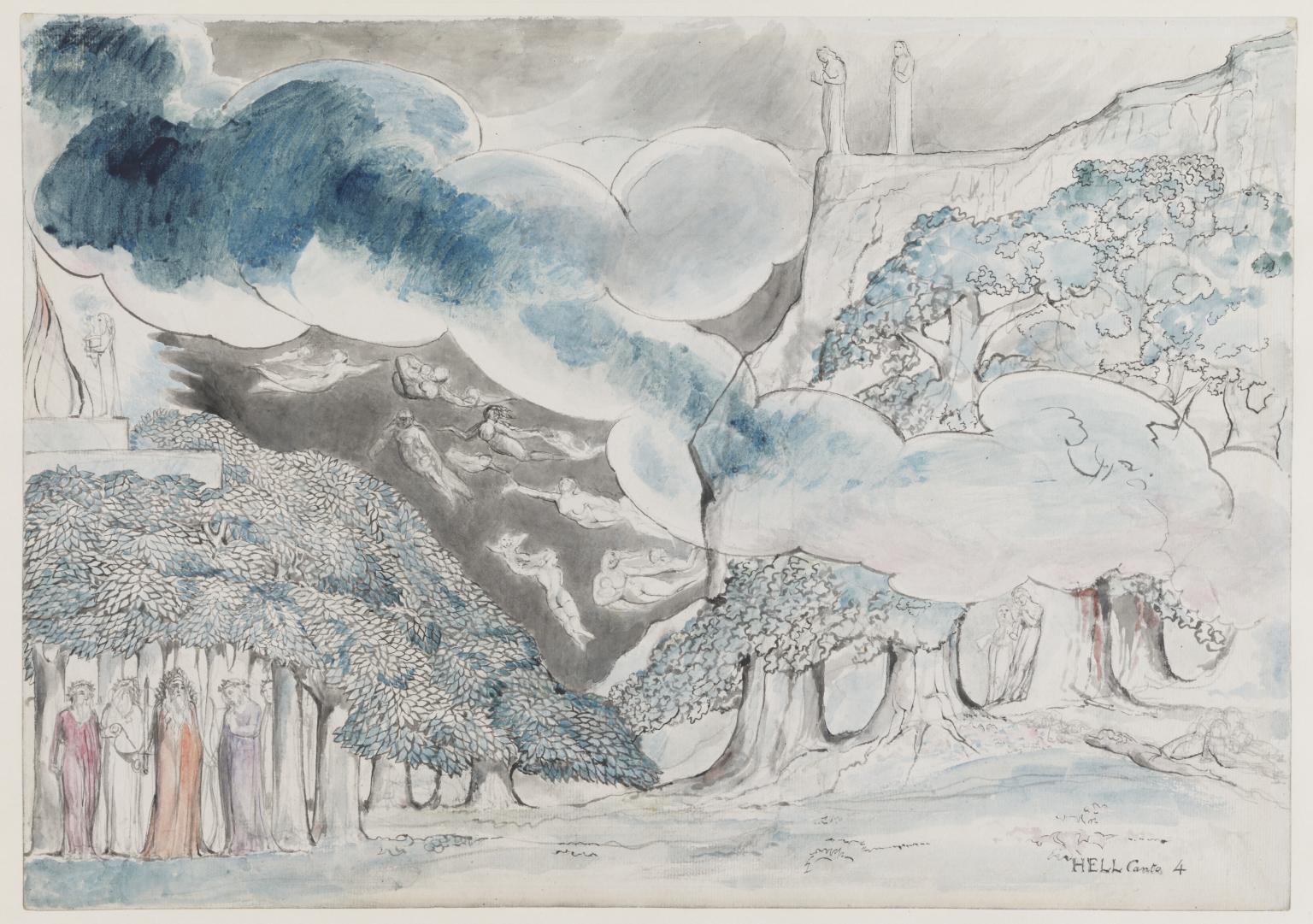 William Blake
Homer and the Ancient Poets
1824–7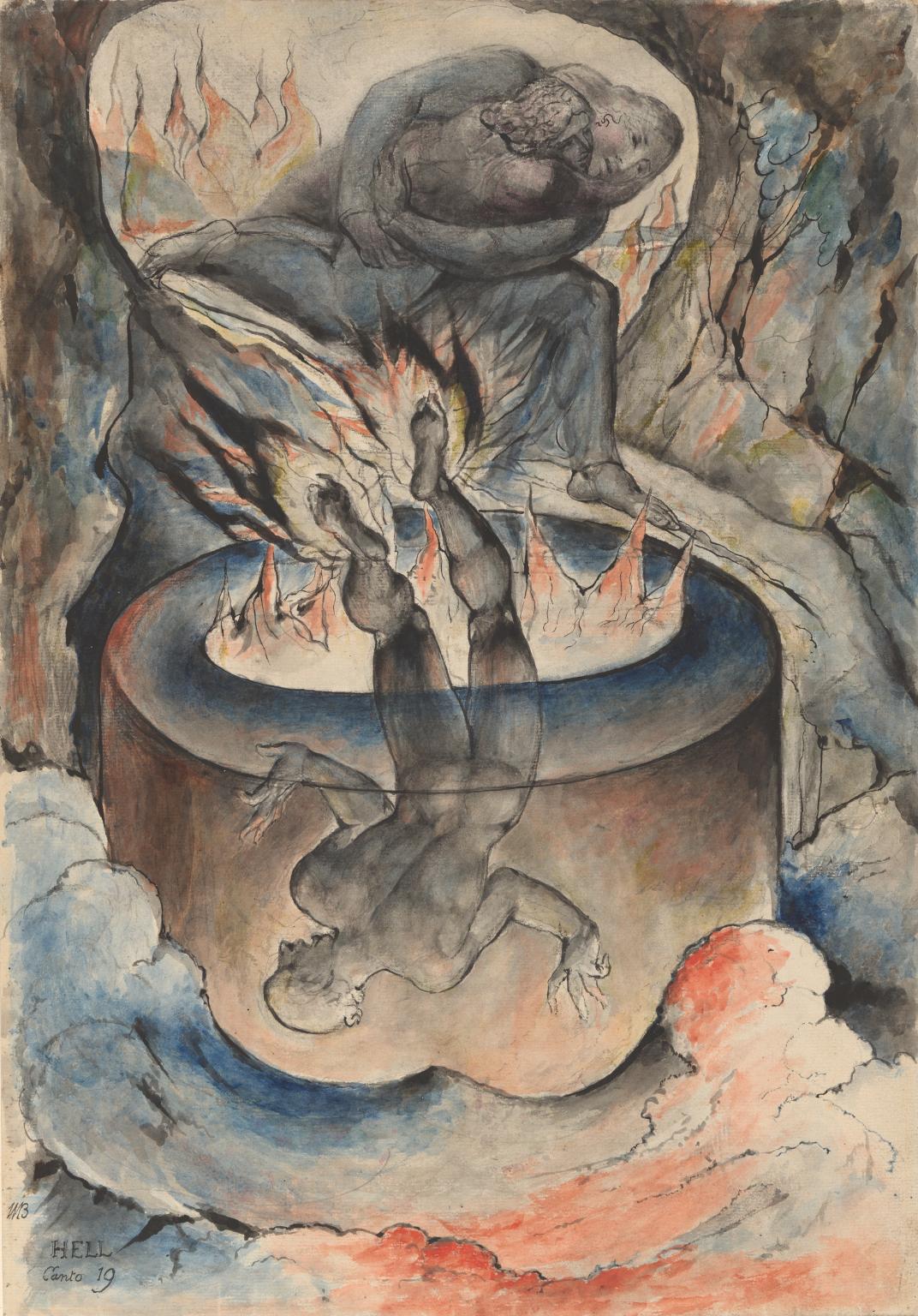 William Blake
The Simoniac Pope
1824–7
You've viewed 6/15 artworks
You've viewed 15/15 artworks