This display looks at how artists see fairies
This display looks at how artists see fairies. It features sixteen artists from Henri Fuseli, 250 fifty years ago, to JMW Turner, to our own times and Mat Collishaw's trick photography.
In the eighteenth century, artists painting scenes from William Shakespeare's A Midsummer Night's Dream and other plays and poems imagined how fairies might look. Their wayward sprites dress in gossamer, petals and insect wings and lark in the moonlight, where a toadstool could be a seat, or a firefly a lamp.
The display is also a rare chance to see Richard Dadd's Puck, one of the virtuoso fairy paintings that bought him celebrity, alongside the more personal and mysterious fairy scenes that he painted in the psychiatric hospital such A Fairy Feller's Master Stroke.
These artists' inventions, from Titania to the first Tinkerbell, form our idea of fairies today.

Richard Dadd

,

The Fairy Feller's Master-Stroke

1855–64

This scene shows a number of different characters, including the Pope and Dadd's father. In the centre the 'fairy-feller' is about to split a large chestnut, to be used to build a new carriage for Queen Mab, a fairy mentioned in William Shakespeare's play Romeo and Juliet. The picture is painted in great detail. Dadd worked on it for between six and nine years. He painted the work while he was at Bethlem Hospital, having been sent there after killing his father and experiencing mental illness.

Gallery label, July 2020
1/18
artworks in Fairy Round
Henry Singleton

,

Ariel on a Bat's Back

exhibited 1819

This picture depicts Ariel, the magical spirit in Shakespeare's play The Tempest. It was first exhibited accompanied by lines from Ariel's last song: 'On the bat's back I do fly, After summer, merrily.' Singleton's decision to paint this entertaining and theatrical subject was a response to popular tastes of the time. The artist had begun his career as a promising history painter but many felt he did not realise his full potential.

Gallery label, October 2019
2/18
artworks in Fairy Round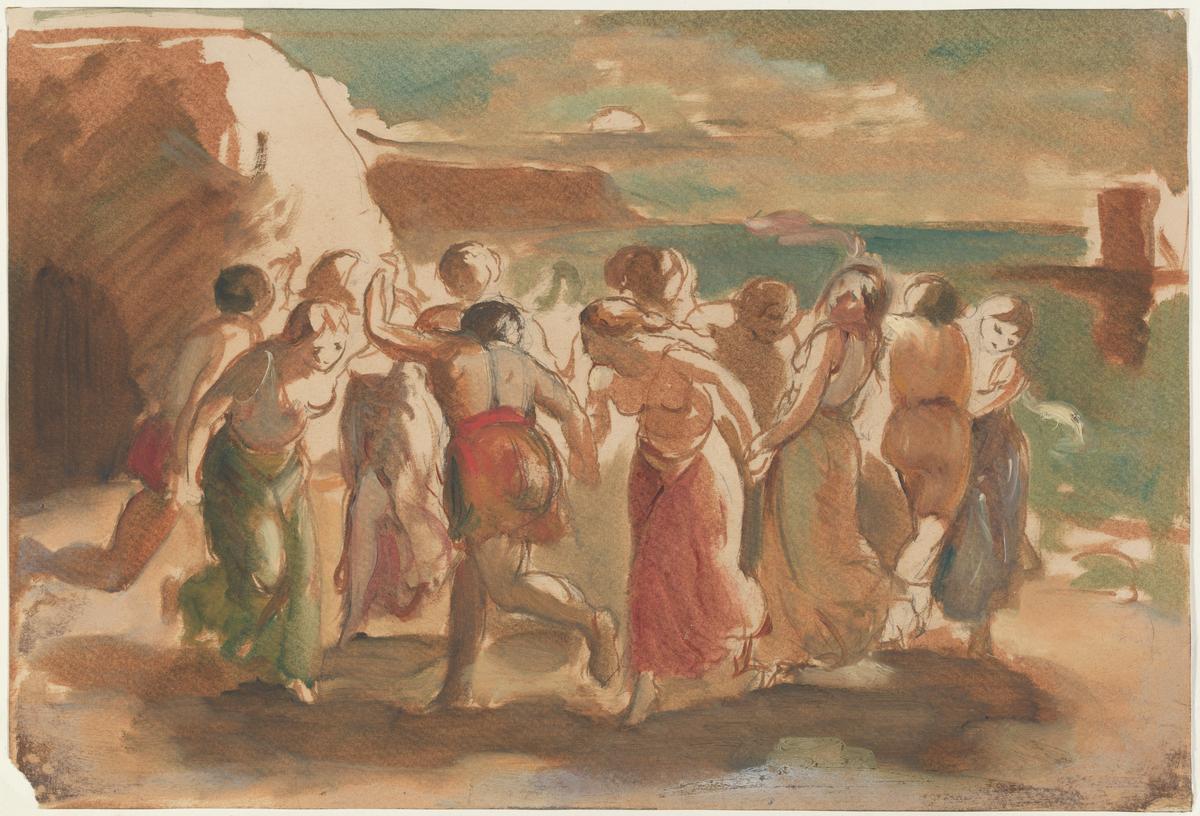 Henry Hall Pickersgill

,

Fairies on the Shore

Date not known

These revellers are associated with fairies through their merry abandon and dancing in a ring. Circles found in woods, fields or beaches were sometimes thought to have been created by fairies. The title and eerie light may relate to Pickerskill's scene of unruly fairy revellers in John Milton's masque Comus (1634), which he illustrated in 1858.

Gallery label, November 2021
3/18
artworks in Fairy Round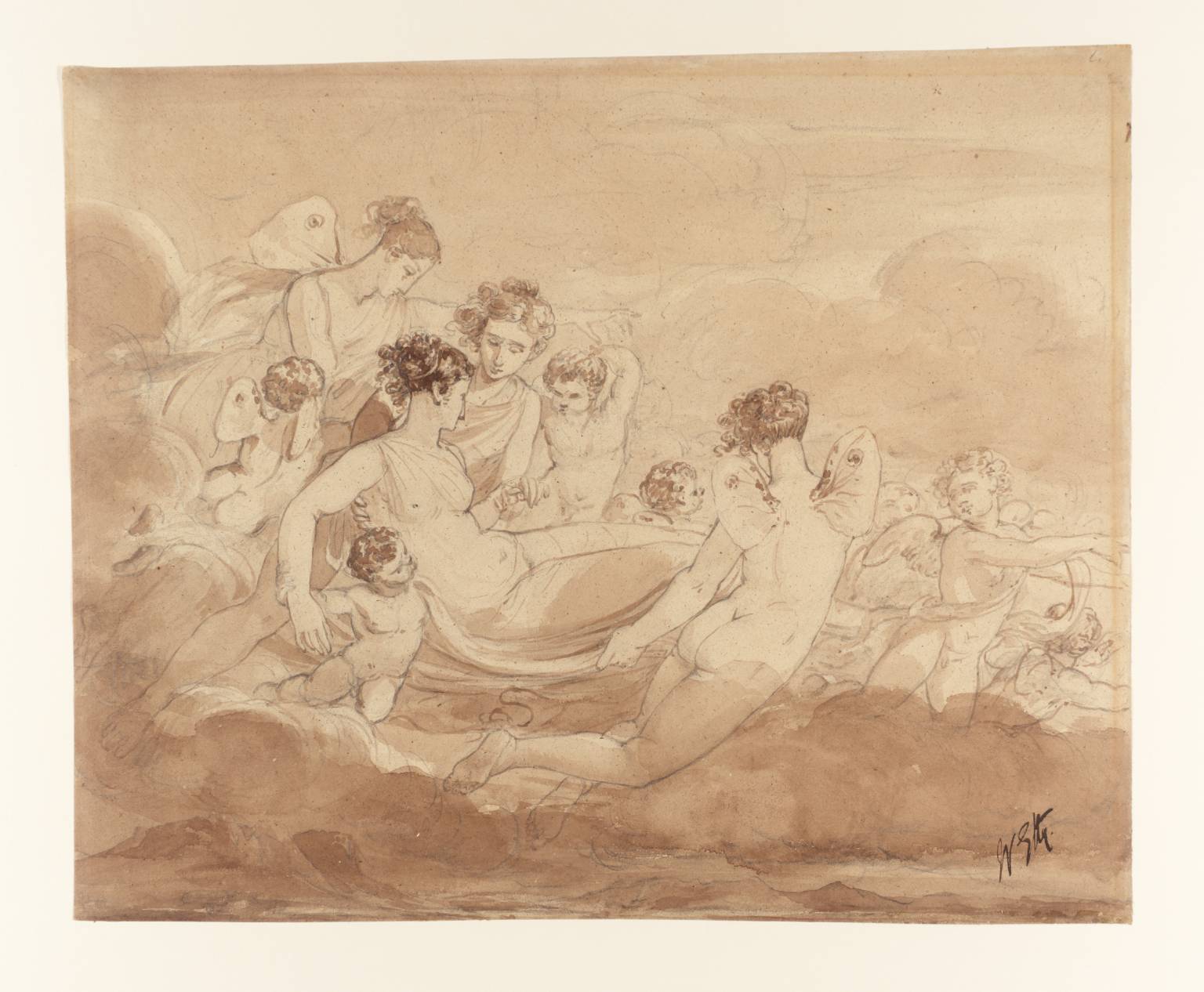 William Etty

,

Titania

Date not known
4/18
artworks in Fairy Round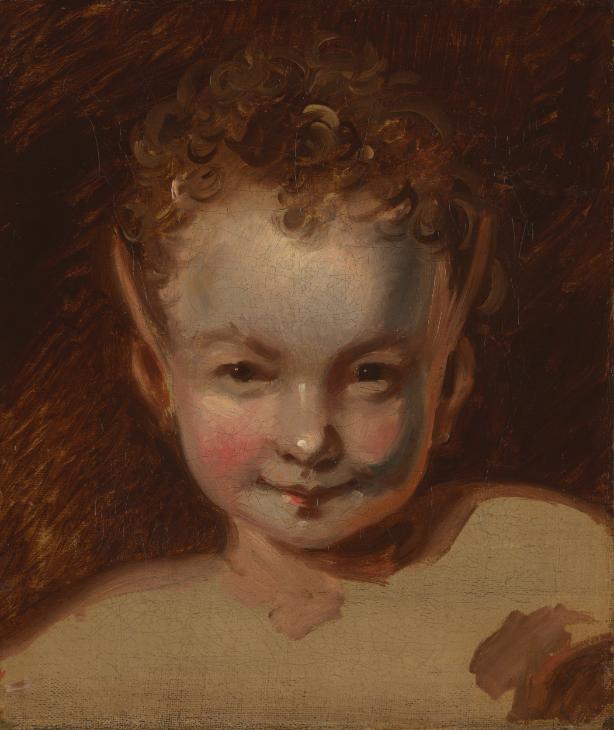 after Sir Joshua Reynolds

,

Puck or Robin Goodfellow

Date not known

Puck is a household fairy and prankster. In A Midsummer Night's Dream, Shakespeare casts him as the servant of Oberon, king of the fairies. This is a study for Joshua Reynolds's painting for the Shakespeare Gallery, which also published luxurious illustrated editions of Shakespeare's plays. Reynolds imagined Puck sitting on a toadstool. He has pointed ears, like ancient Greek images of Pan, the mischievous classical god of the woods. Pointed ears became a common feature in depictions of fairies.

Gallery label, October 2020
5/18
artworks in Fairy Round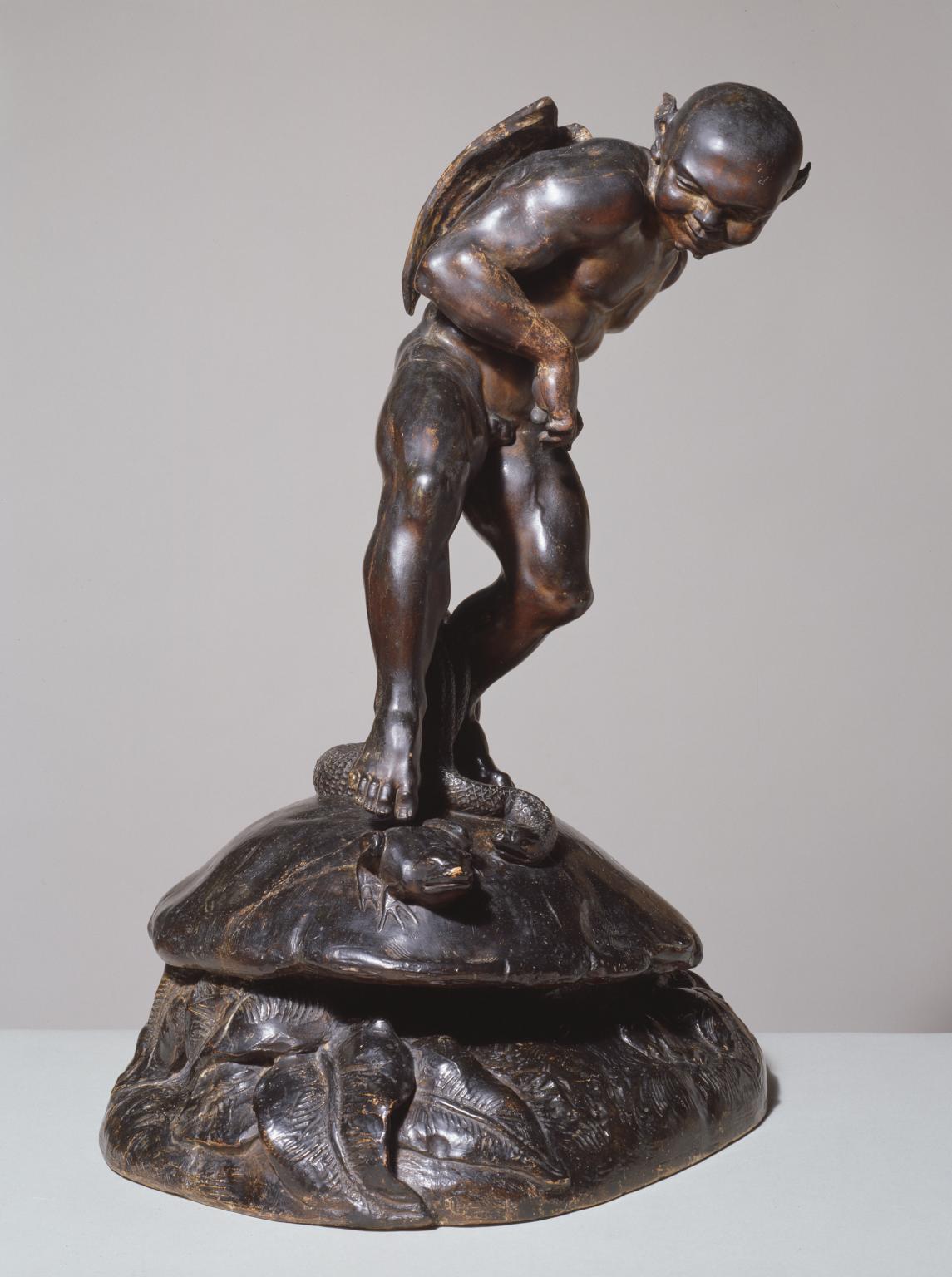 Thomas Woolner

,

Puck

1845–7

Puck is a mischievous invisible fairy in Shakespeare's A Midsummer Night's Dream. Thomas Woolner has illustrated a scene here from an 'Imaginary Biography' of Puck. He alights on a mushroom to save a sleeping frog from a hungry snake. The sculpture captures the instant before a sudden movement – as Puck touches the frog with his foot it will jump away just before the snake attacks.Ideal or poetic subjects drawn from literature, mythology or history, were highly regarded by sculptors in the mid-nineteenth century.

Gallery label, July 2007
6/18
artworks in Fairy Round
Theodor von Holst

,

The Fairy Lovers

c.1840

Here Oberon and Titania, fairy lovers from A Midsummer Night's Dream, are shown dancing under the light of the moon. The fairies' tip-toe steps, flower and insect wing headdresses, dancing drapery and an eerie light create a magical effect.

Gallery label, October 2020
7/18
artworks in Fairy Round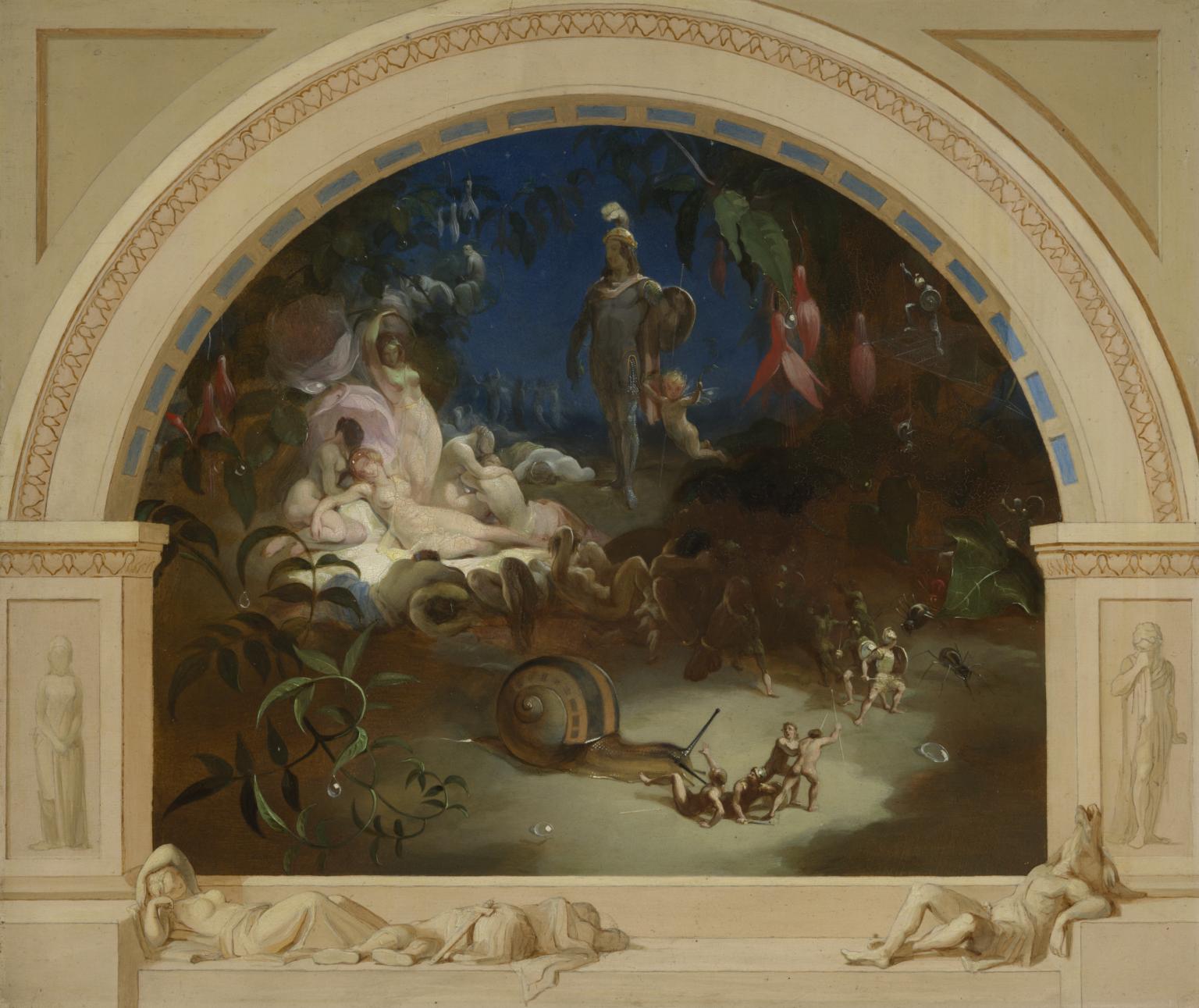 Robert Huskisson

,

The Midsummer Night's Fairies

exhibited 1847

Robert Huskisson frames this painting with a theatre arch to create the illusion that we are peering through leaves to see a fairy world. Sleeping figures dream the scene. We see moonlight glancing off leaves, flowers and drops of dew. Fairies fill the scene; some battle a snail and a fairy ring dances over the horizon.

Gallery label, October 2020
8/18
artworks in Fairy Round
John Anster Fitzgerald

,

The Fairy's Lake

?exhibited 1866

Not much is known about Fitzgerald. He is generally remembered today for his pictures of fairyland, this one probably being the example shown at the Royal Academy in 1866. Other paintings by him depict humans deep in sleep, conjuring up in their dreams a fantastic world of elves, sprites and devils similar to the creature shown here astride the wings of a bat, attempting to spear an innocent water-sprite. Fitzgerald also executed a series of large fairy subjects for Christmas editions of 'The Illustrated London News'.

Gallery label, September 2004
9/18
artworks in Fairy Round
William Etty

,

The Fairy of the Fountain

1845
10/18
artworks in Fairy Round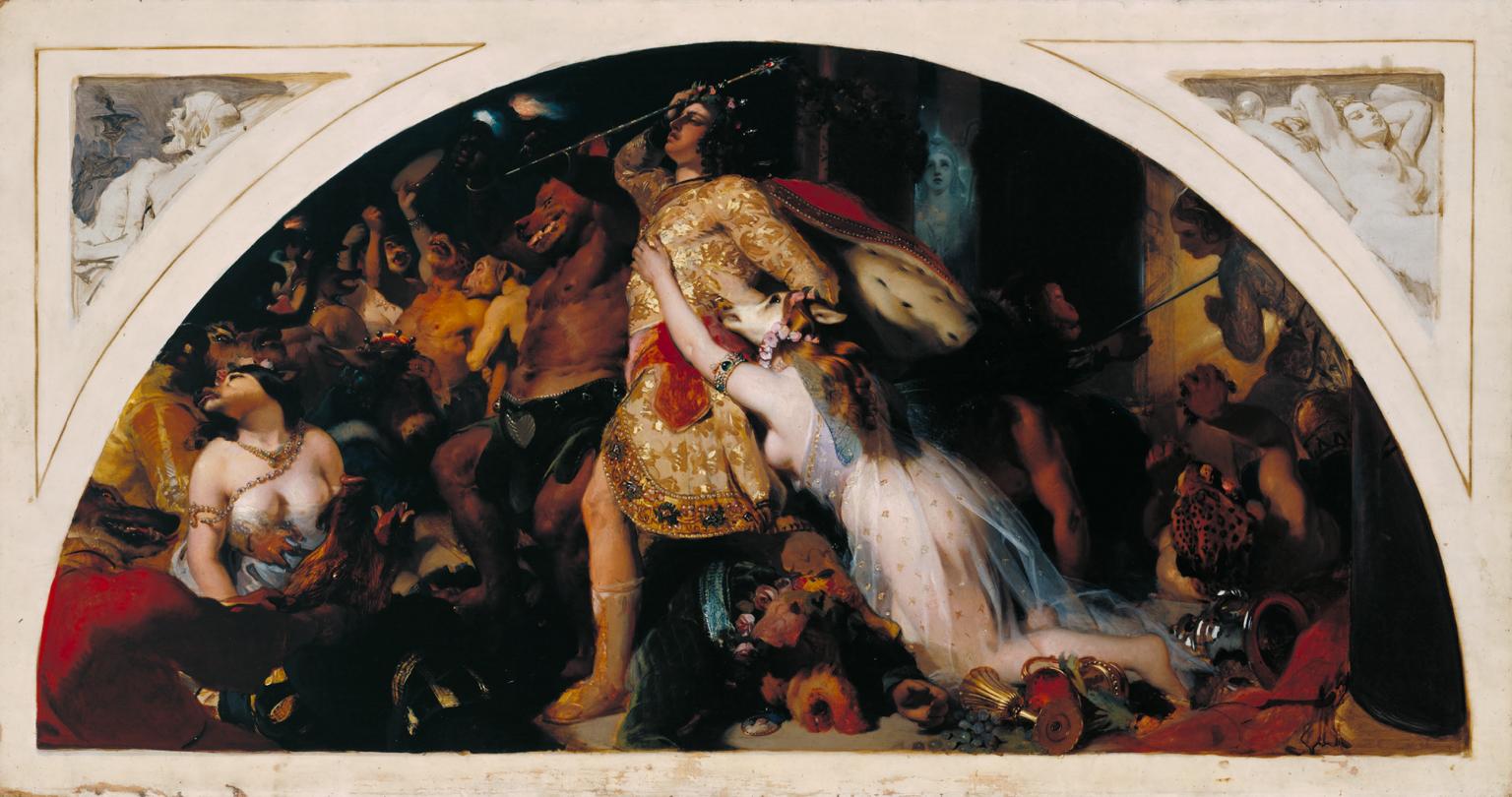 Sir Edwin Henry Landseer

,

The Defeat of Comus

1843

In 1843 Queen Victoria's husband, Prince Albert, commissioned a number of painters to decorate a small garden pavilion in the grounds of Buckingham Palace. The artists were to select scenes from the masque Comus by the seventeenth-century poet John Milton, and subjects from the work of the Romantic novelist and poet Walter Scott. Like Boydell's Shakespeare Gallery (see Lear and Cordelia displayed above) it was hoped that the project would help encourage British history painting.

This is Edwin Landseer's preliminary sketch, showing the rout of Comus and his company of revellers. The pavilion was pulled down in 1928.

Gallery label, September 2004
11/18
artworks in Fairy Round
Sorry, no image available
Arthur Rackham, author James Matthew Barrie

,

Peter Pan in Kensington Gardens

1906
12/18
artworks in Fairy Round
Sorry, no image available
13/18
artworks in Fairy Round
Sorry, no image available
Richard Dadd

,

Bacchanalian Scene

1862

On the basis of the satyr in the lower right corner, this picture has been identified as a scene of Bacchic revelry. Satyrs were the goat-like followers of Bacchus, the god of wine, and were accompanied by frenzied female devotees known as Maenads. The goblet from which the satyr drinks is inscribed with Latin verse which does not quite make sense. It translates as 'Each man then has his own unlucky fate both here and beyond – like must be added to like and one's due paid to the appointed spirit'.

Gallery label, May 2007
14/18
artworks in Fairy Round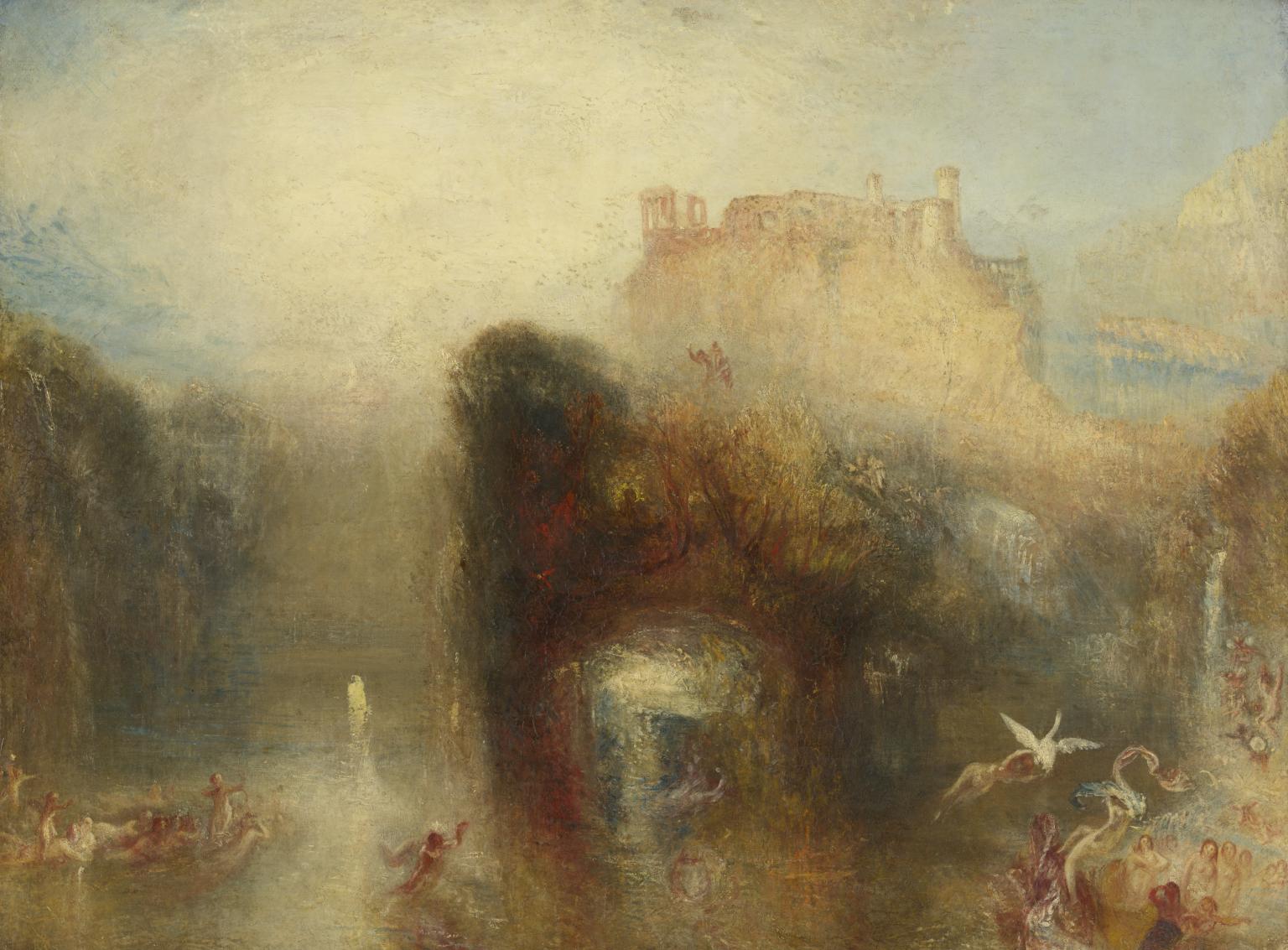 Joseph Mallord William Turner

,

Queen Mab's Cave

exhibited 1846

'Queen Mab' is described in Shakespeare's Romeo and Juliet as 'the fairies' midwife'. She reveals secret hopes in the form of dreams, which she creates by driving her chariot over people as they sleep. Turner referred to A Midsummer Night's Dream, where Queen Mab is invoked during Titania's 'moonlight revels'. He may also have read Shelley's poem Queen Mab. This painting was first exhibited in 1846. A reviewer called it 'a daylight dream in all the wantonness of gorgeous, bright, and positive colour, not painted but apparently flung upon the canvas'.

Gallery label, November 2016
15/18
artworks in Fairy Round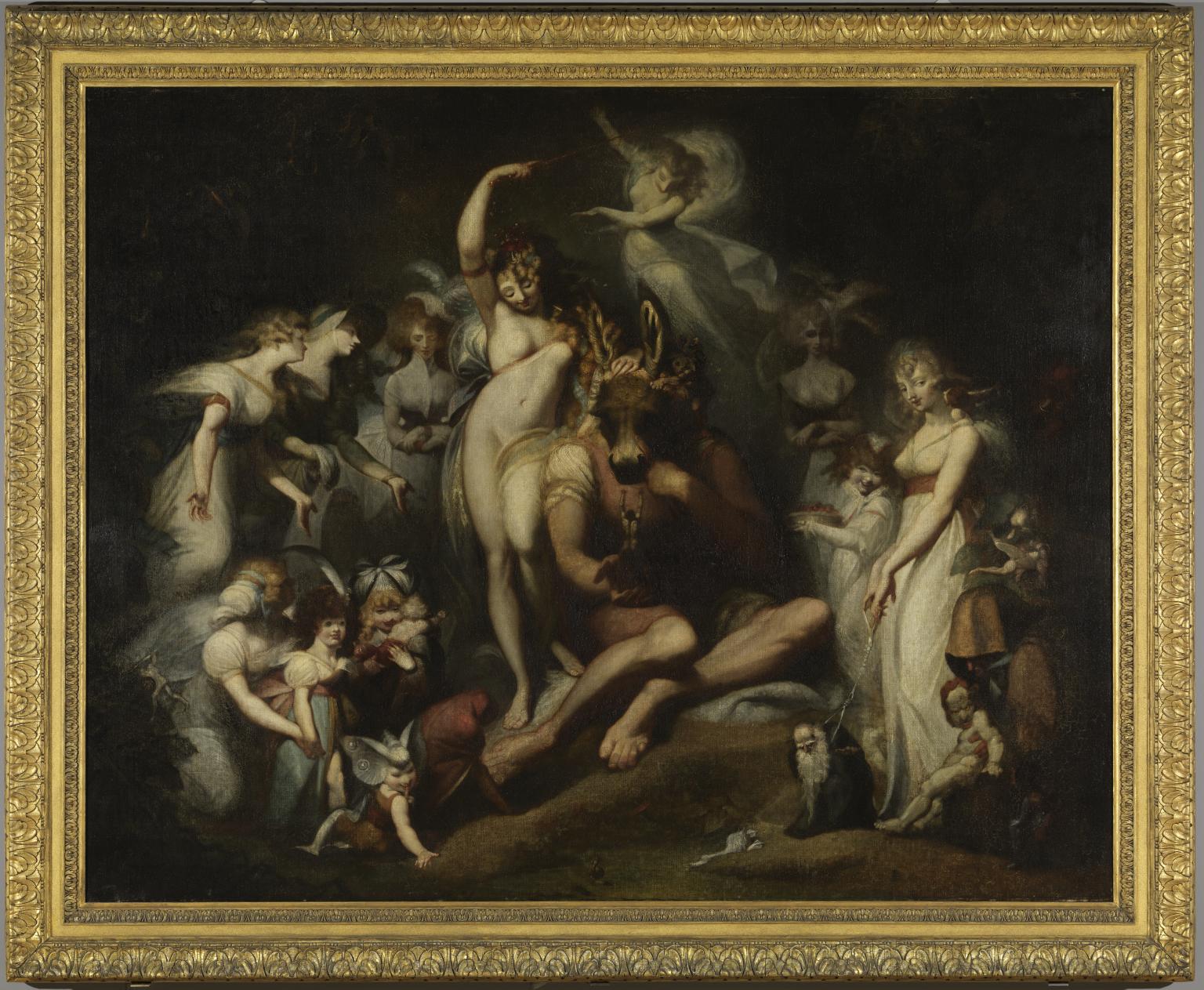 Henry Fuseli

,

Titania and Bottom

c.1790

This grand painting shows a scene from Shakespeare's A Midsummer Night's Dream 1595-6. King and queen of the fairies, Oberon and Titania, argue over who has care of a human child. To distract Titania, the fairy Puck casts a spell. This makes Titania fall in love with a human called Bottom, whose head has been changed to a donkey. One fairy, Moth, holds his finger to his lips as attendants take the child away. Henry Fuseli's picture was one of the stars of the famous Shakespeare Gallery in London, opened by publisher John Boydell in 1789.

Gallery label, October 2020
16/18
artworks in Fairy Round
George Romney

,

Tom Hayley as Robin Goodfellow

1789–92

In A Midsummer Nights Dream, Puck circles the earth in 40 minutes to fetch a love potion for Oberon. His story is one of the origins of the idea of fairy flight.The sitter for this Puck (who also goes by the name Robin Goodfellow) is Tom Hayley, a young sculptor.

Gallery label, October 2020
17/18
artworks in Fairy Round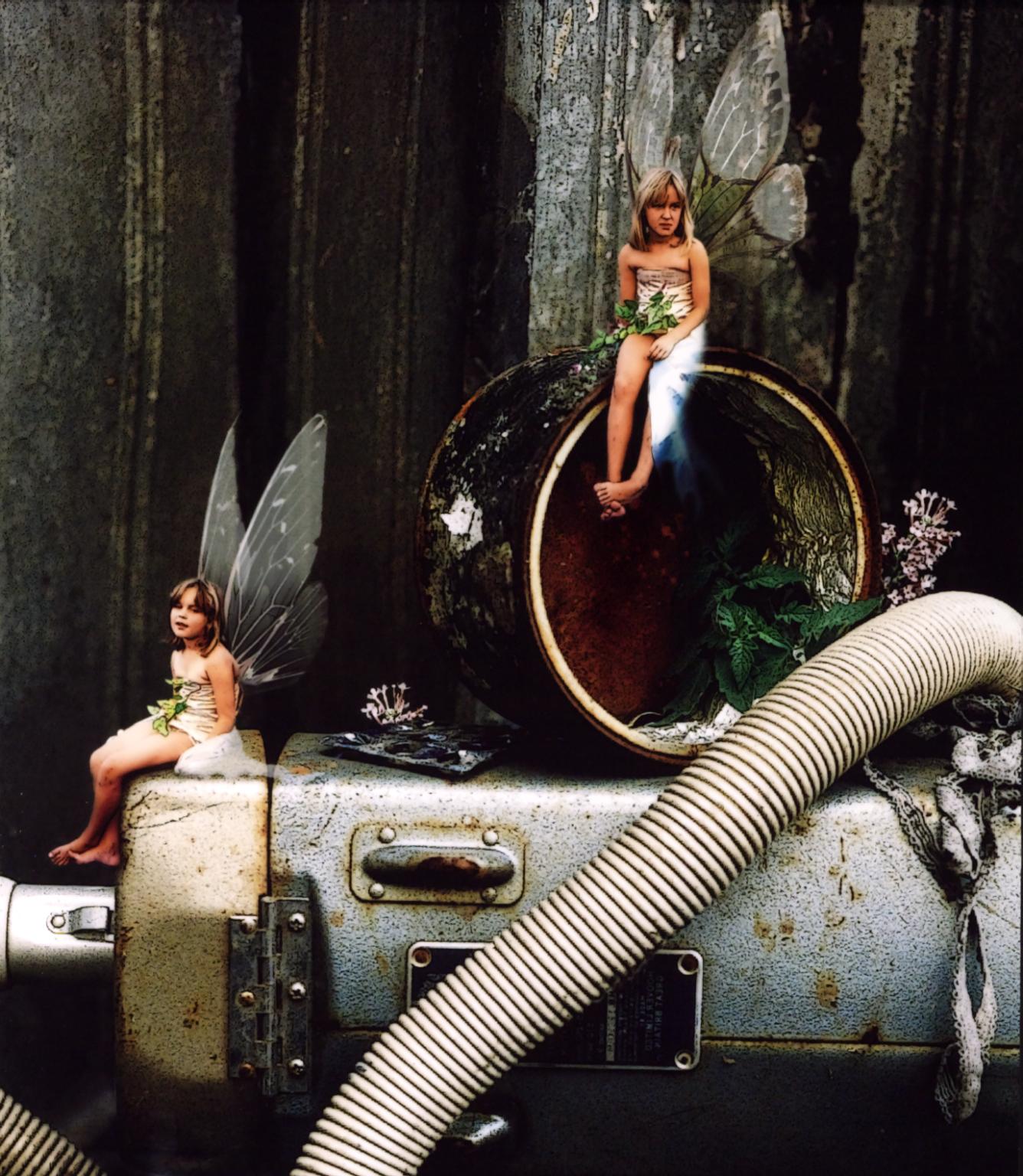 Mat Collishaw

,

Sugar and Spice, All Things Nice, This Is What Little Girls Are Made Of #3

1998

'It's our desire to see something that's not there… something that's not tainted by this grubby world that we live in.' – Mat Collishaw Inspired by the Cottingley Fairies, Collishaw exposes the trickery of photography to comment on the contemporary world. Nature is replaced by urban decay. We look at the children's wrappings, insect wings and miniature scale and see them as fairies. Instead of joining hands and dancing they sit silently apart.

Gallery label, May 2021
18/18
artworks in Fairy Round
Art in this room
Richard Dadd
The Fairy Feller's Master-Stroke
1855–64
Henry Singleton
Ariel on a Bat's Back
exhibited 1819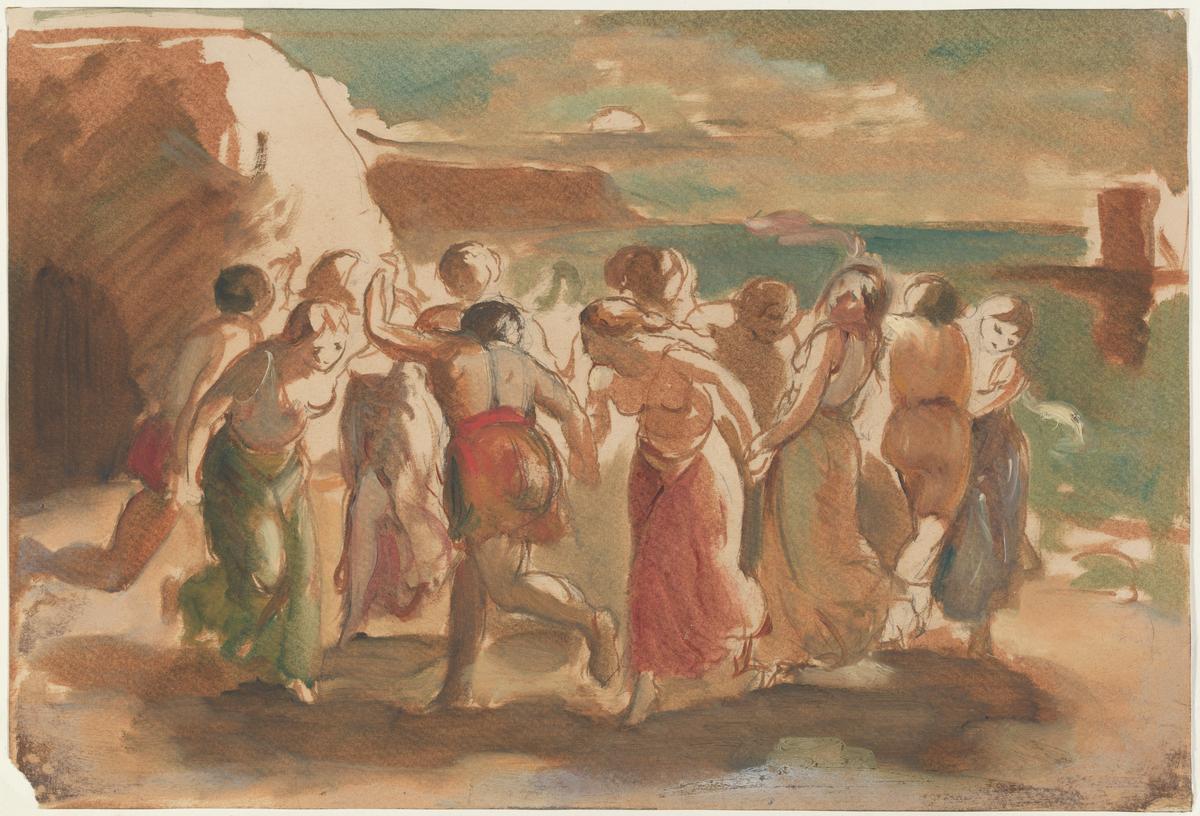 Henry Hall Pickersgill
Fairies on the Shore
Date not known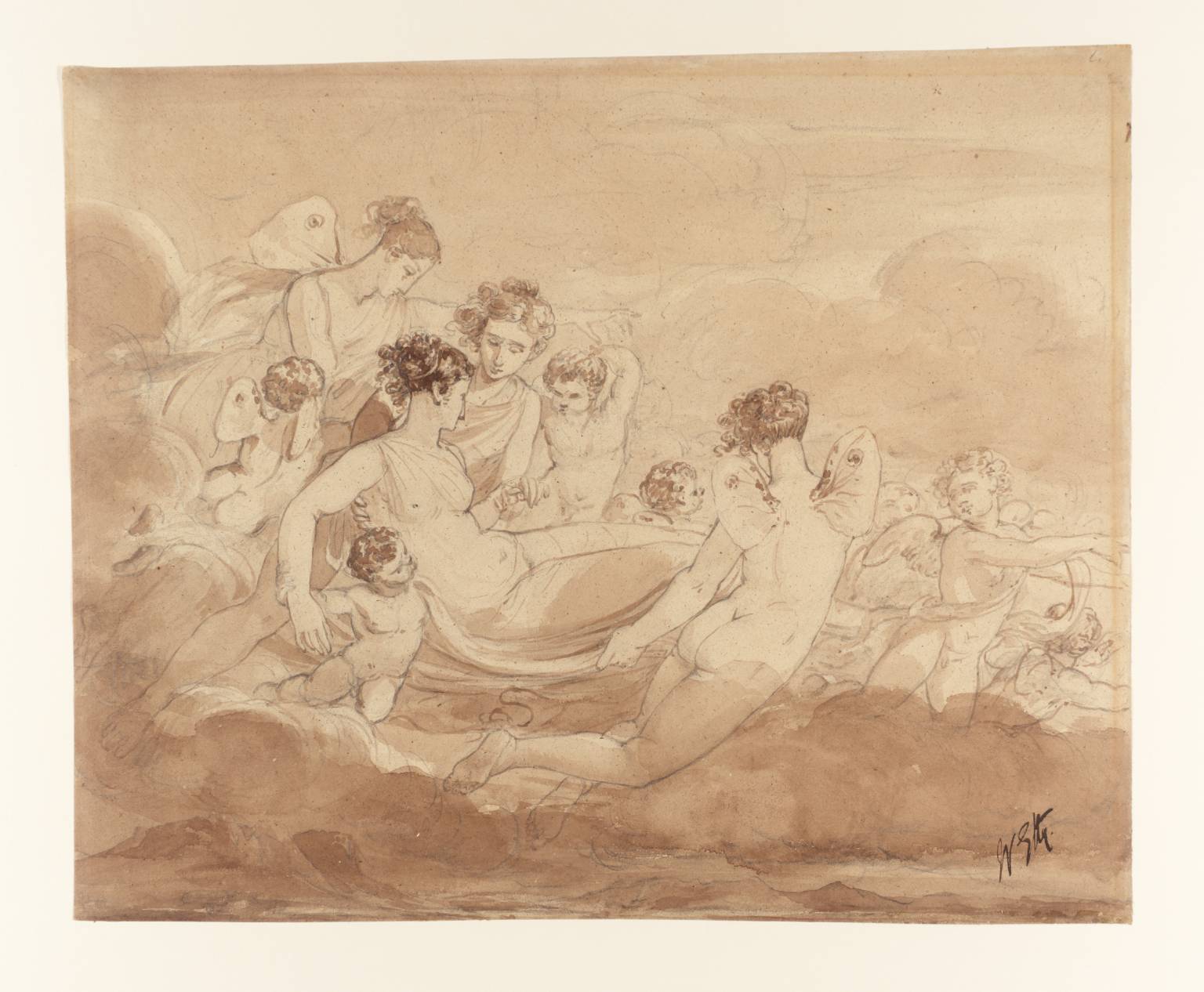 William Etty
Titania
Date not known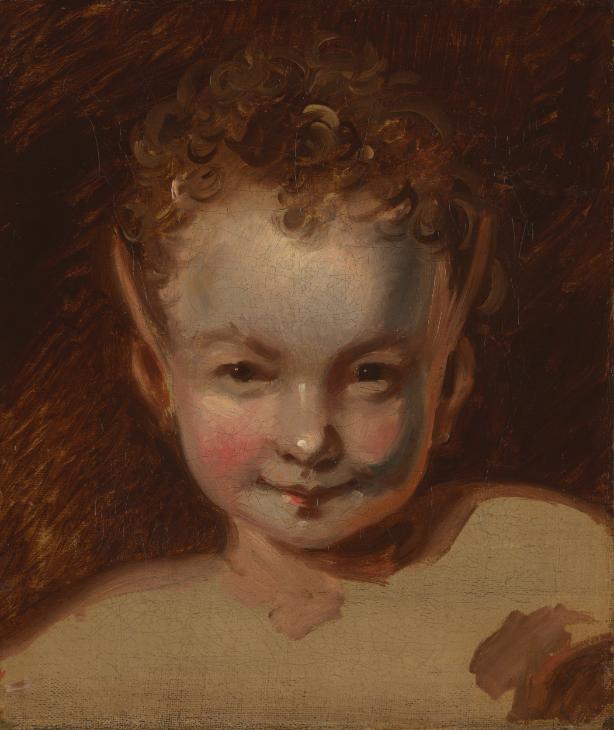 after Sir Joshua Reynolds
Puck or Robin Goodfellow
Date not known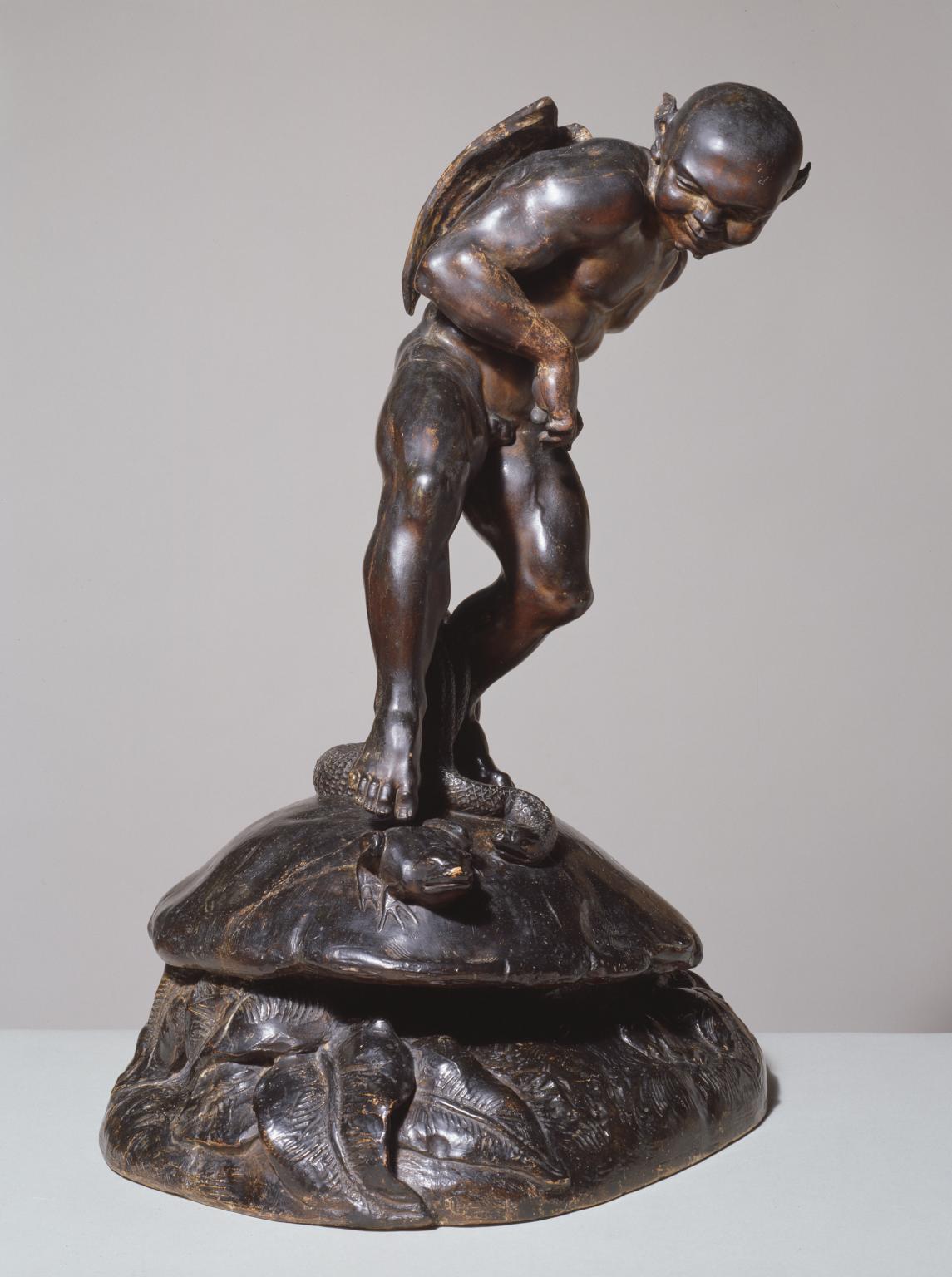 Thomas Woolner
Puck
1845–7
You've viewed 6/18 artworks
You've viewed 18/18 artworks