13 rooms in Artist and Society
View artworks that pay tribute to campaigners for citizenship and civil rights
Many of the works in this room were made as interventions in political debates. They often draw attention to people who have campaigned for citizenship and civil rights. In several cases, the choice of materials also has political associations.
The display includes artists from a range of countries. They all produce work in response to specific political circumstances. Some works were made as an immediate response to events. Others look back to the struggles of the past and their connection to the present.
The variety of approaches is also broad. There are works based on photographs or other media. Some artists use abstraction. While others employ more representational imagery, bearing direct witness to injustice. One of the recurring themes is the violence inflicted by the state against those who challenge it. This includes the brutal actions of police in response to protest, and the treatment of prisoners.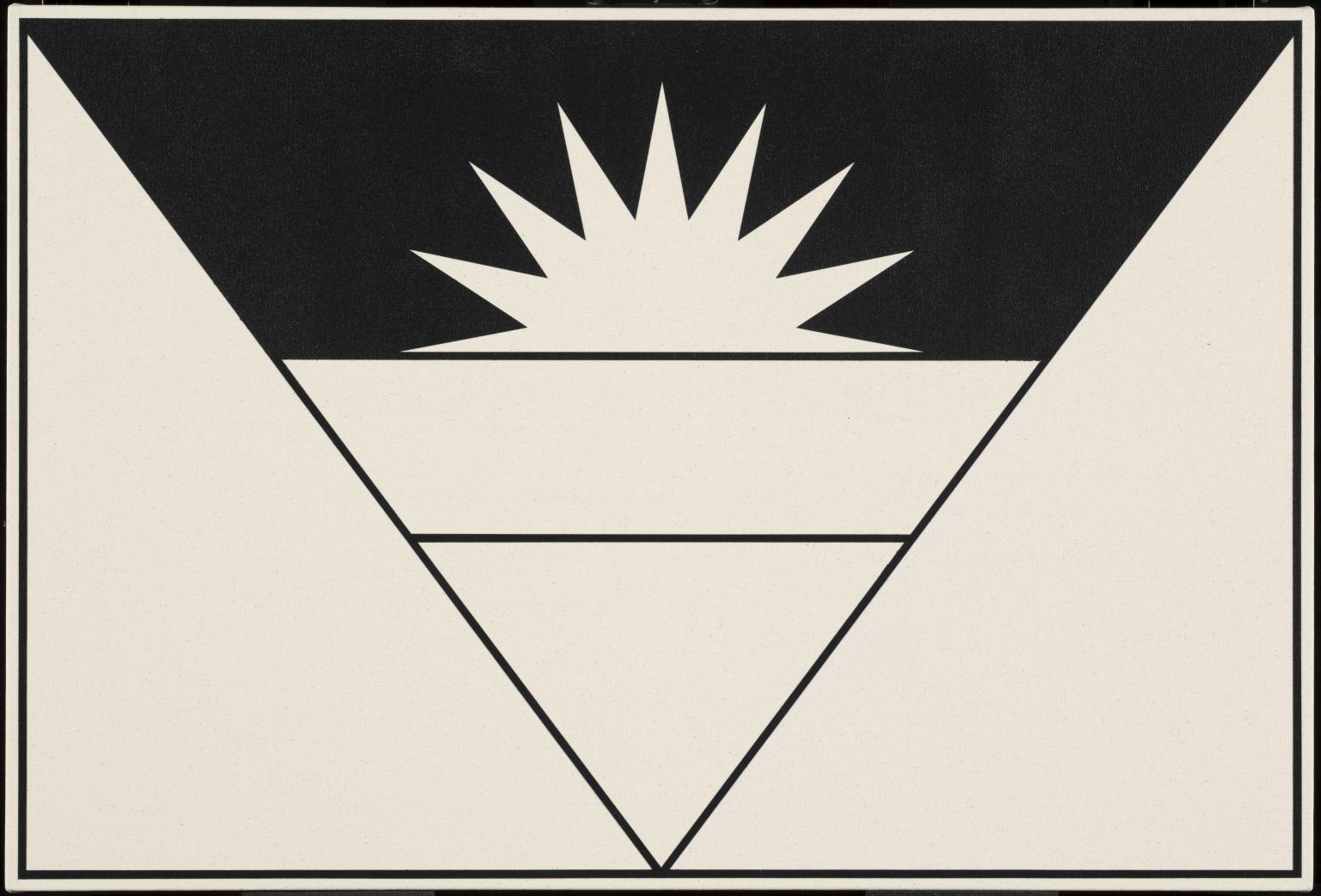 Fred Wilson

,

Antigua-Barbuda

2009
1/30
artworks in Citizens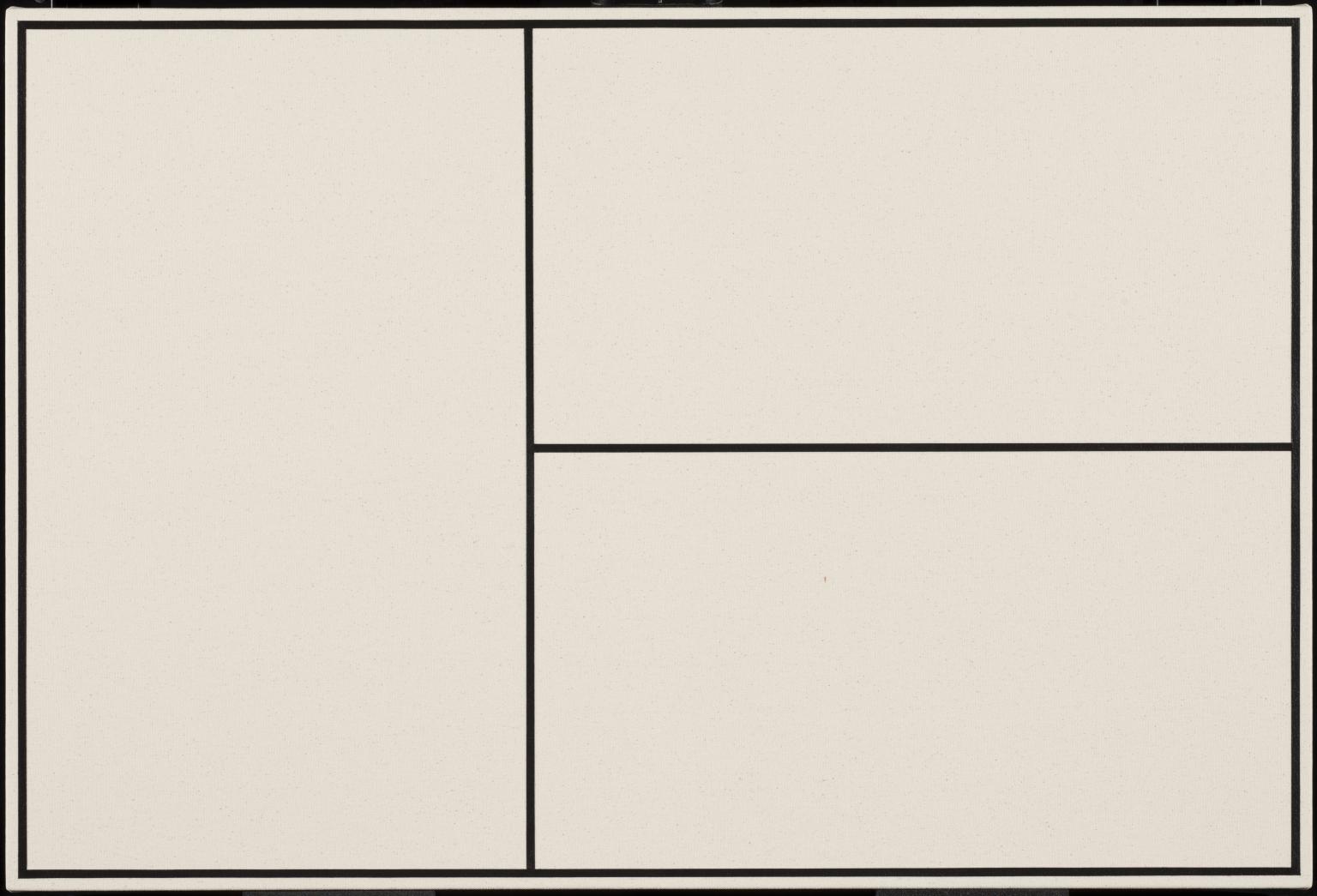 2/30
artworks in Citizens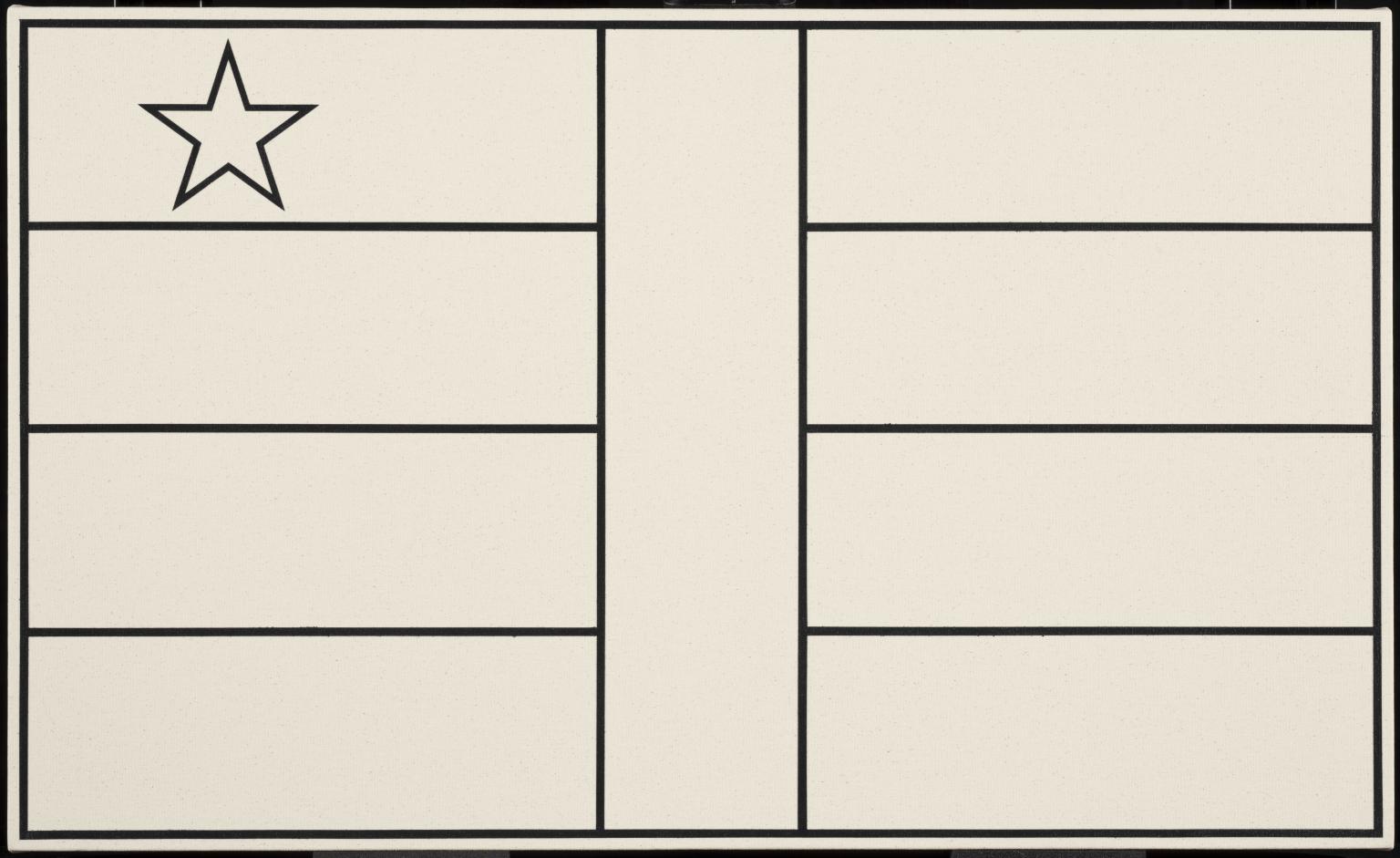 Fred Wilson

,

Central African Republic

2009
3/30
artworks in Citizens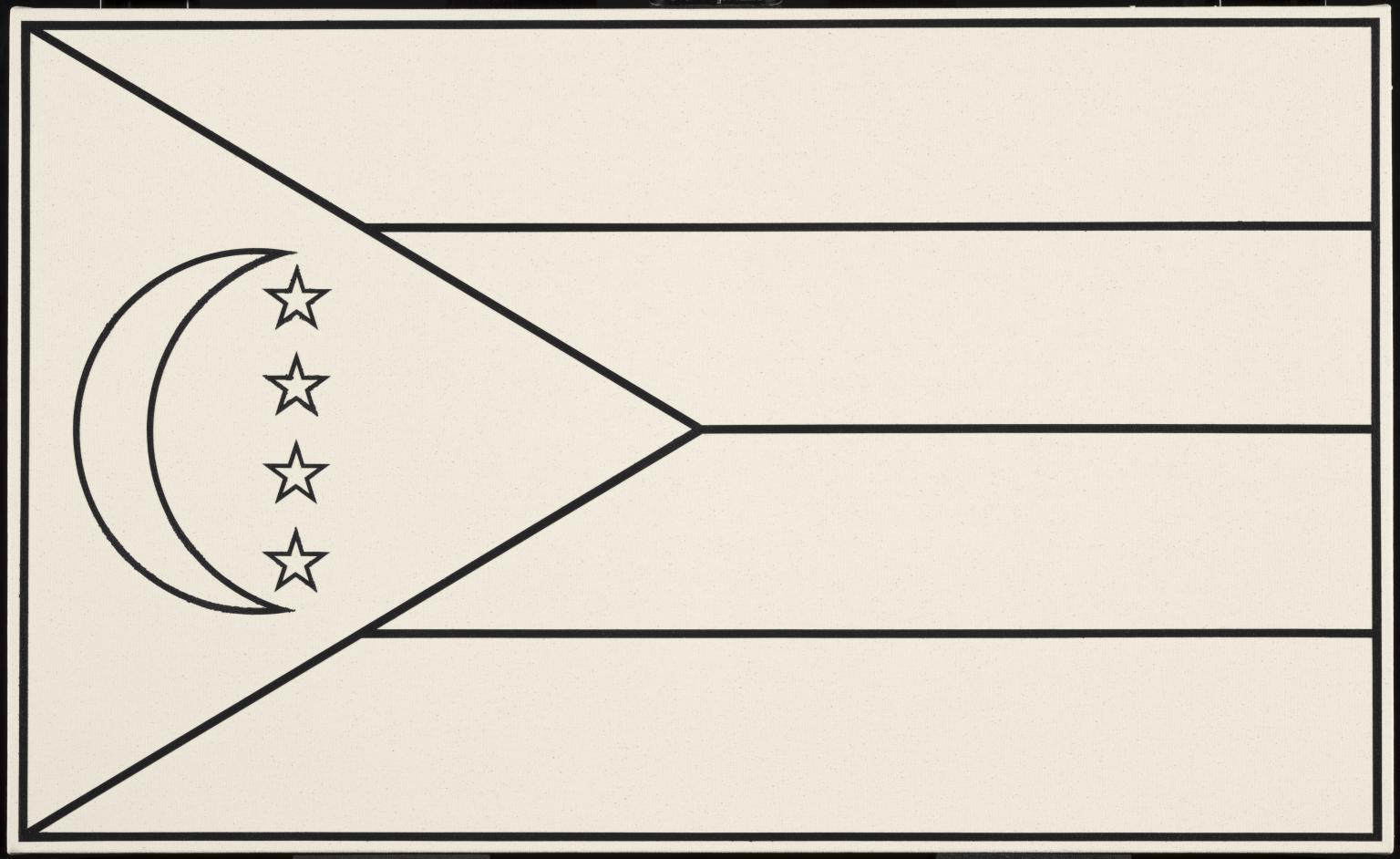 Fred Wilson

,

Comoros

2009
4/30
artworks in Citizens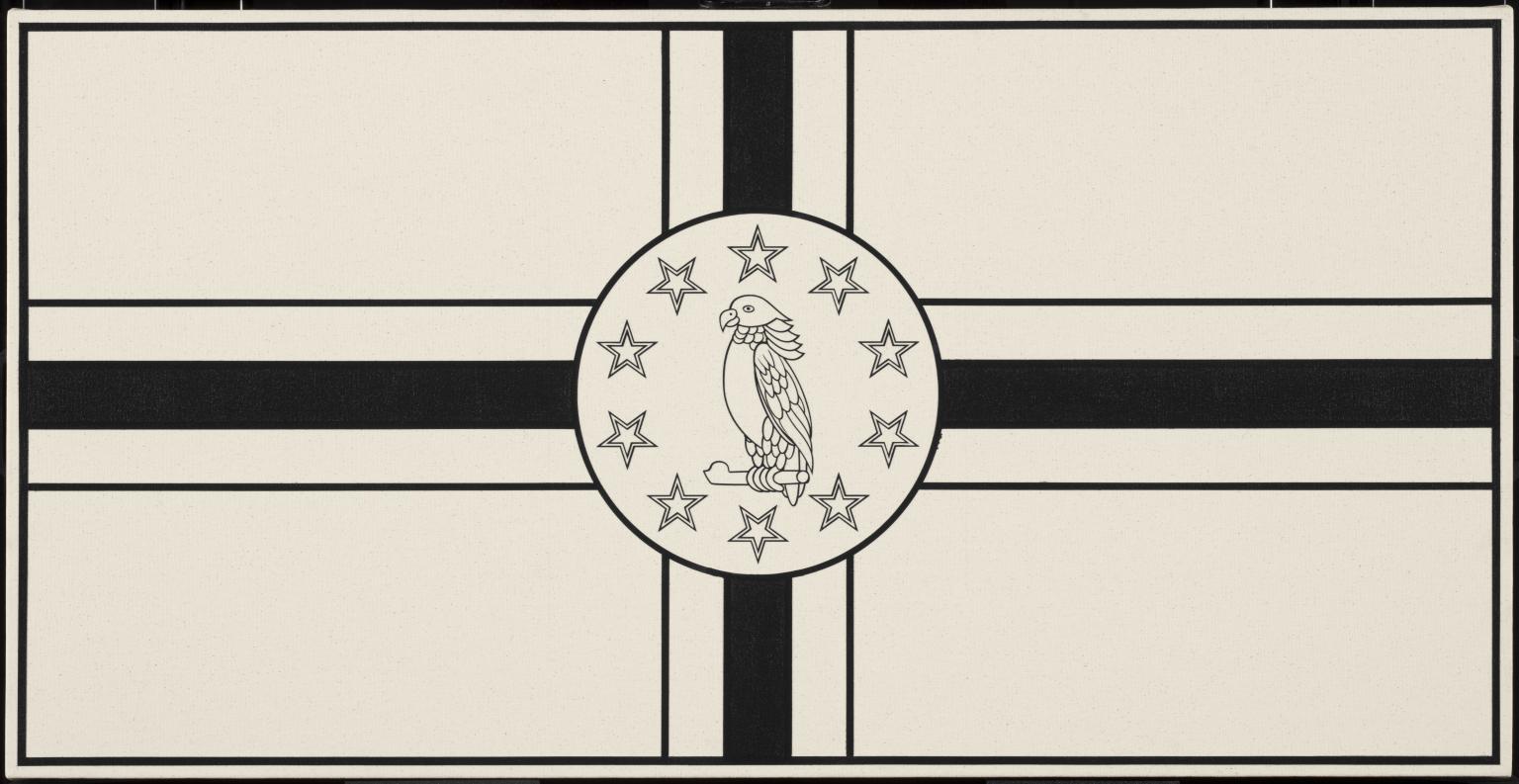 Fred Wilson

,

Dominica

2009
5/30
artworks in Citizens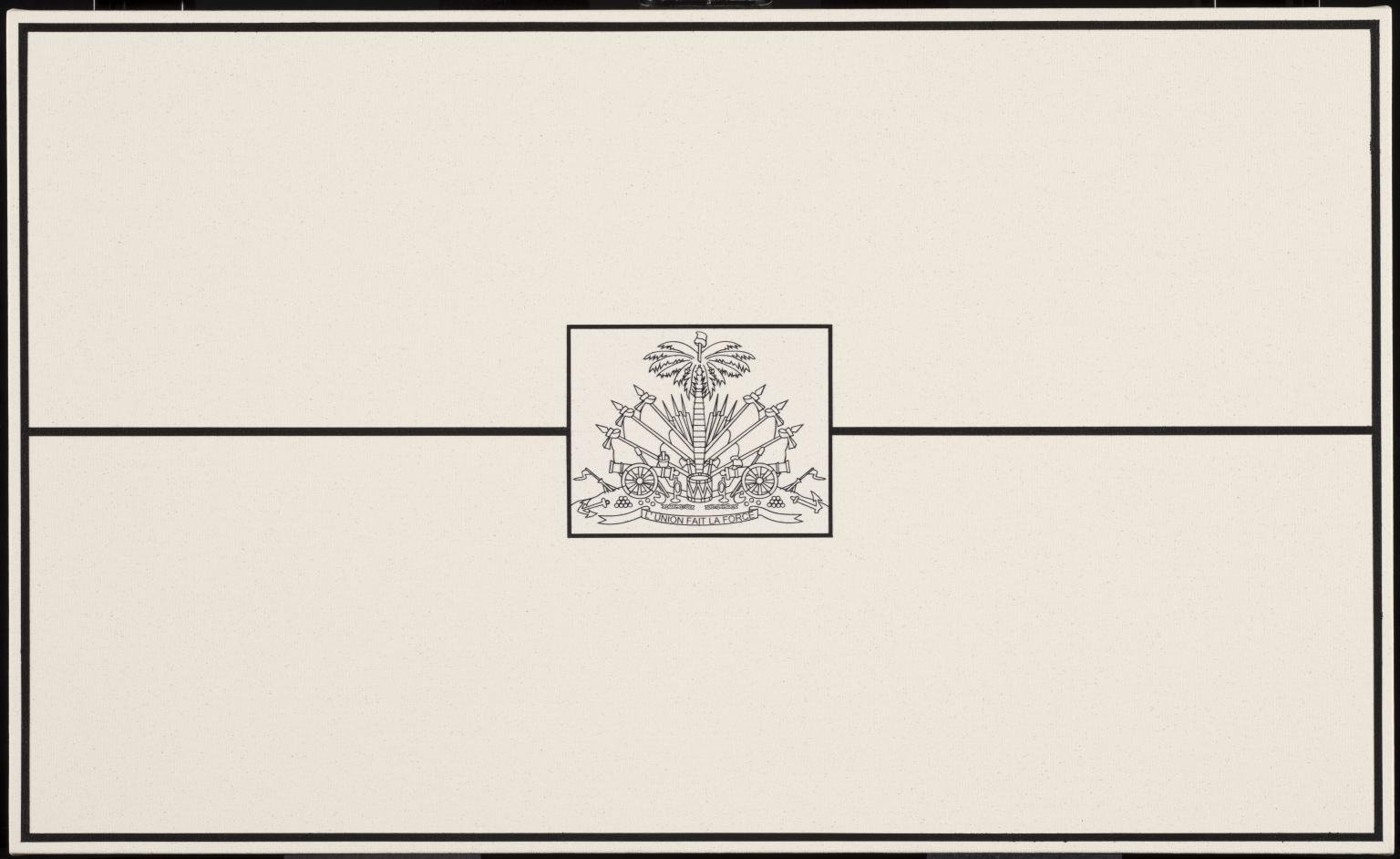 6/30
artworks in Citizens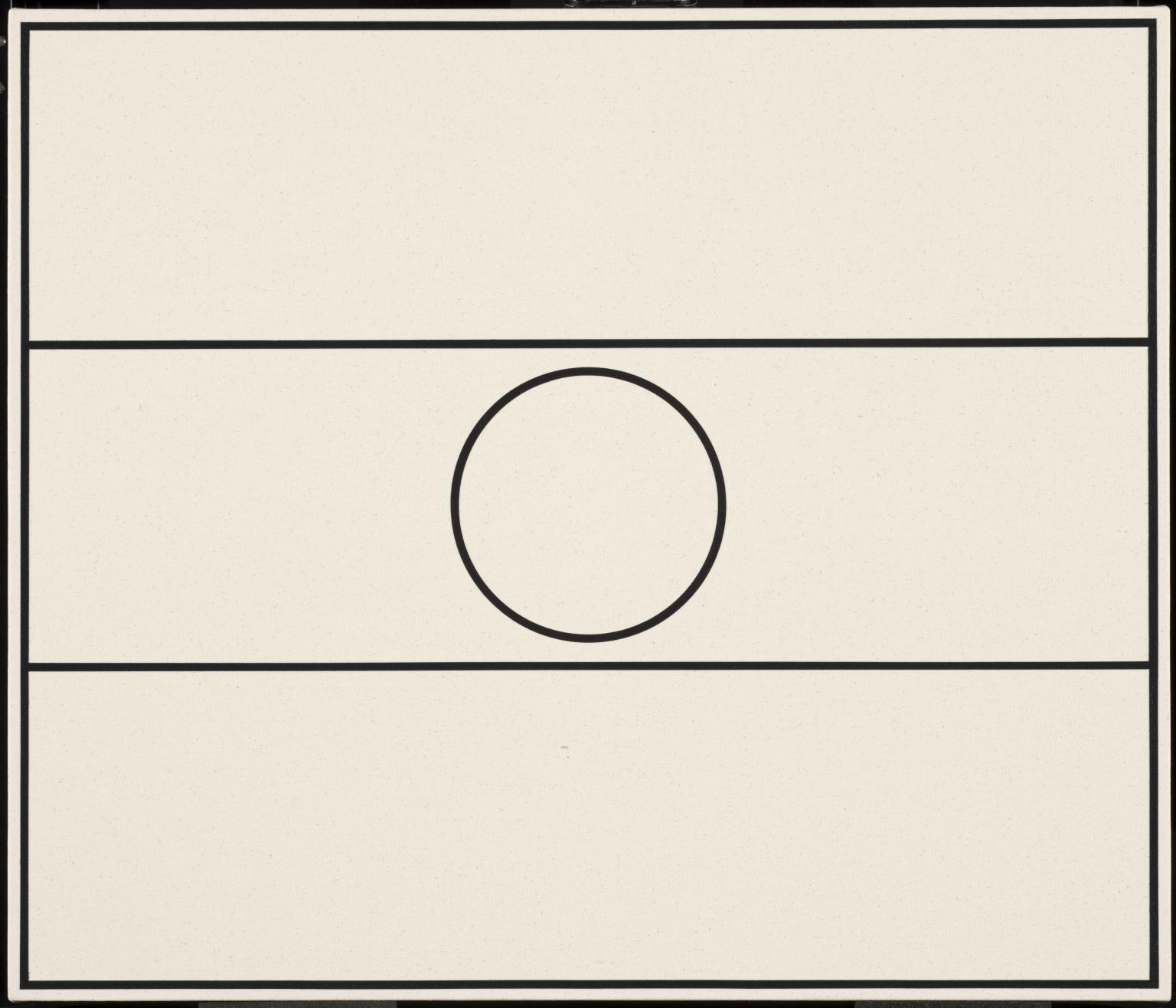 7/30
artworks in Citizens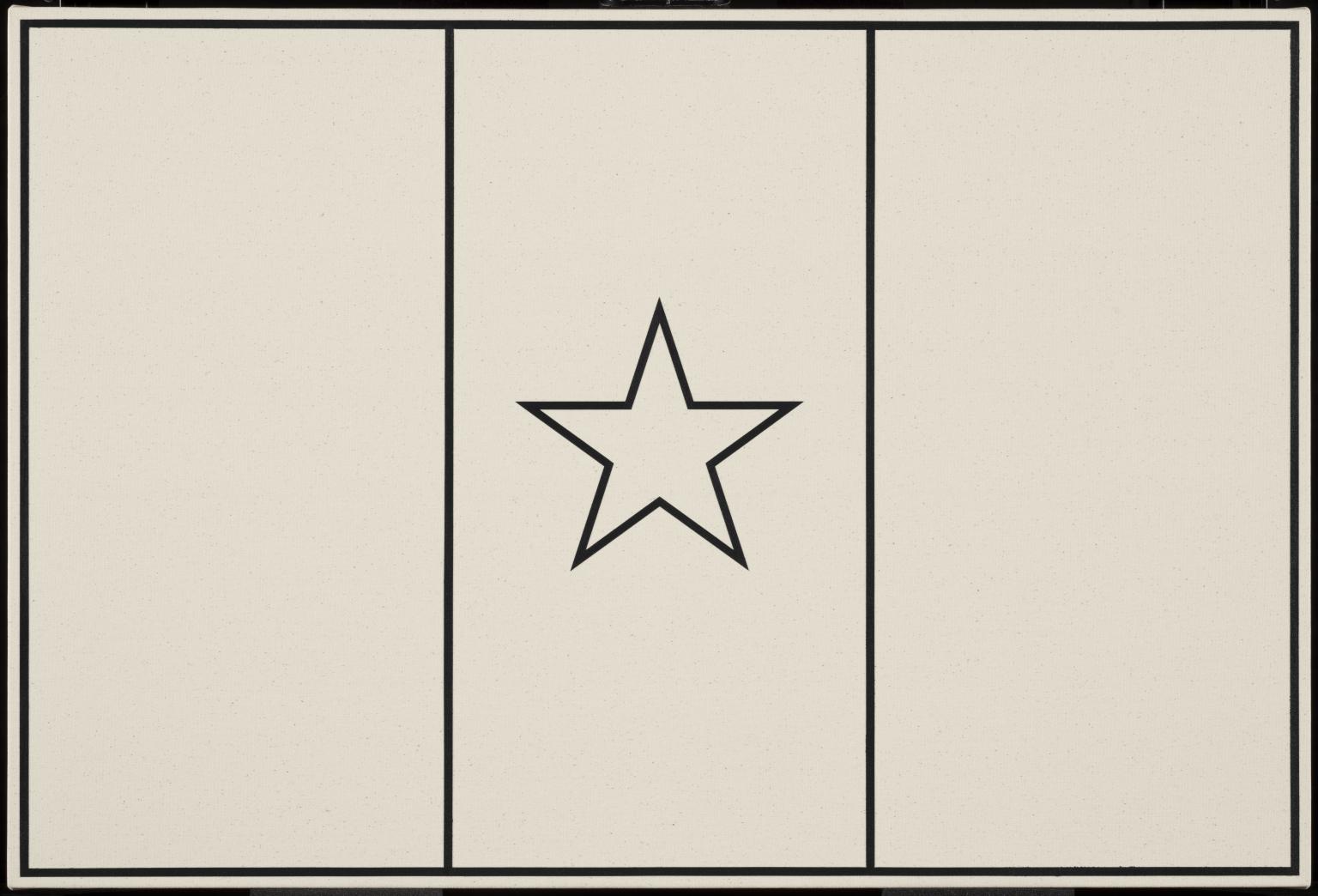 Fred Wilson

,

Senegal

2009
8/30
artworks in Citizens
Fred Wilson

,

Seychelles

2009
9/30
artworks in Citizens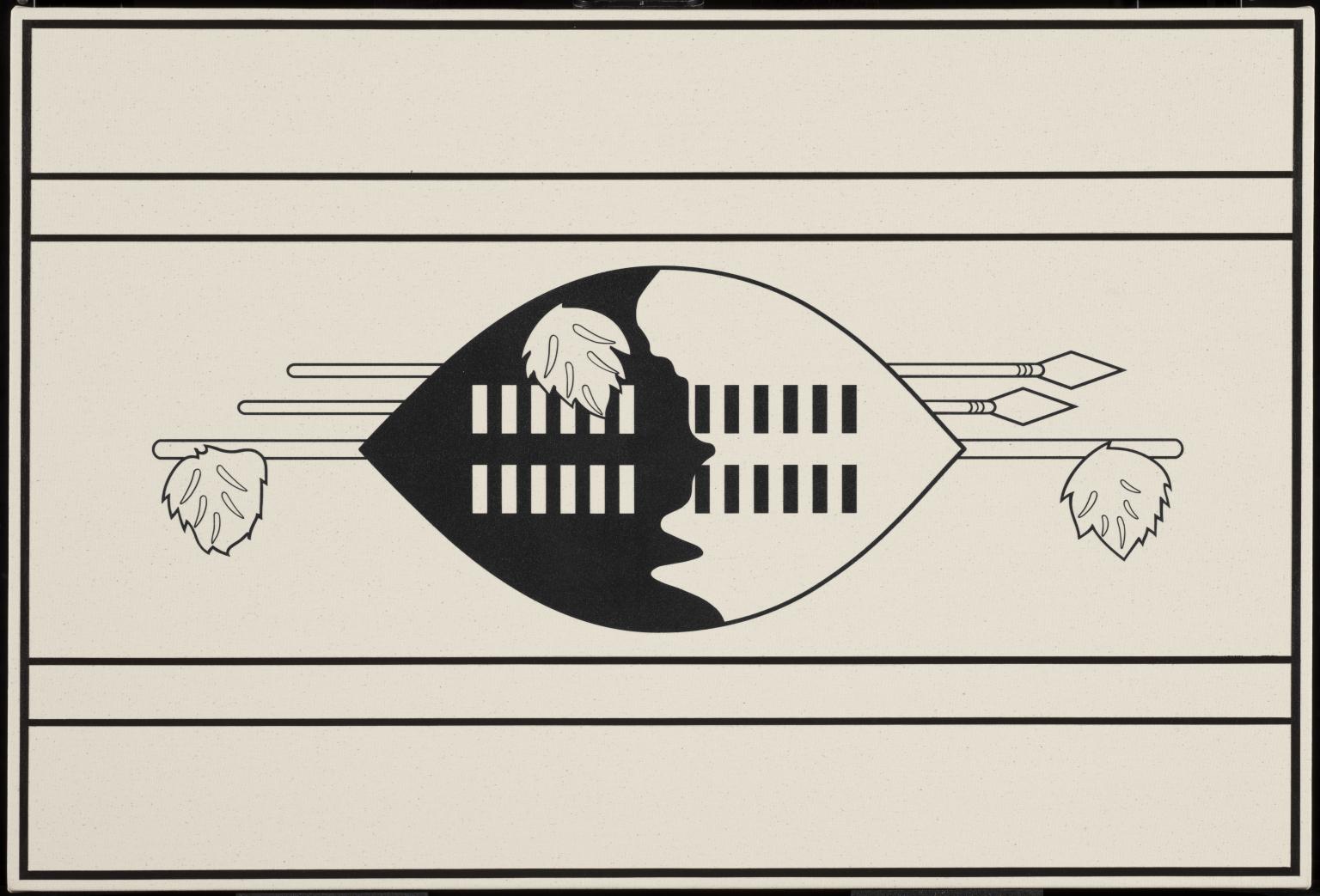 Fred Wilson

,

Swaziland

2009
10/30
artworks in Citizens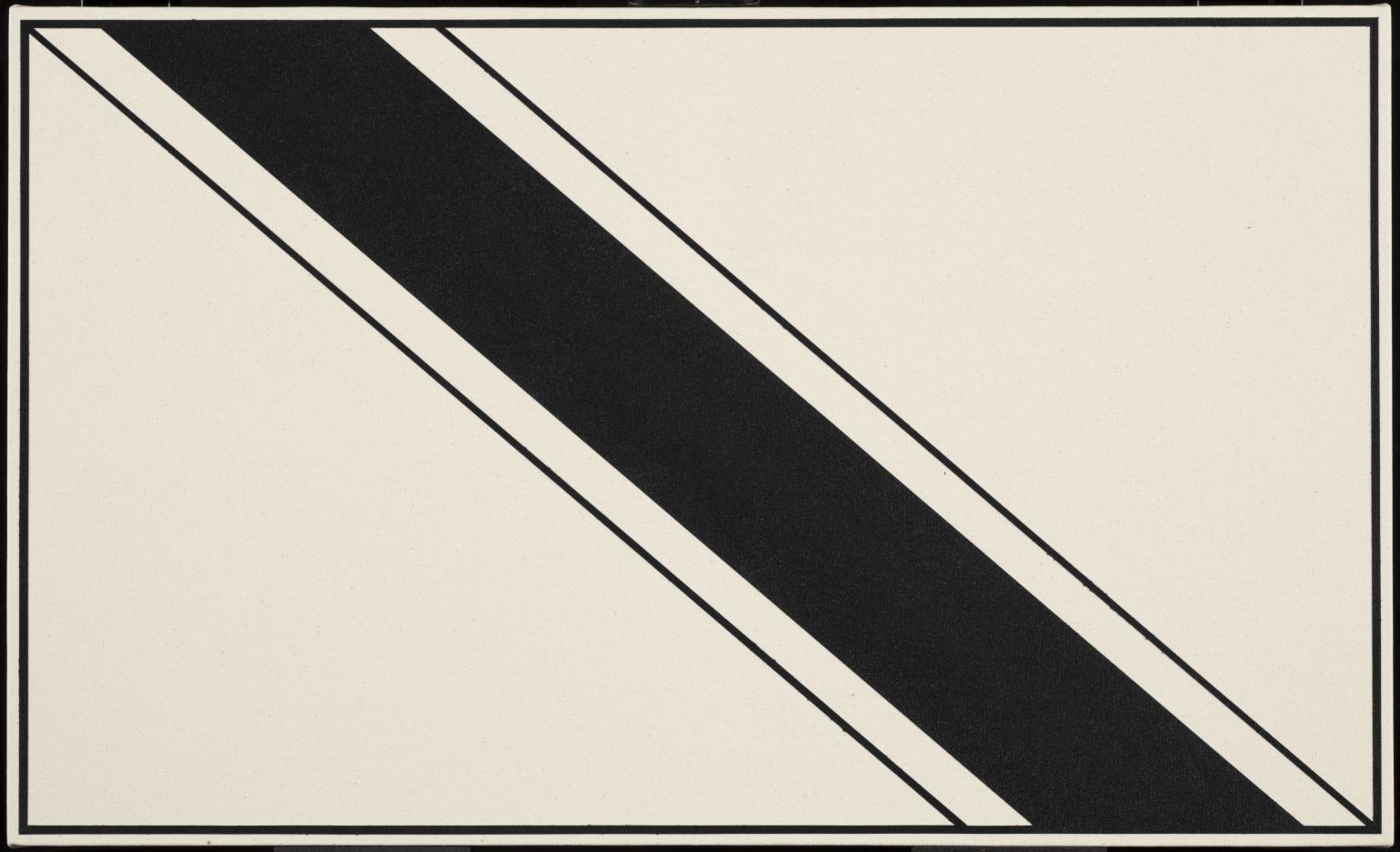 Fred Wilson

,

Trinidad-Tobago

2009
11/30
artworks in Citizens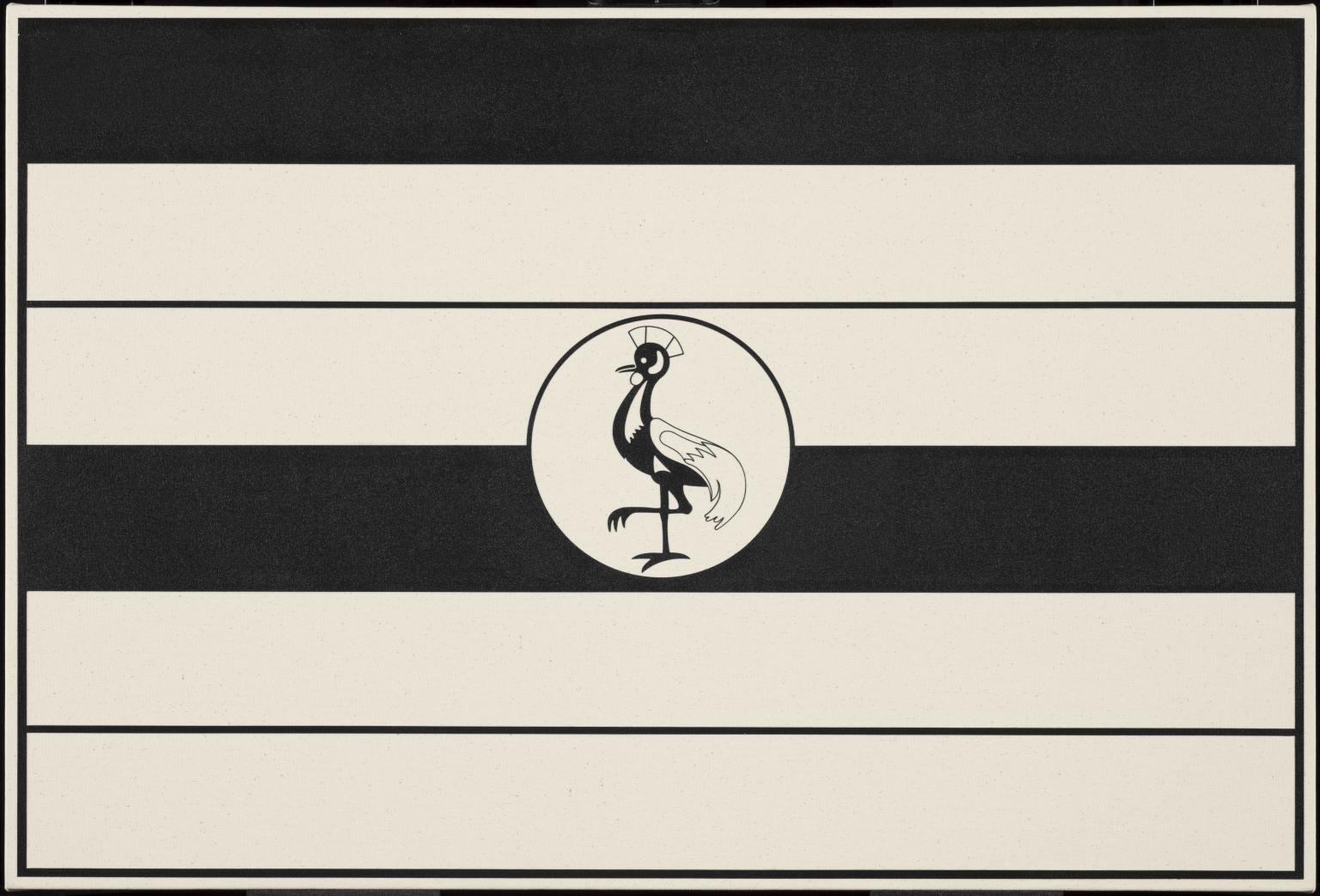 12/30
artworks in Citizens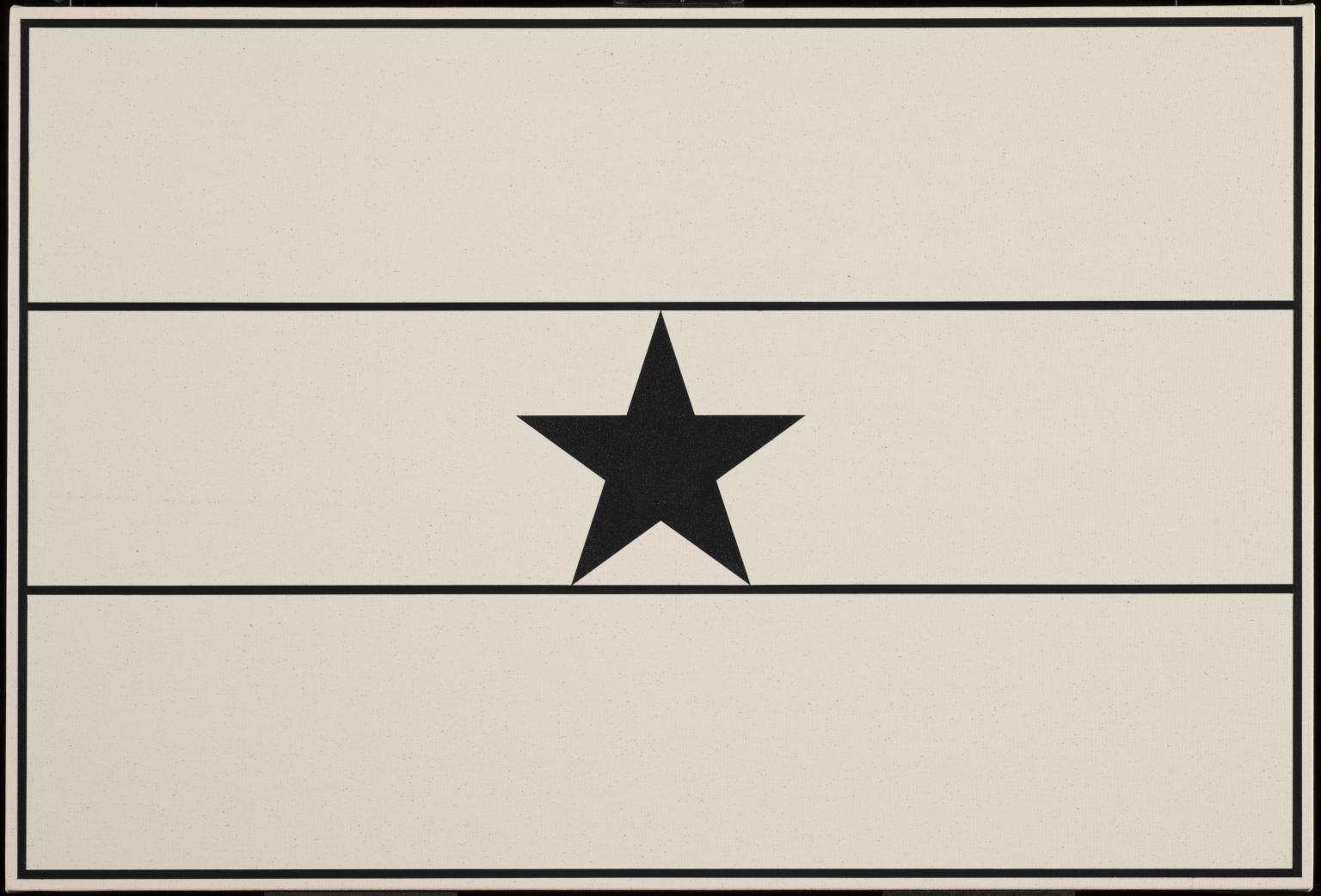 13/30
artworks in Citizens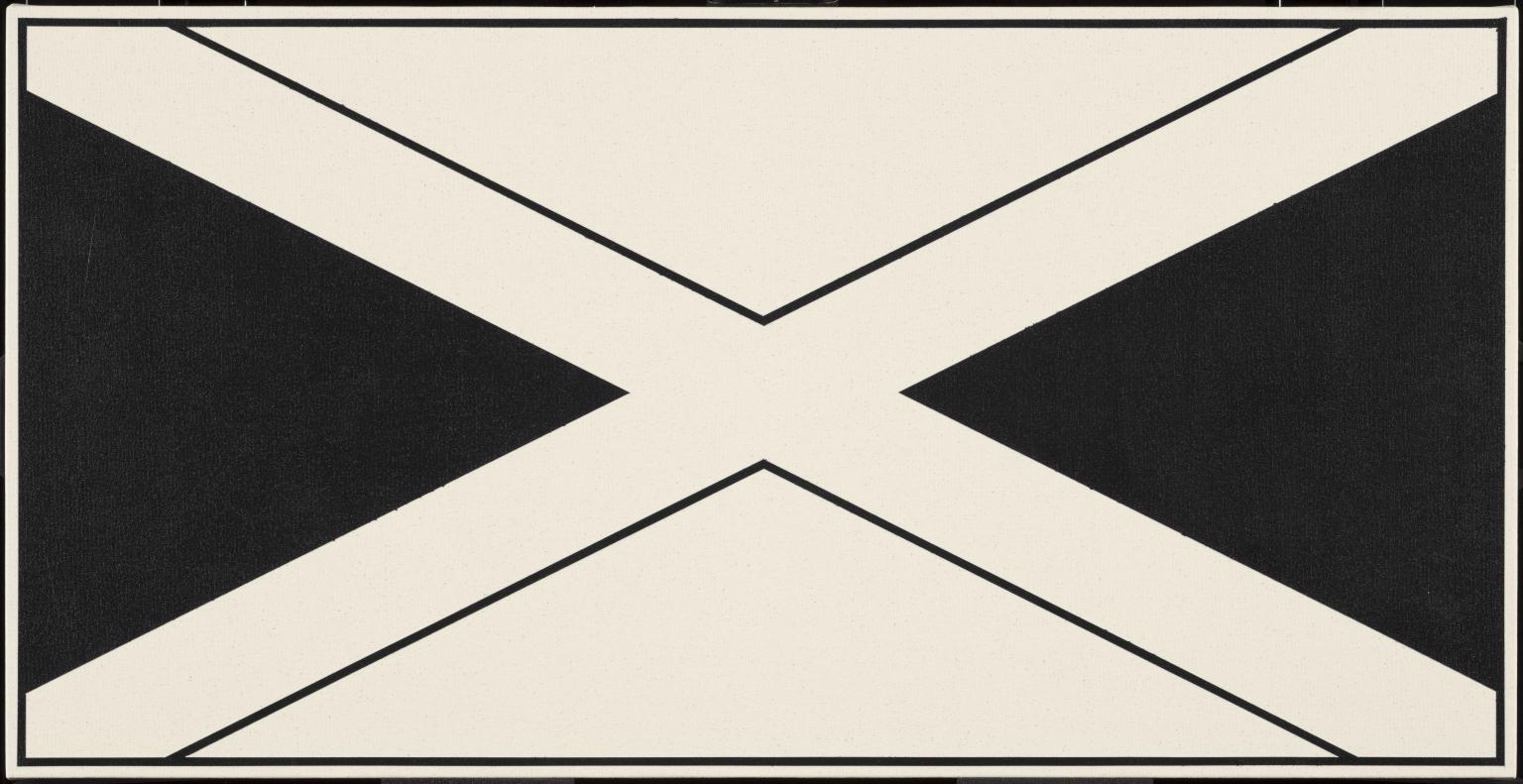 Fred Wilson

,

Jamaica

2009
14/30
artworks in Citizens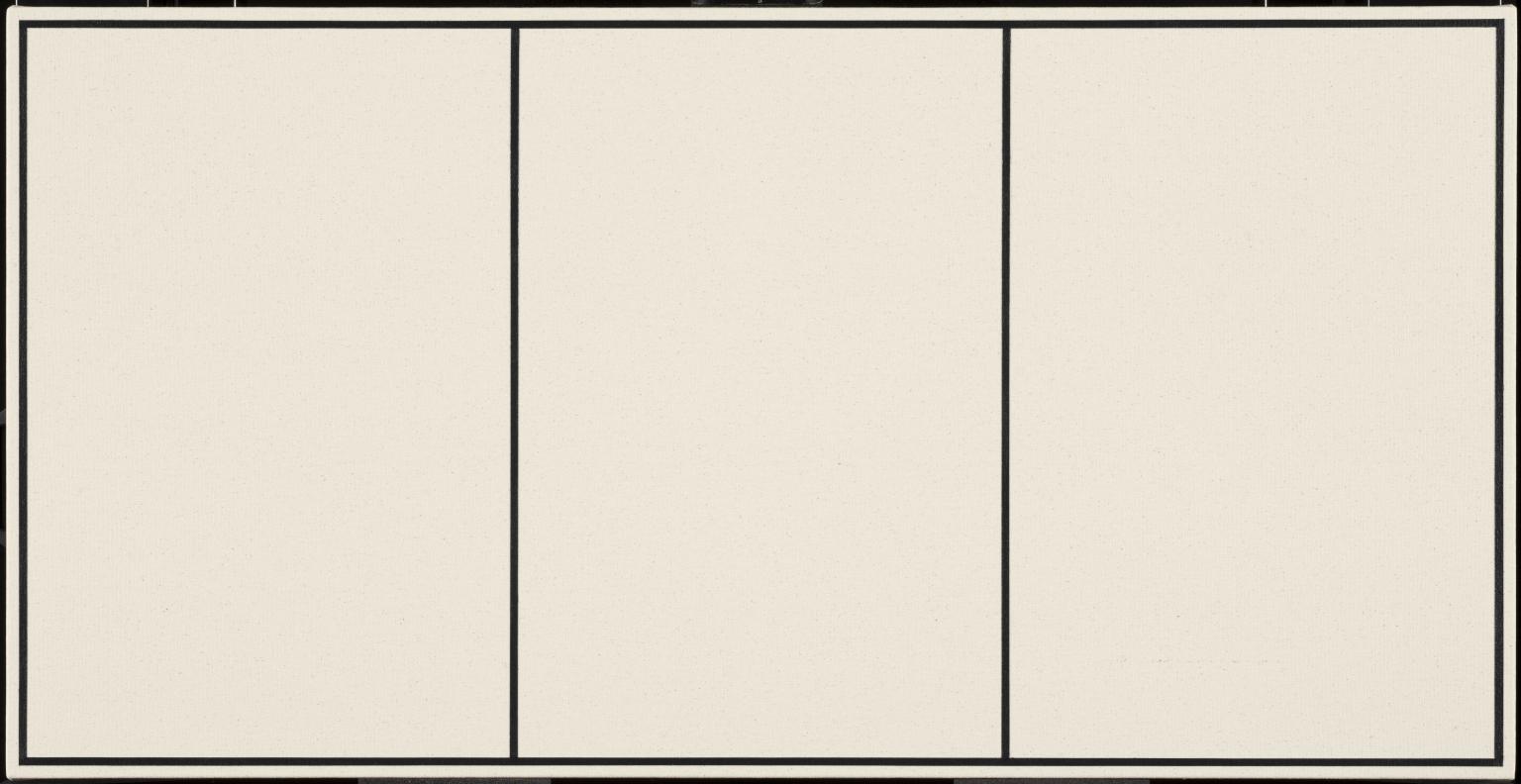 Fred Wilson

,

Nigeria

2009
15/30
artworks in Citizens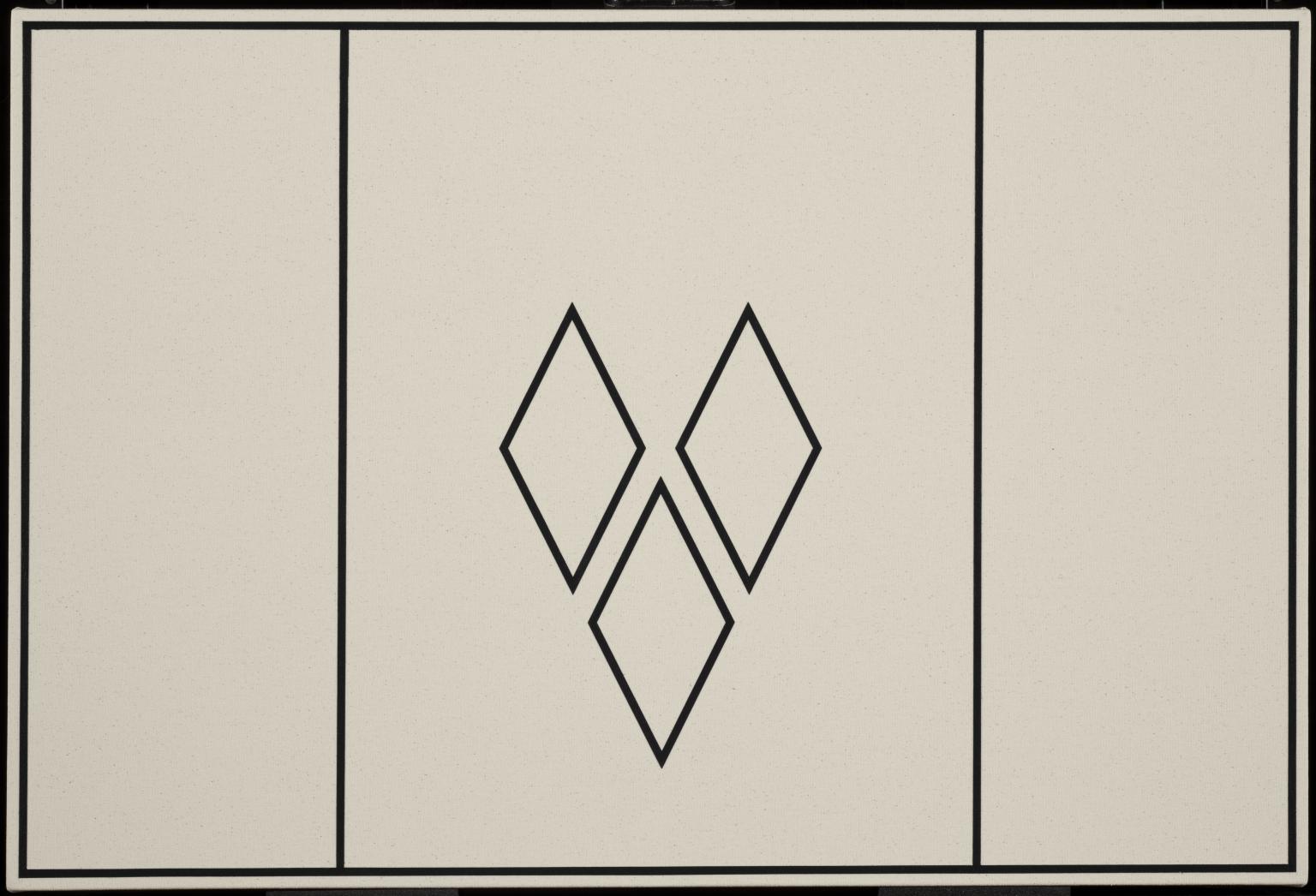 Fred Wilson

,

Saint Vincent-Grenadines

2009
16/30
artworks in Citizens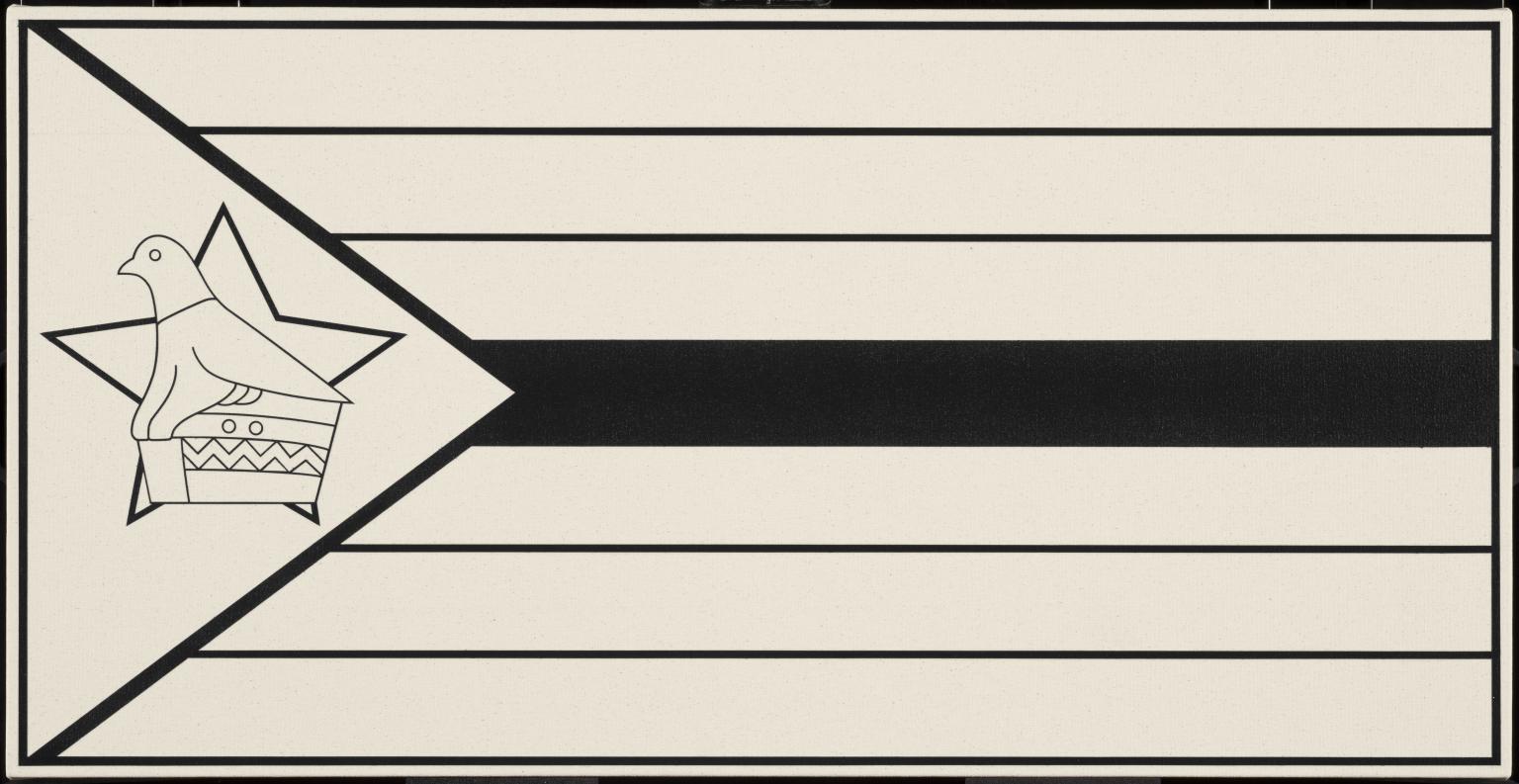 Fred Wilson

,

Zimbabwe

2009
17/30
artworks in Citizens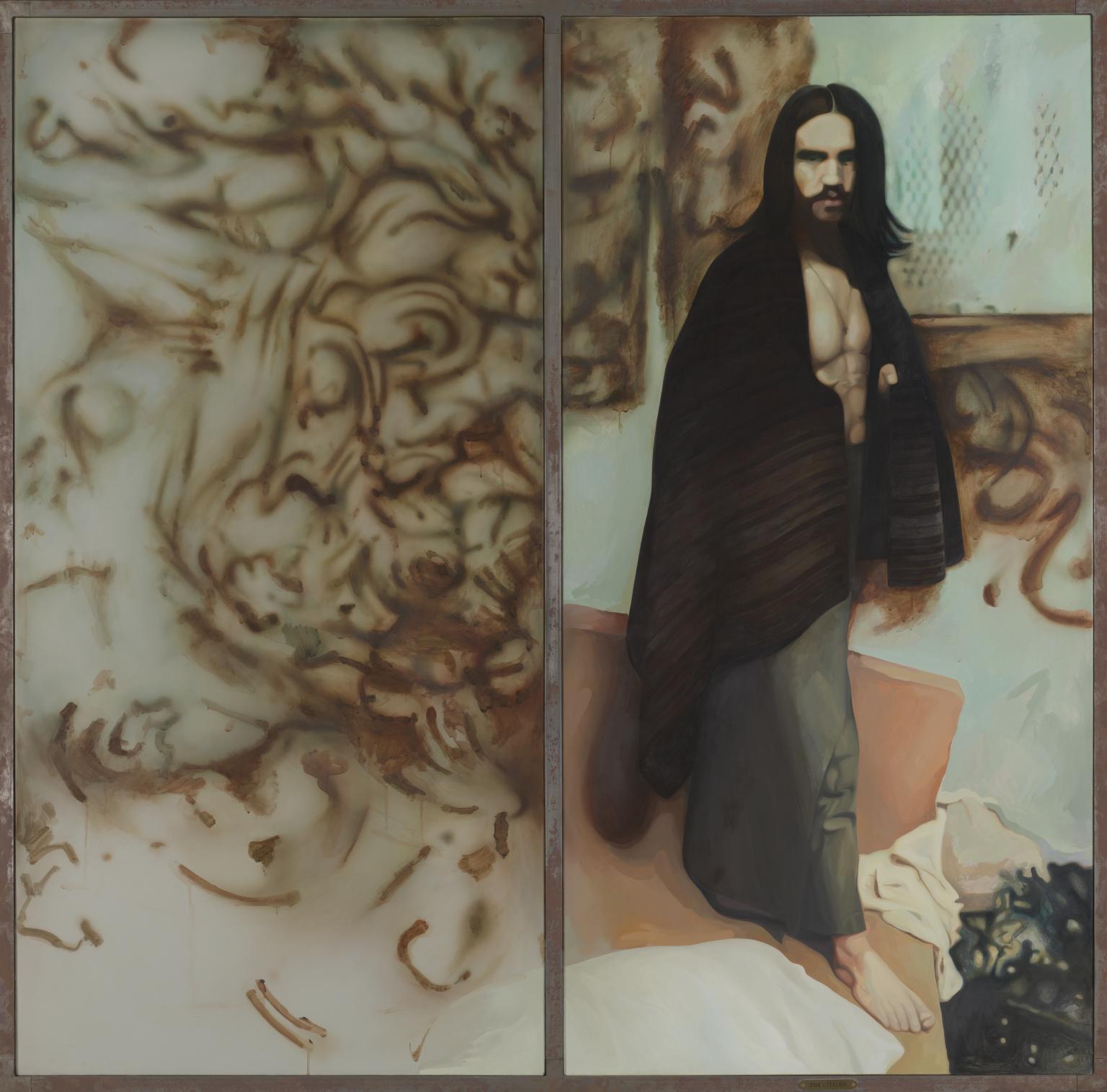 Richard Hamilton

,

The citizen

1981–3

The citizen was based on stills from a 1980 news report about the IRA 'dirty protest' at the Maze Prison in Northern Ireland. Paramilitary inmates had initially been given a 'Special Category' status. This was revoked, and they were treated as ordinary criminals. In response they decided to wear only prison blankets and to daub their cell walls with excrement. Hamilton wrote that he could not 'condone the methods' of the IRA, but was struck by the resemblance to Christian martyrdom. He also felt a connection to the prisoners since they had produced 'wall paintings'. One panel shows the prisoner and his cell; the other is more abstract, an unconfined space.

Gallery label, January 2019
18/30
artworks in Citizens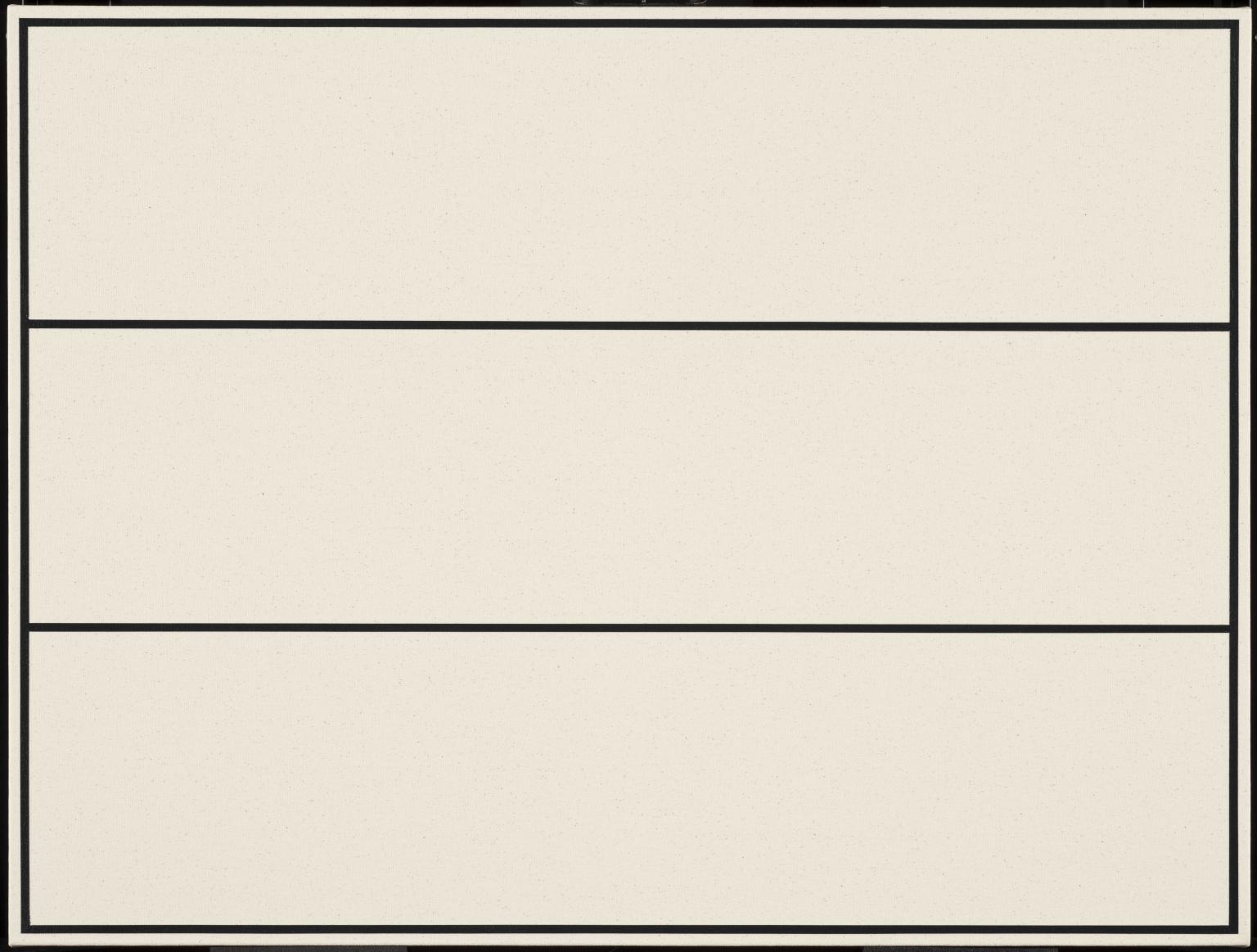 19/30
artworks in Citizens
Nicole Eisenman

,

The Darkward Trail

2018

Gallery label, June 2021
20/30
artworks in Citizens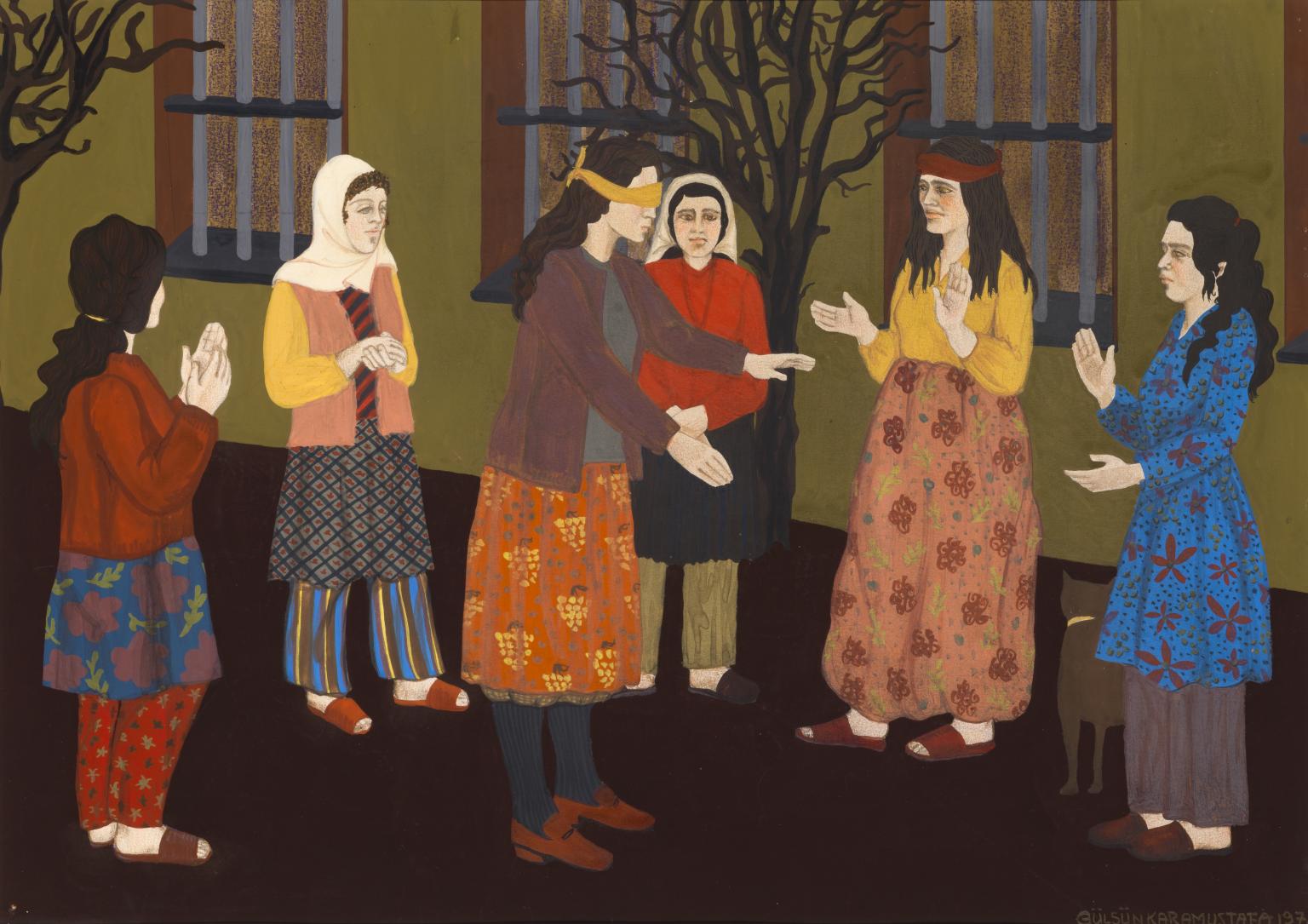 Gulsun Karamustafa

,

Prison Paintings 1

1978

Karamustafa was arrested and imprisoned after the Turkish military coup in 1971. She was given a six-month sentence for aiding political activists. Prison Paintings depict the daily struggles of the women she was in prison with. They are shown negotiating the different aspects of their identity as prisoners, mothers, wives and friends. These intimate portraits capture the physical and psychological effects of the restrictive political climate in Turkey during the 1970s. The artist made the series from memory following her release. 'I painted them in order to remember, in order to be able to keep [what happened] in mind.'

Gallery label, June 2021
21/30
artworks in Citizens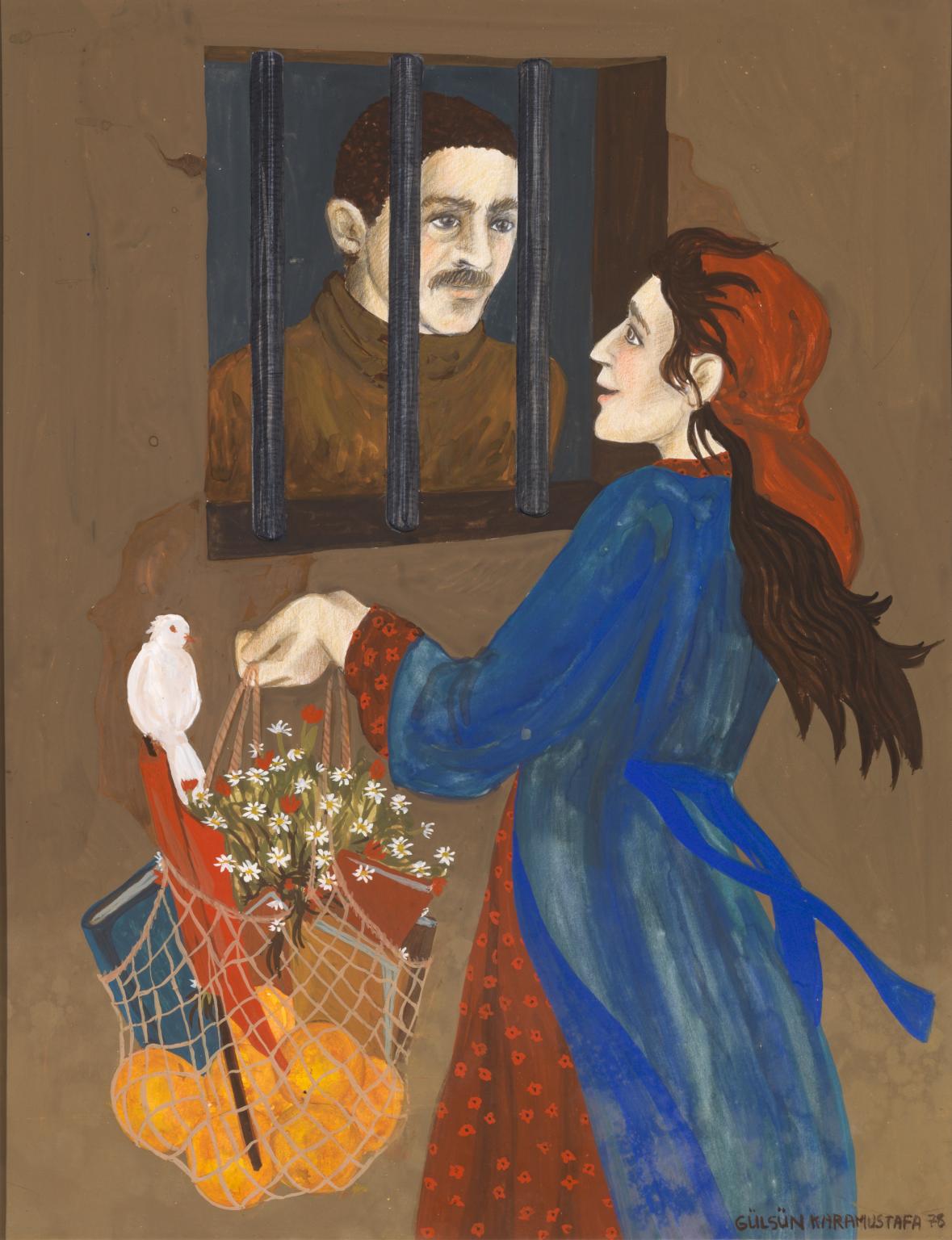 Gulsun Karamustafa

,

Prison Paintings 2

1978

Prison Paintings is a series of fifteen paintings in acrylic on paper made by the Turkish artist Gülsün Karamustafa between 1972 and 1978 (Tate T15182–T15196). Displayed all together or in smaller groups, the works present an emotive sequence of images showing women of all ages in prison settings. They are painted in bright bold colours in a quasi-naïve style. The sombre subject matter draws on the artist's personal experience of being incarcerated in Turkey in the early 1970s. Following the military coup of 1971 Karamustafa, who was a member of the 1968 generation and a politically active student during her university years in Istanbul, was arrested and sentenced to six months in prison for aiding and abetting political activists. The Prison Paintings were painted from memory, after the artist had been released from an institution intended for female prisoners serving life sentences. She has explained her motivation in making the paintings: 'I made them in order to remember, in order to be able to keep [what happened] in mind. After serving time in the Maltepe, Selimiye and Sağmalcılar prisons in Istanbul, I was sent to Izmit Prison to be with the ones sentenced to penal servitude for life.' (Quoted in Rumeysa Kiger, 'Artist Gülsün Karamustafa fulfils promise in major SALT Beyoğlu exhibition', Today's Zaman, 20 October 2013, http://www.todayszaman.com/arts-culture_artist-gulsun-karamustafa-fulfills-promise-in-major-salt-beyoglu-exhibition_329239, accessed 4 March 2016.)
22/30
artworks in Citizens
Sorry, no image available
Gulsun Karamustafa

,

Prison Paintings 4

1972

Prison Paintings is a series of fifteen paintings in acrylic on paper made by the Turkish artist Gülsün Karamustafa between 1972 and 1978 (Tate T15182–T15196). Displayed all together or in smaller groups, the works present an emotive sequence of images showing women of all ages in prison settings. They are painted in bright bold colours in a quasi-naïve style. The sombre subject matter draws on the artist's personal experience of being incarcerated in Turkey in the early 1970s. Following the military coup of 1971 Karamustafa, who was a member of the 1968 generation and a politically active student during her university years in Istanbul, was arrested and sentenced to six months in prison for aiding and abetting political activists. The Prison Paintings were painted from memory, after the artist had been released from an institution intended for female prisoners serving life sentences. She has explained her motivation in making the paintings: 'I made them in order to remember, in order to be able to keep [what happened] in mind. After serving time in the Maltepe, Selimiye and Sağmalcılar prisons in Istanbul, I was sent to Izmit Prison to be with the ones sentenced to penal servitude for life.' (Quoted in Rumeysa Kiger, 'Artist Gülsün Karamustafa fulfils promise in major SALT Beyoğlu exhibition', Today's Zaman, 20 October 2013, http://www.todayszaman.com/arts-culture_artist-gulsun-karamustafa-fulfills-promise-in-major-salt-beyoglu-exhibition_329239, accessed 4 March 2016.)
23/30
artworks in Citizens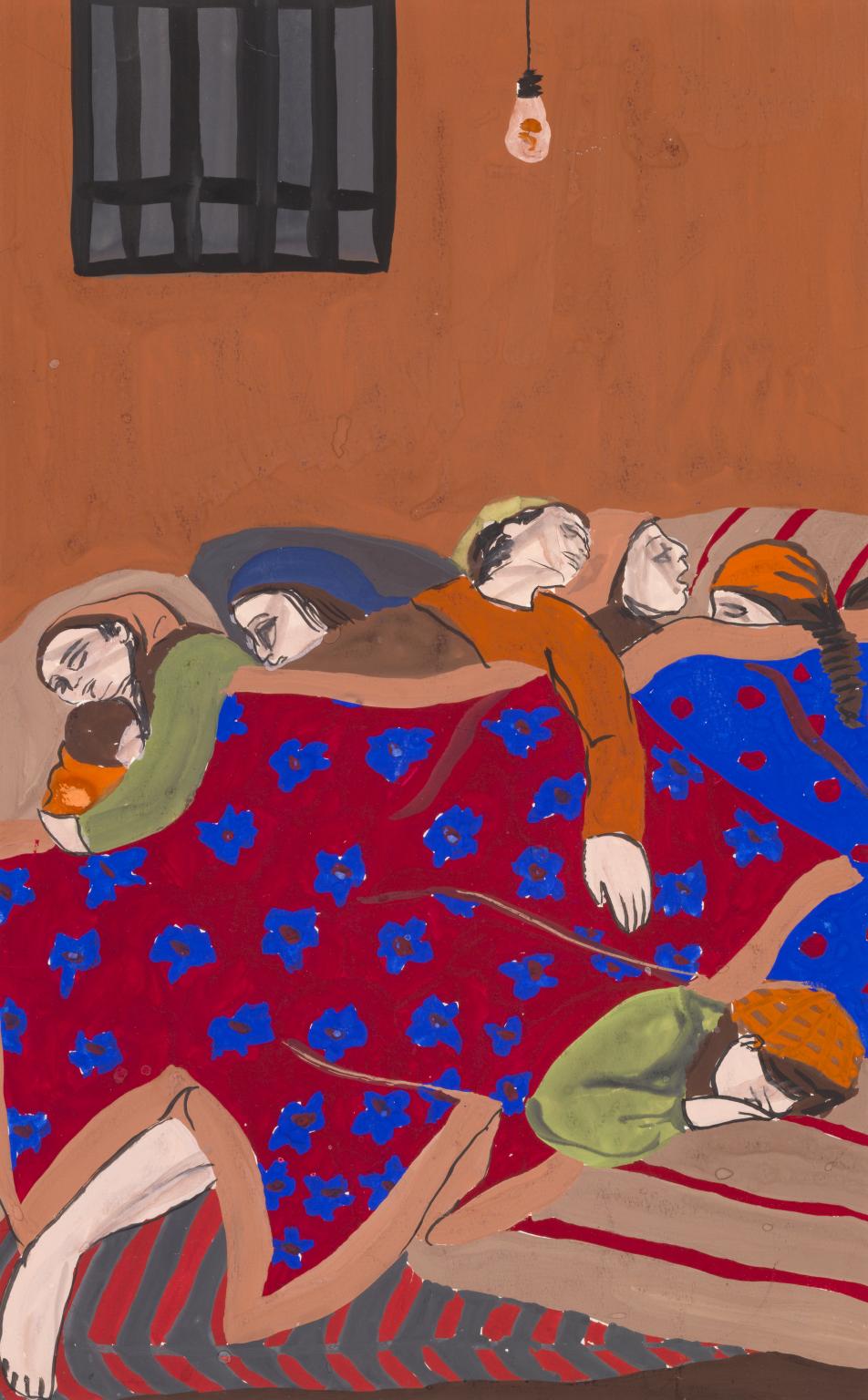 Gulsun Karamustafa

,

Prison Paintings 5

1972

Prison Paintings is a series of fifteen paintings in acrylic on paper made by the Turkish artist Gülsün Karamustafa between 1972 and 1978 (Tate T15182–T15196). Displayed all together or in smaller groups, the works present an emotive sequence of images showing women of all ages in prison settings. They are painted in bright bold colours in a quasi-naïve style. The sombre subject matter draws on the artist's personal experience of being incarcerated in Turkey in the early 1970s. Following the military coup of 1971 Karamustafa, who was a member of the 1968 generation and a politically active student during her university years in Istanbul, was arrested and sentenced to six months in prison for aiding and abetting political activists. The Prison Paintings were painted from memory, after the artist had been released from an institution intended for female prisoners serving life sentences. She has explained her motivation in making the paintings: 'I made them in order to remember, in order to be able to keep [what happened] in mind. After serving time in the Maltepe, Selimiye and Sağmalcılar prisons in Istanbul, I was sent to Izmit Prison to be with the ones sentenced to penal servitude for life.' (Quoted in Rumeysa Kiger, 'Artist Gülsün Karamustafa fulfils promise in major SALT Beyoğlu exhibition', Today's Zaman, 20 October 2013, http://www.todayszaman.com/arts-culture_artist-gulsun-karamustafa-fulfills-promise-in-major-salt-beyoglu-exhibition_329239, accessed 4 March 2016.)
24/30
artworks in Citizens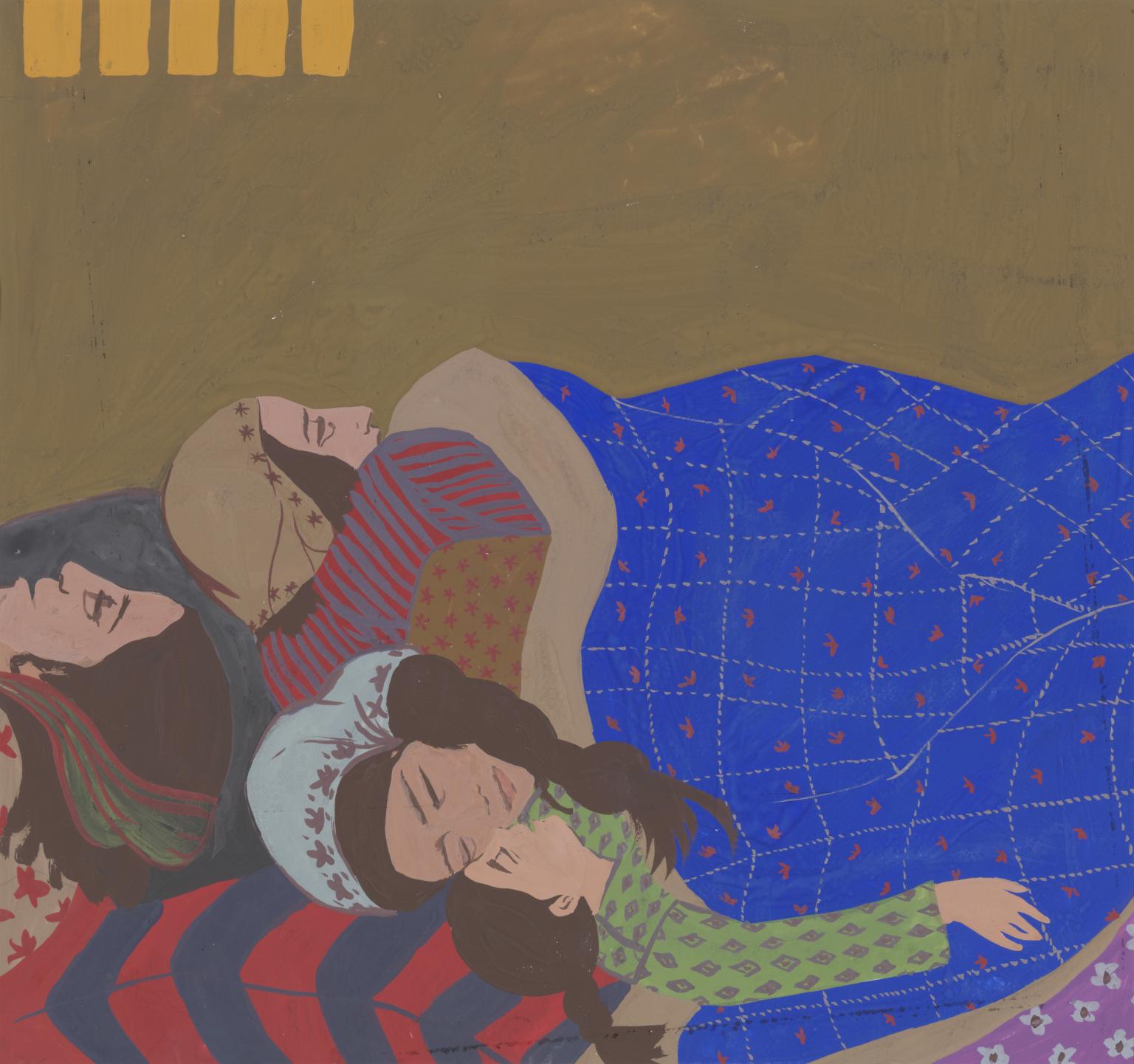 Gulsun Karamustafa

,

Prison Paintings 6

1972

Prison Paintings is a series of fifteen paintings in acrylic on paper made by the Turkish artist Gülsün Karamustafa between 1972 and 1978 (Tate T15182–T15196). Displayed all together or in smaller groups, the works present an emotive sequence of images showing women of all ages in prison settings. They are painted in bright bold colours in a quasi-naïve style. The sombre subject matter draws on the artist's personal experience of being incarcerated in Turkey in the early 1970s. Following the military coup of 1971 Karamustafa, who was a member of the 1968 generation and a politically active student during her university years in Istanbul, was arrested and sentenced to six months in prison for aiding and abetting political activists. The Prison Paintings were painted from memory, after the artist had been released from an institution intended for female prisoners serving life sentences. She has explained her motivation in making the paintings: 'I made them in order to remember, in order to be able to keep [what happened] in mind. After serving time in the Maltepe, Selimiye and Sağmalcılar prisons in Istanbul, I was sent to Izmit Prison to be with the ones sentenced to penal servitude for life.' (Quoted in Rumeysa Kiger, 'Artist Gülsün Karamustafa fulfils promise in major SALT Beyoğlu exhibition', Today's Zaman, 20 October 2013, http://www.todayszaman.com/arts-culture_artist-gulsun-karamustafa-fulfills-promise-in-major-salt-beyoglu-exhibition_329239, accessed 4 March 2016.)
25/30
artworks in Citizens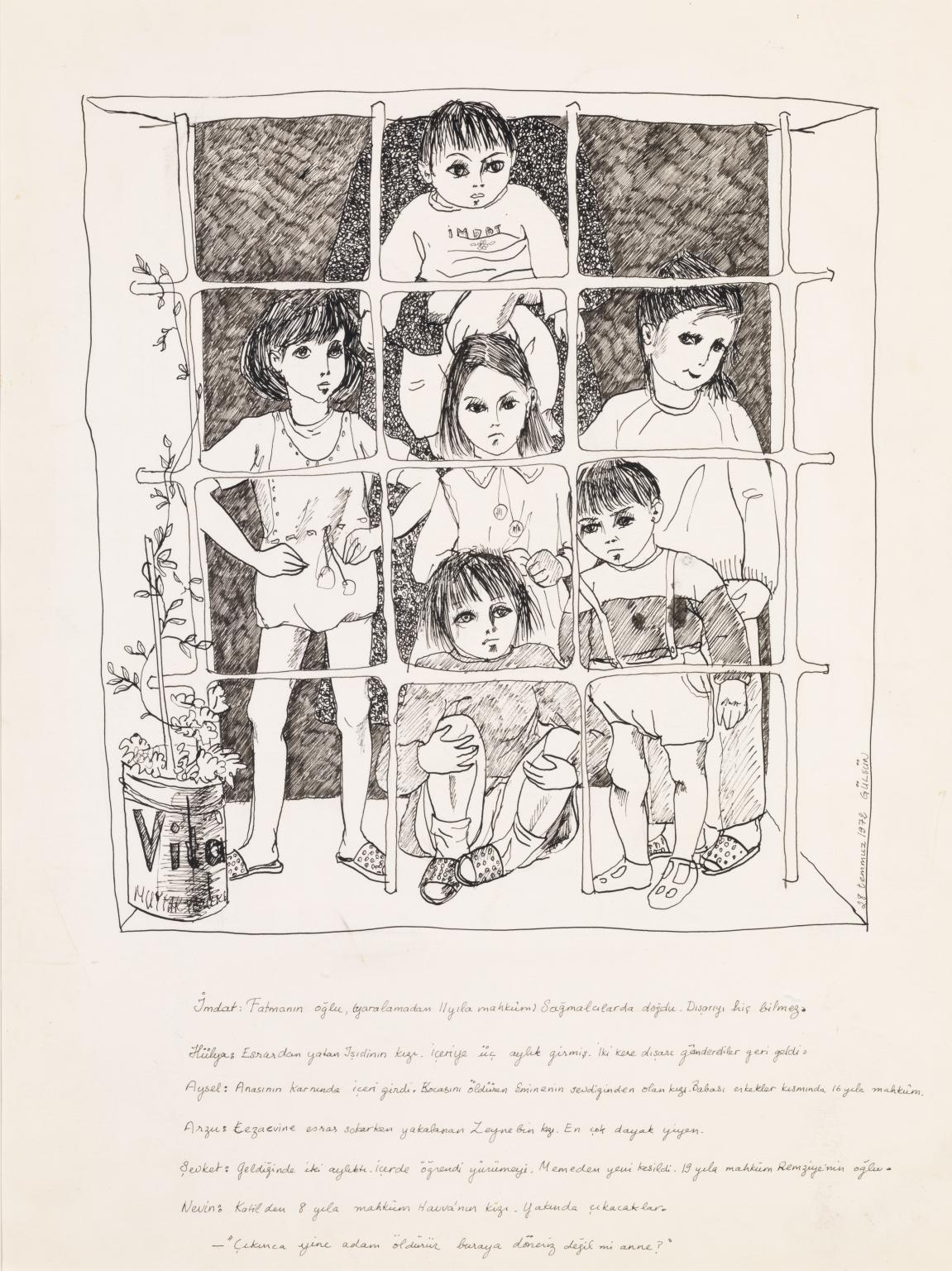 Gulsun Karamustafa

,

Prison Paintings 7

1972

Prison Paintings is a series of fifteen paintings in acrylic on paper made by the Turkish artist Gülsün Karamustafa between 1972 and 1978 (Tate T15182–T15196). Displayed all together or in smaller groups, the works present an emotive sequence of images showing women of all ages in prison settings. They are painted in bright bold colours in a quasi-naïve style. The sombre subject matter draws on the artist's personal experience of being incarcerated in Turkey in the early 1970s. Following the military coup of 1971 Karamustafa, who was a member of the 1968 generation and a politically active student during her university years in Istanbul, was arrested and sentenced to six months in prison for aiding and abetting political activists. The Prison Paintings were painted from memory, after the artist had been released from an institution intended for female prisoners serving life sentences. She has explained her motivation in making the paintings: 'I made them in order to remember, in order to be able to keep [what happened] in mind. After serving time in the Maltepe, Selimiye and Sağmalcılar prisons in Istanbul, I was sent to Izmit Prison to be with the ones sentenced to penal servitude for life.' (Quoted in Rumeysa Kiger, 'Artist Gülsün Karamustafa fulfils promise in major SALT Beyoğlu exhibition', Today's Zaman, 20 October 2013, http://www.todayszaman.com/arts-culture_artist-gulsun-karamustafa-fulfills-promise-in-major-salt-beyoglu-exhibition_329239, accessed 4 March 2016.)
26/30
artworks in Citizens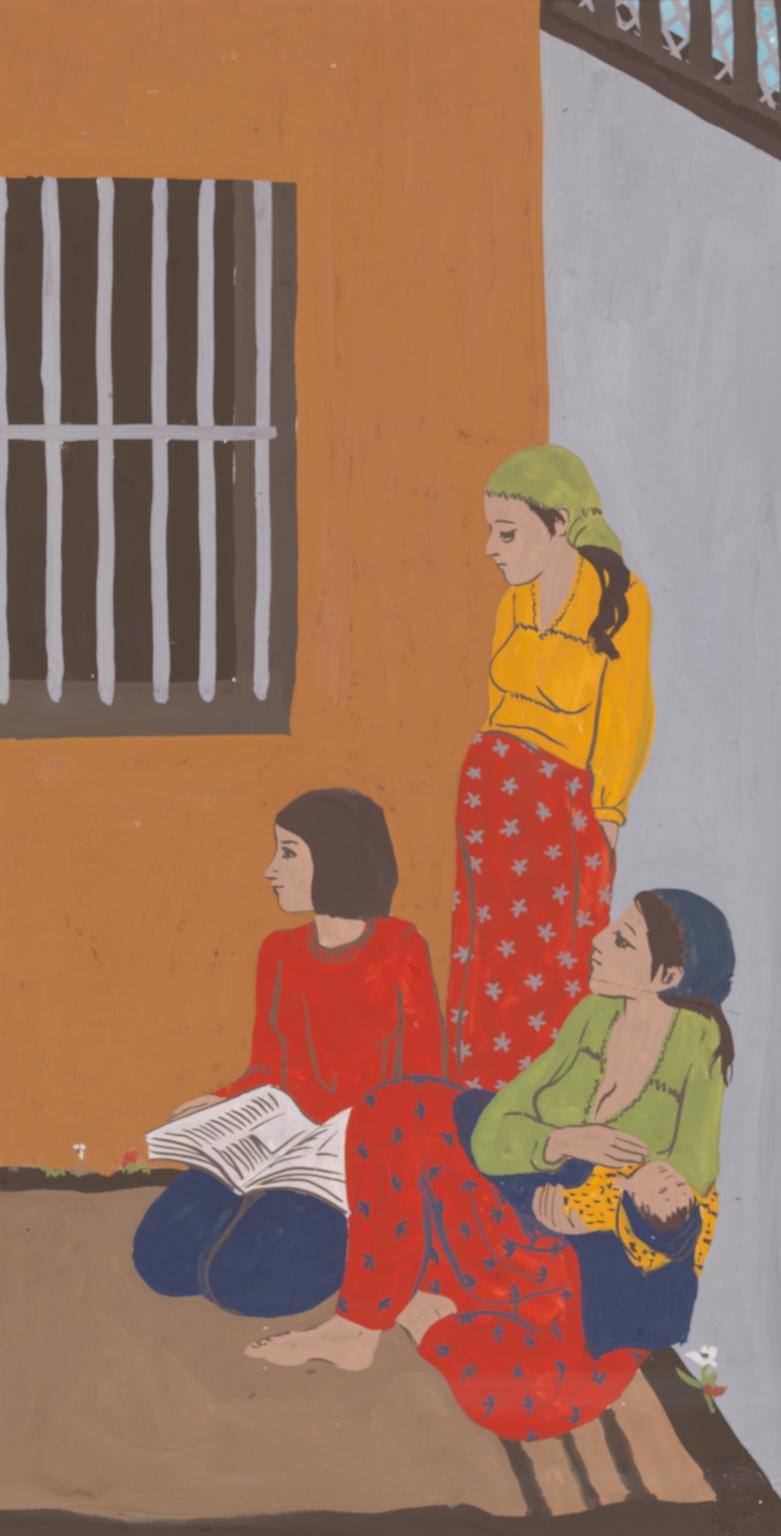 Gulsun Karamustafa

,

Prison Paintings 8

1972

Prison Paintings is a series of fifteen paintings in acrylic on paper made by the Turkish artist Gülsün Karamustafa between 1972 and 1978 (Tate T15182–T15196). Displayed all together or in smaller groups, the works present an emotive sequence of images showing women of all ages in prison settings. They are painted in bright bold colours in a quasi-naïve style. The sombre subject matter draws on the artist's personal experience of being incarcerated in Turkey in the early 1970s. Following the military coup of 1971 Karamustafa, who was a member of the 1968 generation and a politically active student during her university years in Istanbul, was arrested and sentenced to six months in prison for aiding and abetting political activists. The Prison Paintings were painted from memory, after the artist had been released from an institution intended for female prisoners serving life sentences. She has explained her motivation in making the paintings: 'I made them in order to remember, in order to be able to keep [what happened] in mind. After serving time in the Maltepe, Selimiye and Sağmalcılar prisons in Istanbul, I was sent to Izmit Prison to be with the ones sentenced to penal servitude for life.' (Quoted in Rumeysa Kiger, 'Artist Gülsün Karamustafa fulfils promise in major SALT Beyoğlu exhibition', Today's Zaman, 20 October 2013, http://www.todayszaman.com/arts-culture_artist-gulsun-karamustafa-fulfills-promise-in-major-salt-beyoglu-exhibition_329239, accessed 4 March 2016.)
27/30
artworks in Citizens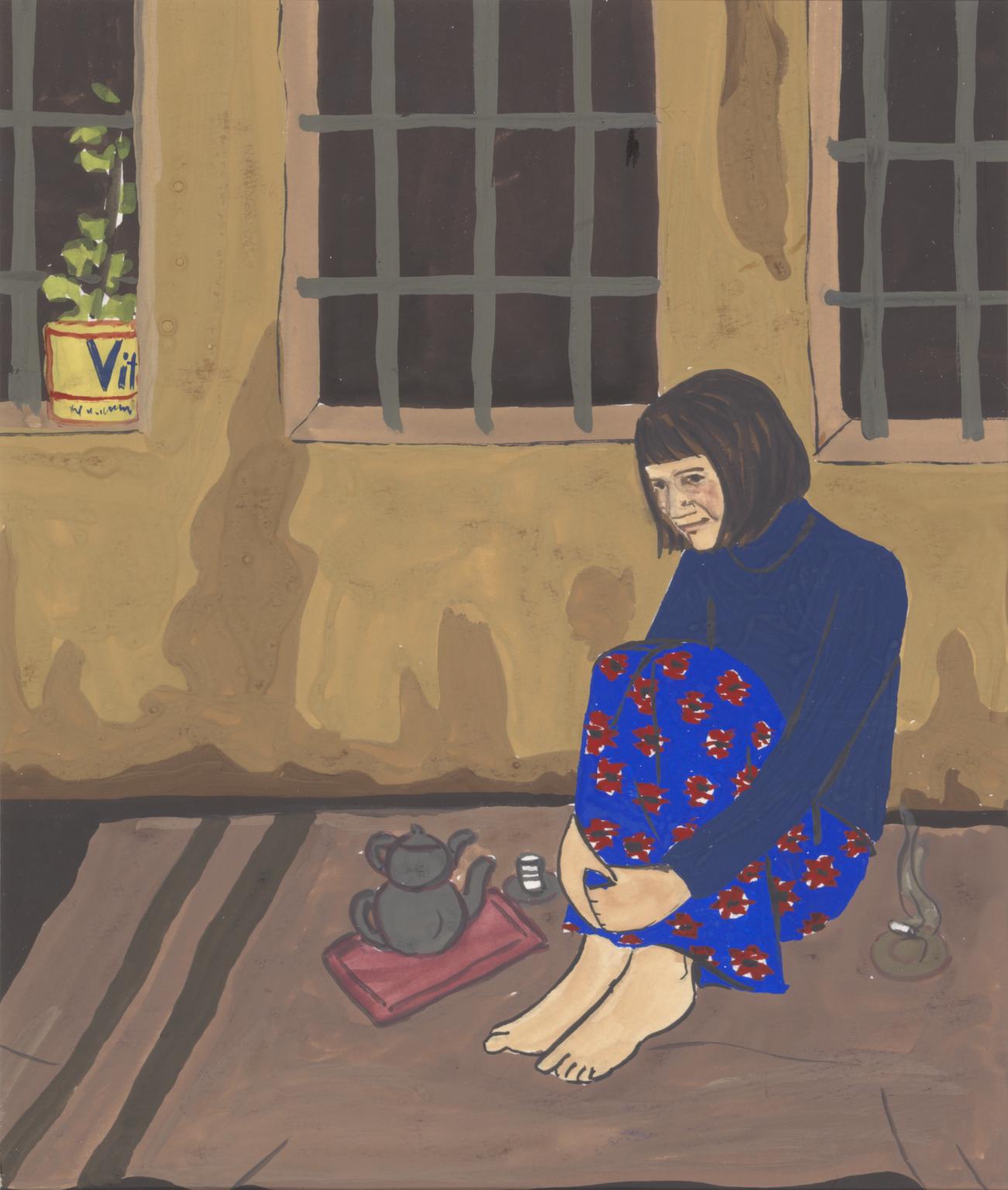 Gulsun Karamustafa

,

Prison Paintings 9

1972

Prison Paintings is a series of fifteen paintings in acrylic on paper made by the Turkish artist Gülsün Karamustafa between 1972 and 1978 (Tate T15182–T15196). Displayed all together or in smaller groups, the works present an emotive sequence of images showing women of all ages in prison settings. They are painted in bright bold colours in a quasi-naïve style. The sombre subject matter draws on the artist's personal experience of being incarcerated in Turkey in the early 1970s. Following the military coup of 1971 Karamustafa, who was a member of the 1968 generation and a politically active student during her university years in Istanbul, was arrested and sentenced to six months in prison for aiding and abetting political activists. The Prison Paintings were painted from memory, after the artist had been released from an institution intended for female prisoners serving life sentences. She has explained her motivation in making the paintings: 'I made them in order to remember, in order to be able to keep [what happened] in mind. After serving time in the Maltepe, Selimiye and Sağmalcılar prisons in Istanbul, I was sent to Izmit Prison to be with the ones sentenced to penal servitude for life.' (Quoted in Rumeysa Kiger, 'Artist Gülsün Karamustafa fulfils promise in major SALT Beyoğlu exhibition', Today's Zaman, 20 October 2013, http://www.todayszaman.com/arts-culture_artist-gulsun-karamustafa-fulfills-promise-in-major-salt-beyoglu-exhibition_329239, accessed 4 March 2016.)
28/30
artworks in Citizens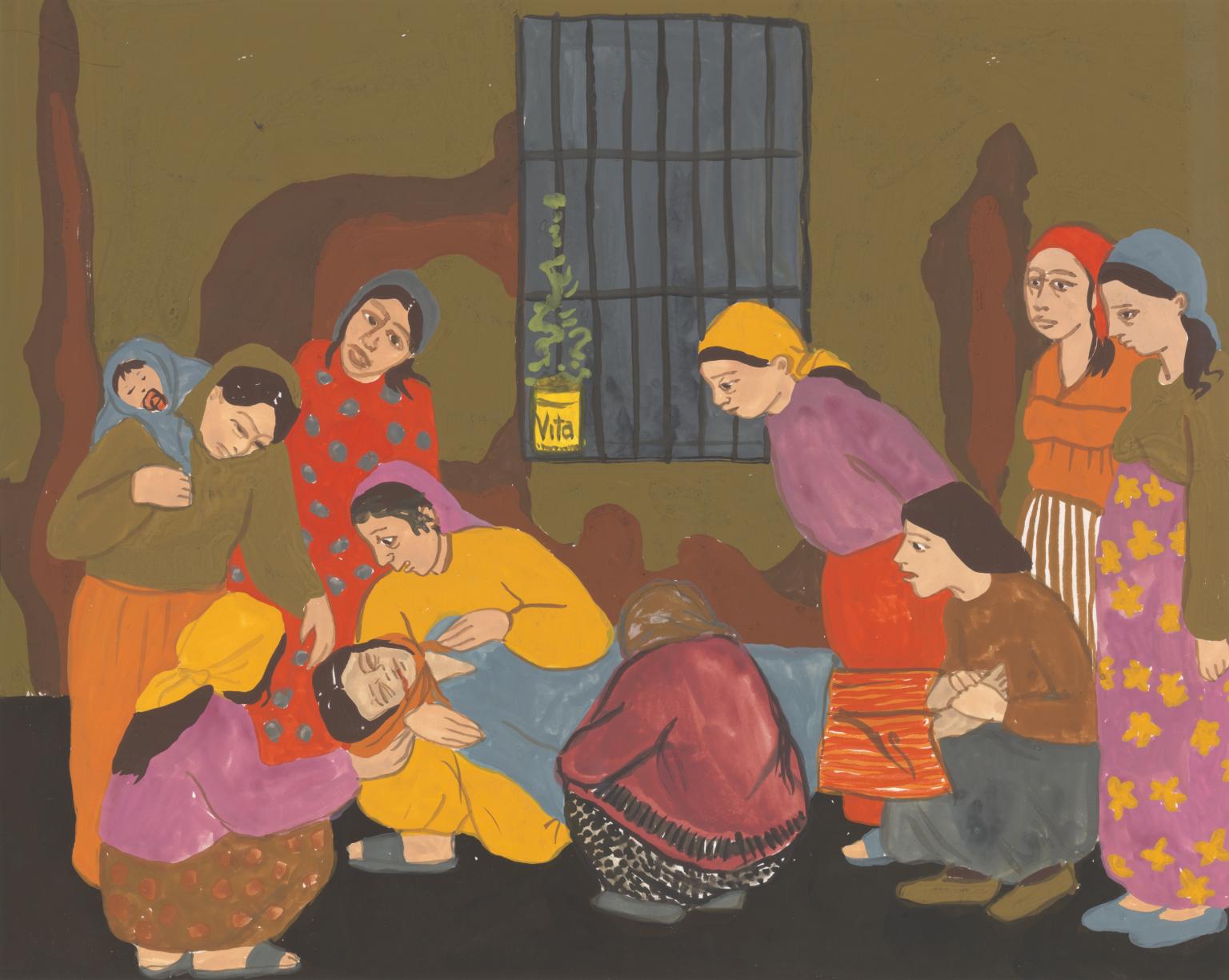 Gulsun Karamustafa

,

Prison Paintings 10

1972

Prison Paintings is a series of fifteen paintings in acrylic on paper made by the Turkish artist Gülsün Karamustafa between 1972 and 1978 (Tate T15182–T15196). Displayed all together or in smaller groups, the works present an emotive sequence of images showing women of all ages in prison settings. They are painted in bright bold colours in a quasi-naïve style. The sombre subject matter draws on the artist's personal experience of being incarcerated in Turkey in the early 1970s. Following the military coup of 1971 Karamustafa, who was a member of the 1968 generation and a politically active student during her university years in Istanbul, was arrested and sentenced to six months in prison for aiding and abetting political activists. The Prison Paintings were painted from memory, after the artist had been released from an institution intended for female prisoners serving life sentences. She has explained her motivation in making the paintings: 'I made them in order to remember, in order to be able to keep [what happened] in mind. After serving time in the Maltepe, Selimiye and Sağmalcılar prisons in Istanbul, I was sent to Izmit Prison to be with the ones sentenced to penal servitude for life.' (Quoted in Rumeysa Kiger, 'Artist Gülsün Karamustafa fulfils promise in major SALT Beyoğlu exhibition', Today's Zaman, 20 October 2013, http://www.todayszaman.com/arts-culture_artist-gulsun-karamustafa-fulfills-promise-in-major-salt-beyoglu-exhibition_329239, accessed 4 March 2016.)
29/30
artworks in Citizens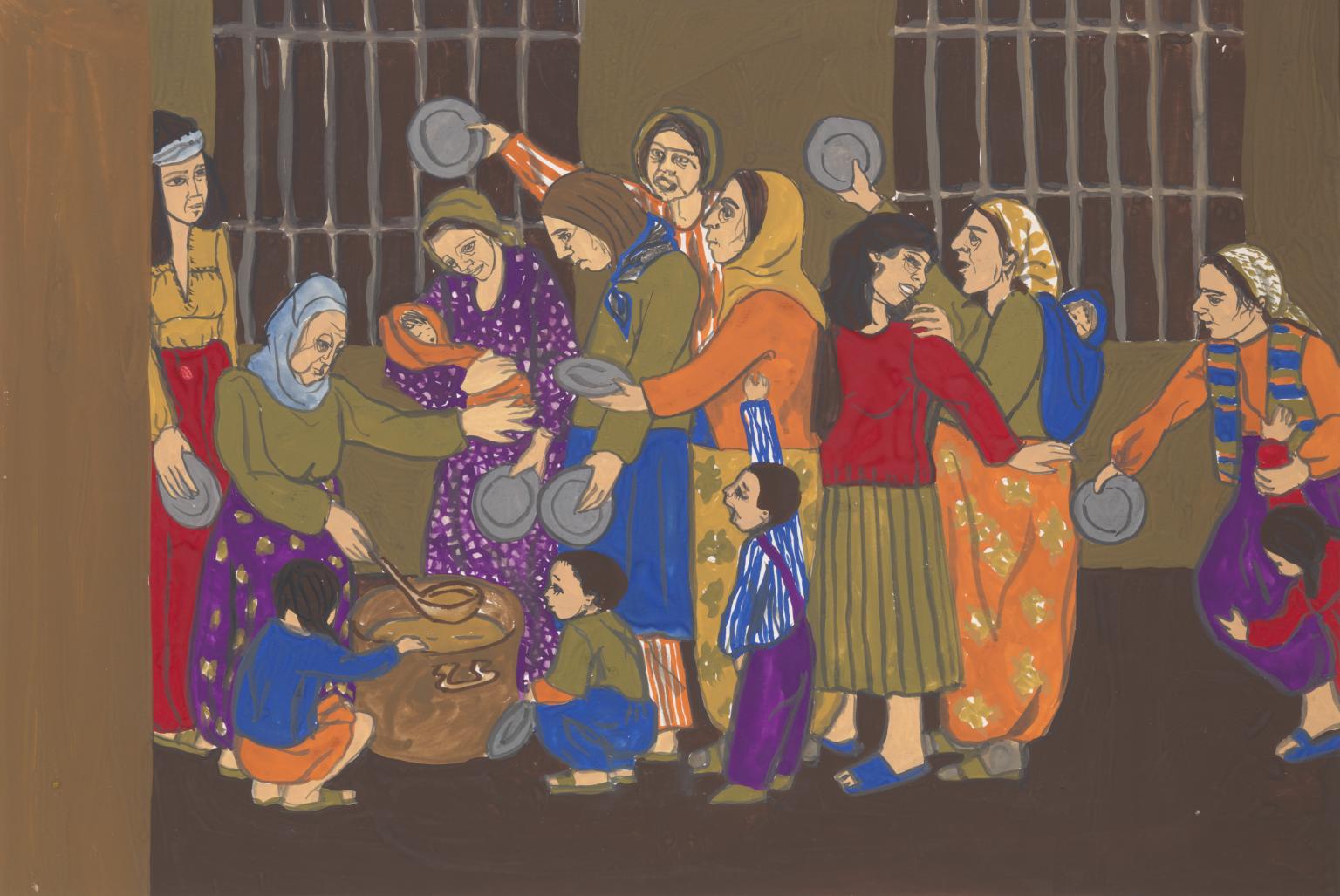 Gulsun Karamustafa

,

Prison Paintings 11

1972

Prison Paintings is a series of fifteen paintings in acrylic on paper made by the Turkish artist Gülsün Karamustafa between 1972 and 1978 (Tate T15182–T15196). Displayed all together or in smaller groups, the works present an emotive sequence of images showing women of all ages in prison settings. They are painted in bright bold colours in a quasi-naïve style. The sombre subject matter draws on the artist's personal experience of being incarcerated in Turkey in the early 1970s. Following the military coup of 1971 Karamustafa, who was a member of the 1968 generation and a politically active student during her university years in Istanbul, was arrested and sentenced to six months in prison for aiding and abetting political activists. The Prison Paintings were painted from memory, after the artist had been released from an institution intended for female prisoners serving life sentences. She has explained her motivation in making the paintings: 'I made them in order to remember, in order to be able to keep [what happened] in mind. After serving time in the Maltepe, Selimiye and Sağmalcılar prisons in Istanbul, I was sent to Izmit Prison to be with the ones sentenced to penal servitude for life.' (Quoted in Rumeysa Kiger, 'Artist Gülsün Karamustafa fulfils promise in major SALT Beyoğlu exhibition', Today's Zaman, 20 October 2013, http://www.todayszaman.com/arts-culture_artist-gulsun-karamustafa-fulfills-promise-in-major-salt-beyoglu-exhibition_329239, accessed 4 March 2016.)
30/30
artworks in Citizens
Art in this room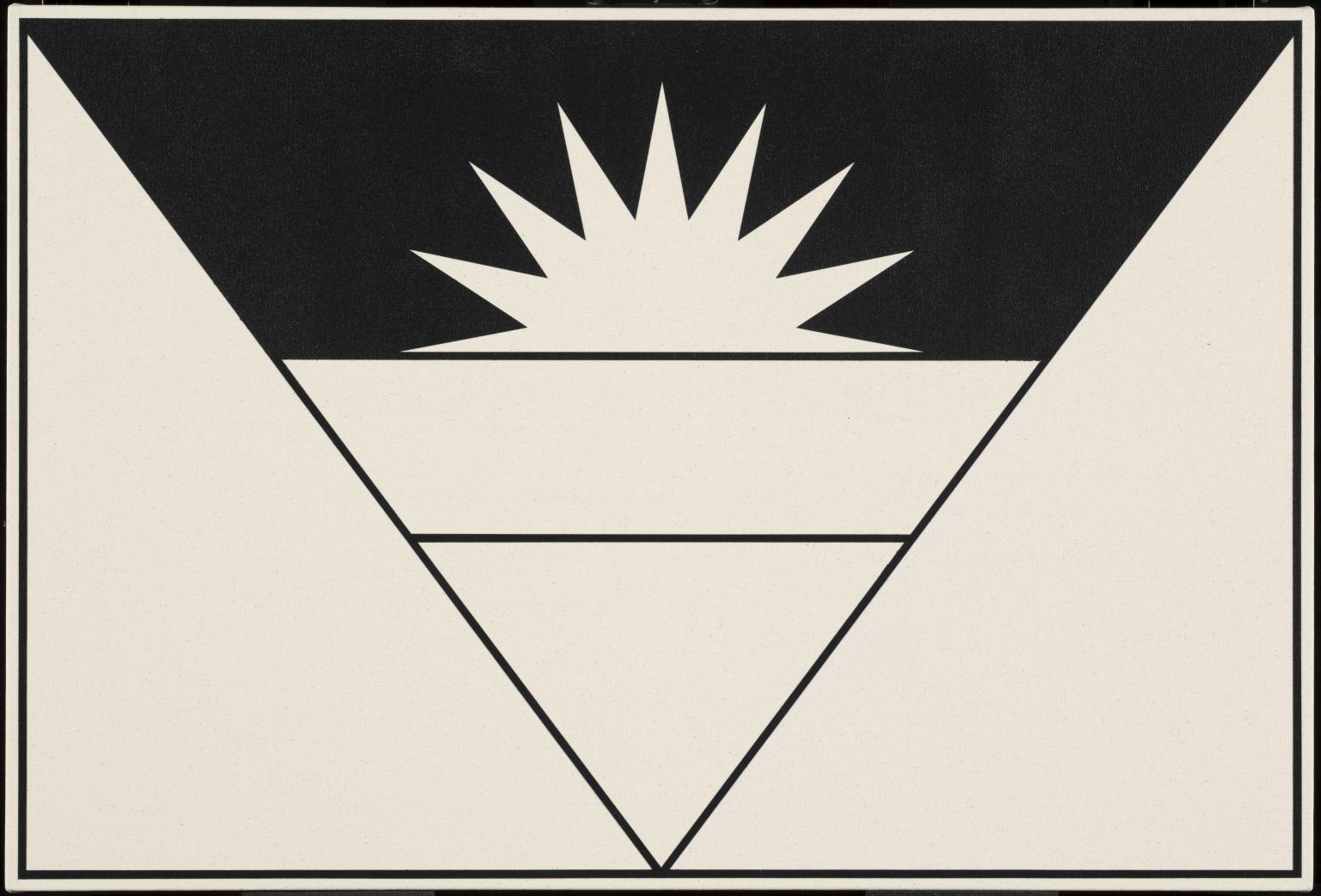 Fred Wilson
Antigua-Barbuda
2009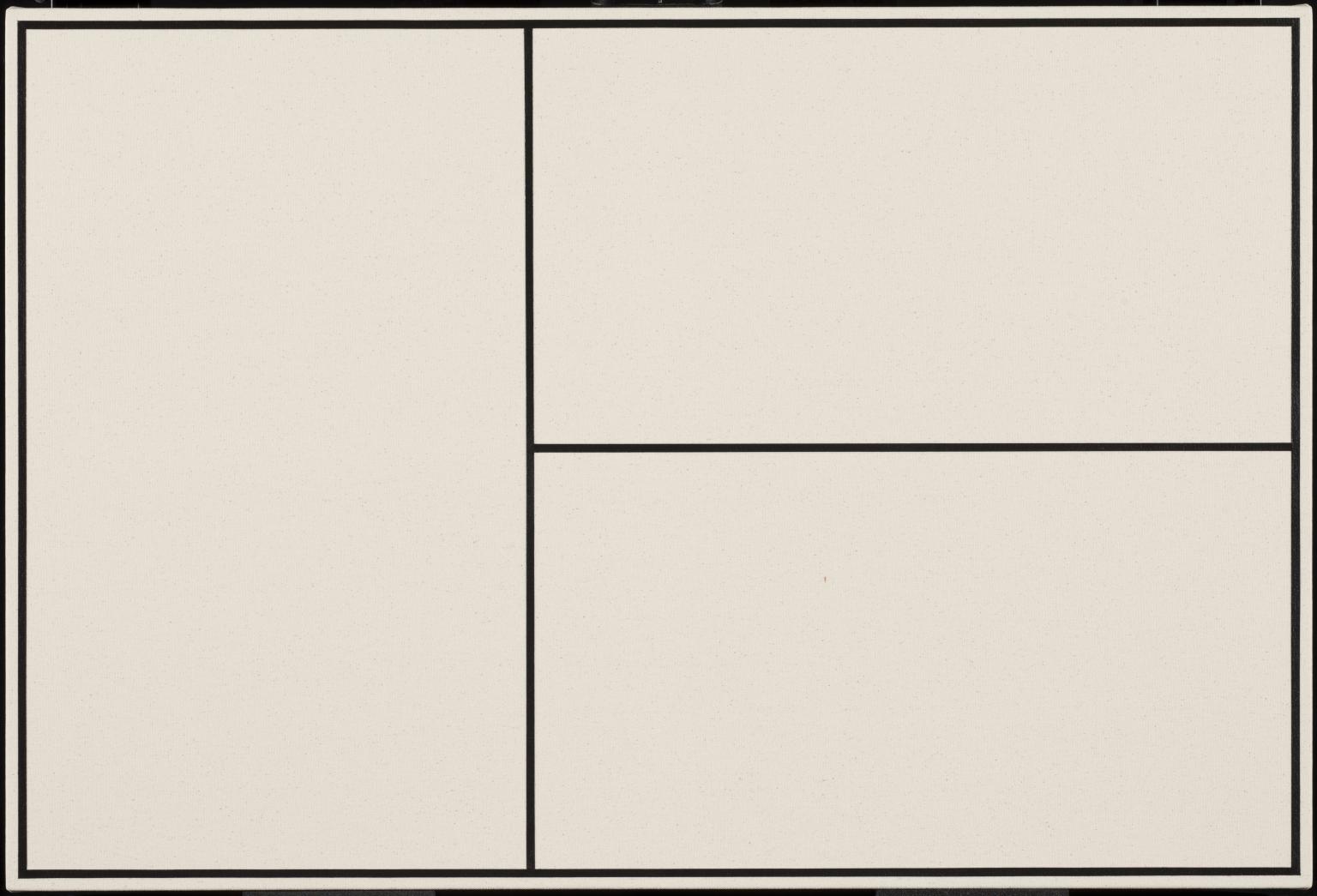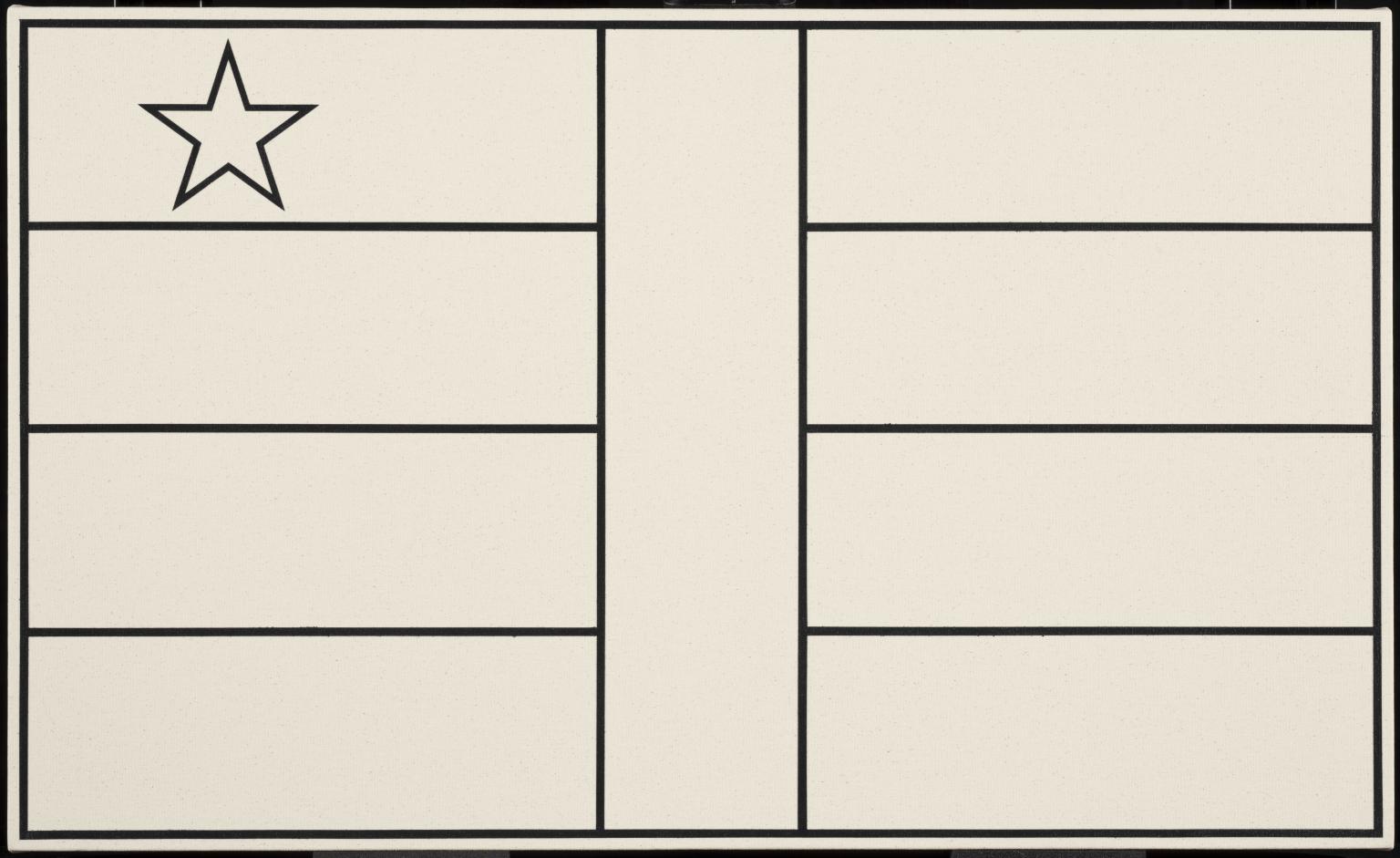 Fred Wilson
Central African Republic
2009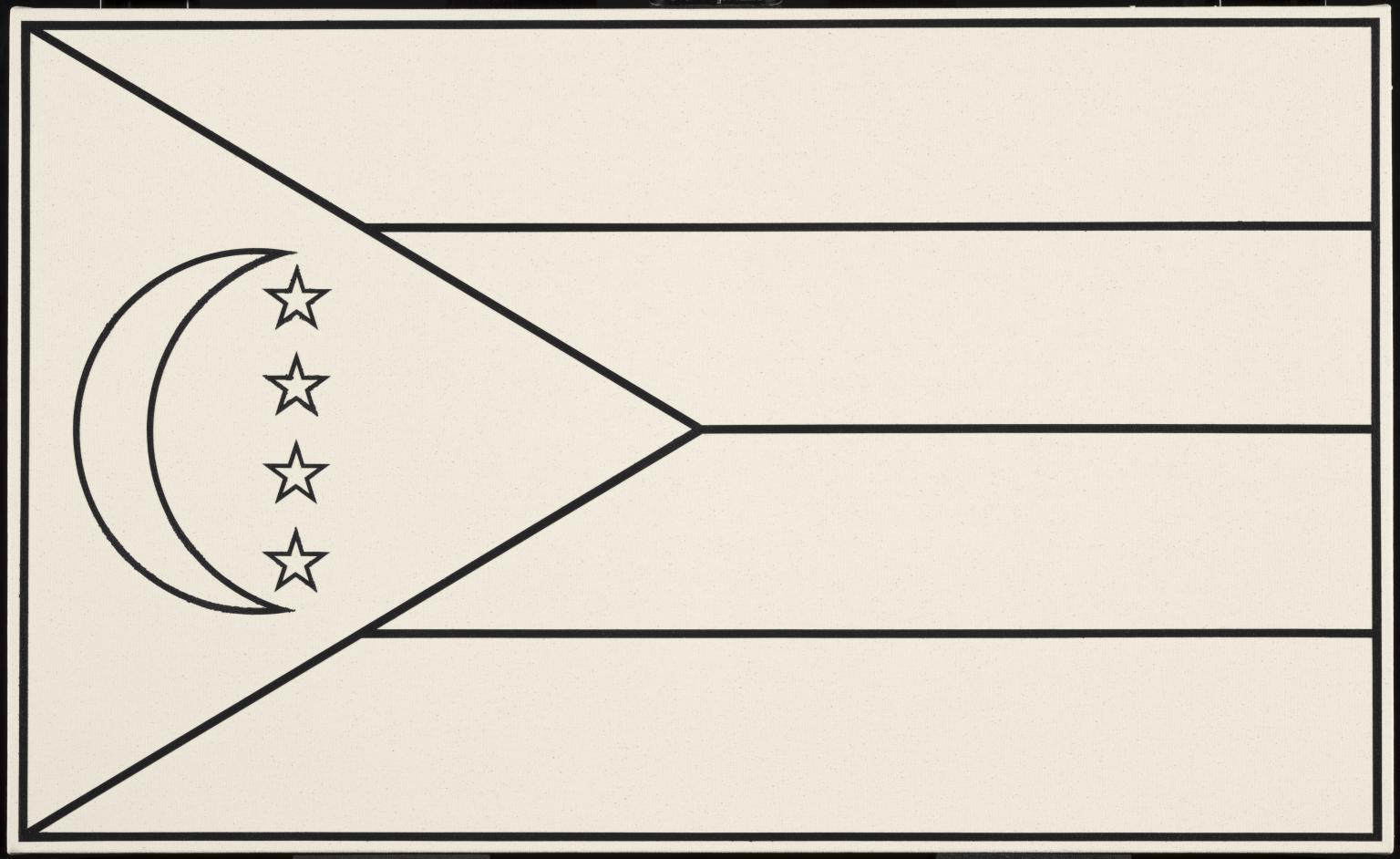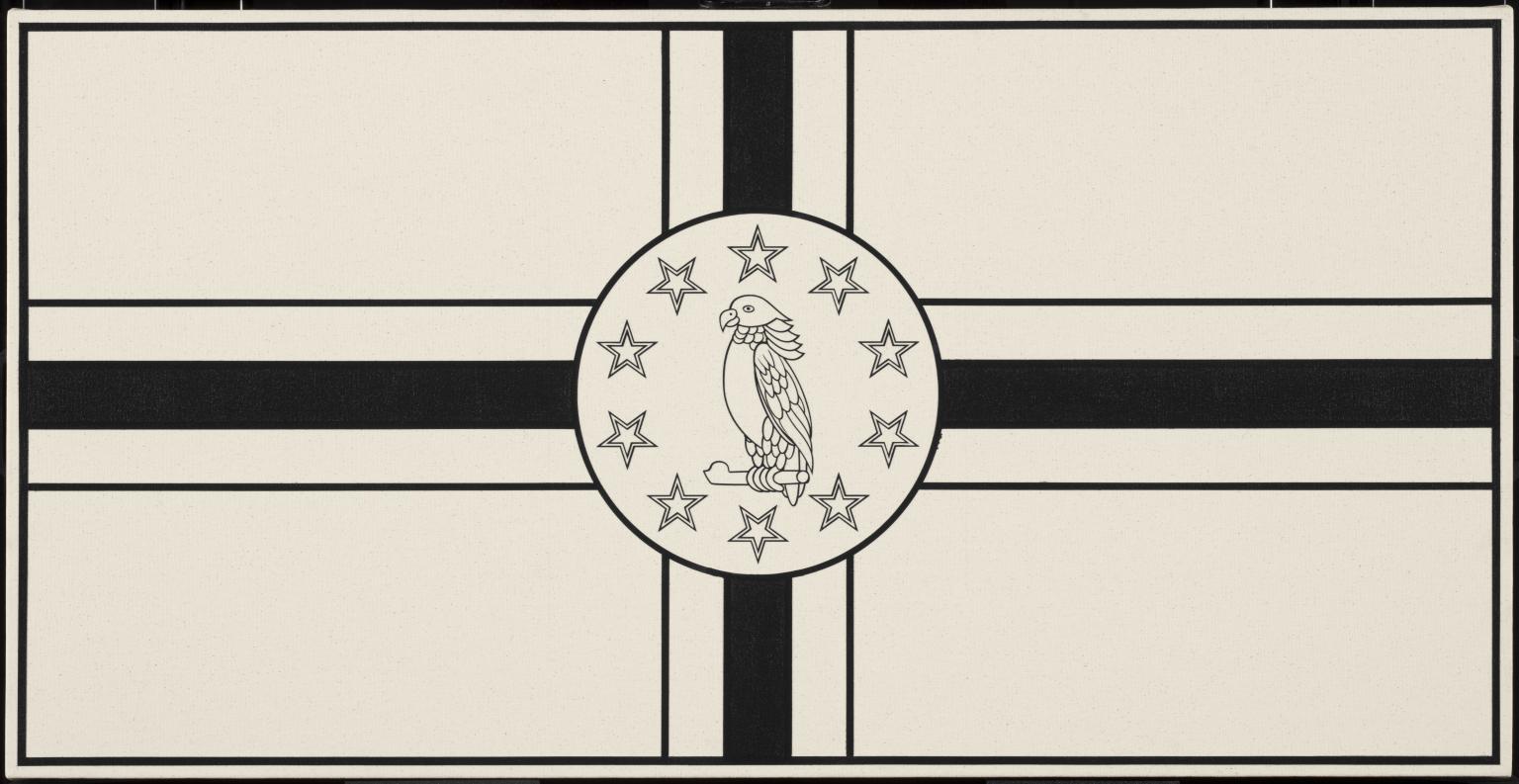 Fred Wilson
Dominica
2009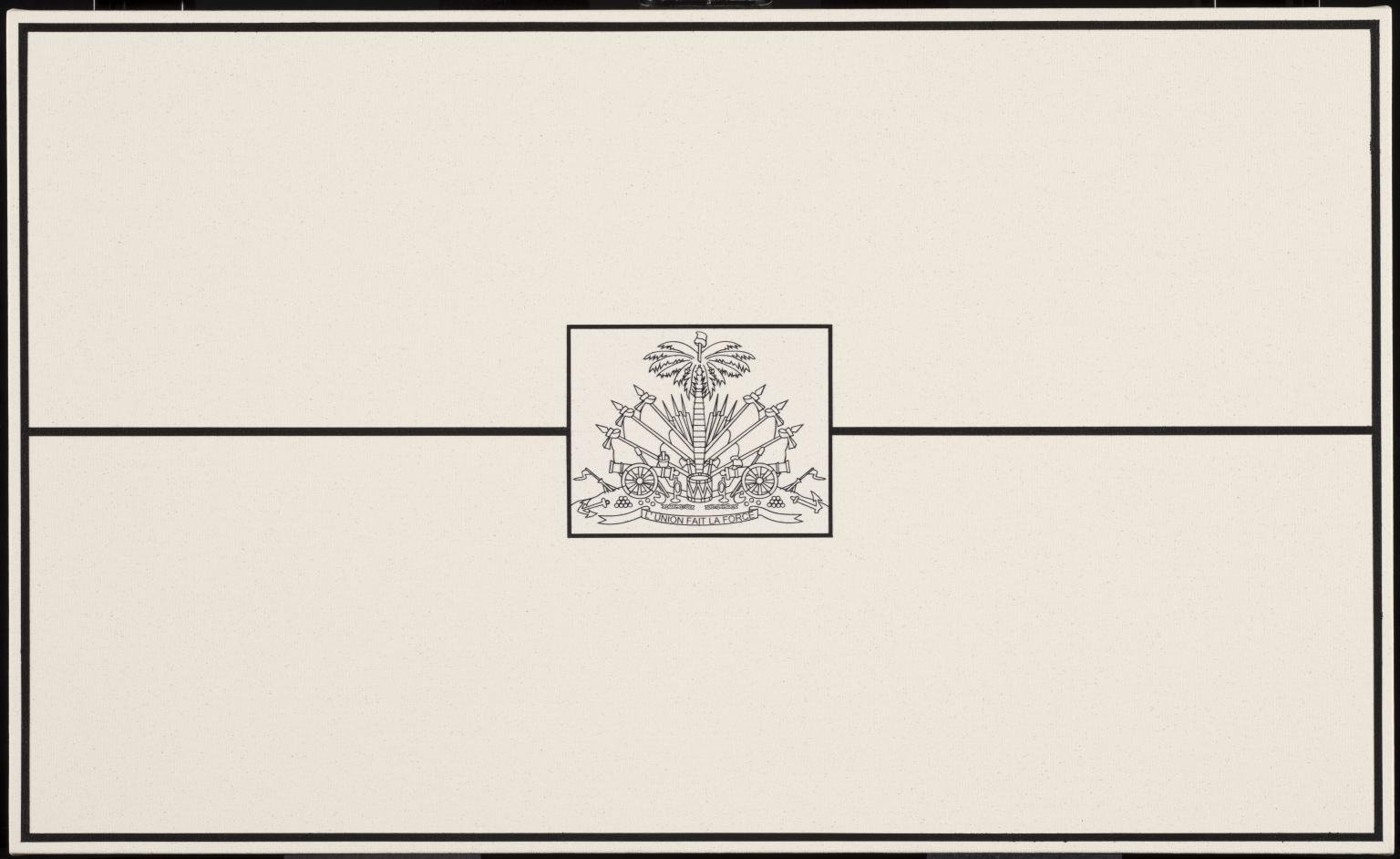 You've viewed 6/30 artworks
You've viewed 30/30 artworks