The texts in these two rooms are activated as they are read
In the late 1960s, Lawrence Weiner contributed to the development of conceptual art. The movement proposed that ideas, or concepts, could be experienced as artworks even without a physical form. In 1969, Weiner summarised the principles underlying his art in what he called his 'Declaration of Intent':
1. THE ARTIST MAY CONSTRUCT THE WORK

2. THE WORK MAY BE FABRICATED

3. THE WORK NEED NOT BE BUILT

EACH BEING EQUAL AND CONSISTENT WITH THE INTENT

OF THE ARTIST THE DECISION AS TO CONDITION RESTS

WITH THE RECEIVER UPON THE OCCASION OF RECEIVERSHIP
Weiner viewed himself as a sculptor. He described the medium of his text-based pieces, or 'statements', as 'language + the material referred to'. For Weiner, the active relationship between the work and the audience was key. He said, 'I hope that the vast majority will read the words for their meaning and that they will place that meaning within the sculptural context of their [own] parameters.' Through the act of reading and listening, Weiner's ideas take form in the mind of the viewer. He invites the public to collaborate in the making of his work.
Weiner challenged the notion that art needs a physical form, making works consisting only of written descriptions. Weiner described these works as sculptures that take their form conceptually in the mind of the reader, or 'receiver'.
Weiner first presented the five statement works in this room in 1991, under the collective title SPHERES OF INFLUENCE. He was inspired to make this series during a trip to Norway, when he became aware that his actions were causing often imperceptible chain reactions in the environment:
I was up in the rocks between Kristiansand and Stavangar and you could... smell the sea more than you could see it. And I realised that there's a thing called ground water. And whatever I was doing was going through the ground as well... There was something going on that I would not be able to see, which is the eventual flow into the sea or flow into the water system. And that's what this body of work is about. It's just on the other side. It really is this: shoot an arrow up in the air, know not where it lands.
Language remained at the heart of Weiner's practice. He used text to make installations that took many forms: the vinyl in this display, artist's books, music, audio pieces and numerous everyday articles, from clothing to jewellery. From stone to human skin, any surface can become a support for one of his statements. Whatever their medium, these sculptures are activated in the mind of their viewer, allowing the experience of the work to extend beyond the time and place of their encounter.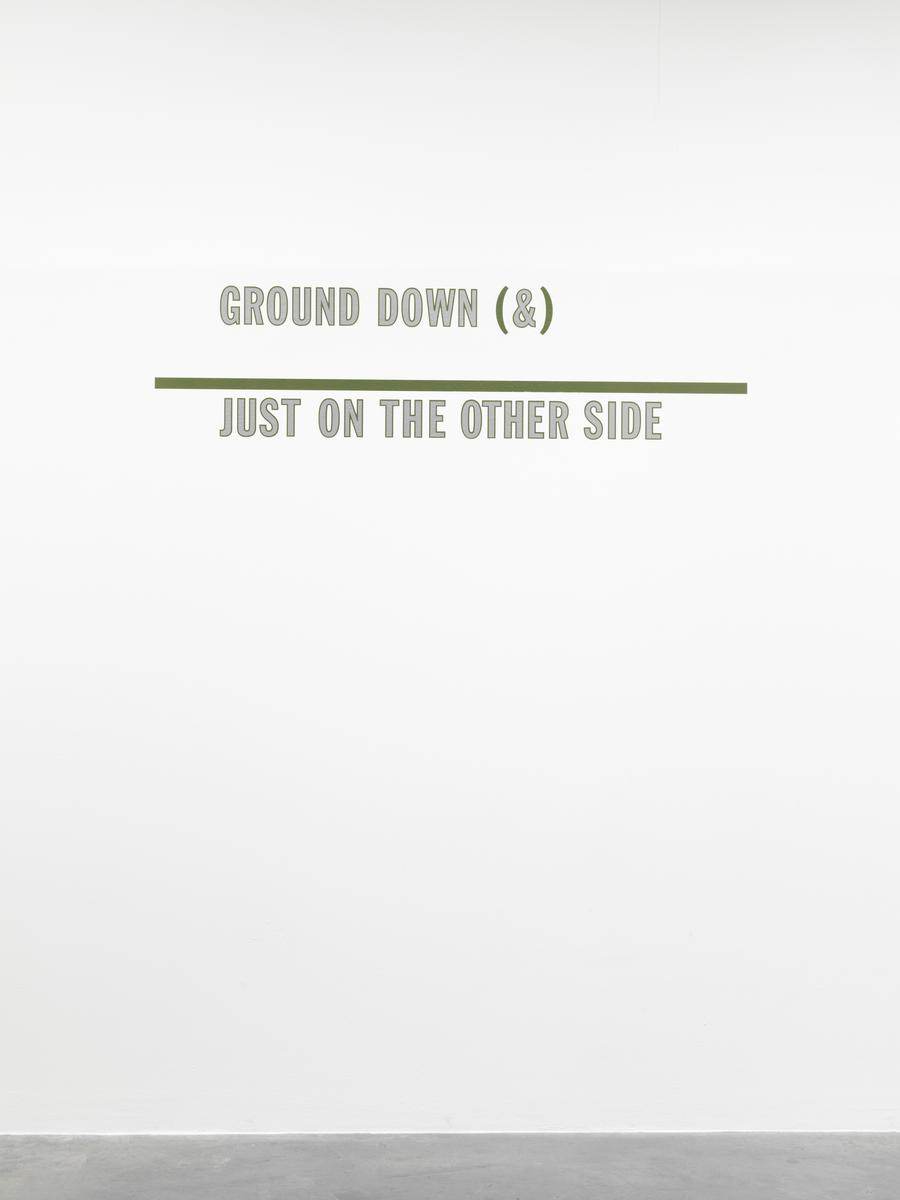 Lawrence Weiner

,

GROUND DOWN (&) JUST ON THE OTHER SIDE

1990

Lawrence Weiner is one of the chief protagonists in the development of conceptual art. In the 1960s he was a key figure in expanding the definition of a work of art. Along with his contemporaries including Joseph Kosuth (born 1945; see Clock (One and Five), English/Latin Version, 1965, Tate T01909) and Douglas Huebler (1924-1997; see Variable Piece No. 44, 1971, Tate P07234), Weiner challenged the notion that an artwork had to consist of a definite physical object, contending instead that it could comprise a concept or idea with which the viewer would be invited to engage. Weiner's practice focuses on this interaction between artwork and viewer or, in his terminology, the 'receiver' of the work of art. The principles underlying his art were outlined in a 'statement of intent' that Weiner first published in 1969:
1/16
artworks in ARTIST ROOMS: Lawrence Weiner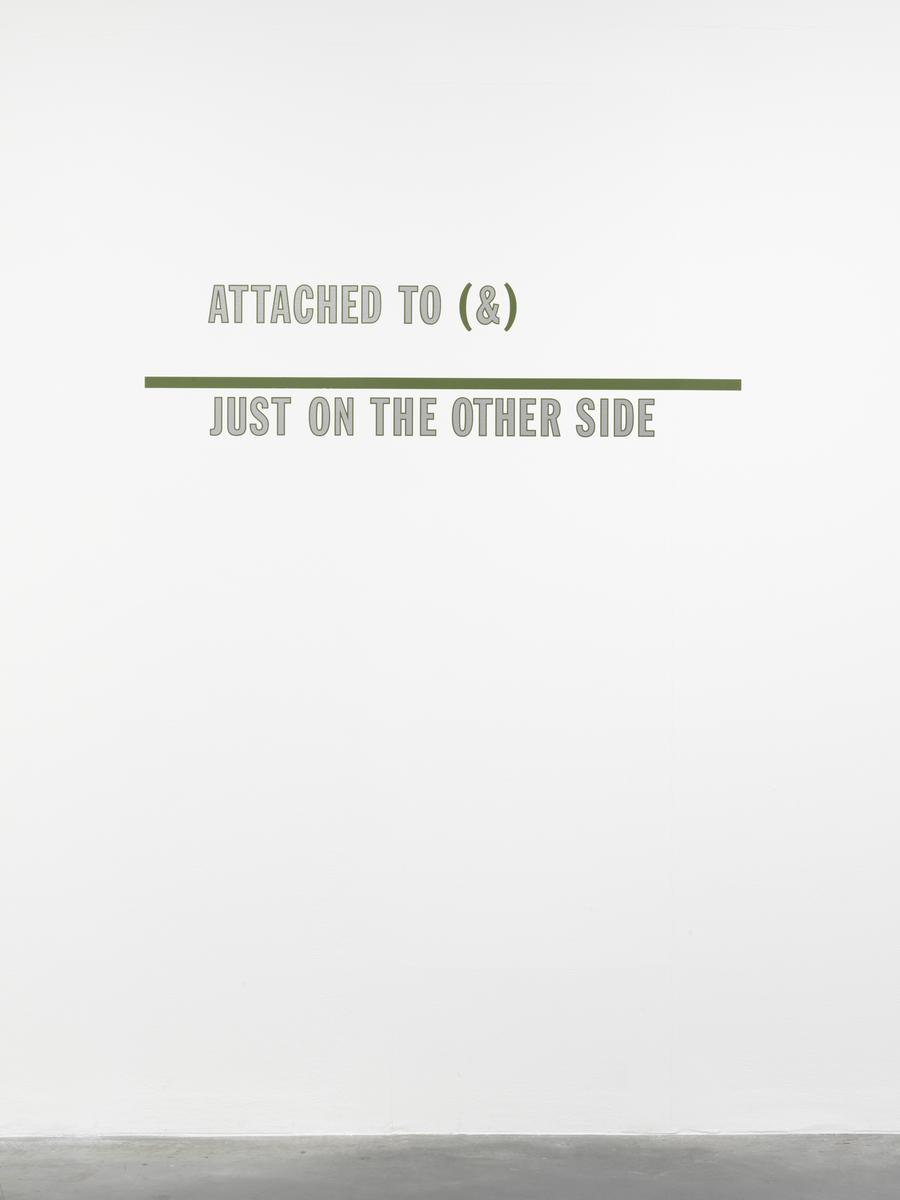 Lawrence Weiner

,

ATTACHED TO (&) JUST ON THE OTHER SIDE

1990

Lawrence Weiner is one of the chief protagonists in the development of conceptual art. In the 1960s he was a key figure in expanding the definition of a work of art. Along with his contemporaries including Joseph Kosuth (born 1945; see Clock (One and Five), English/Latin Version, 1965, Tate T01909) and Douglas Huebler (1924-1997; see Variable Piece No. 44, 1971, Tate P07234), Weiner challenged the notion that an artwork had to consist of a definite physical object, contending instead that it could comprise a concept or idea with which the viewer would be invited to engage. Weiner's practice focuses on this interaction between artwork and viewer or, in his terminology, the 'receiver' of the work of art. The principles underlying his art were outlined in a 'statement of intent' that Weiner first published in 1969:
2/16
artworks in ARTIST ROOMS: Lawrence Weiner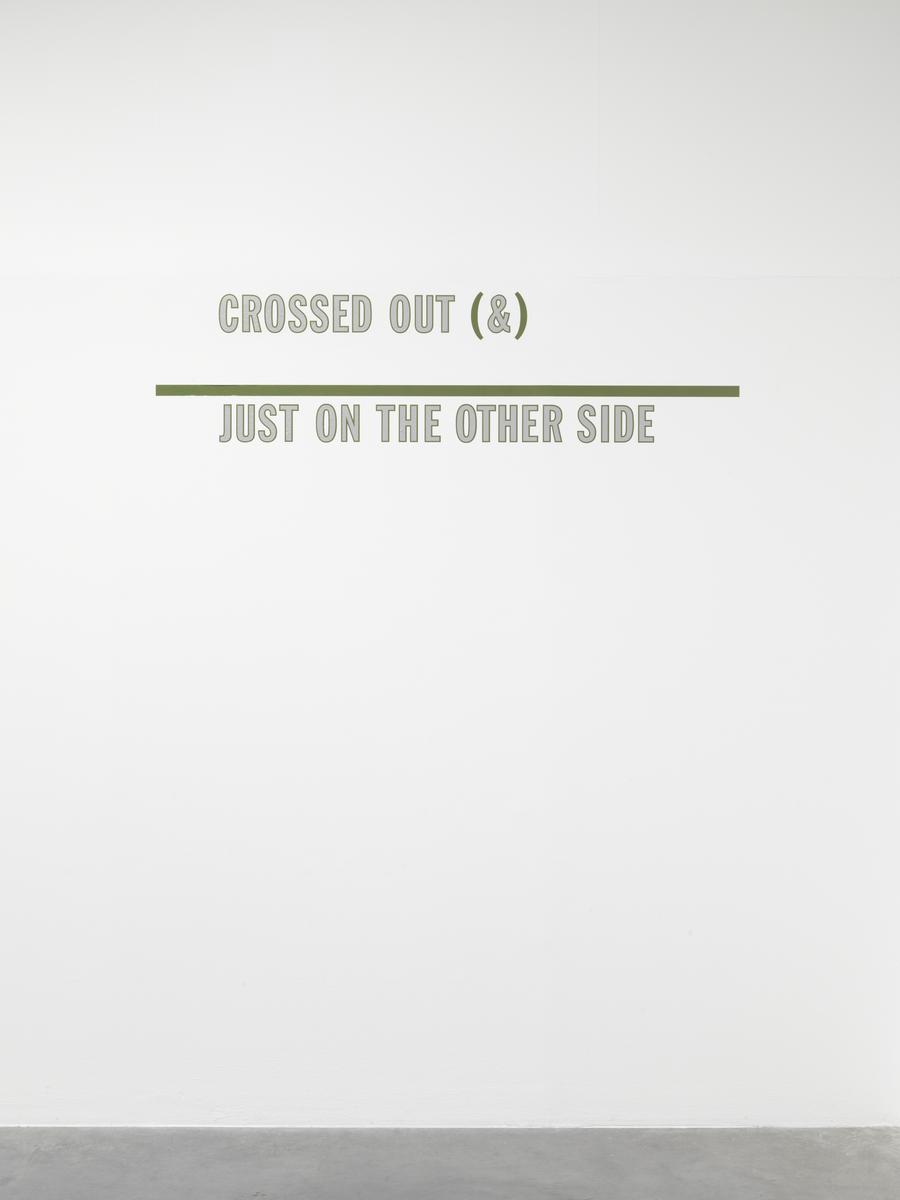 Lawrence Weiner

,

CROSSED OUT (&) JUST ON THE OTHER SIDE

1990

Lawrence Weiner is one of the chief protagonists in the development of conceptual art. In the 1960s he was a key figure in expanding the definition of a work of art. Along with his contemporaries including Joseph Kosuth (born 1945; see Clock (One and Five), English/Latin Version, 1965, Tate T01909) and Douglas Huebler (1924-1997; see Variable Piece No. 44, 1971, Tate P07234), Weiner challenged the notion that an artwork had to consist of a definite physical object, contending instead that it could comprise a concept or idea with which the viewer would be invited to engage. Weiner's practice focuses on this interaction between artwork and viewer or, in his terminology, the 'receiver' of the work of art. The principles underlying his art were outlined in a 'statement of intent' that Weiner first published in 1969:
3/16
artworks in ARTIST ROOMS: Lawrence Weiner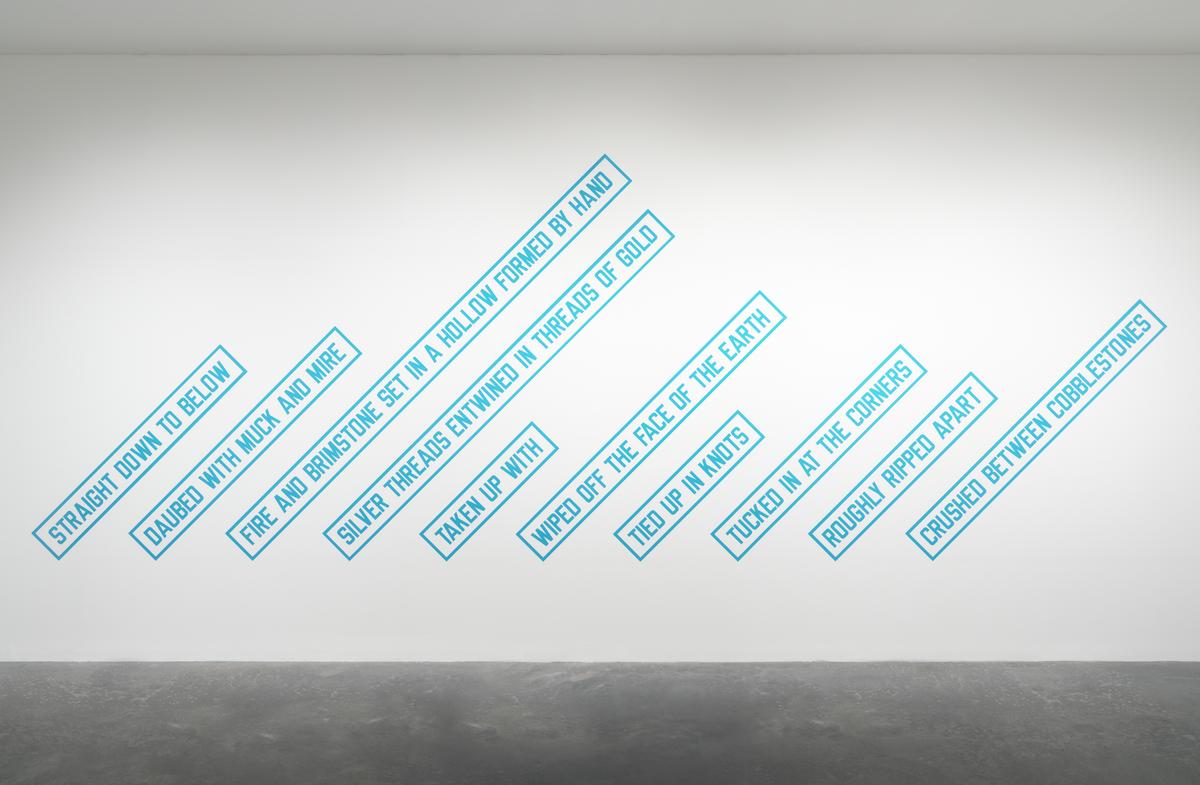 Lawrence Weiner

,

STRAIGHT DOWN TO BELOW

1988
4/16
artworks in ARTIST ROOMS: Lawrence Weiner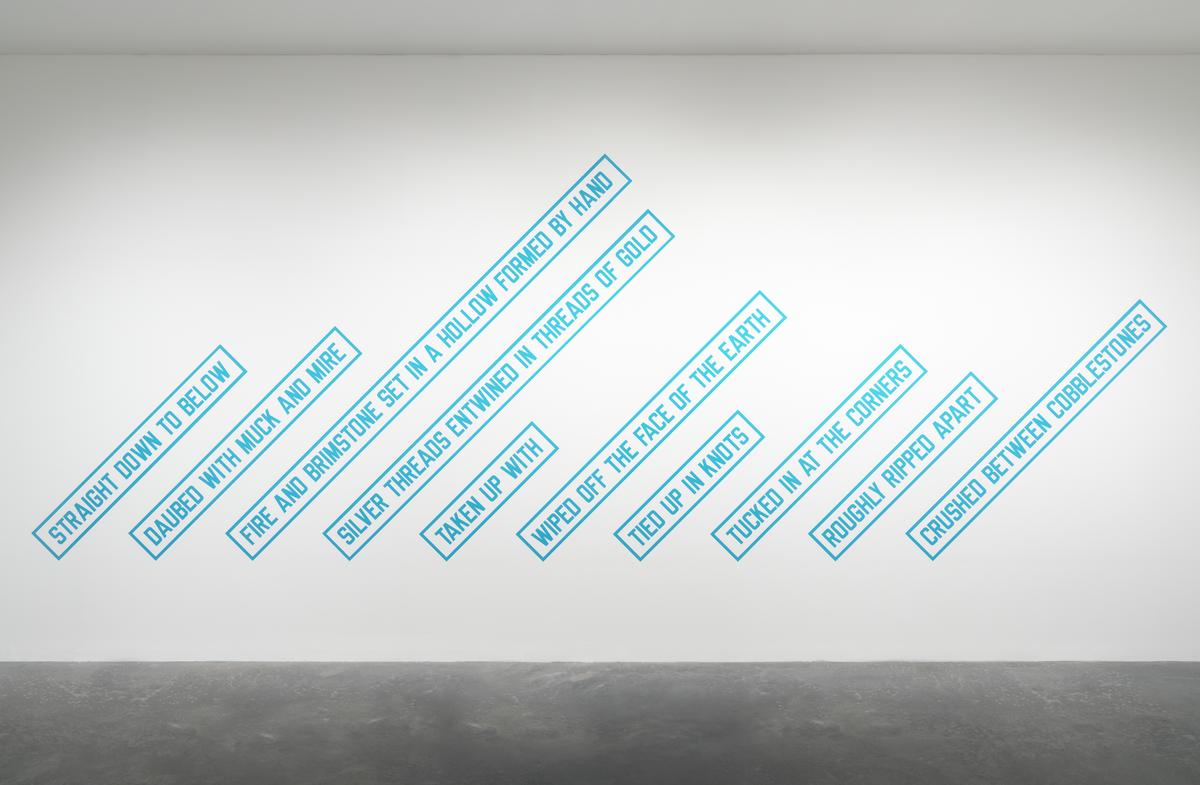 Lawrence Weiner

,

FIRE AND BRIMSTONE SET IN A HOLLOW FORMED BY HAND

1988
5/16
artworks in ARTIST ROOMS: Lawrence Weiner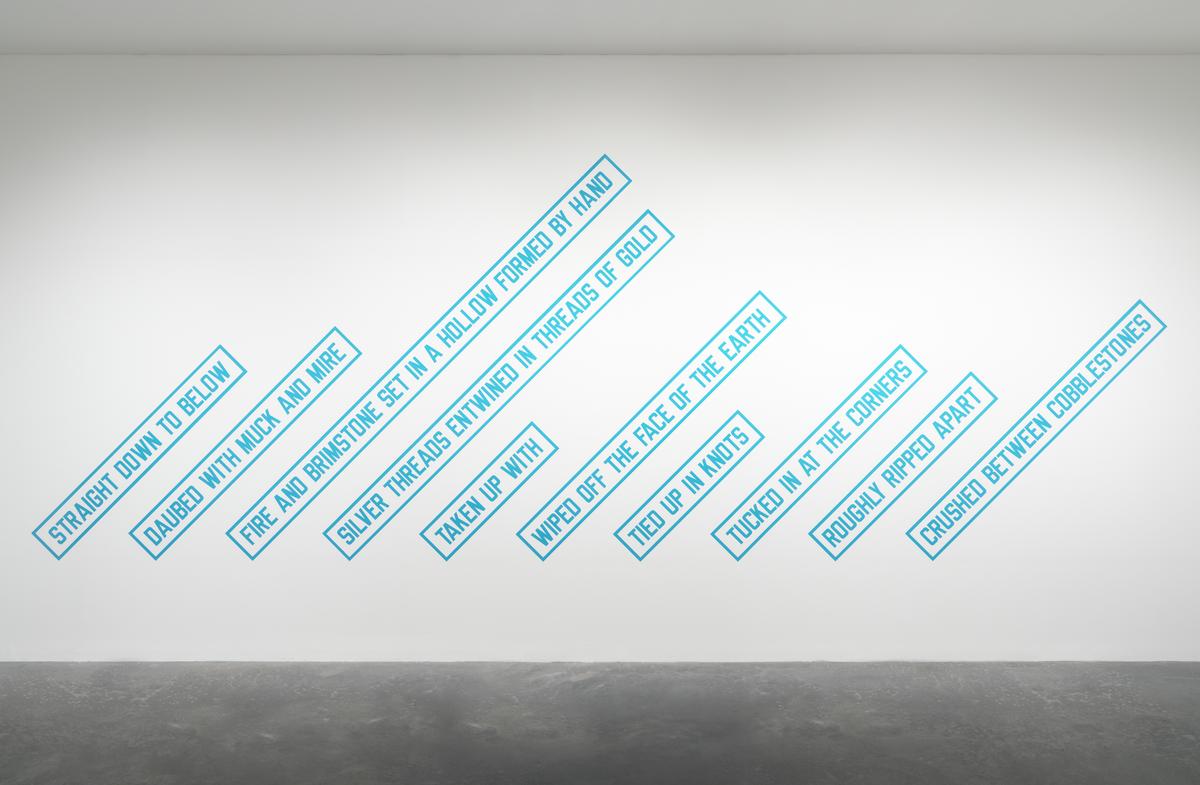 Lawrence Weiner

,

TAKEN UP WITH

1988
6/16
artworks in ARTIST ROOMS: Lawrence Weiner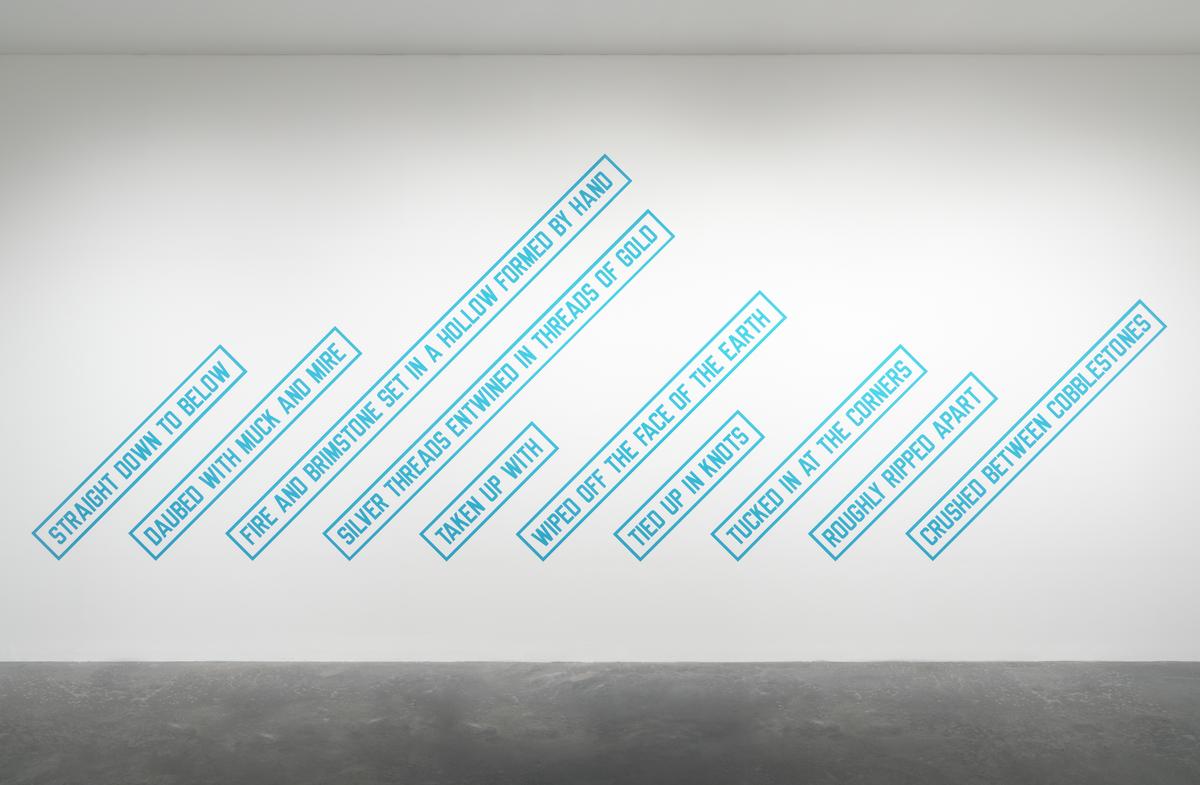 Lawrence Weiner

,

WIPED OFF THE FACE OF THE EARTH

1988
7/16
artworks in ARTIST ROOMS: Lawrence Weiner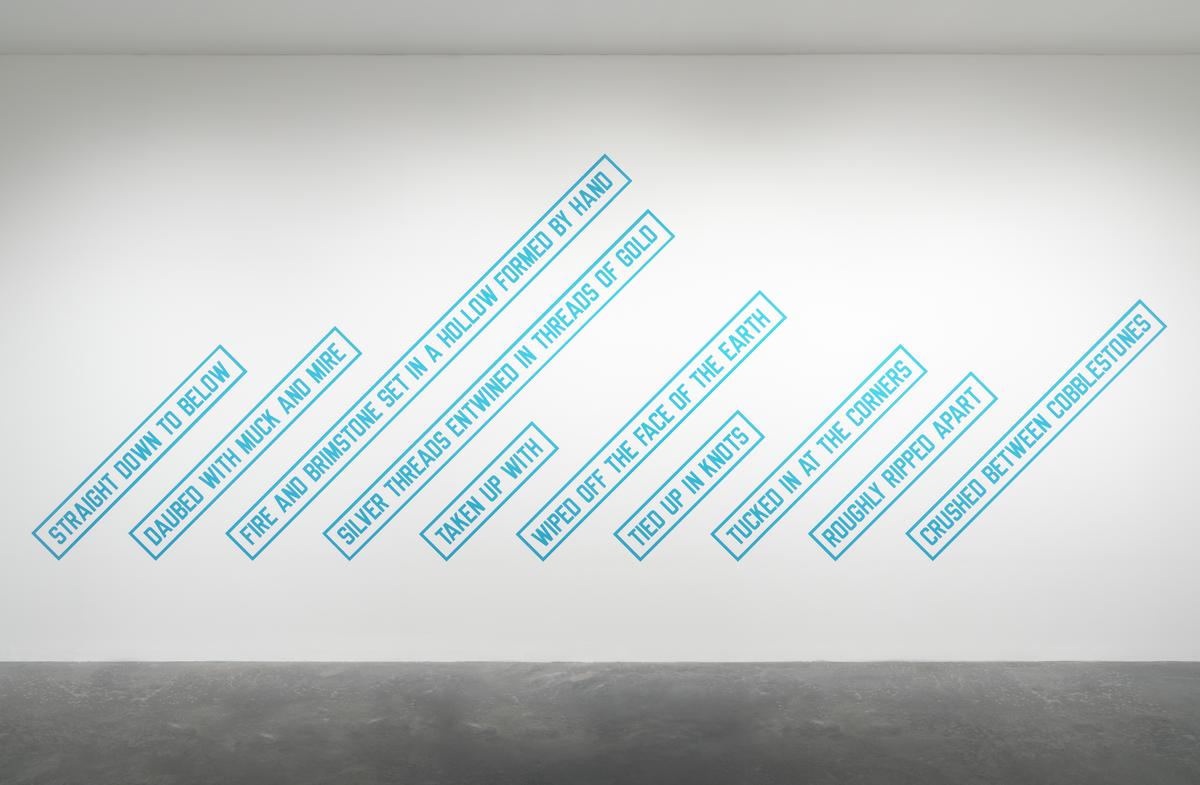 Lawrence Weiner

,

TIED UP IN KNOTS

1988
8/16
artworks in ARTIST ROOMS: Lawrence Weiner
Sorry, no image available
Lawrence Weiner

,

TUCKED IN AT THE CORNERS

1988
9/16
artworks in ARTIST ROOMS: Lawrence Weiner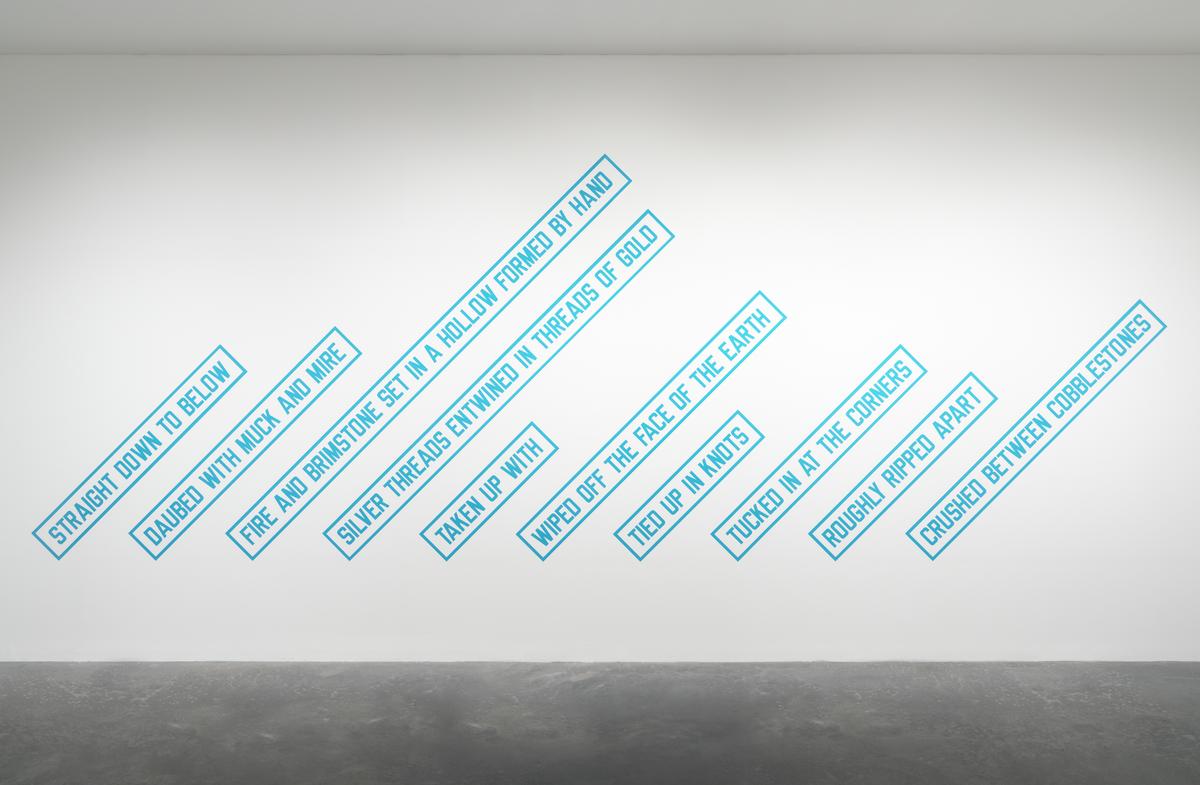 Lawrence Weiner

,

ROUGHLY RIPPED APART

1988
10/16
artworks in ARTIST ROOMS: Lawrence Weiner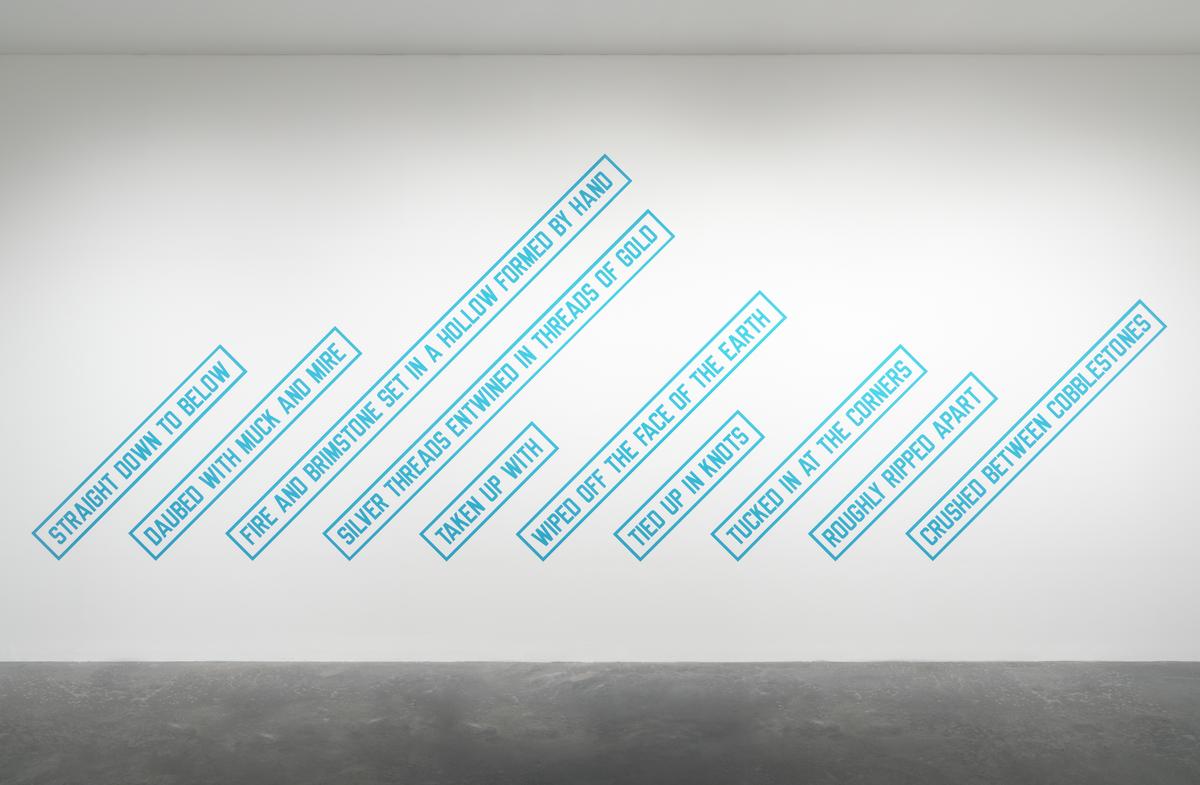 Lawrence Weiner

,

DAUBED WITH MUCK AND MIRE

1988
11/16
artworks in ARTIST ROOMS: Lawrence Weiner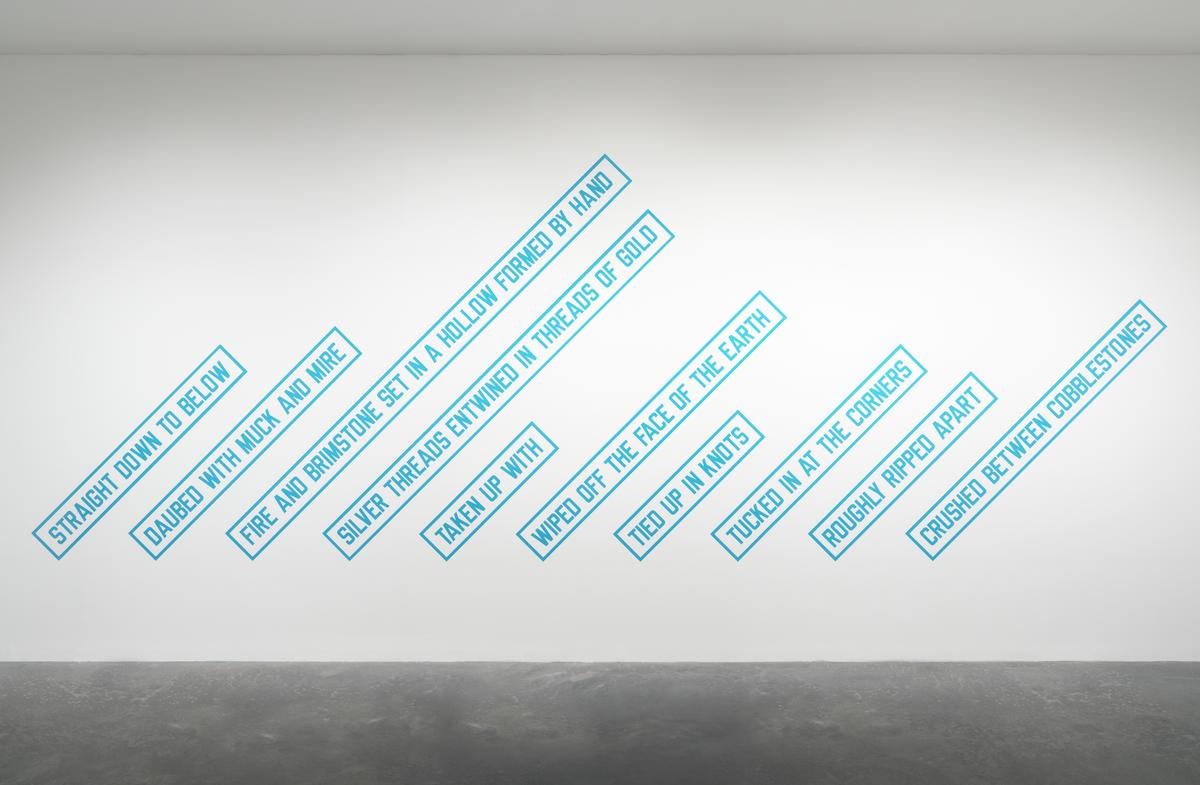 Lawrence Weiner

,

CRUSHED BETWEEN COBBLESTONES

1988
12/16
artworks in ARTIST ROOMS: Lawrence Weiner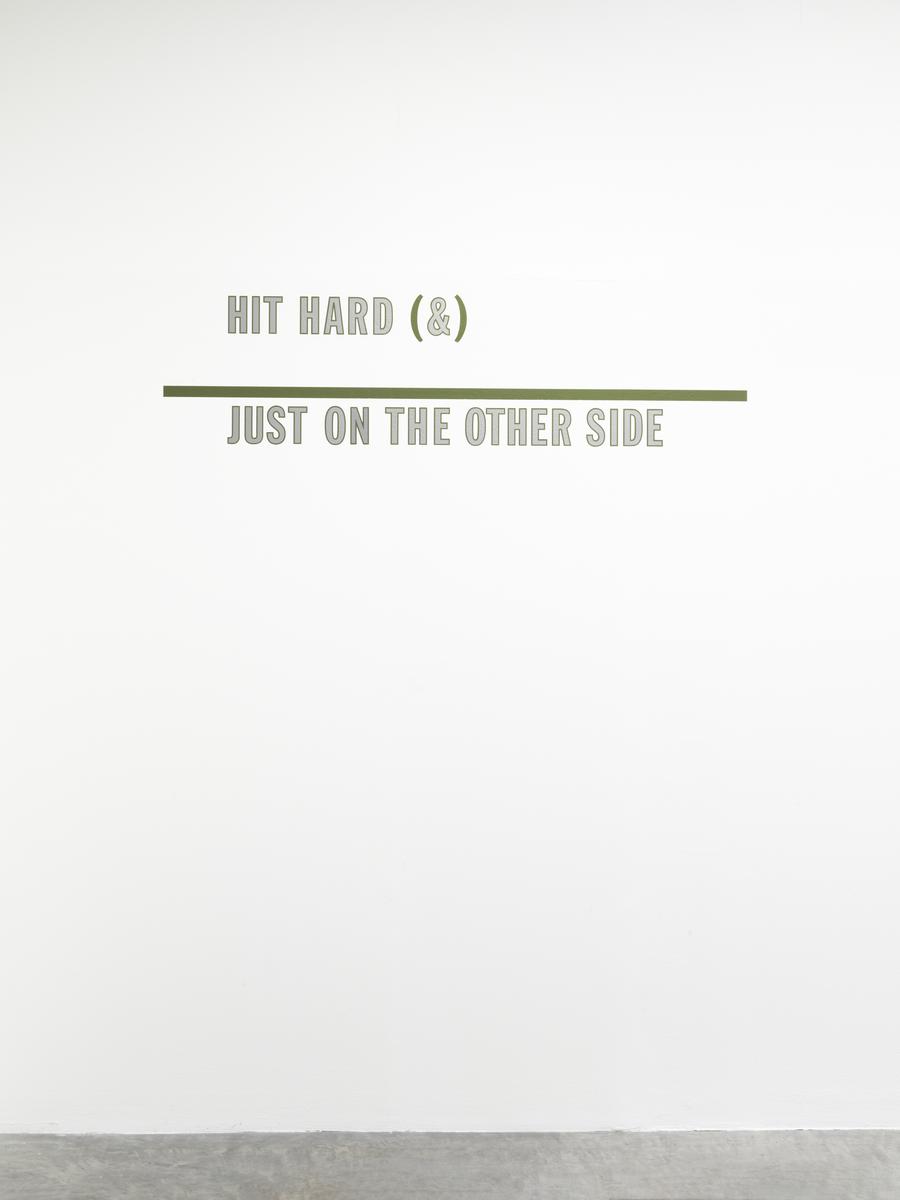 Lawrence Weiner

,

HIT HARD (&) JUST ON THE OTHER SIDE

1990

Lawrence Weiner is one of the chief protagonists in the development of conceptual art. In the 1960s he was a key figure in expanding the definition of a work of art. Along with his contemporaries including Joseph Kosuth (born 1945; see Clock (One and Five), English/Latin Version, 1965, Tate T01909) and Douglas Huebler (1924-1997; see Variable Piece No. 44, 1971, Tate P07234), Weiner challenged the notion that an artwork had to consist of a definite physical object, contending instead that it could comprise a concept or idea with which the viewer would be invited to engage. Weiner's practice focuses on this interaction between artwork and viewer or, in his terminology, the 'receiver' of the work of art. The principles underlying his art were outlined in a 'statement of intent' that Weiner first published in 1969:
13/16
artworks in ARTIST ROOMS: Lawrence Weiner
Sorry, no image available
Lawrence Weiner

,

AS FAR AS THE EYE CAN SEE: Melodic Noise for Radio

2007
14/16
artworks in ARTIST ROOMS: Lawrence Weiner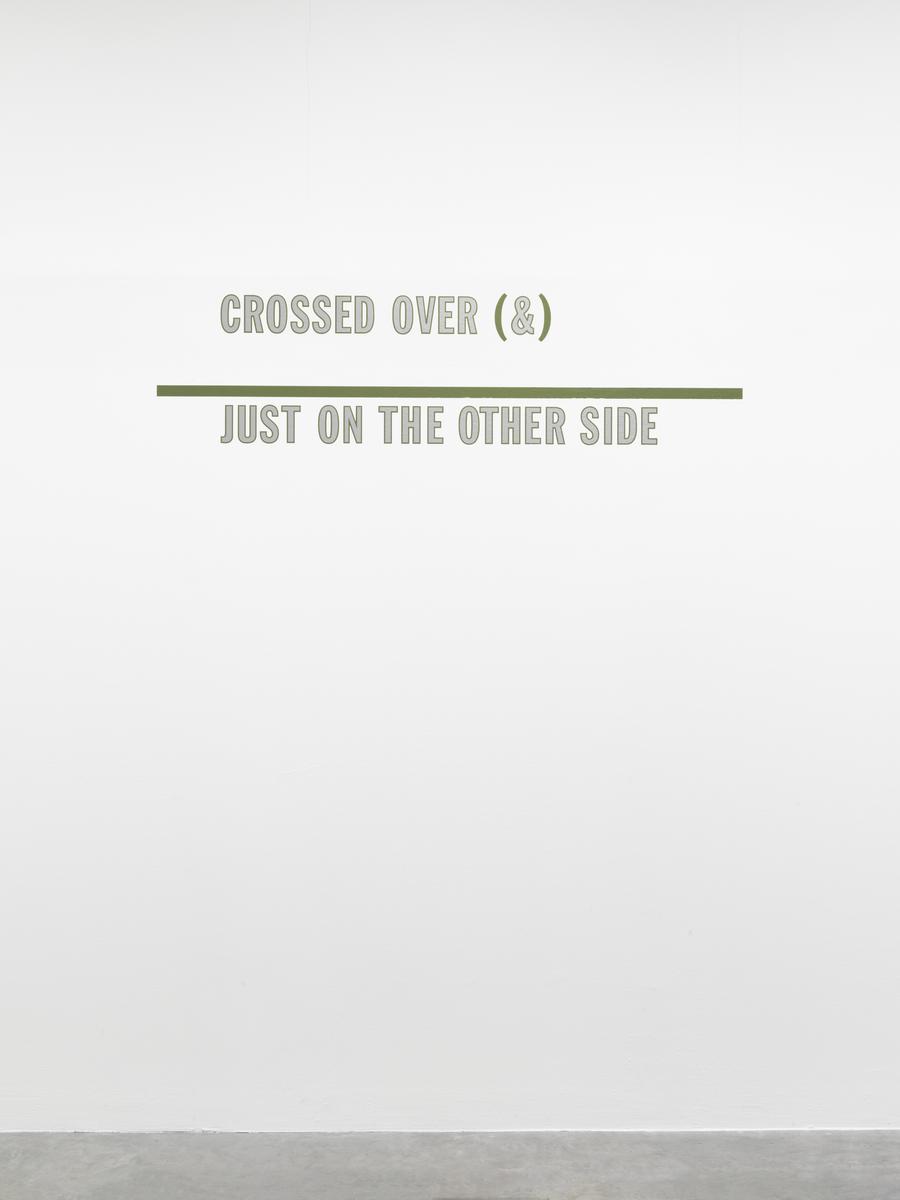 Lawrence Weiner

,

CROSSED OVER (&) JUST ON THE OTHER SIDE

1990

Lawrence Weiner is one of the chief protagonists in the development of conceptual art. In the 1960s he was a key figure in expanding the definition of a work of art. Along with his contemporaries including Joseph Kosuth (born 1945; see Clock (One and Five), English/Latin Version, 1965, Tate T01909) and Douglas Huebler (1924-1997; see Variable Piece No. 44, 1971, Tate P07234), Weiner challenged the notion that an artwork had to consist of a definite physical object, contending instead that it could comprise a concept or idea with which the viewer would be invited to engage. Weiner's practice focuses on this interaction between artwork and viewer or, in his terminology, the 'receiver' of the work of art. The principles underlying his art were outlined in a 'statement of intent' that Weiner first published in 1969:
15/16
artworks in ARTIST ROOMS: Lawrence Weiner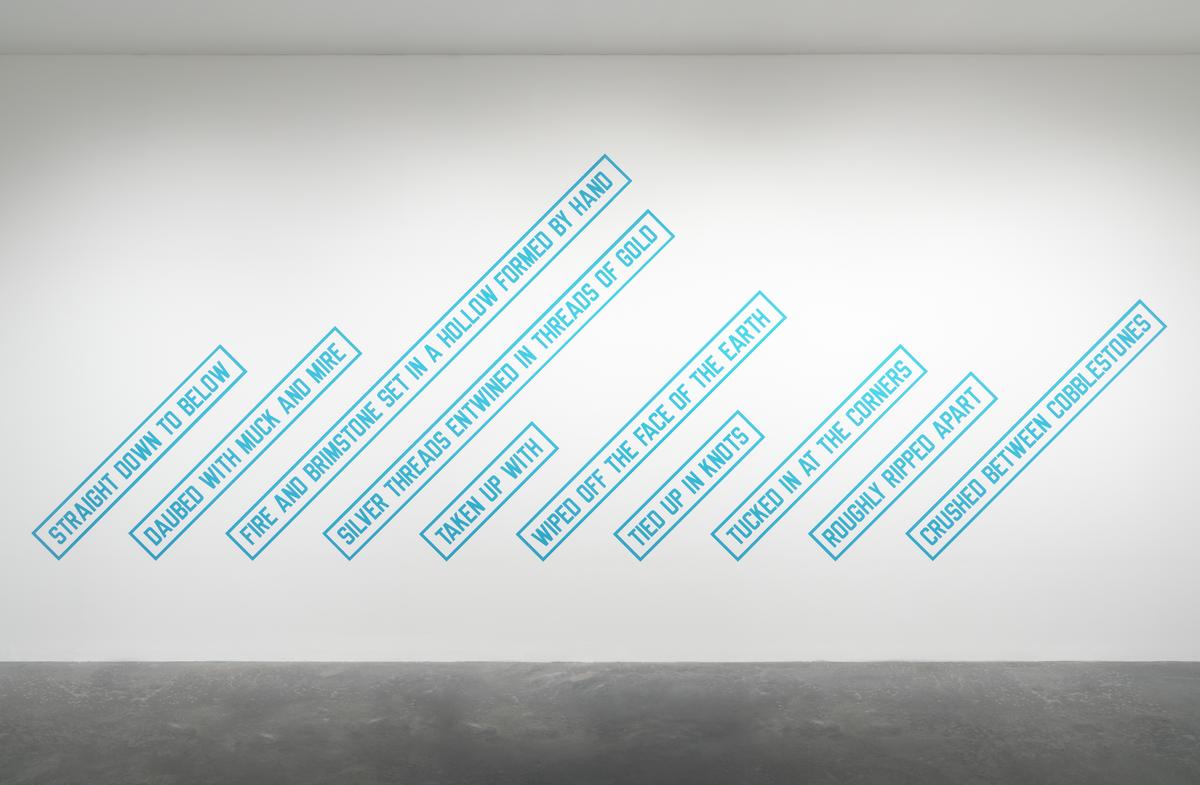 Lawrence Weiner

,

SILVER THREADS ENTWINED IN THREADS OF GOLD

1988
16/16
artworks in ARTIST ROOMS: Lawrence Weiner
Art in this room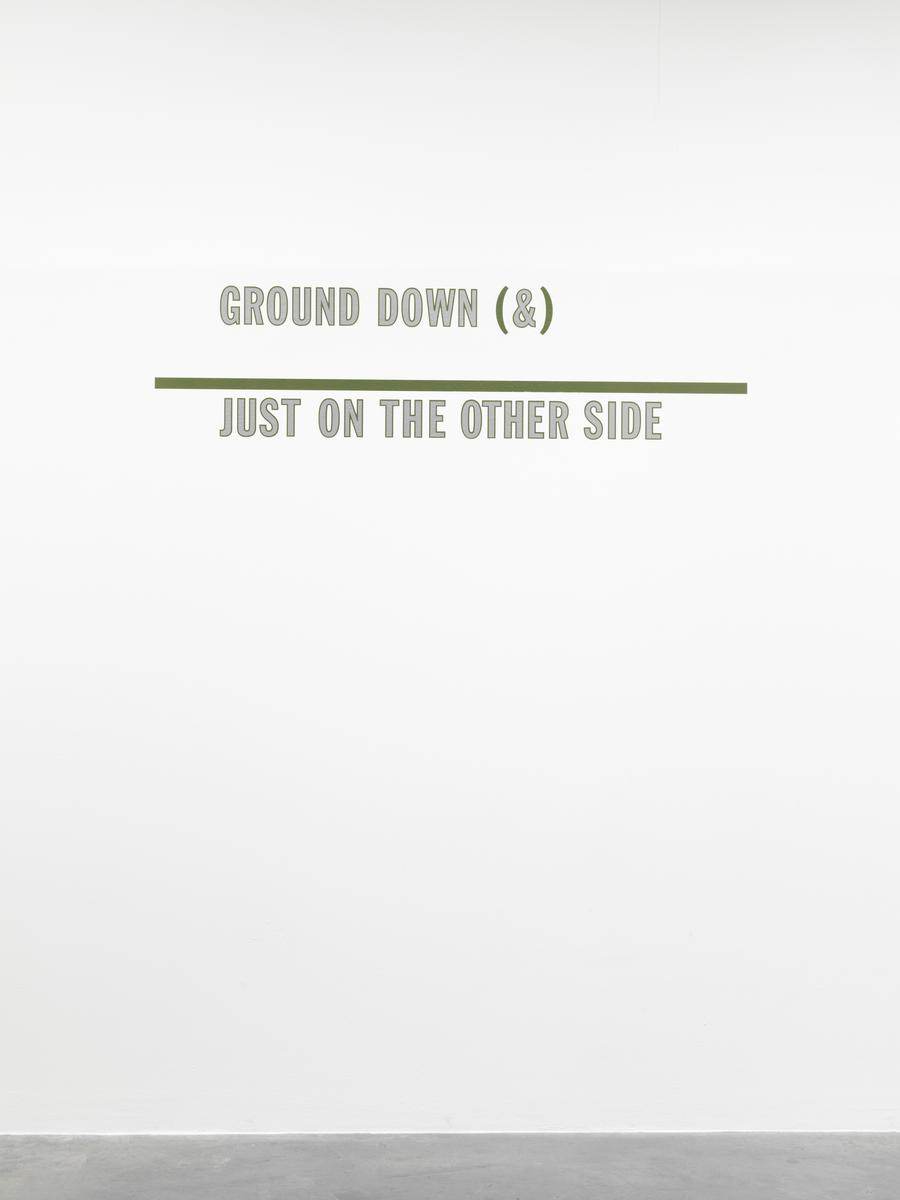 Lawrence Weiner
GROUND DOWN (&) JUST ON THE OTHER SIDE
1990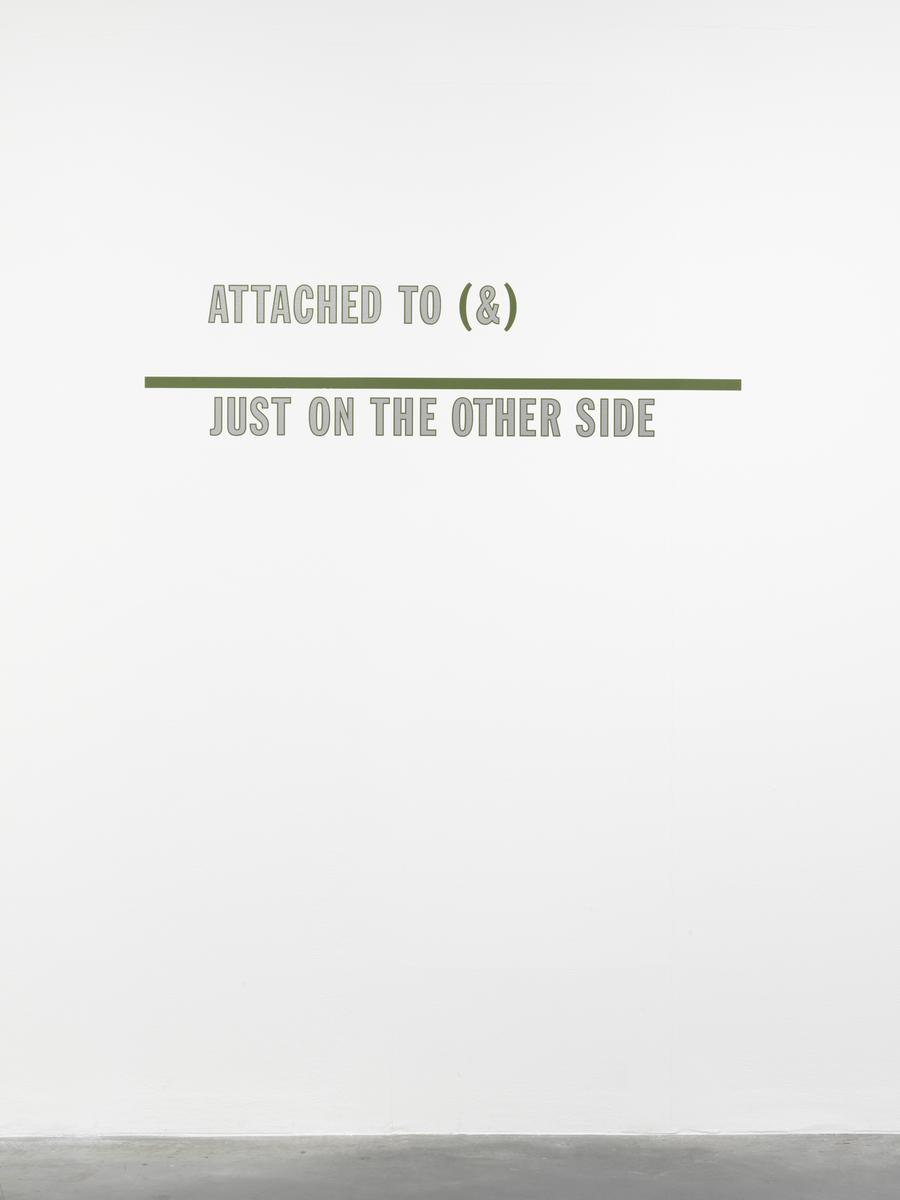 Lawrence Weiner
ATTACHED TO (&) JUST ON THE OTHER SIDE
1990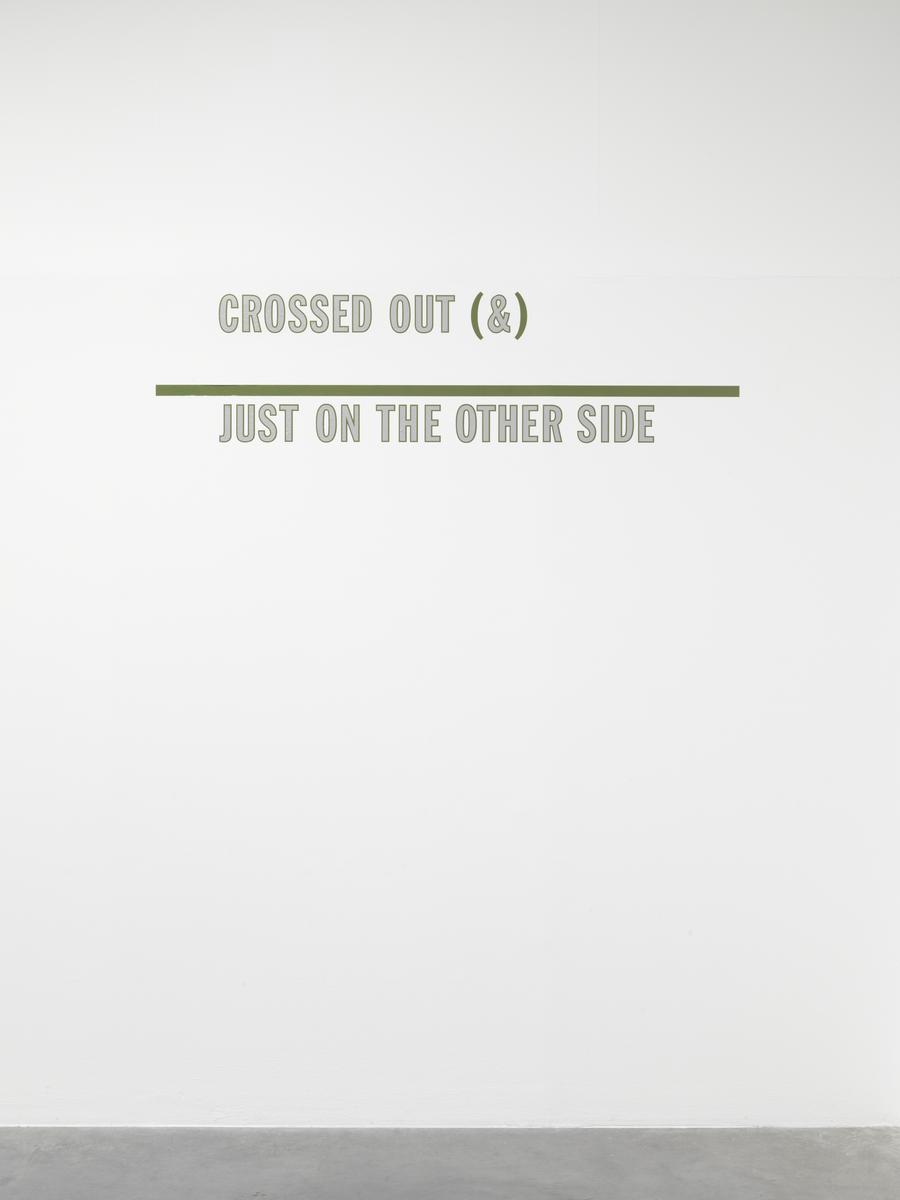 Lawrence Weiner
CROSSED OUT (&) JUST ON THE OTHER SIDE
1990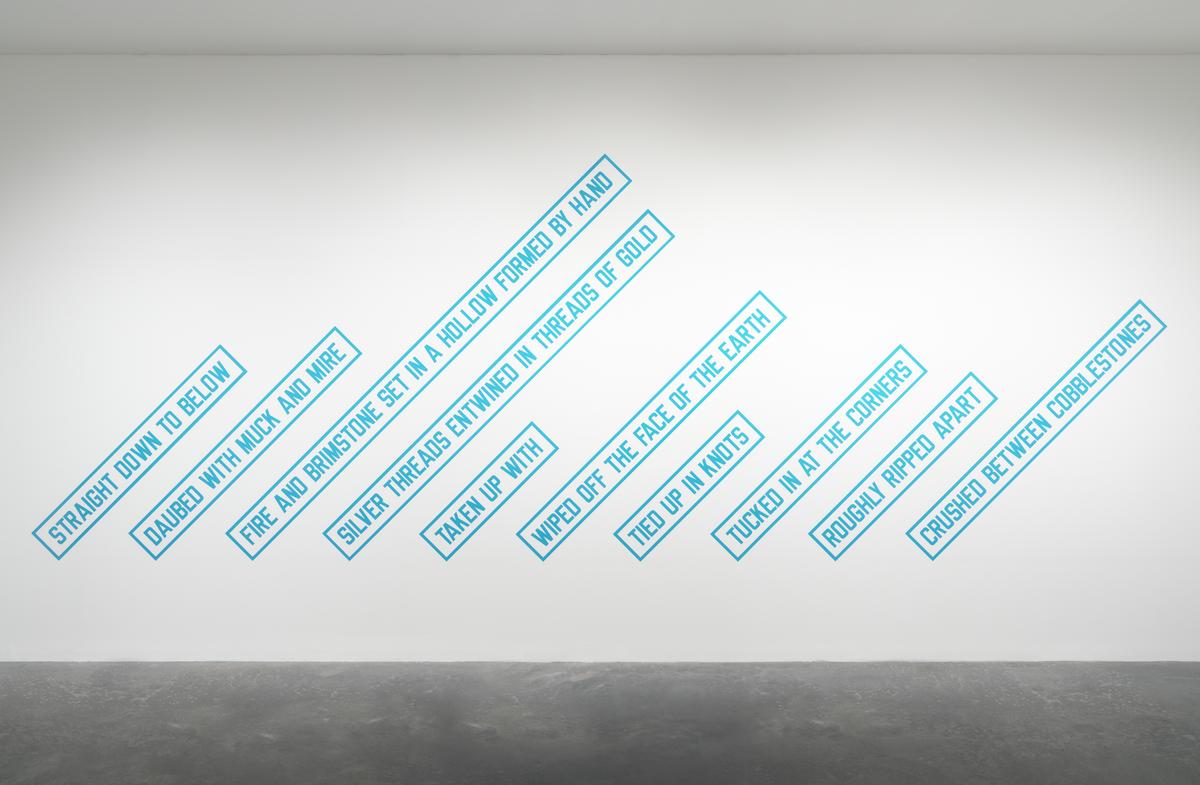 Lawrence Weiner
STRAIGHT DOWN TO BELOW
1988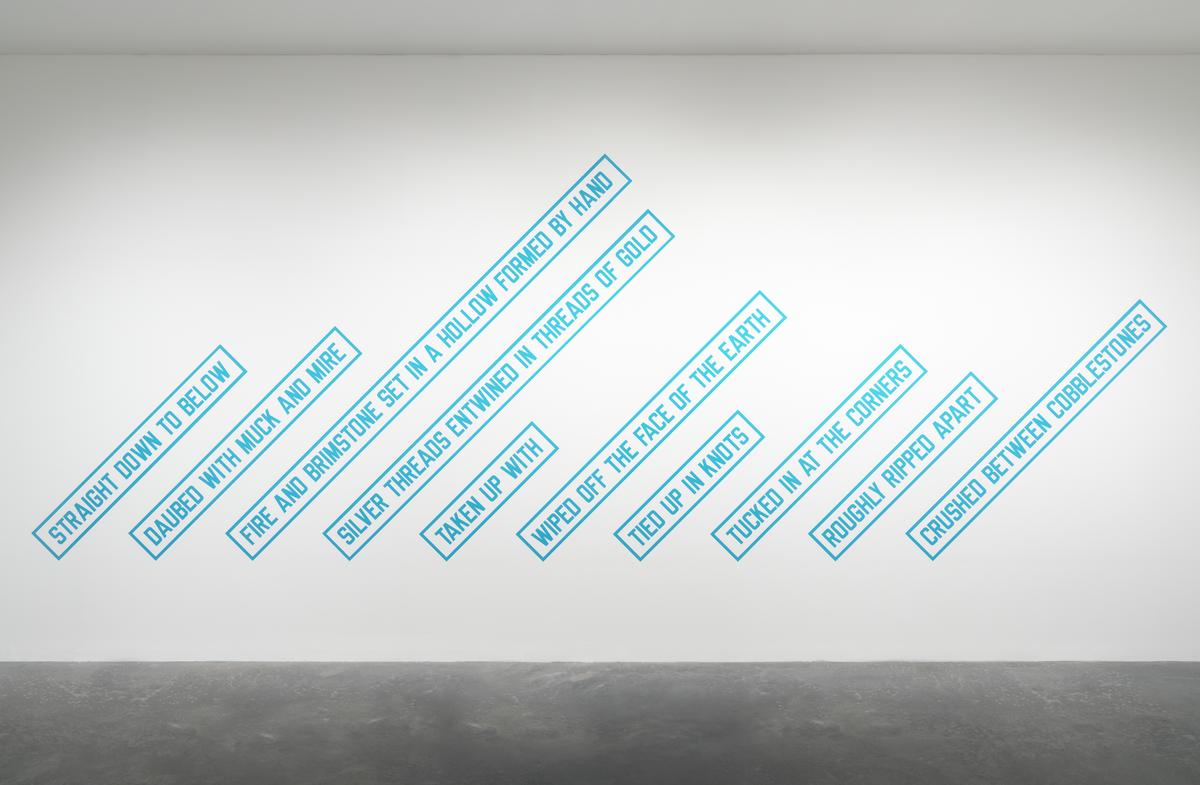 Lawrence Weiner
FIRE AND BRIMSTONE SET IN A HOLLOW FORMED BY HAND
1988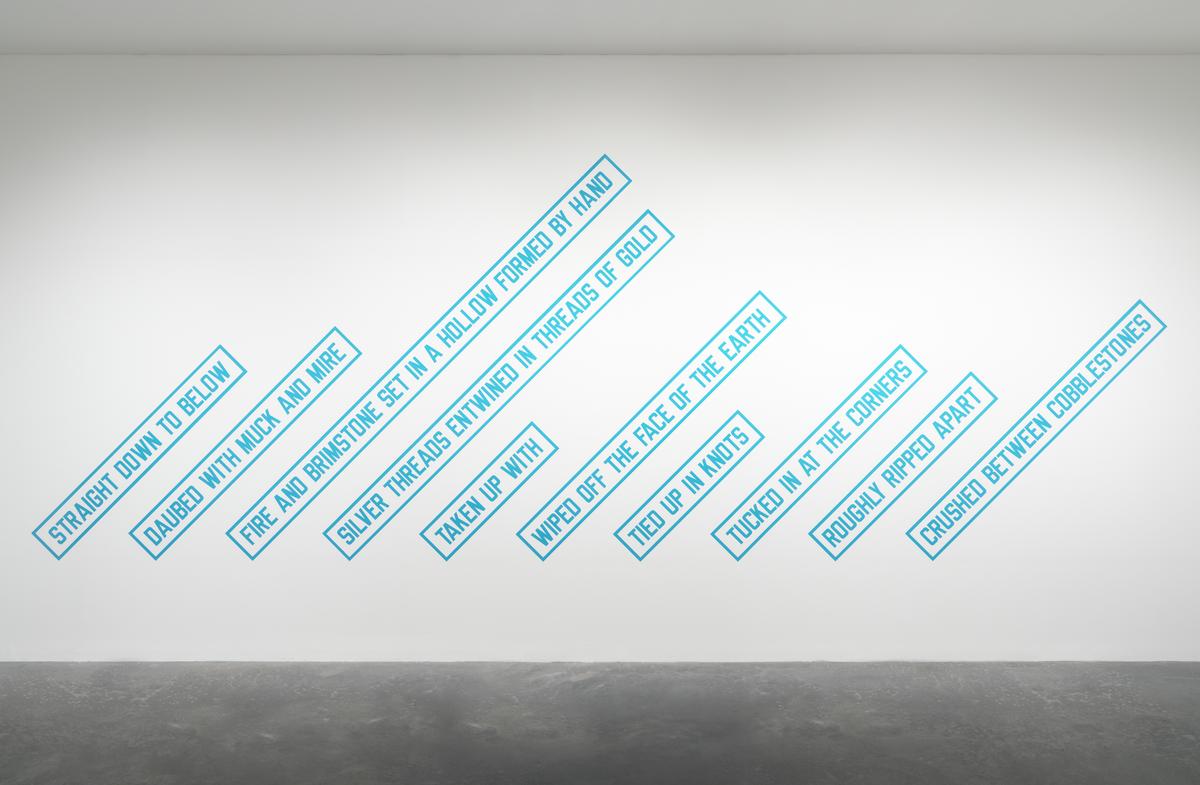 Lawrence Weiner
TAKEN UP WITH
1988
You've viewed 6/16 artworks
You've viewed 16/16 artworks