11 rooms in In the Studio
Contemplate the abstract paintings of Agnes Martin which reflect on perfection, beauty and spirituality
Agnes Martin was a key figure in the male-dominated field of abstract art in the USA. In the 1950s and 1960s her work was often associated with abstract expressionism and minimalism. However, Martin's methods were different. In her meticulous, hand-painted artworks, ordered geometry and imperfection co-existed.
The paintings in this room consist of horizontal bands of colour, divided by delicate pencil lines. The bands initially appear uniform, but on closer inspection, faint brushstrokes and pools of paint emerge. These marks give the artworks a hand-made feel, undermining the rigid geometry of the composition. As Martin said, 'the work is about perfection as we are aware of it in our minds but... the paintings are very far from being perfect – completely removed in fact – even as we ourselves are.'
Martin's work was influenced by Zen Buddhism and Chinese Tao philosophy. Her paintings explore the inner emotional world and the human desire for peace and serenity. She considered art to be a transcendent experience. She explained, 'Beauty is the mystery of life. It is not just in the eye. It is in the mind. It is our positive response to life'.
ARTIST ROOMS is a touring collection of over 1,600 works of modern and contemporary art. The collection is displayed across the UK in solo exhibitions that showcase the work of 42 major international artists.
Sorry, no image available
Agnes Martin

,

On a Clear Day

1973

This group of 30 prints highlights Martin's long-standing interest in the grid structure. Each sheet is divided differently but in a precise, almost mechanical way. According to Martin, 'These prints express innocence of mind. If you can go with them and hold your mind as empty and tranquil as they are and recognise your feelings at the same time you will realise your full response to this work'.

Gallery label, January 2020
1/5
artworks in ARTIST ROOMS: Agnes Martin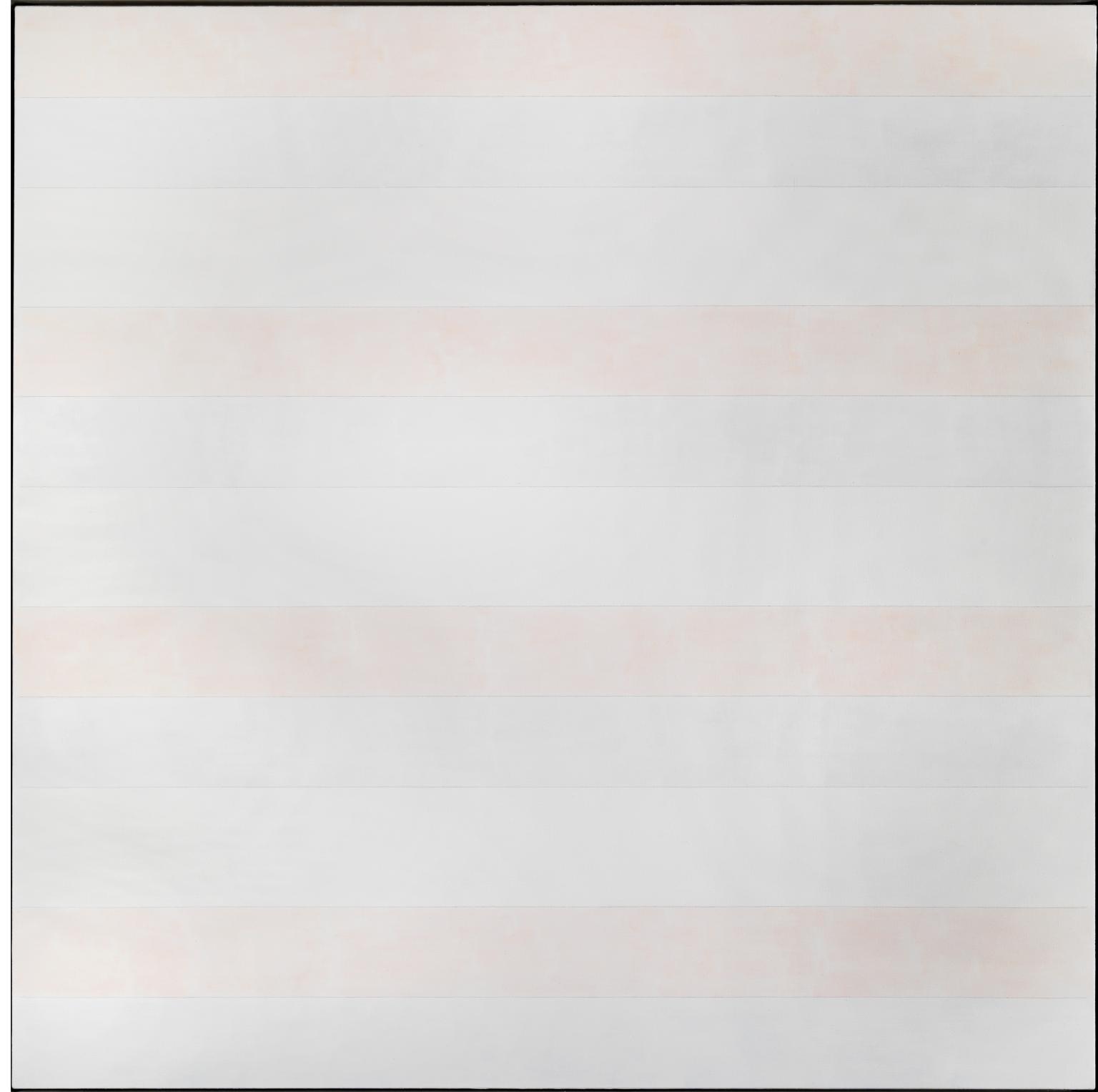 Agnes Martin

,

Untitled #5

1994

Untitled #5 is a large abstract painting on canvas by the Canadian–American artist Agnes Martin, signed and inscribed by the artist on its verso. The square pictorial field is divided into eleven horizontal bands of white, blue and peach acrylic paint. The colours alternate in a regular pattern and the divisions are demarcated by wavering graphite pencil lines. As with all works from this period by Martin, Untitled #5 was begun by priming the entire surface of the canvas with an opaque coating of white acrylic gesso, which is never fully covered by subsequent layers of colour. This gives the painting a visual sparseness and vibrant luminosity; the thick white gesso sealing and emphasising the slightly toothy texture of the linen canvas support. On top of this base coat of paint the artist measured out and marked with pencil rectangular bands across the width of the canvas, into which she painted alternating duck-egg blue and pale peach 'salmon-brick' colours using a different type of acrylic, Liquitex, which gives a translucent and tempera-like finish. These same colours appear in the later paintings Faraway Love 1999 (Tate AR00178) and Happy Holiday 1999 (Tate AR00179), but in Untitled #5 they are applied with lighter, looser brush strokes and the Liquitex was diluted to produce almost gestural veils of colour. Within the composition's repeating horizontals, the three bands left empty of colour are also the widest, at approximately one and a half times the width of the peach and blue bands. This irregularity reinforces the white gesso's role as a blank background onto which colours and pencil marks have been inscribed. The painting was completed by further reinforcement of the pencil lines demarcating the striped surface of the canvas. By drawing on top of the acrylic paints, Martin reverses the traditional notion of drawing as preparatory work to be painted over. These strong, persistent horizontal lines are the final addition to the work, and are drawn so as not to reach the edge of the canvas, creating the impression that they are floating across the colour field. Explaining her drawing technique, the artist stated in an interview with the critic Joan Simon that:
2/5
artworks in ARTIST ROOMS: Agnes Martin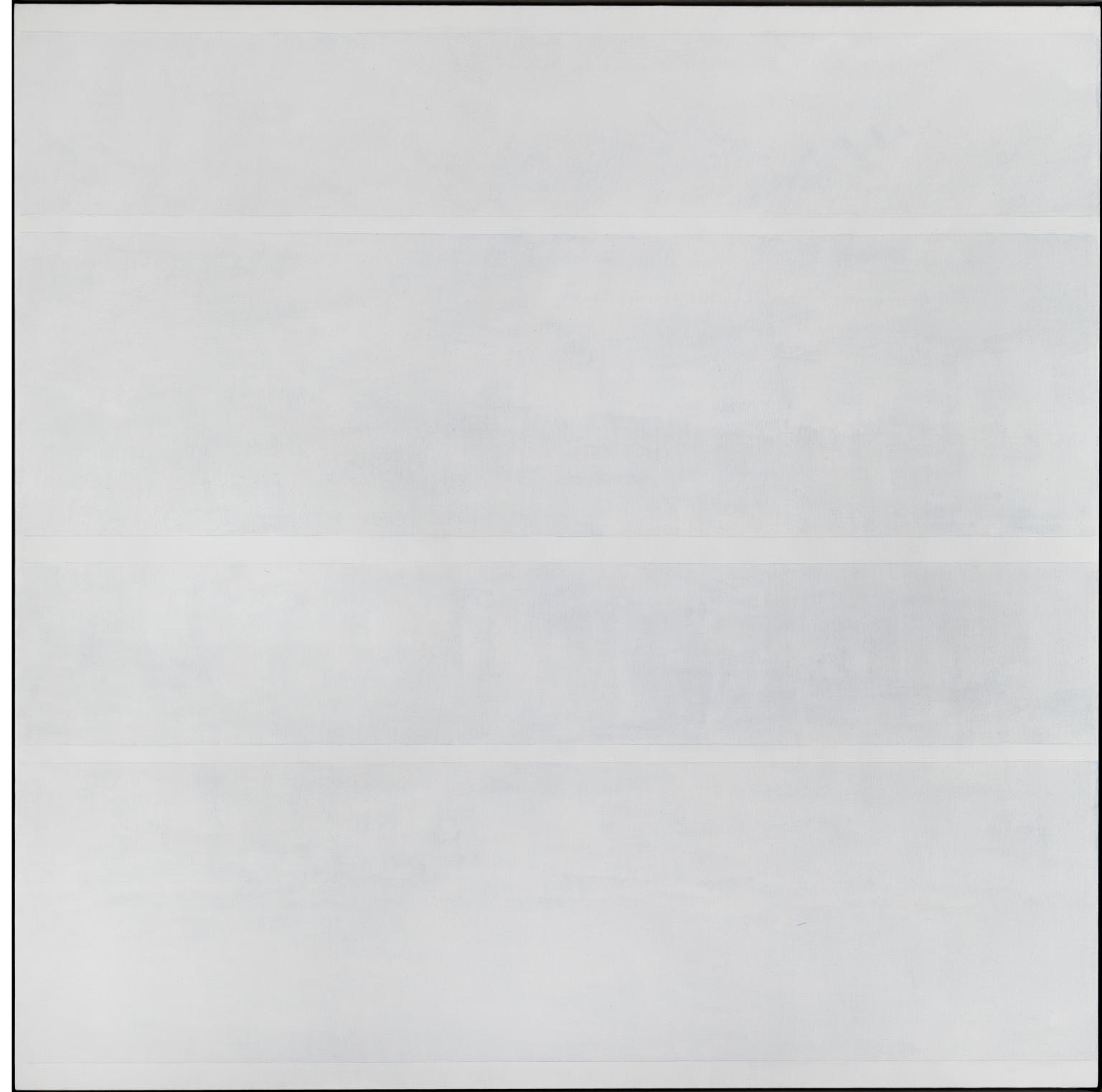 Agnes Martin

,

Faraway Love

1999

Martin used a short metal ruler and masking tape to create her lines. She applied the paint in vertical stripes, rotating the canvas by 90 degrees once the paint was dry. She explained that 'you can't put it on horizontally. It would drip down'. Despite her use of a ruler, the lines that Martin produced are not rigidly straight. They trace the texture of the linen canvas, creating an undeniably hand-drawn quality.

Gallery label, June 2021
3/5
artworks in ARTIST ROOMS: Agnes Martin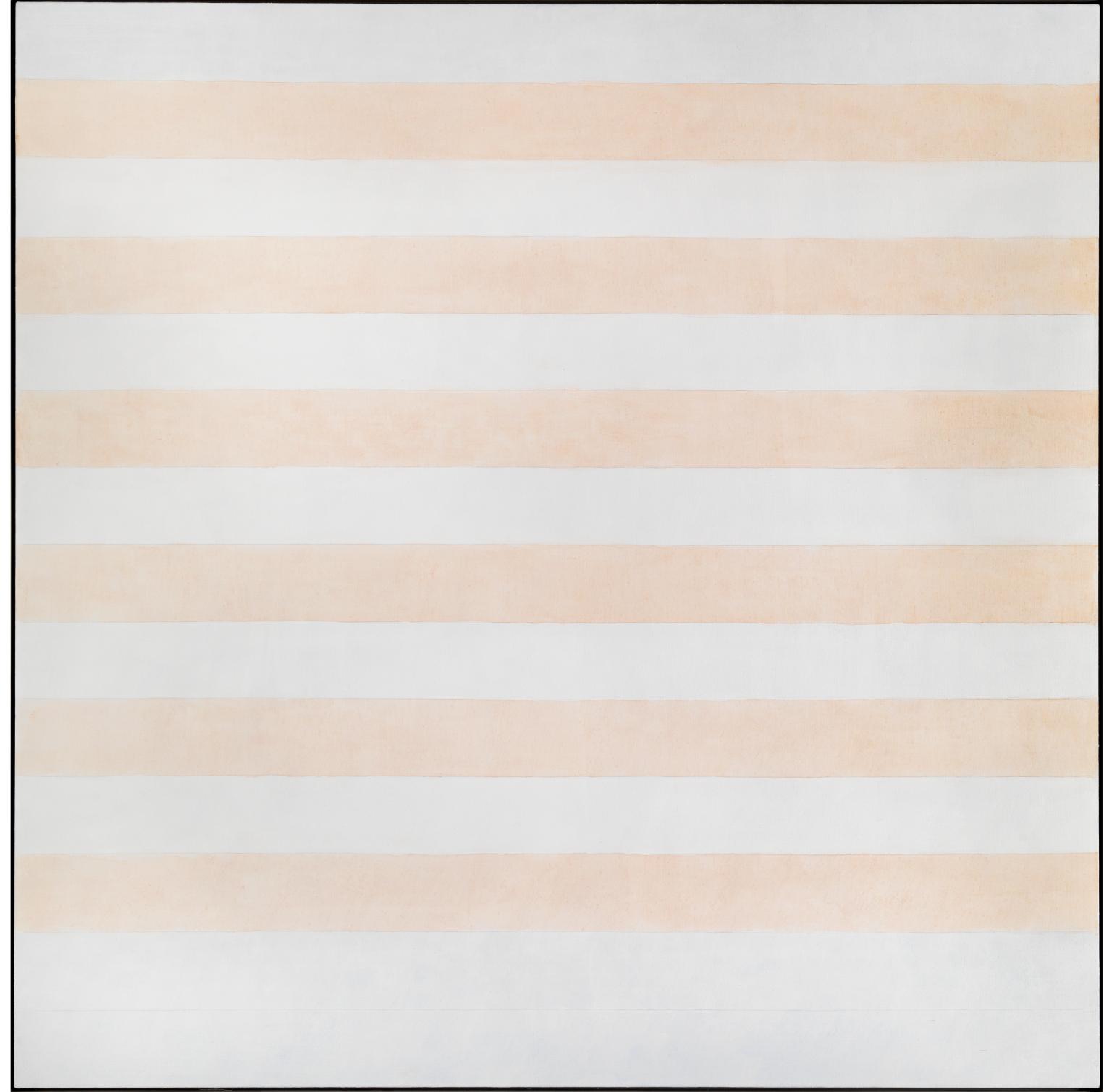 Agnes Martin

,

Happy Holiday

1999

Martin applied an opaque base coat of white acrylic gesso (or primer) to this work. The gesso was overlaid with stripes of diluted blue and peach acrylic paint. The layered application of materials creates a translucent and light-reflecting finish. The bands of colour don't quite reach the edges of the canvas. The small gaps create the impression that the blue and peach washes are floating against the bright, white background.

Gallery label, January 2020
4/5
artworks in ARTIST ROOMS: Agnes Martin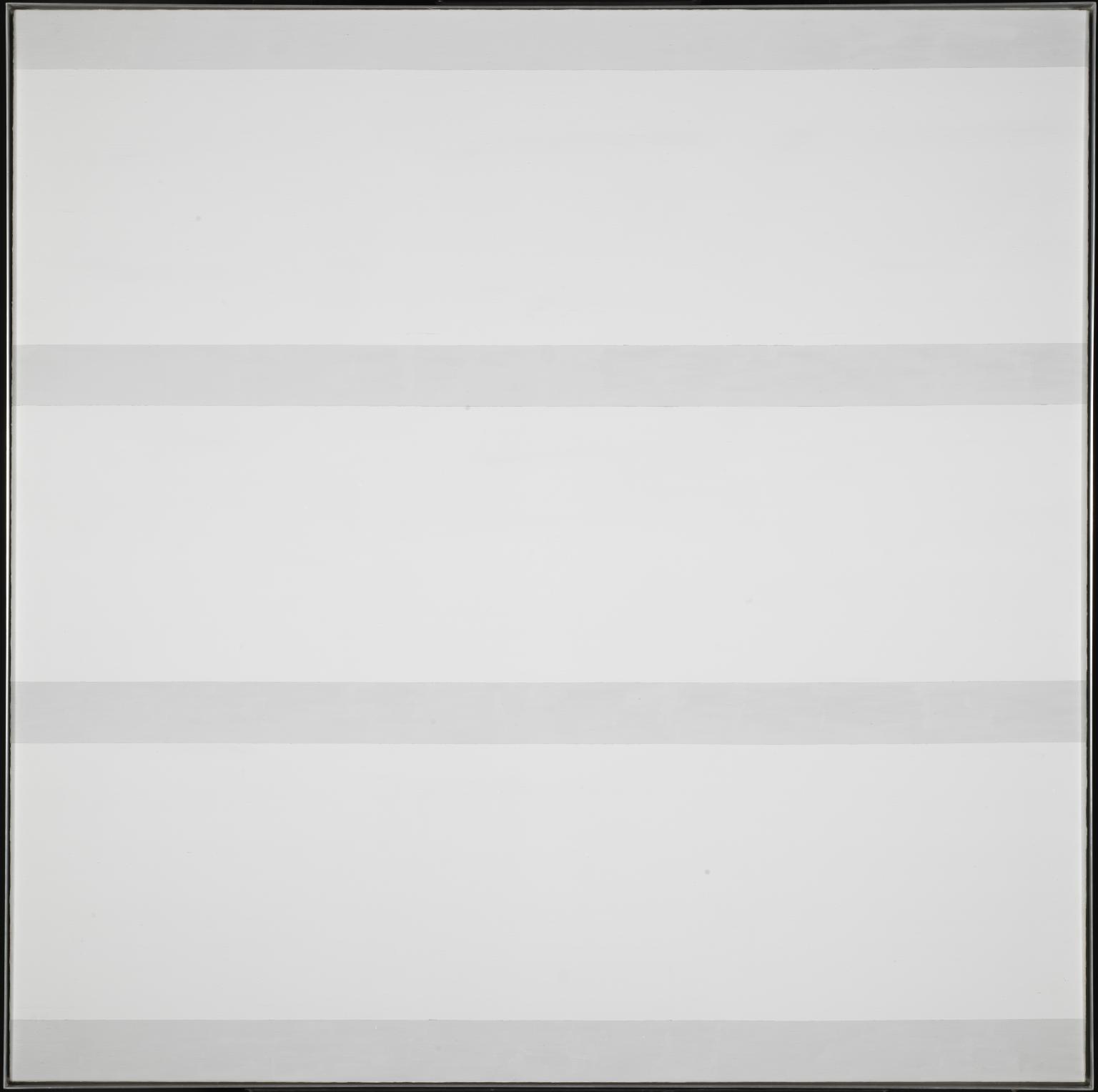 Agnes Martin

,

Untitled #5

1991

Before 1993, Martin used a six-foot (2 metre) square canvas for her paintings. This size appealed to her for its enveloping relationship with the viewer's body. She saw it as 'a size you can walk into'. Martin found the large canvas increasingly difficult to handle as she grew older. She made the decision to reduce the size to a five-foot (1.5 metre) square. This canvas still takes up most of the viewer's visual field, allowing them to absorb the subtle variations in line, tone and texture without distraction.

Gallery label, June 2021
5/5
artworks in ARTIST ROOMS: Agnes Martin
Art in this room
Sorry, no image available
Agnes Martin
On a Clear Day
1973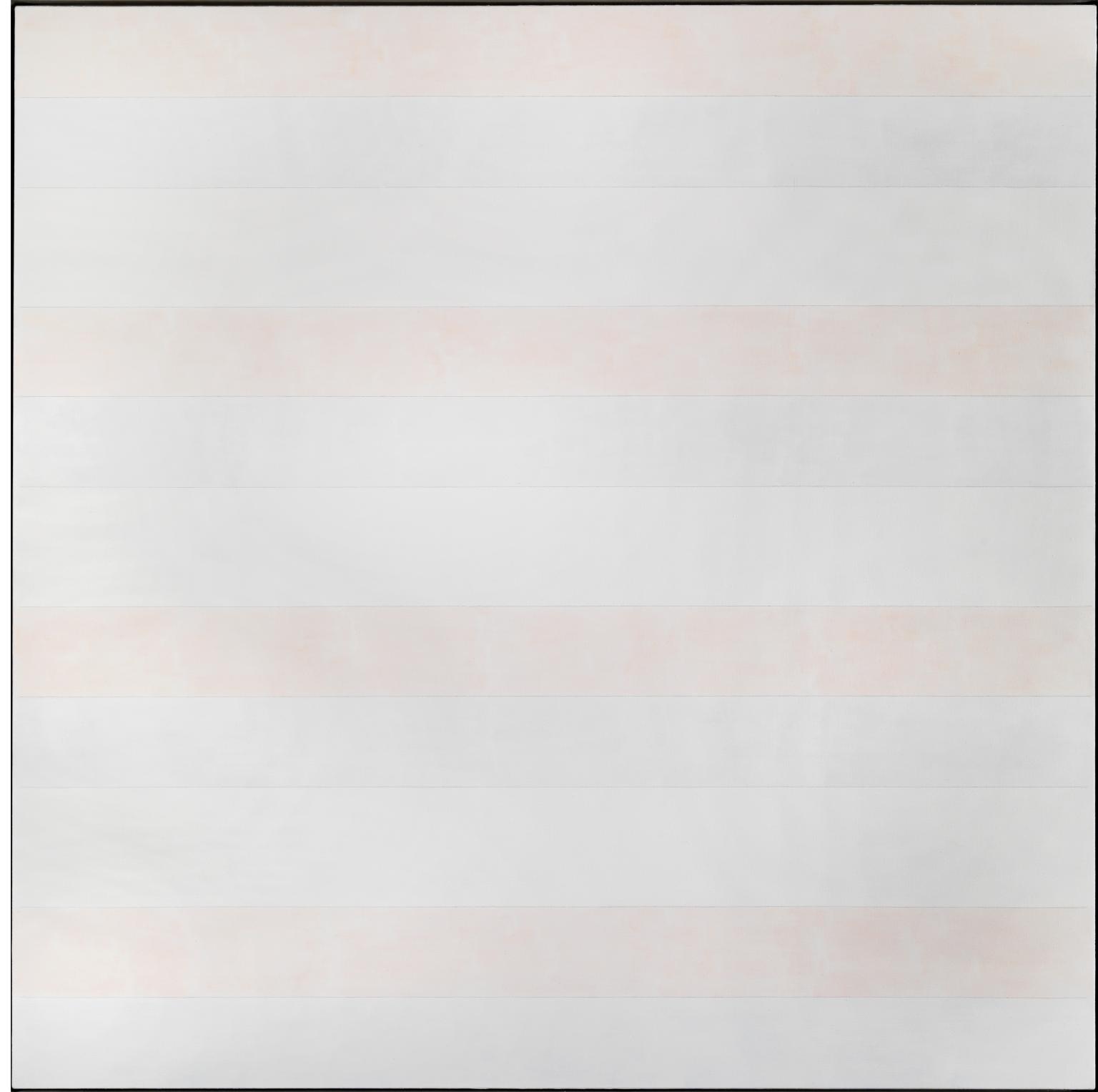 Agnes Martin
Untitled #5
1994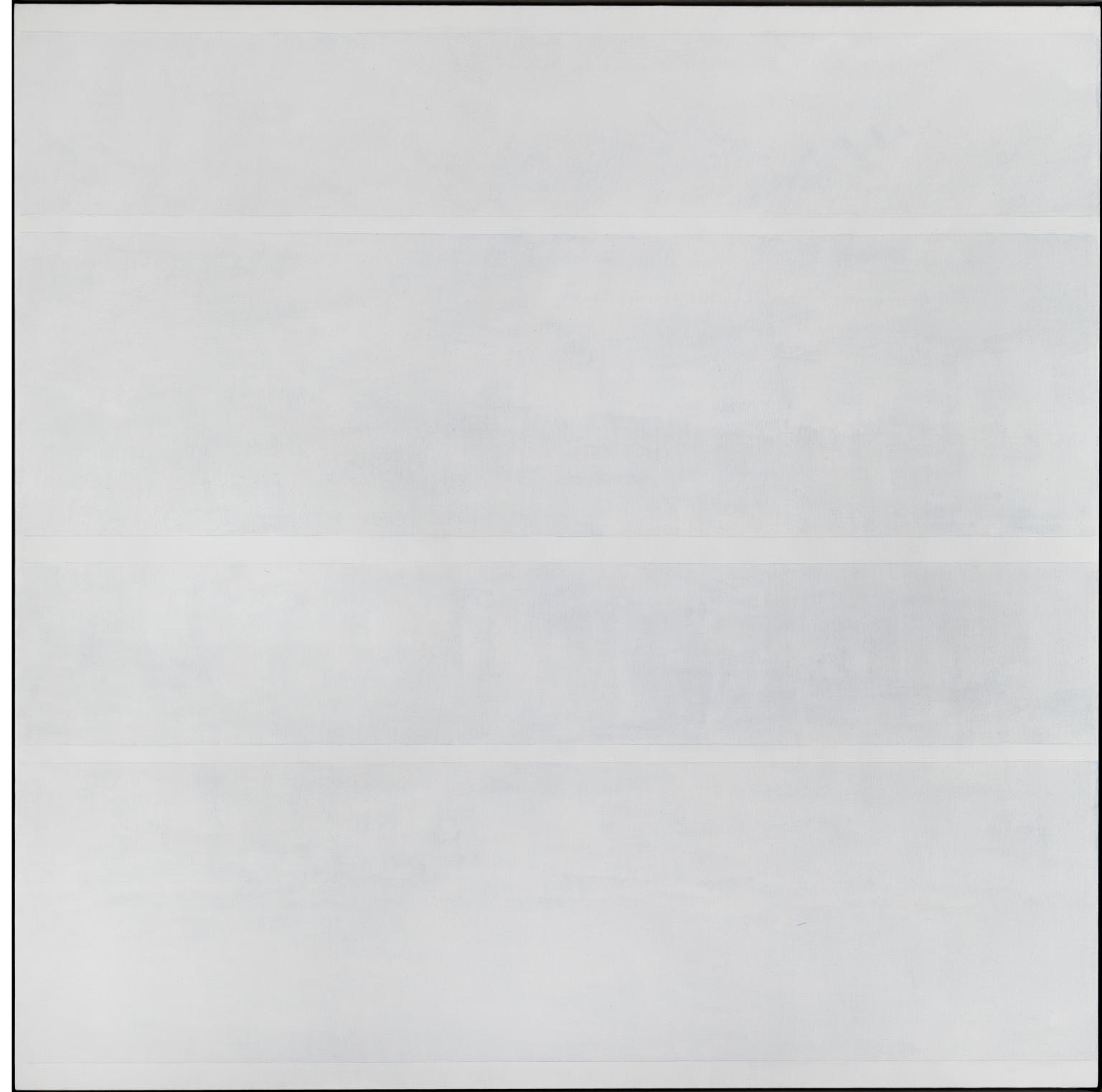 Agnes Martin
Faraway Love
1999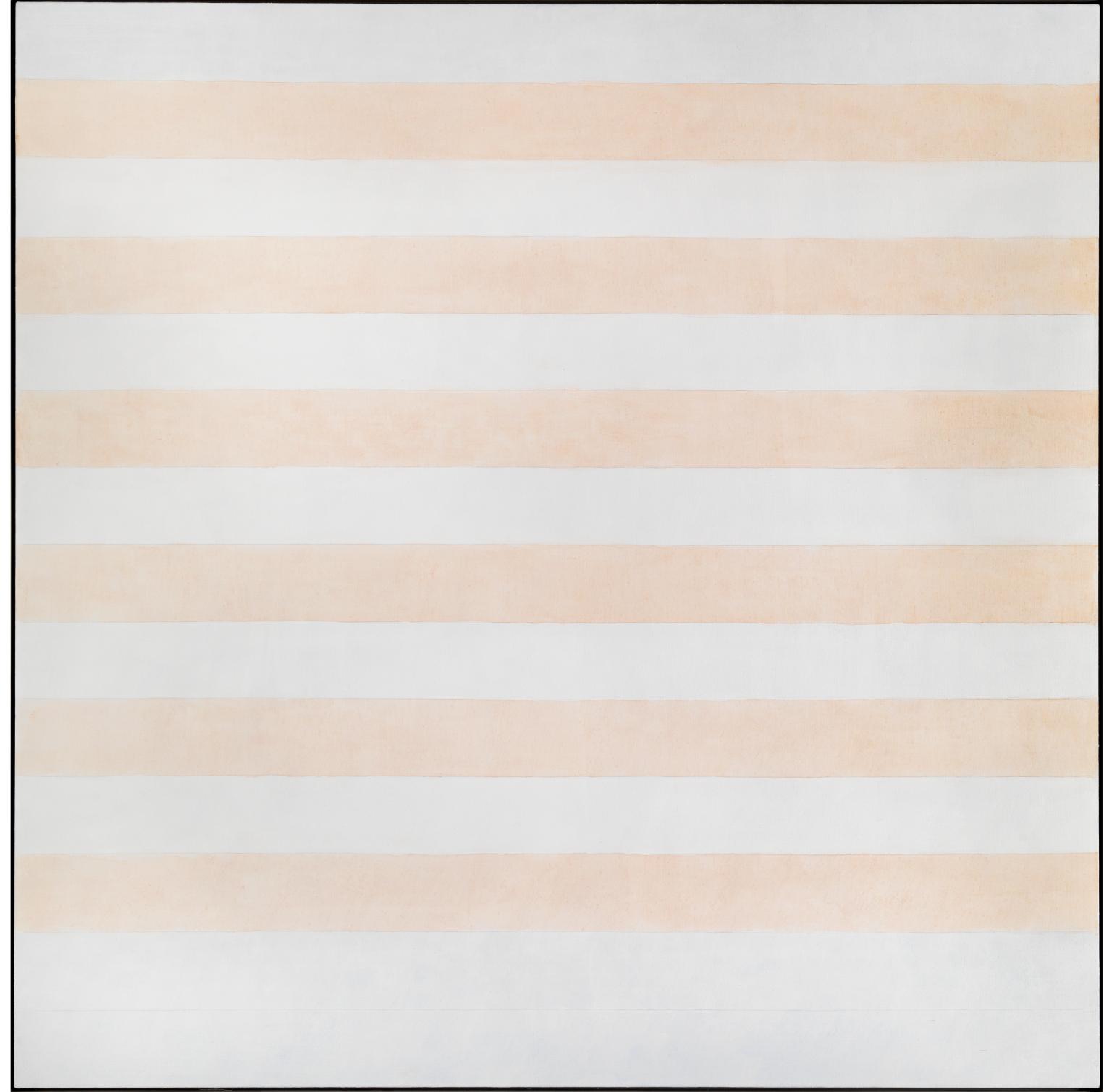 Agnes Martin
Happy Holiday
1999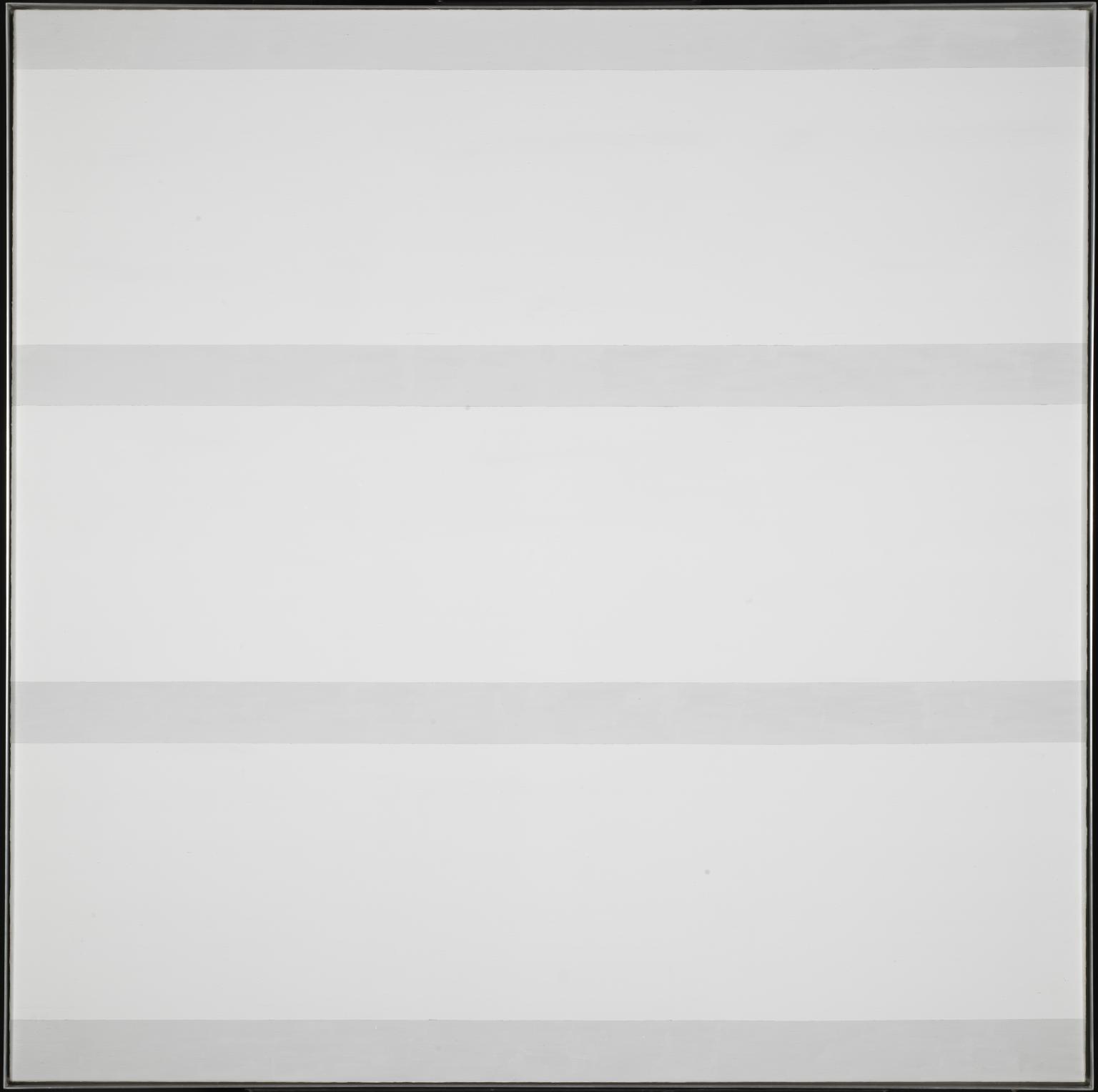 Agnes Martin
Untitled #5
1991