Discover artworks which incorporate used textile fragments or reference textile traditions to demonstrate the ways in which cloth holds memory
Textiles often carry personal, cultural and familial meaning. People without access to art studios or a formal art education have employed textiles found in the home as a creative medium. The Gee's Bend quiltmakers are an intergenerational community of African American women living in the isolated hamlet of Boykin (Gee's Bend), Alabama. Many of the quiltmakers are direct descendants of the enslaved people forced to labour at the cotton plantation established there by Joseph Gee in 1816. Though the Gee's Bend quilts were originally made by necessity as bedspreads and blankets, the tradition has continued with new generations. In recent years the quilts have been shown in fine art museums and galleries internationally, displayed for their improvisatory compositions and resourceful use of materials.
Contemporary artists Zohra Opoku and Antonio Pichillá Quiacaín both explore the cultural significance of textiles in relation to their own heritage. Opoku's Queens and Kings traces historical representations of power and portrayal in Ghanaian society and references Ghanaian Kente cloth (brightly coloured woven cloth, originally reserved for dressing royalty).
Her imagery is screenprinted onto a patchwork of found and stitched cloths. It shows large sacks of clothing, illustrating the textile waste sent from the global west to markets in Ghana and across west Africa. Antonio Pichilla Quiacain is influenced by the Maya culture of his grandparents, while also reflecting aspects of geometric modernist abstract painting in his woven works.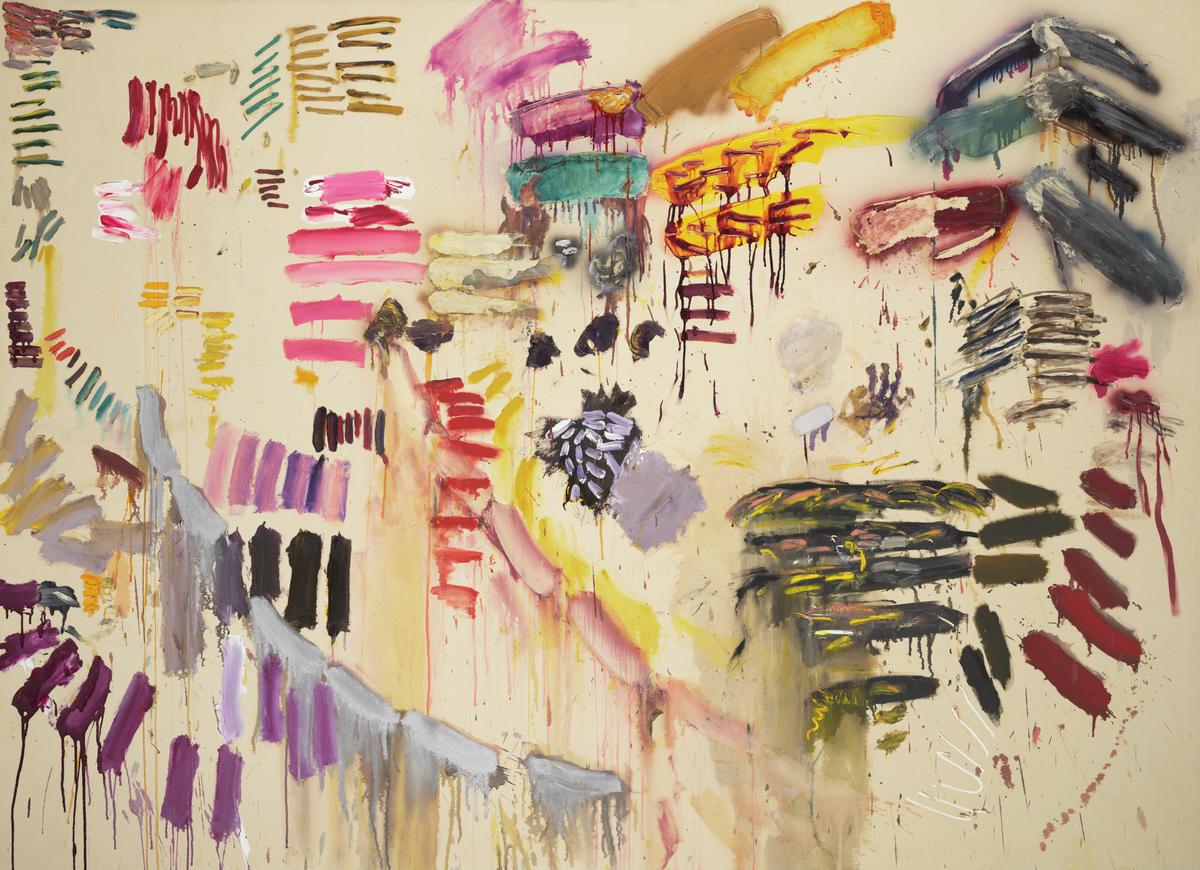 Joan Snyder

,

Dark Strokes Hope

1971
1/5
artworks in Inherited Threads
Sorry, no image available
Niki de Saint Phalle

,

Shooting Picture

1961

The emphasis on the violent gesture in post-war abstract painting culminated in Saint Phalle's Shooting Pictures. She filled polythene bags with paint and enclosed them within layers of plaster against a blockboard backing. Spectators were invited to shoot at these constructions, releasing the paint. This one was shot by artists Robert Rauschenberg and Jasper Johns. Saint Phalle stopped making these works in 1963, explaining 'I had become addicted to shooting, like one becomes addicted to a drug'.

Gallery label, January 2016
2/5
artworks in Inherited Threads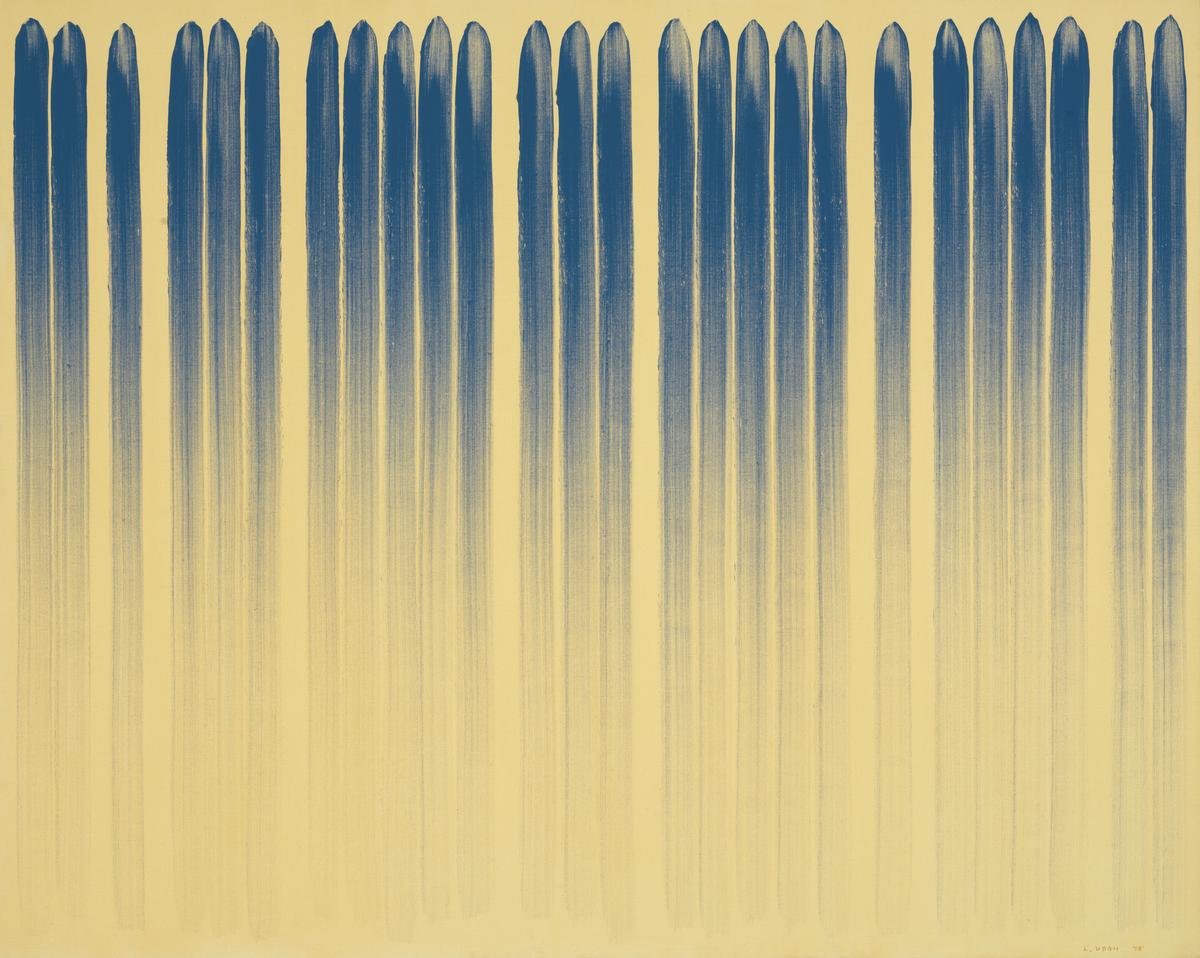 Lee Ufan

,

From Line

1978

This work belongs to a series that Lee made by painting long downward lines until the paint on the brush is used up. He then returned to the top and started again. Describing his method, Lee wrote: 'Load the brush and draw a line. At the beginning it will appear dark and thick, then it will get gradually thinner and finally disappear ... A line must have a beginning and an end. Space appears within the passage of time, and when the process of creating space comes to an end, time also vanishes'.

Gallery label, July 2012
3/5
artworks in Inherited Threads
Sorry, no image available
Giorgio Griffa

,

Three lines with arabesque No.111

1991

Three Lines with Arabesque No.111 1991 is a large-scale portrait-format painting in acrylic paint on a piece of unstretched and unbleached canvas. The composition is based on a sequence of painterly gestures executed with broad brushstrokes in different colours; these gestures start on the left side of the painting and organise the composition into horizontal segments. From the top down, there are three yellow lines; whilst the upper two are continued across the whole width of the canvas, the third one is interrupted after just a short streak. Below this streak the number '111' is painted in the same yellow. Underneath this, starting again on the left, Griffa painted a row of three and a half, free-flowing joined loops in red. Some of the spaces between and within the loops are painted with broad pink brushstrokes. Below this, between the loops and the bottom of the canvas, there are nine wavy blue bands, painted parallel and very close to each other so that they almost touch and create a continuous block of colour. These bands are of slightly different lengths, with the very last one being just half the width of the canvas. The canvas itself has folds that indicate it was folded four times horizontally and four times vertically, creating an underlying grid.
4/5
artworks in Inherited Threads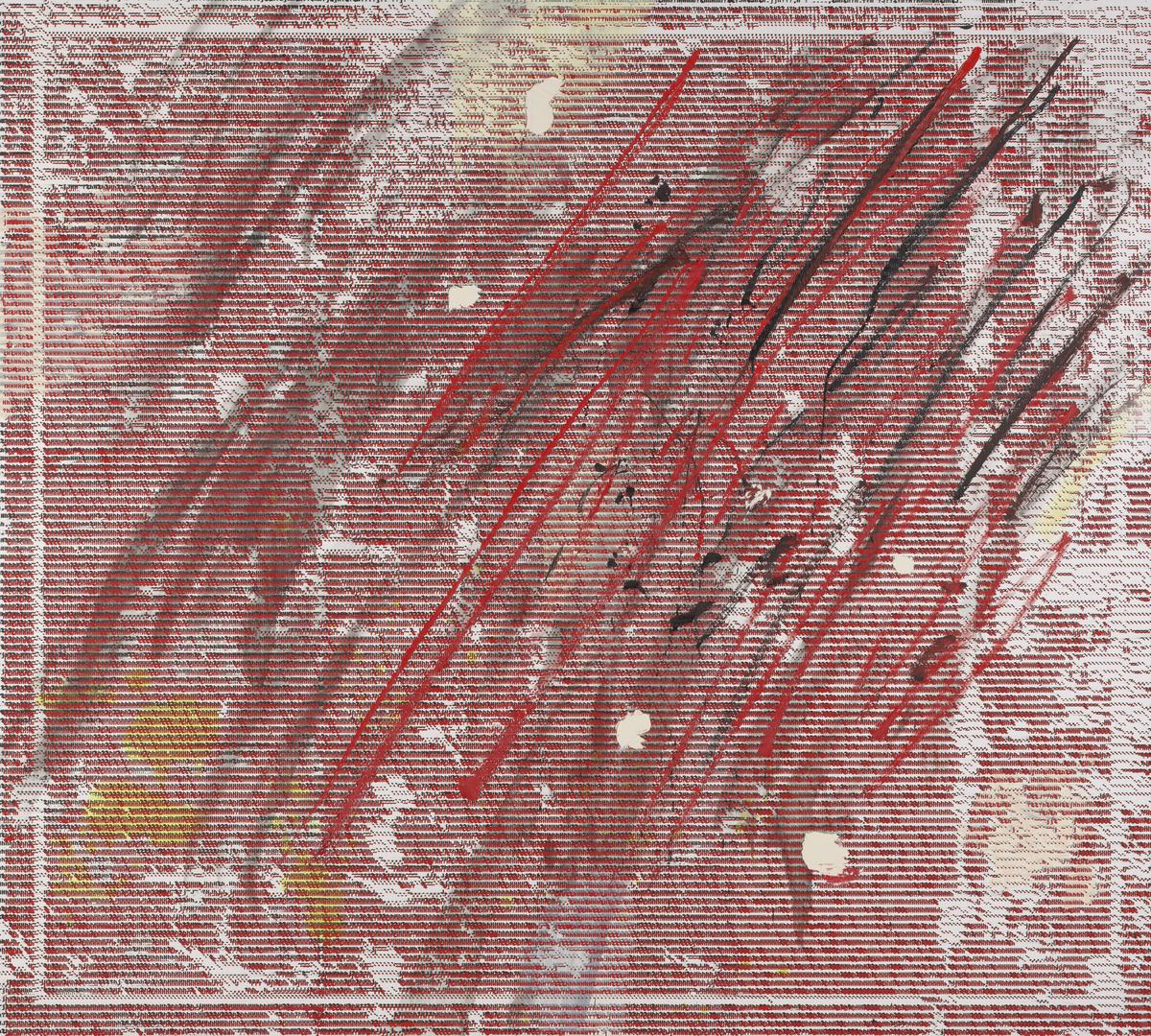 Jacqueline Humphries

,

~?j.h%

2018

~?j.h% 2018 is a painting in oil on linen measuring 2540 by 2819 millimetres. From a distance, the composition reads as a series of expansive diagonal red and black scrawls over a ground made up of dense red and black horizontal lines, with a white frame repeating the almost-square shape of the canvas within its perimeter. This composition is animated by patches of yellow paint lying underneath the horizontal lines and impasto gobbets of white paint lying over them, among the diagonals. When viewed from nearby, it becomes possible to see that the horizontal lines are made from the repeated characters ~, ?, j, J, H, h and %, and that these characters were applied through stencils in two layers – a black layer and then a red layer.
5/5
artworks in Inherited Threads
Art in this room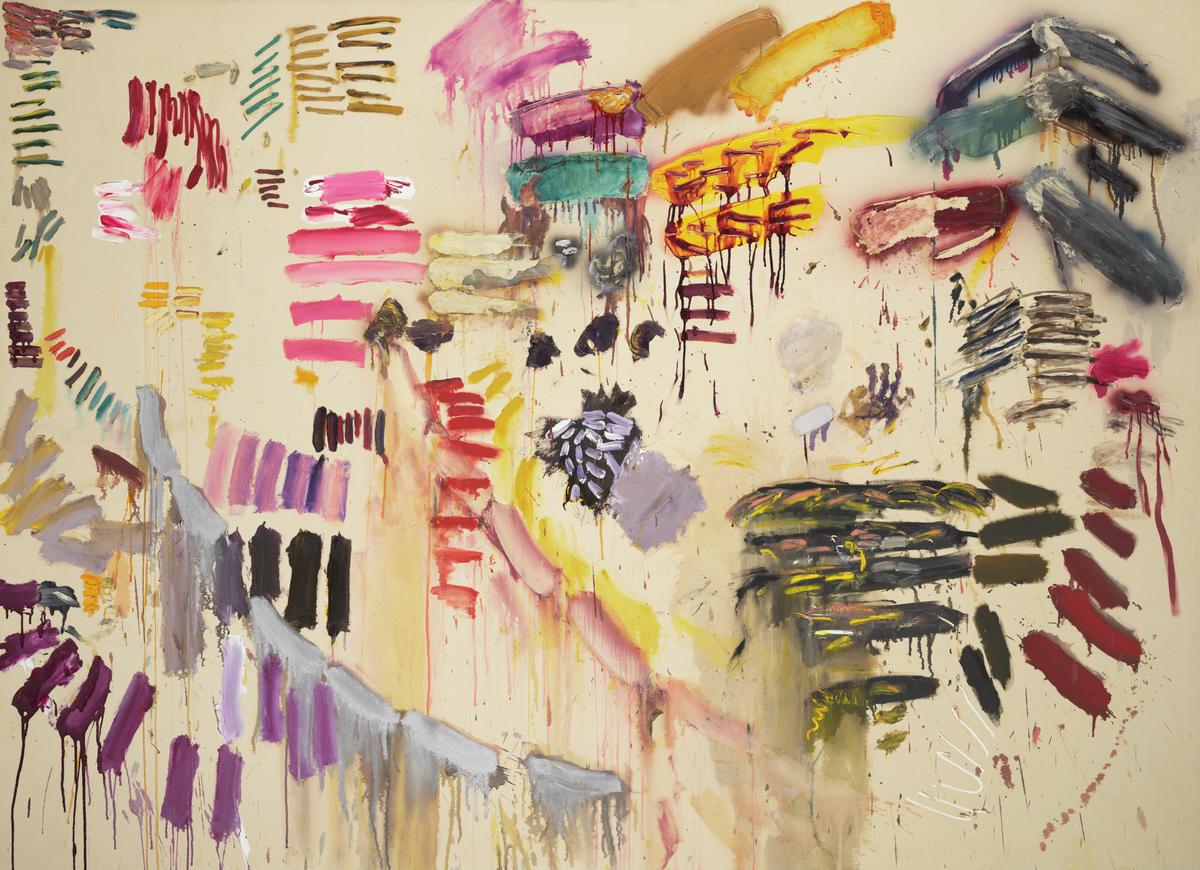 Joan Snyder
Dark Strokes Hope
1971
Sorry, no image available
Niki de Saint Phalle
Shooting Picture
1961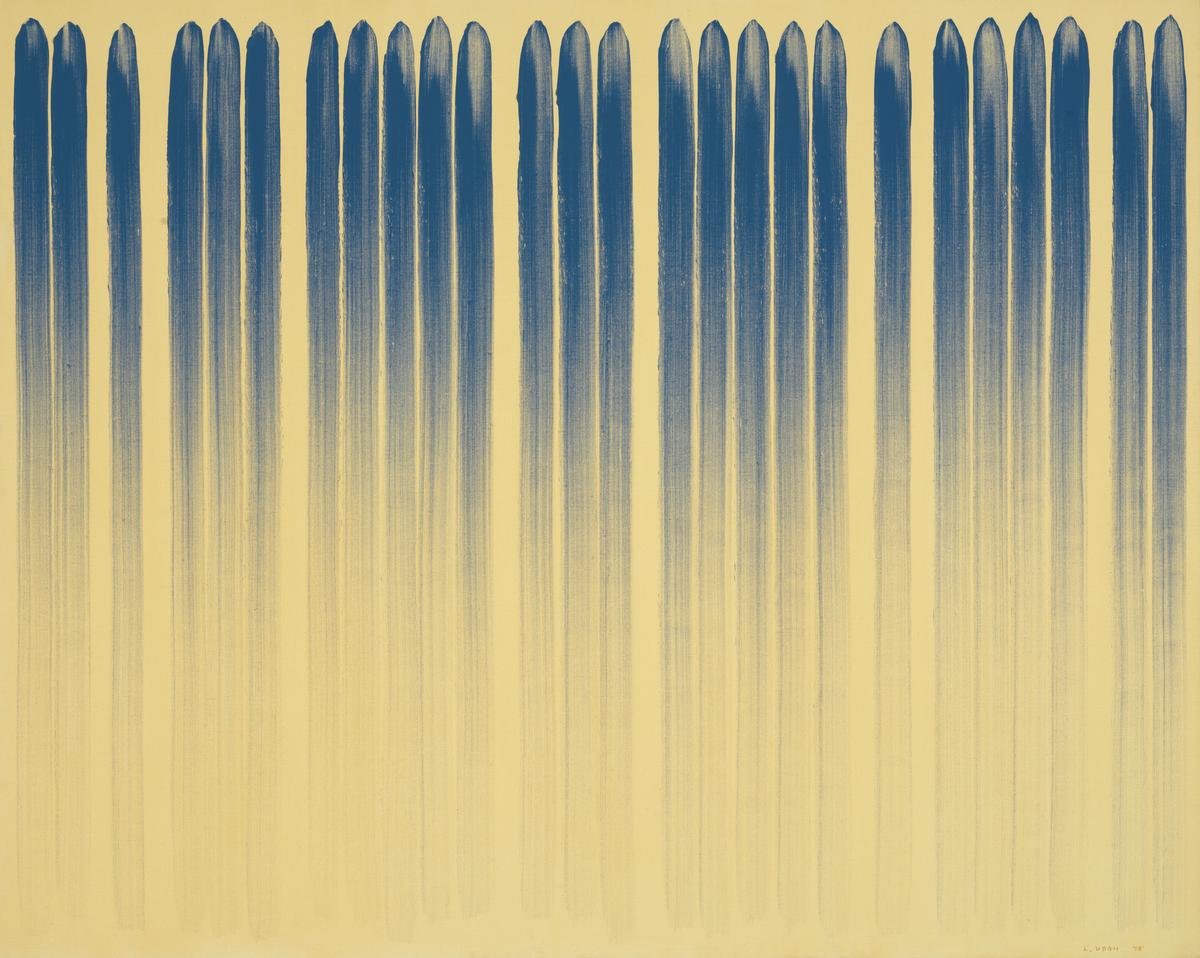 Sorry, no image available
Giorgio Griffa
Three lines with arabesque No.111
1991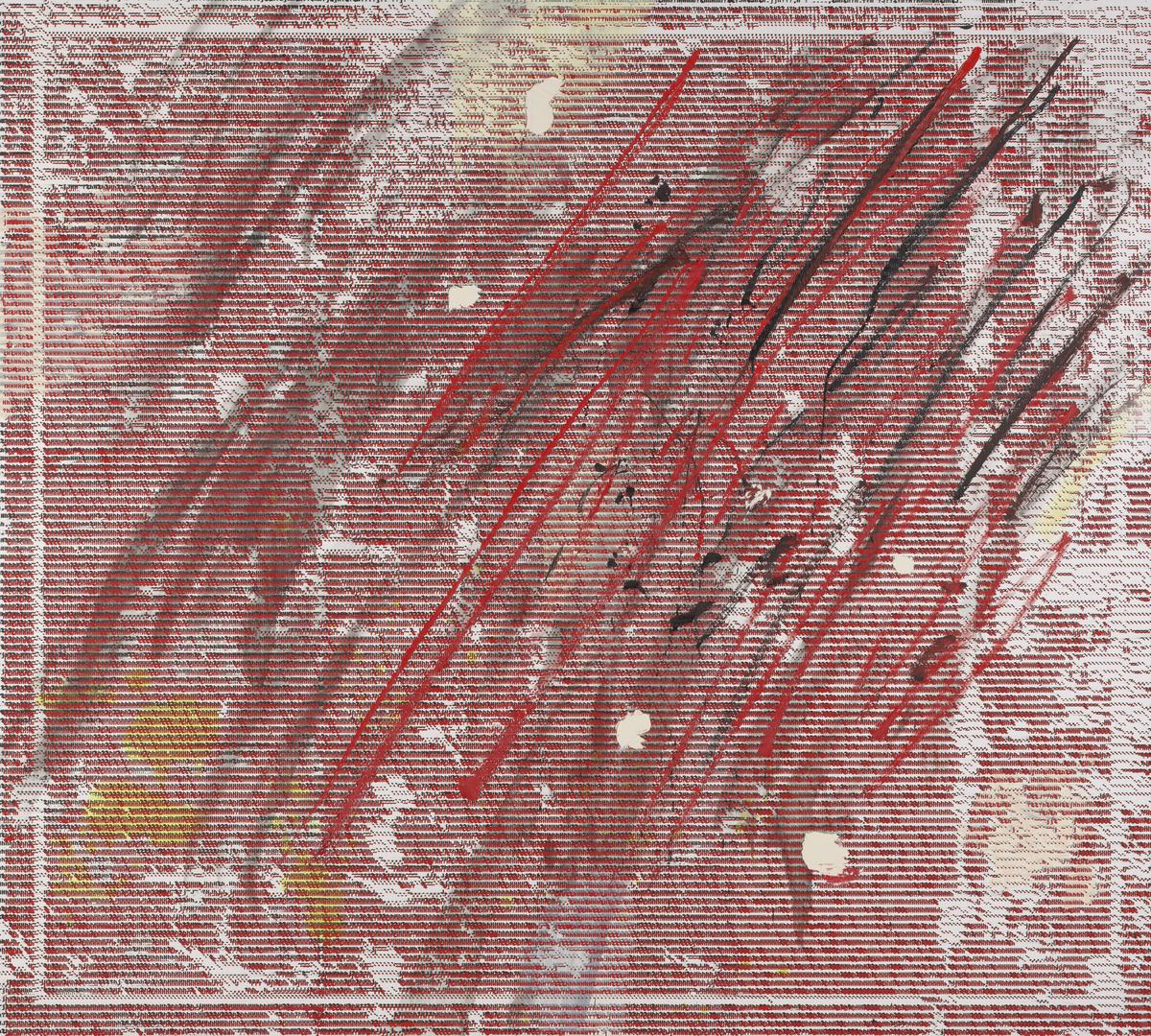 Jacqueline Humphries
~?j.h%
2018