12 rooms in Media Networks
The works in this room explore consumerism, mass-produced objects and advertising as the emerging visual language of the 1960s and 1970s
The Western European economic boom which followed the Second World War profoundly altered the lives of millions of people. Artists reacted in different ways to the new social landscape of consumer culture. Some imitated the language of advertising, design and popular media. They reproduced recognisable imagery in paintings as a commentary on their changing society. Others made artworks from objects associated with overproduction. These sculptures often incorporated cheaply made products and brightly coloured synthetic components. For the artists presented in this room, these operations were always ironic. They borrowed the visual language of consumer culture not to celebrate it, but to reveal it as excessive, absurd and shallow.
In 1964, the painter Hervé Télémaque was among the organisers of an influential exhibition titled Mythologies Quotidiennes (Everyday Mythologies), held at the Musée d'Art Moderne in Paris. All of the artists in this room were included except for Tetsumi Kudo, who participated in an expanded second edition staged in 1977.
The exhibition explored the new visual culture of consumer goods and mass media entertainment, which seemed to be replacing the symbols and icons of myth, religion and history. It featured artists associated with the European nouveau réalisme (new realism) movement, who made works out of found objects and rubbish as a way of re-presenting real life. Mythologies Quotidiennes served as a launchpad for the French figuration narrative (narrative figuration) movement, of which Télémaque was a central figure. This style of representational painting infused popular imagery with a surreal and satirical tone. Similar politically charged and media infused figurative styles from across the world can be seen in the Beyond Pop room (Room 12 of the Media Networks display).

Hervé Télémaque

,

The Weathervane

1969
1/4
artworks in Everyday Mythologies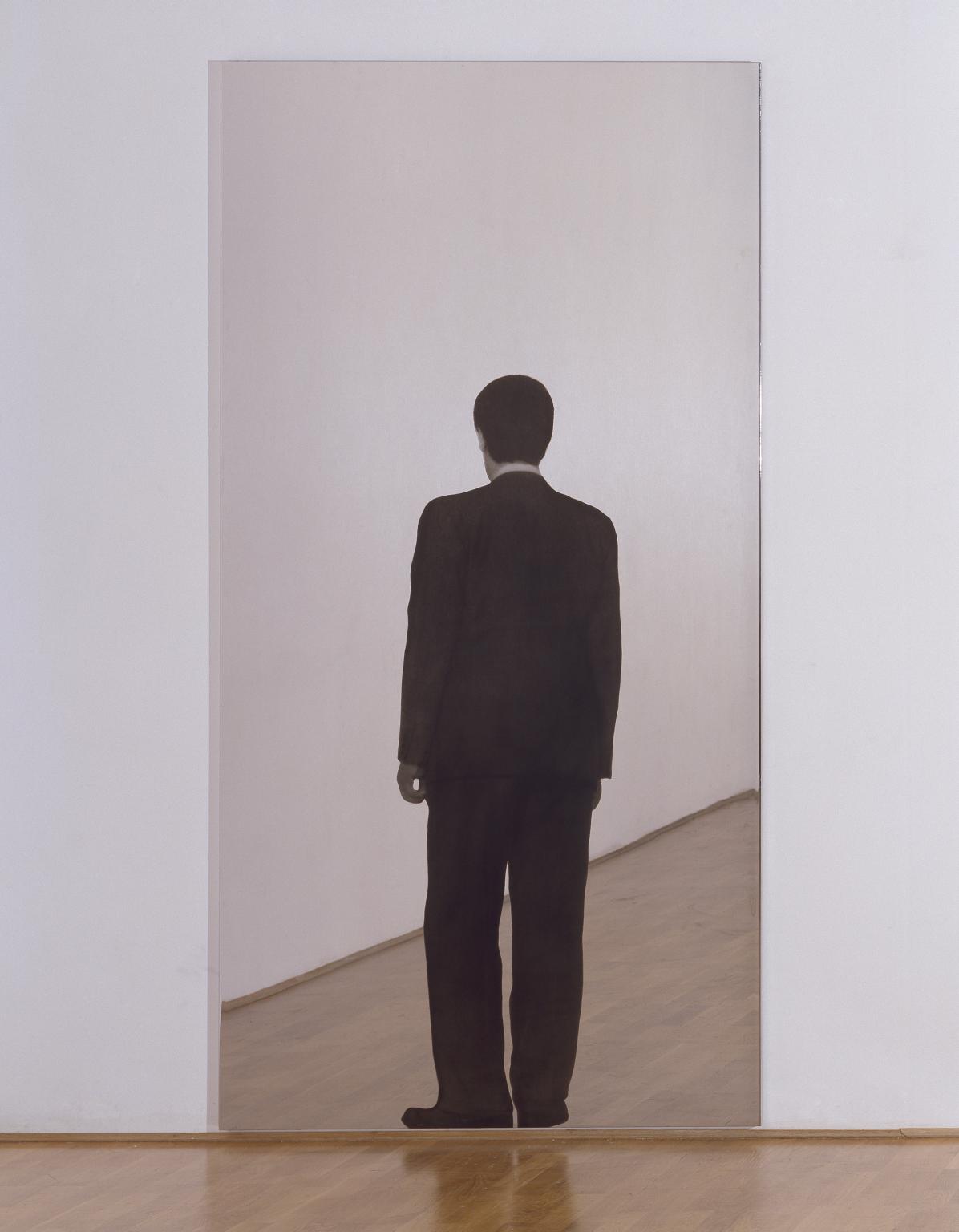 Michelangelo Pistoletto

,

Standing Man

1962,1982

Standing Man is a typical example of Pistoletto's Quadri specchianti or mirror paintings. It comprises a mirrored surface made of highly polished steel measuring more than two and a half metres in height. A life-sized image of a man wearing a dark grey suit and standing with his back to the viewer has been attached to the mirror. The work is intended to be hung flat on, or slightly above, the floor, enhancing its illusionistic possibilities.
2/4
artworks in Everyday Mythologies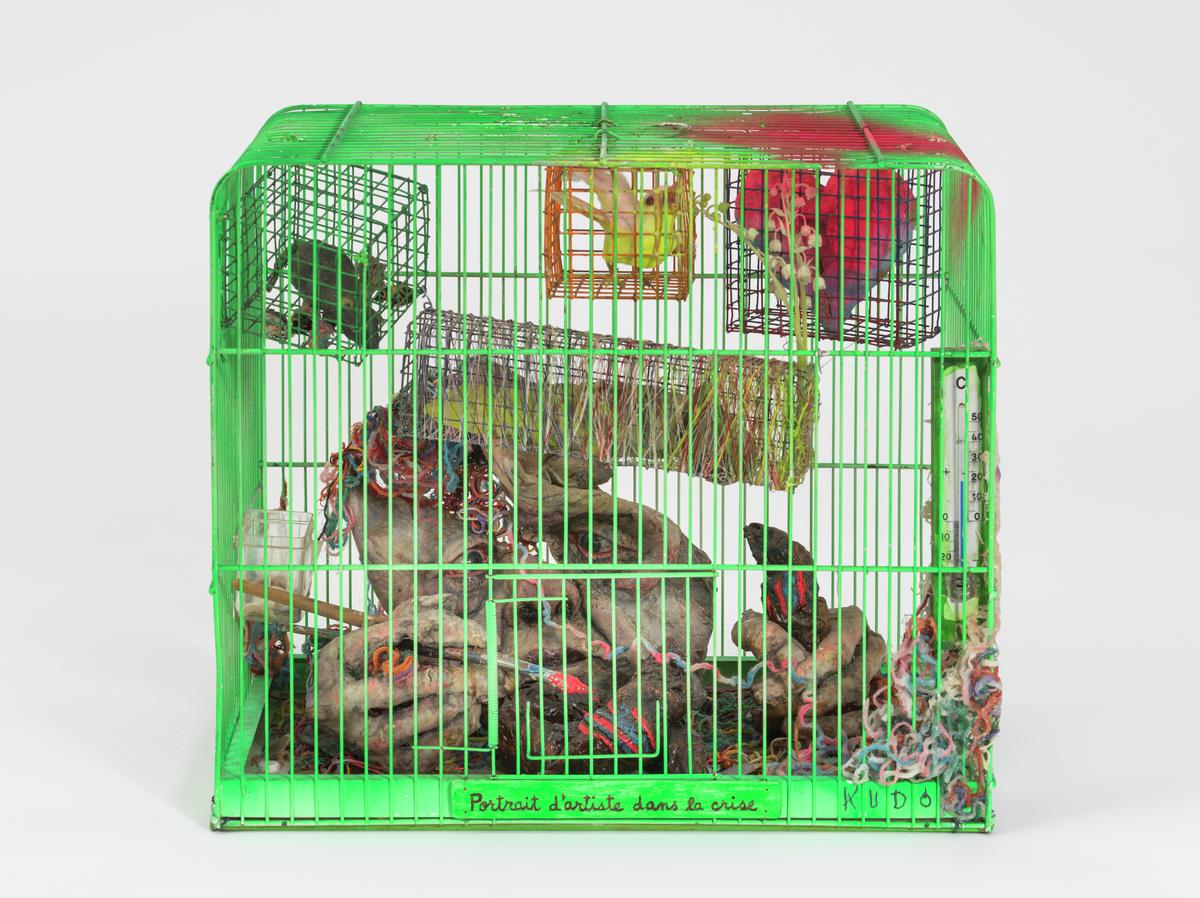 Tetsumi Kudo

,

Portrait of an Artist in Crisis

1980–1

Portrait of an Artist in Crisis 1980–1 is a sculptural assemblage that takes the form of a mass-produced animal cage painted a lurid green, inside which are the disembodied face and hands of a man rendered in wax. In the figure's right hand are two paint brushes; the left hand grips a scatological form. Four smaller wire cages are suspended from the ceiling of the main structure. These contain, respectively, the small painted maquettes of a grey mouse, a yellow canary, a red heart and a yellow phallus. On top of the wax head and around the base of the cage is a tangle of multi-coloured wool and a number of smaller items including pills and coins. The original French title is written in cursive script on a small panel affixed to the front casing of the main cage; on the bottom right-hand side is inscribed the artist's surname, each letter occupying a space between the thin wire bars
3/4
artworks in Everyday Mythologies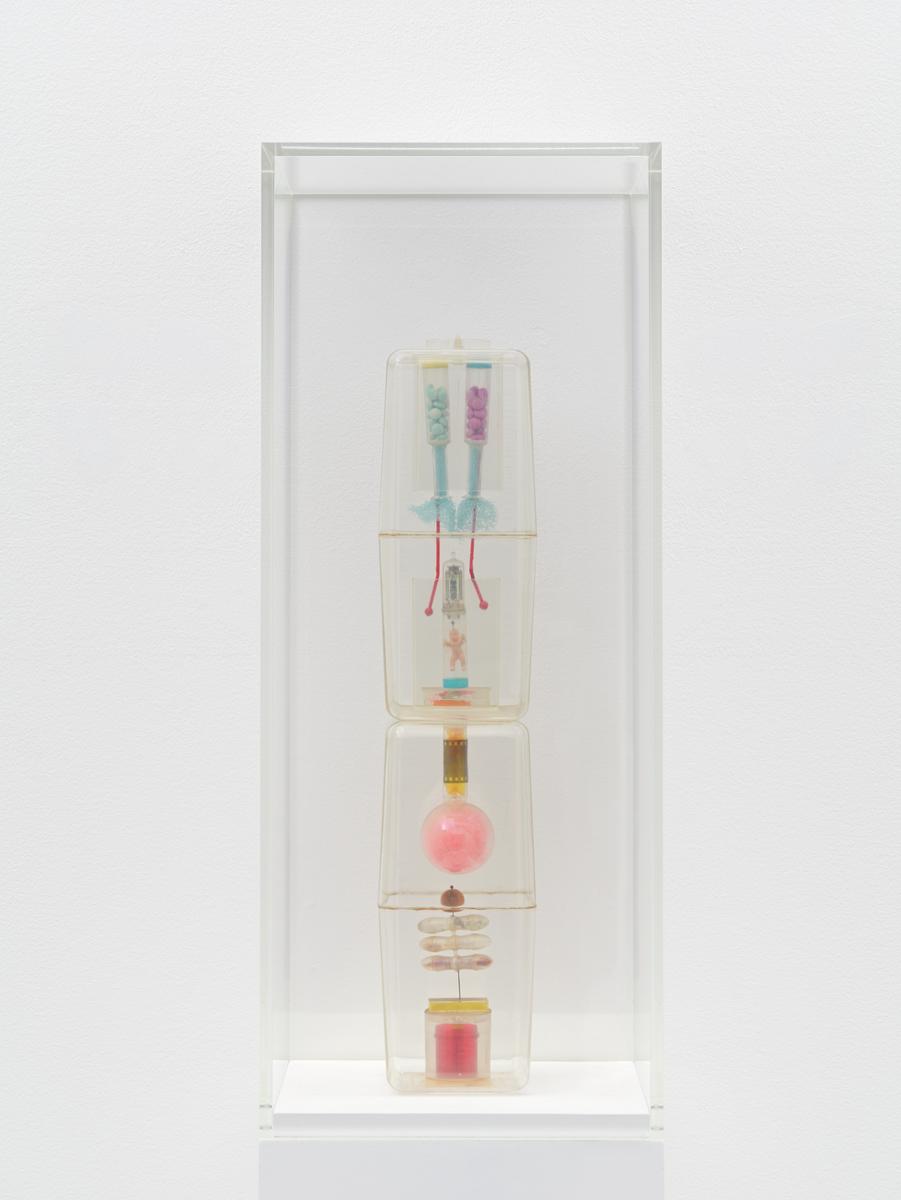 Martial Raysse

,

Necropolis I

1960
4/4
artworks in Everyday Mythologies
Art in this room

Hervé Télémaque
The Weathervane
1969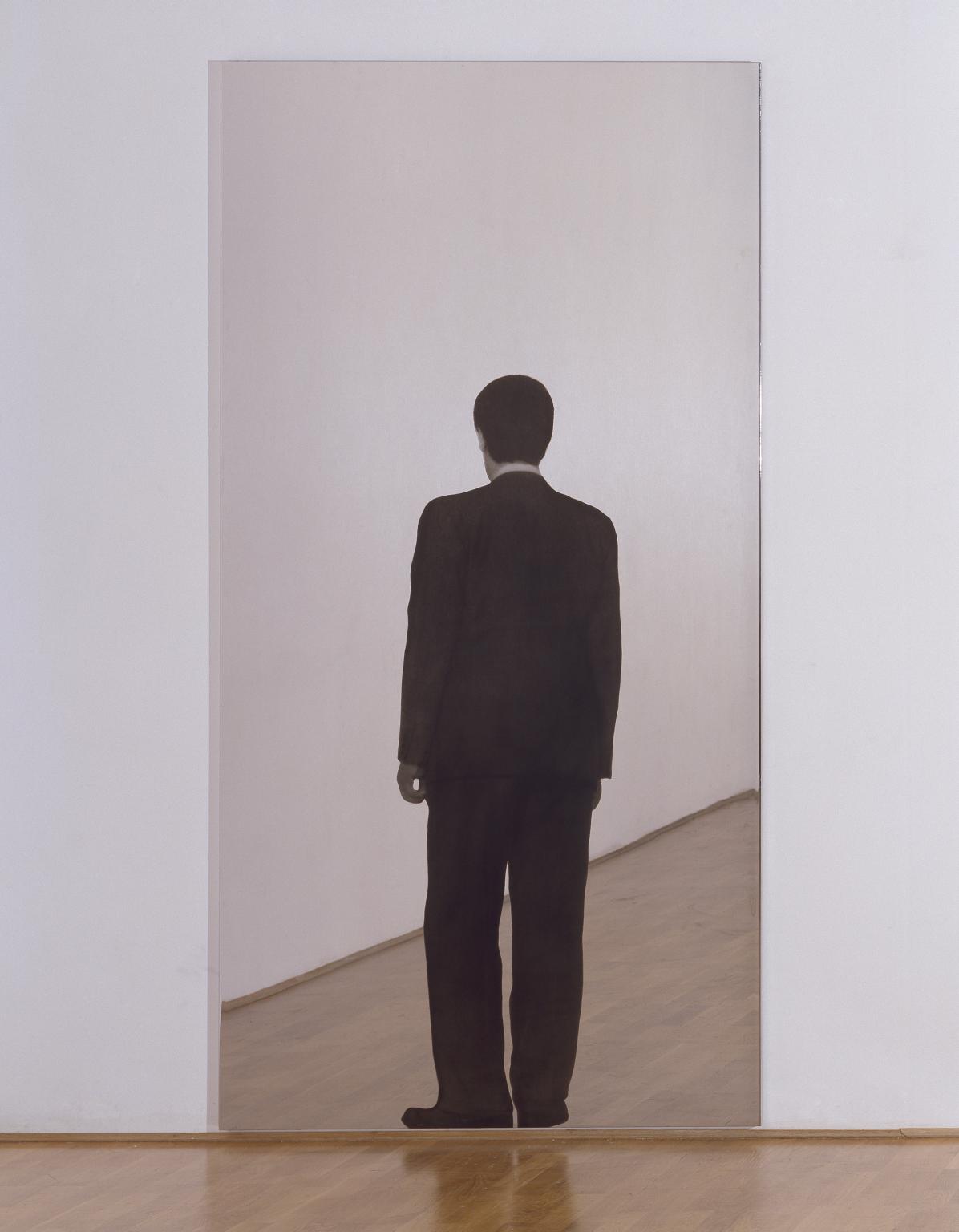 Michelangelo Pistoletto
Standing Man
1962,1982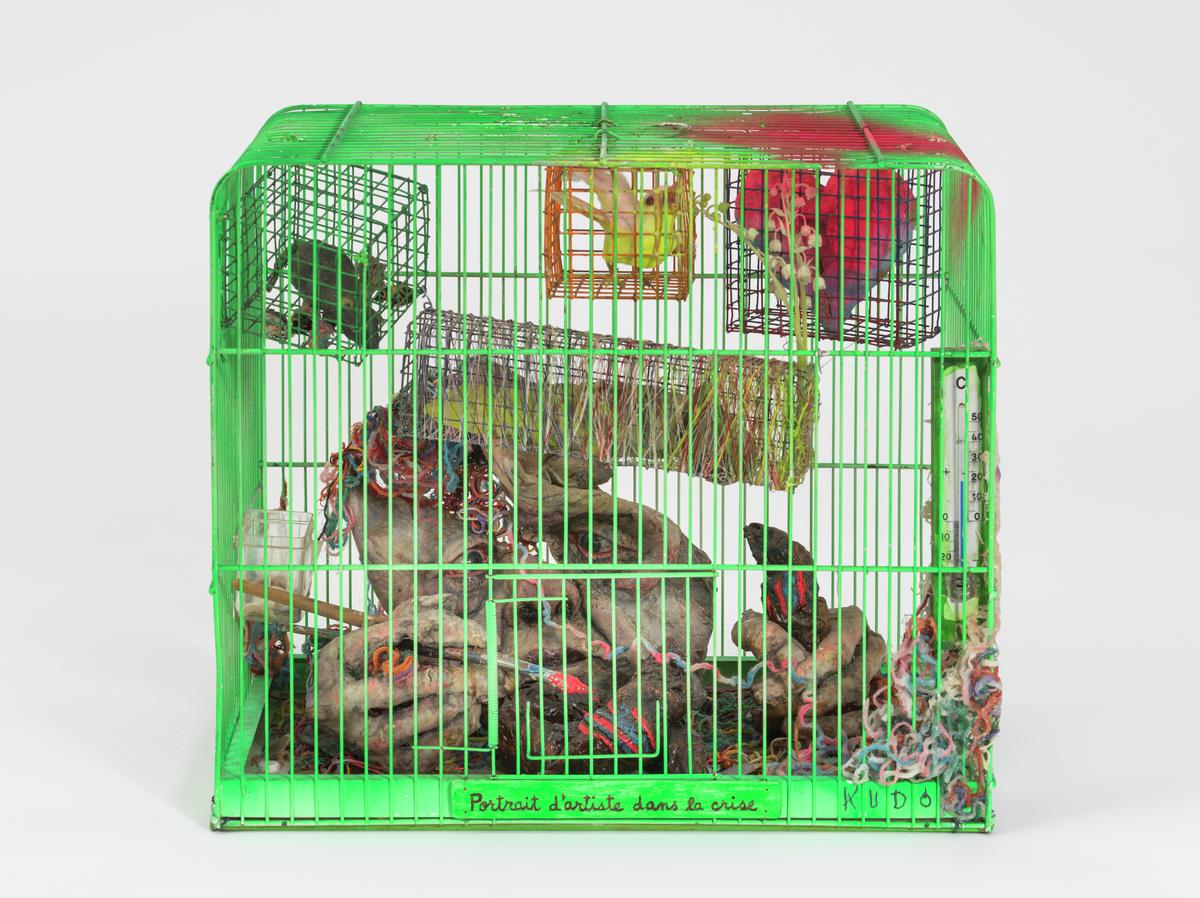 Tetsumi Kudo
Portrait of an Artist in Crisis
1980–1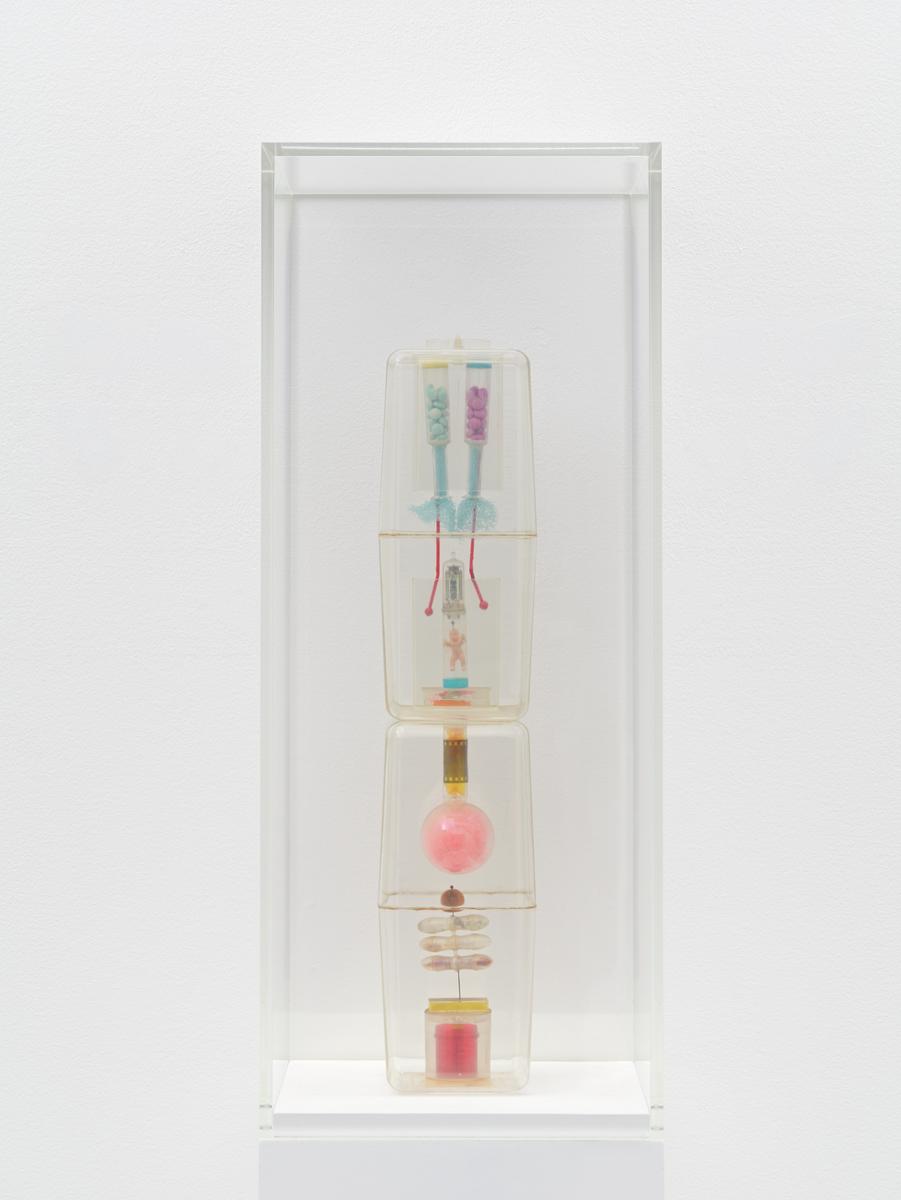 Martial Raysse
Necropolis I
1960