10 rooms in Media Networks
Discover artworks that explore organisational systems, communications and mass media
The artists included in this display have all been associated with the Centre of Art and Communication (Centro de Arte y Comunicación or CAyC) in Buenos Aires. This influential art space was founded in 1969 to explore the relationship between art, technology, science and social studies.
The Centre's Founder-Director, Jorge Glusberg, described the work that it exhibited as 'systems art'. The term echoed the 1968 essay Systems Aesthetics by the critic Jack Burnham, who argued that,
We are now in transition from an object-oriented to a systems-oriented culture…Art does not reside in material entities, but in relations between people and between people and their environment.
Such works examine how ideas and images circulate in society, particularly through the mass media.
This room includes Argentinian artists who were closely involved with Glusberg and the CAyC, alongside some of the international artists who exhibited there. CAyC's activities (which continued until 1977) helped Buenos Aires to become a major hub for practices such as conceptual art and artworks sent through the post, known as mail art. As well as providing a space for a new generation of artists to engage with communications and media art, it provided a connecting link between artists around the world.
This is one of a series of rooms at Tate Modern, each offering 'a view from' a different city. They focus on a period when new approaches to art making were emerging there, developed locally and in dialogue with artists from other parts of the world.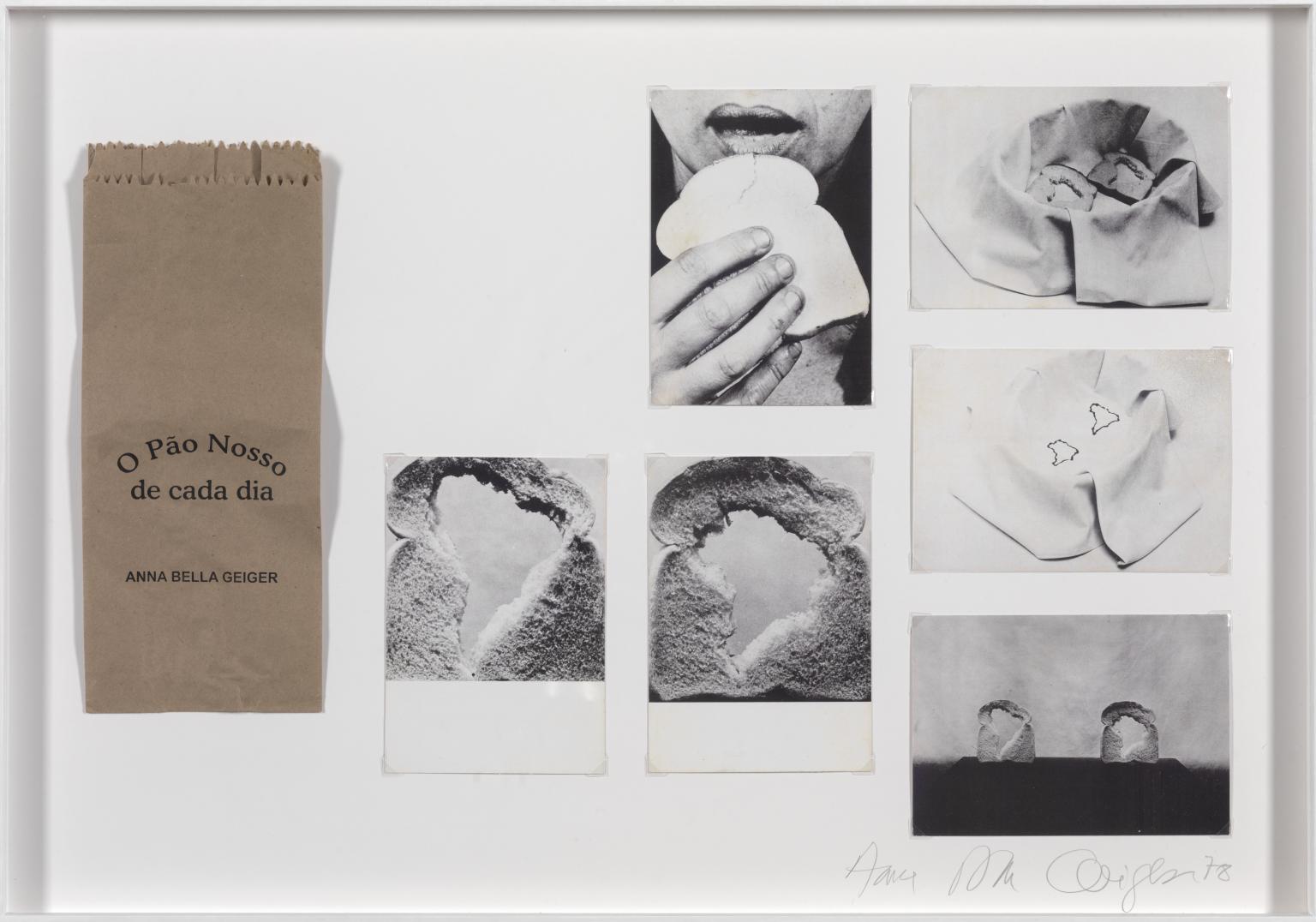 Anna Bella Geiger

,

Our Daily Bread

1978

Our Daily Bread documents a performance in which Geiger ate bread and distributed postcards, addressing the subject of poverty in Brazil and more widely within Latin America. The outlines of Brazil and South America appear as holes in slices of bread on two of the postcards, and as outlines in the empty bread basket. While the title has Christian resonances, the theme of consumption links this work to ideas of cultural cannibalism: a strategy for absorbing external influences and creating a proudly hybrid national identity which was a key concept in Brazilian modernism from the 1920s onwards.

Gallery label, February 2016
1/7
artworks in A view from Buenos Aires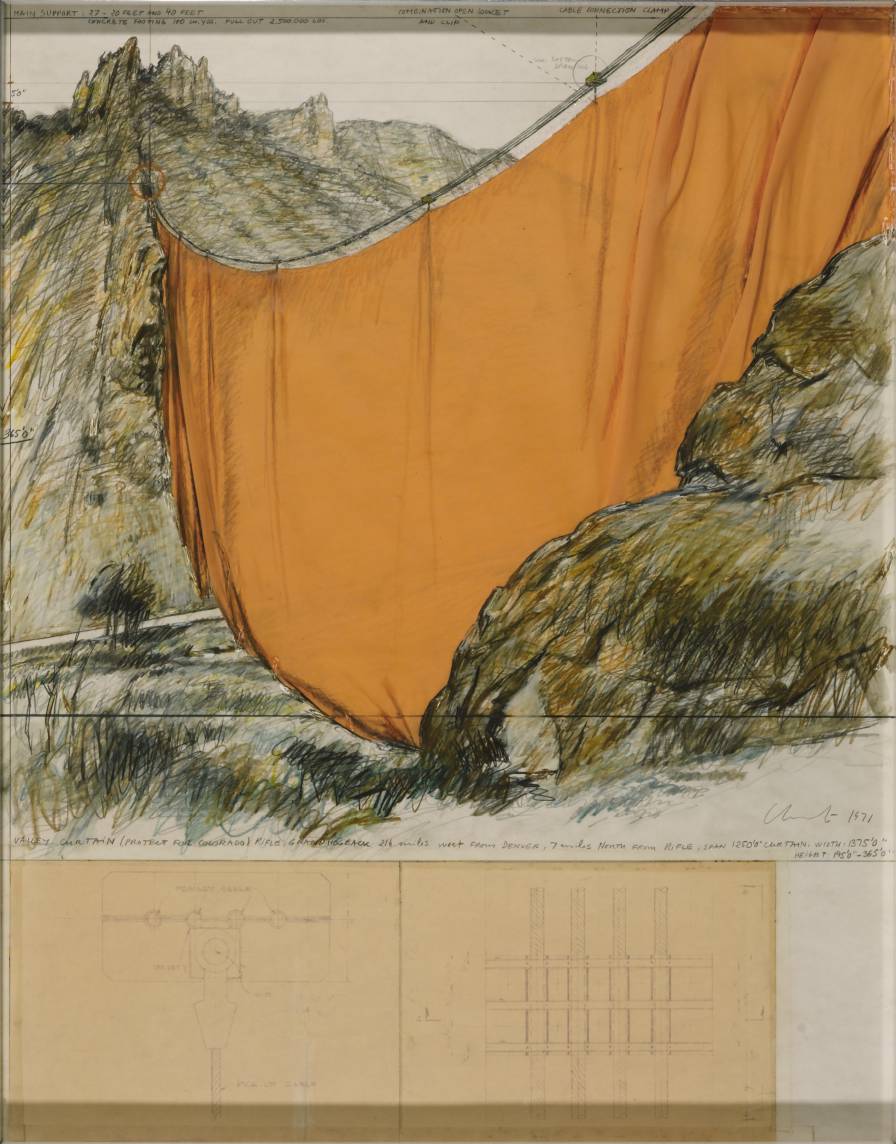 Christo (Christo Javacheff)

,

Valley Curtain (Project for Colorado) Rifle, Grand Hogback

1971

In 1970 Christo and Jeanne-Claude, partners both in art and life, started planning the installation of a vast orange fabric curtain across a valley in Colorado, USA. The project required collaborating with a network of local authorities, engineers, sponsors and assistants. This work is one of many drawing-collages Christo made in order to have its design approved and funded. Some of these sketches were included in the Systems Art exhibition organised by the CAyC in Buenos Aires in 1971. After a failed attempt, Christo and Jeanne-Claude successfully installed the curtain on 19 August 1972. It remained in position for 28 hours, until it had to be removed due to strong winds.

Gallery label, March 2022
2/7
artworks in A view from Buenos Aires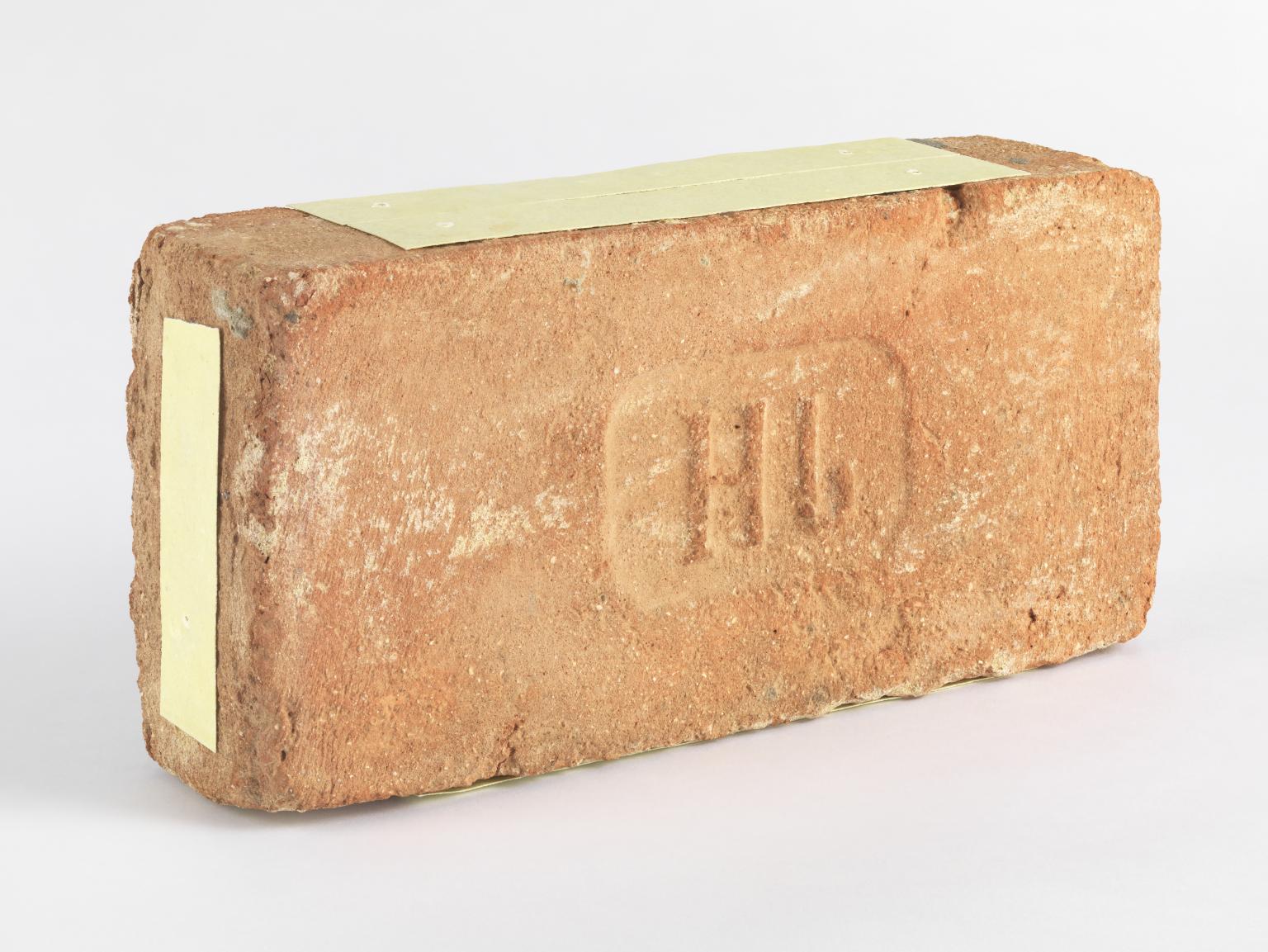 Tamas St. Auby (Szentjoby)

,

Czechoslovak Radio 1968

1969, 2008
3/7
artworks in A view from Buenos Aires
Sorry, no image available
Horacio Zabala

,

The distortions are proportional to the tensions I, II & III

1974

These three drawings depict the map of the southern cone of South America. They form part of a series in which Zabala intervenes in the geography of the continent by distorting the location of Argentina, particularly around the Rio de la Plata, the widest river in the world which flows between Uruguay and Argentina. This area became notorious as a site of atrocities during Argentina's dirty war, during which thousands of people were 'disappeared' by the military dictatorship.

Gallery label, February 2016
4/7
artworks in A view from Buenos Aires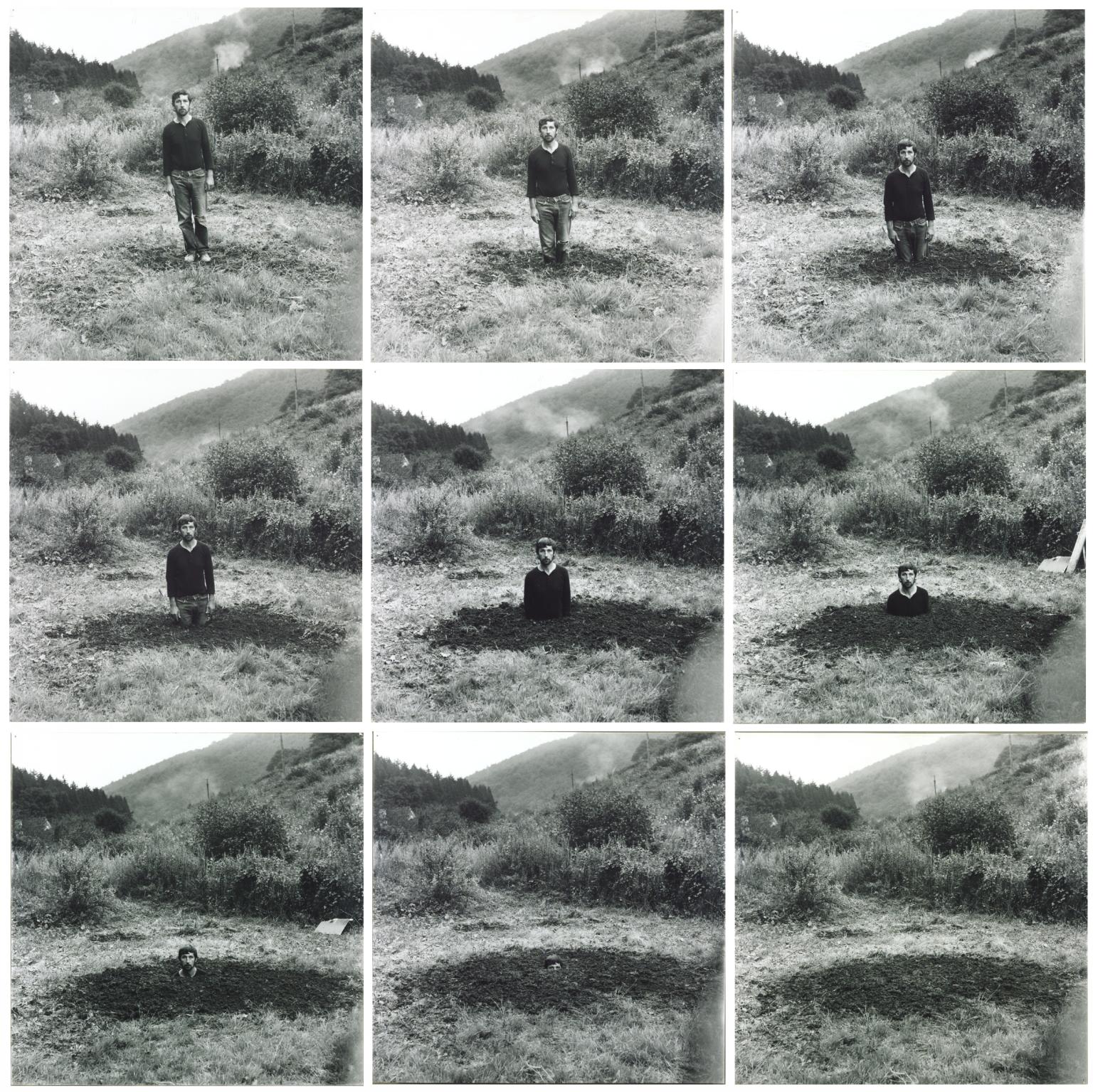 Keith Arnatt

,

Self-Burial (Television Interference Project)

1969

Arnatt was fascinated with works of art that are created in the natural landscape but leave no trace of their presence behind. 'The continual reference to the disappearance of the art object suggested to me the eventual disappearance of the artist himself', he wrote. This sequence of photographs was broadcast on German television in October 1969. One photo was shown each day, for about two seconds, sometimes interrupting whatever programme was being shown at peak viewing time. They were neither announced nor explained – viewers had to make what sense of them they could.

Gallery label, April 2009
5/7
artworks in A view from Buenos Aires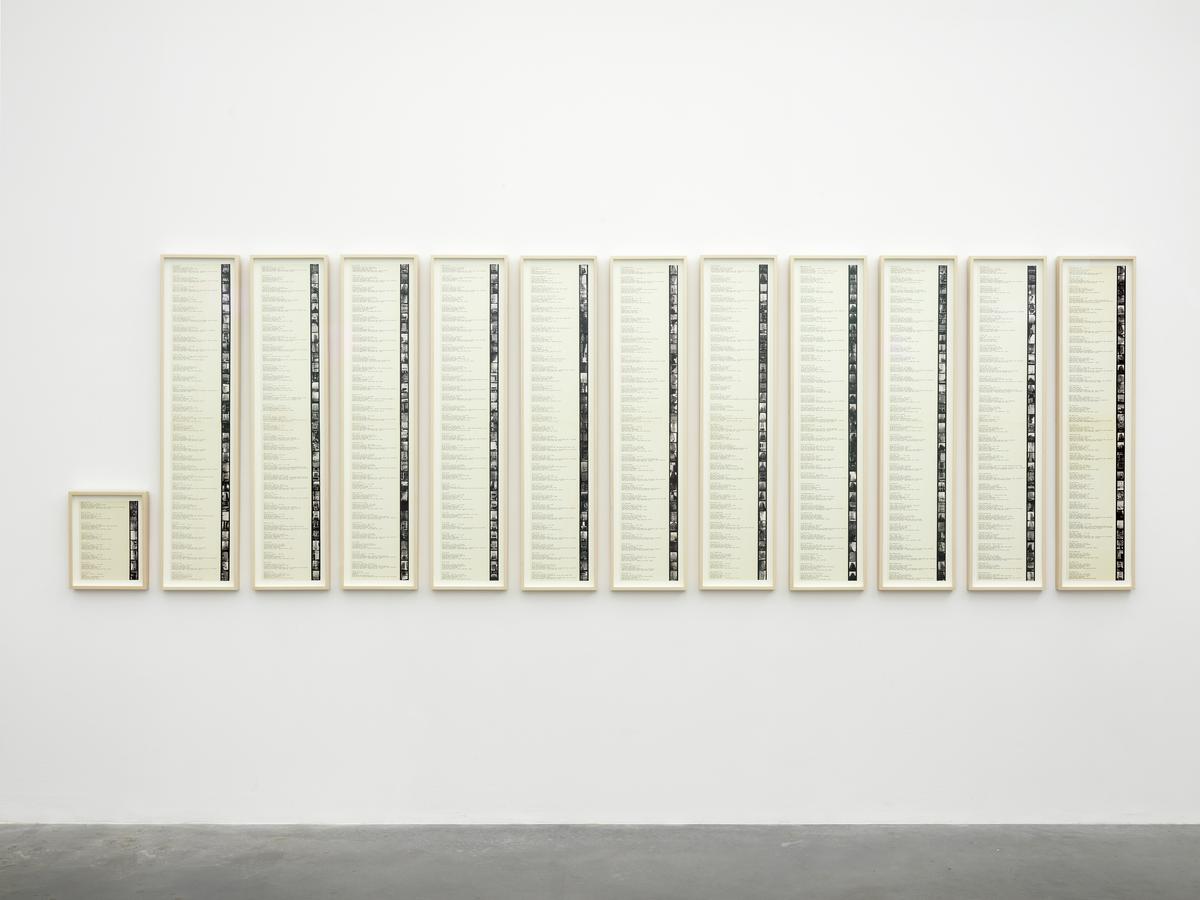 Hans Haacke

,

Sol Goldman and Alex DiLorenzo Manhattan Real Estate Holdings, a Real-Time Social System, as of May 1, 1971

1971

Many of Haacke's works reveal hidden political and economic links between corporations and institutions. He wanted to show how corruption and injustices were rooted in larger social systems. This work includes a map of Manhattan. It features the locations of properties owned by a powerful real estate firm that had been involved in violent crimes and unethical practices. Haacke wanted to expose the true extent of the firm's power in the New York property market and the fraud and exploitation at its core. Haacke was included in the groundbreaking Systems Art exhibition organised by the CAyC in Buenos Aires in 1971.

Gallery label, December 2020
6/7
artworks in A view from Buenos Aires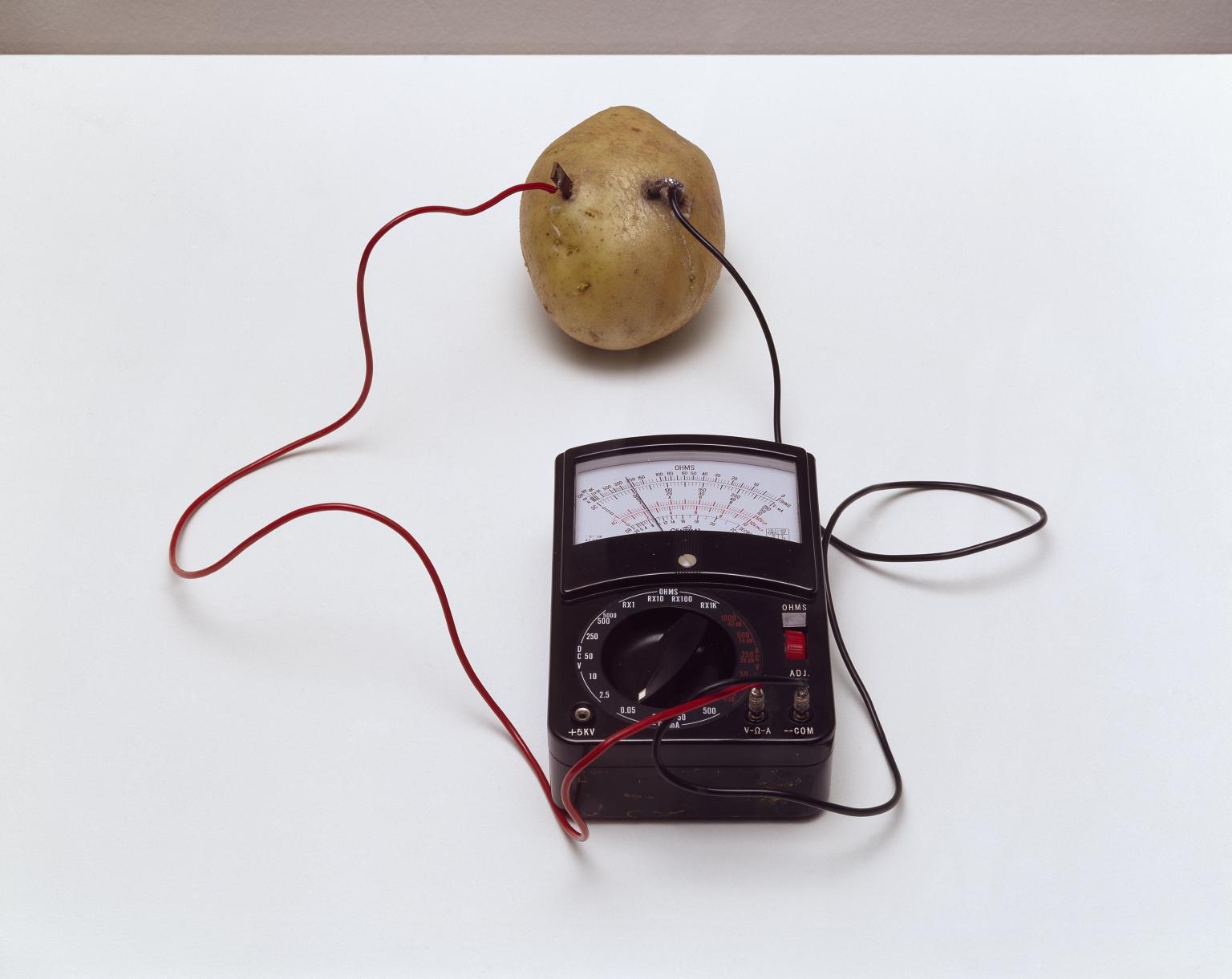 Victor Grippo

,

Energy of a Potato (or Untitled or Energy)

1972

Energy of a Potato (or Untitled or Energy) is a work by the Argentinian artist Víctor Grippo. It consists of a simple electrical circuit in which an analogue multimeter is connected to a potato by two wires. Because the electrodes on the end of the wires are of different metals – one copper, the other zinc-galvanised iron – the circuit allows the potato to act as a simple battery. The battery works through the reciprocally balanced processes of oxidation and reduction occurring at the electrodes: the acidic juices of the potato oxidise the zinc, producing electrons that pass through the wires and multimeter to the copper electrode, where they reduce hydrogen ions to form hydrogen. Because the zinc slowly dissolves as a result of this process, the electrode needs to be renewed periodically. Similarly, the potato perishes and when the work is exhibited it is usually replaced weekly. When exhibited the multimeter is usually set to display voltage (V), rather than current (mA).
7/7
artworks in A view from Buenos Aires
Art in this room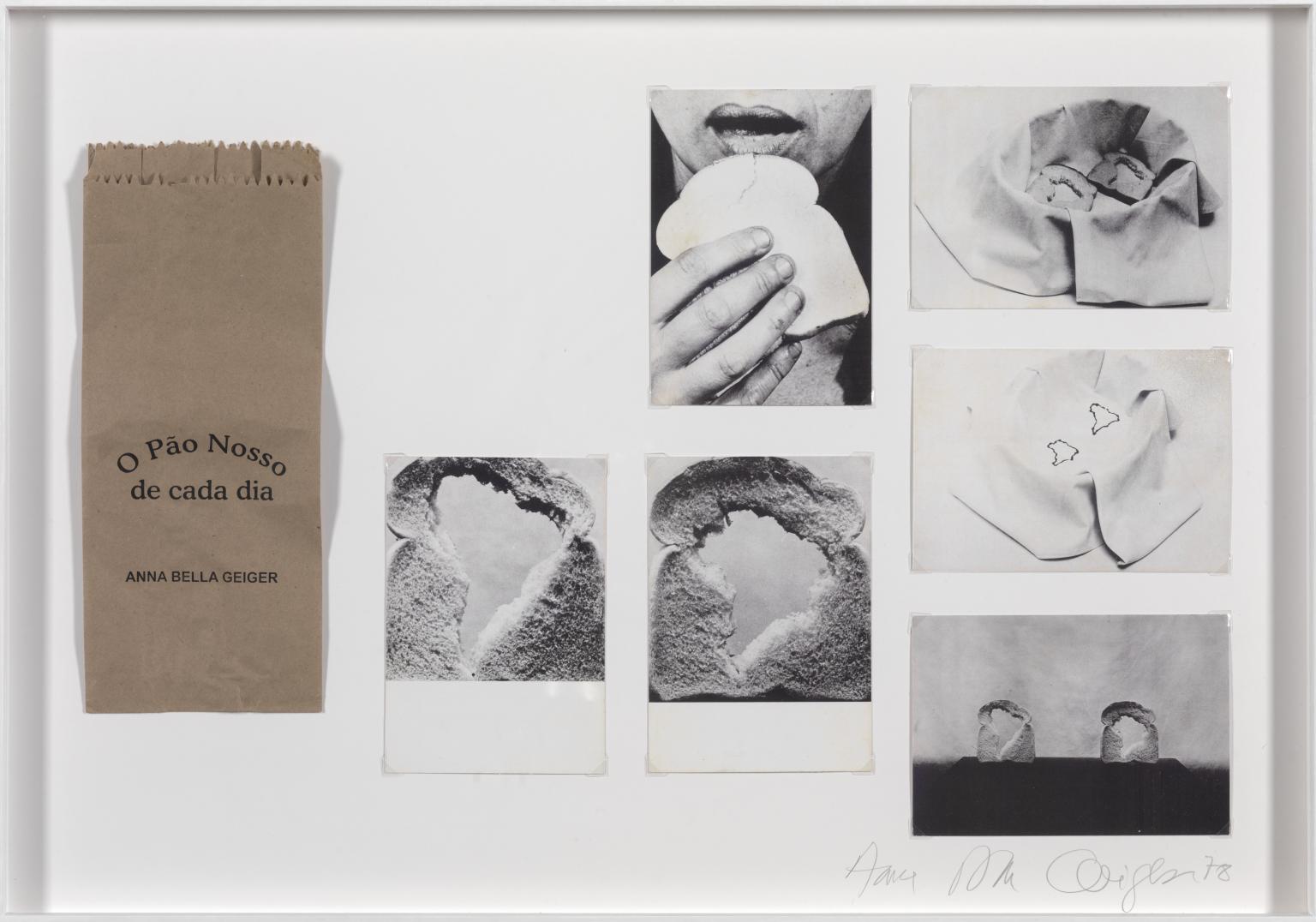 Anna Bella Geiger
Our Daily Bread
1978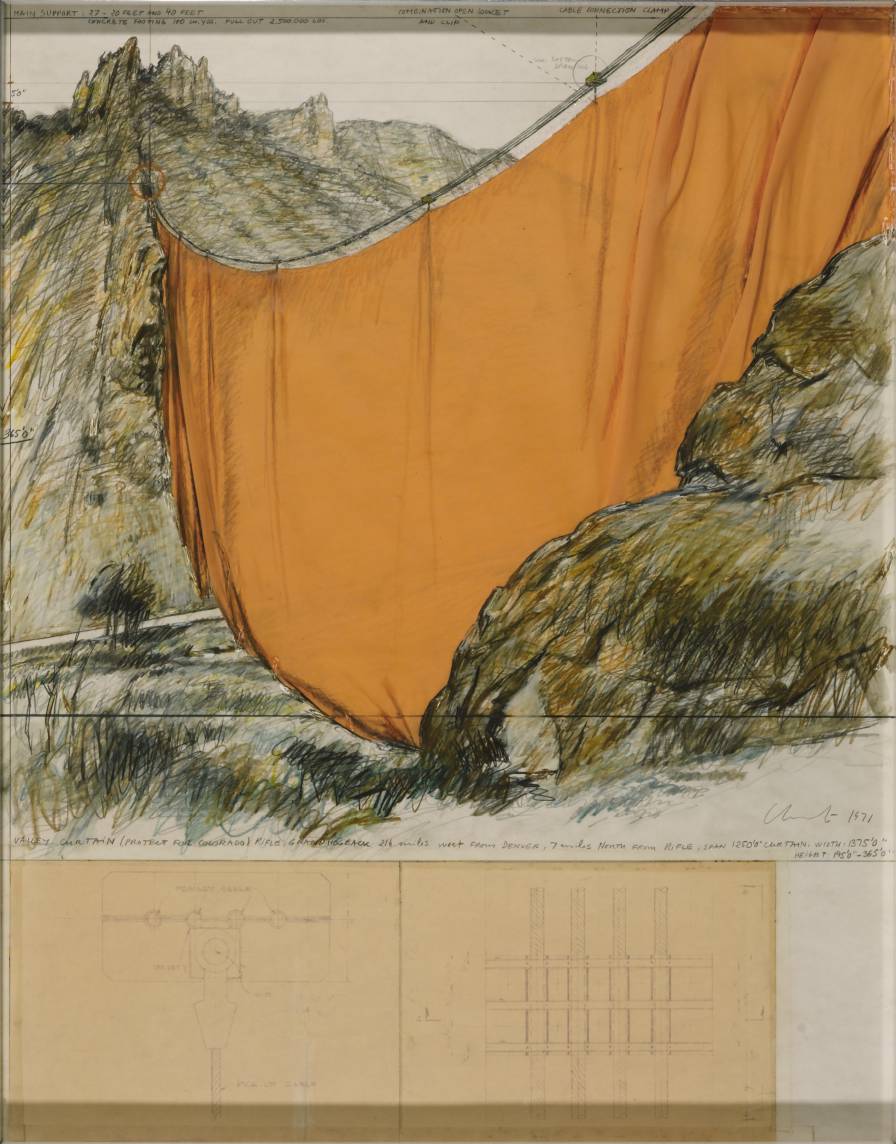 Christo (Christo Javacheff)
Valley Curtain (Project for Colorado) Rifle, Grand Hogback
1971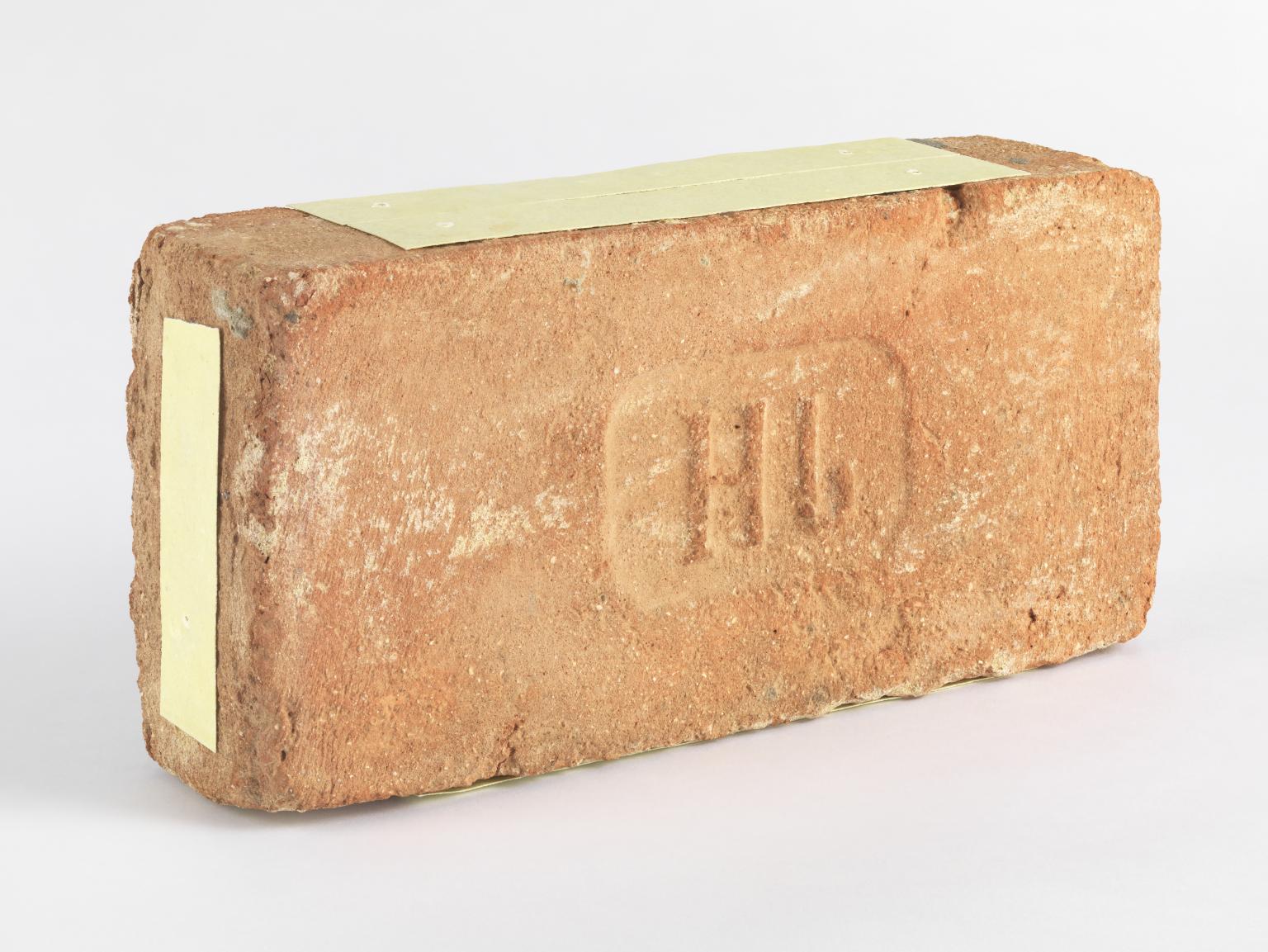 Tamas St. Auby (Szentjoby)
Czechoslovak Radio 1968
1969, 2008
Sorry, no image available
Horacio Zabala
The distortions are proportional to the tensions I, II & III
1974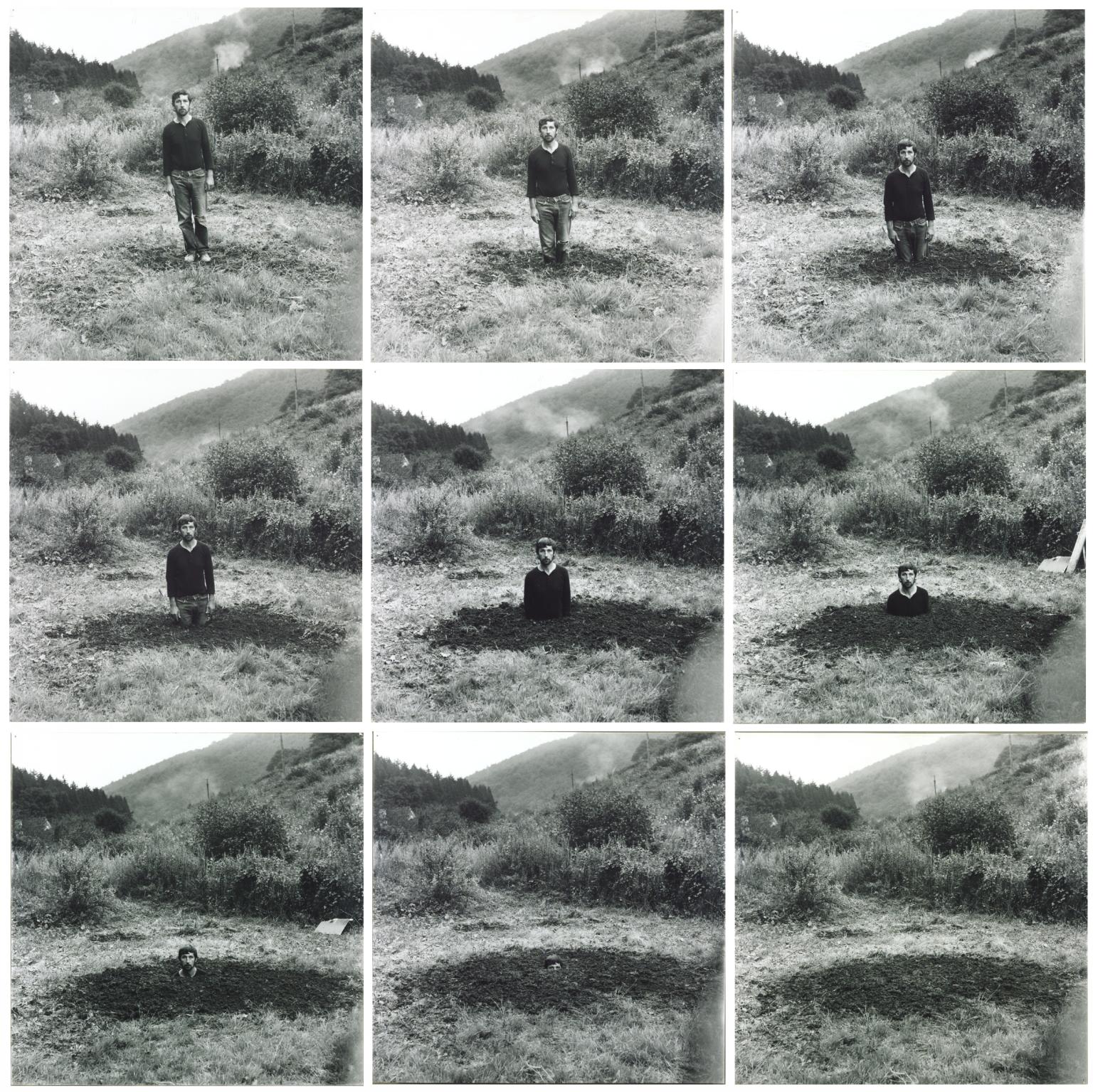 Keith Arnatt
Self-Burial (Television Interference Project)
1969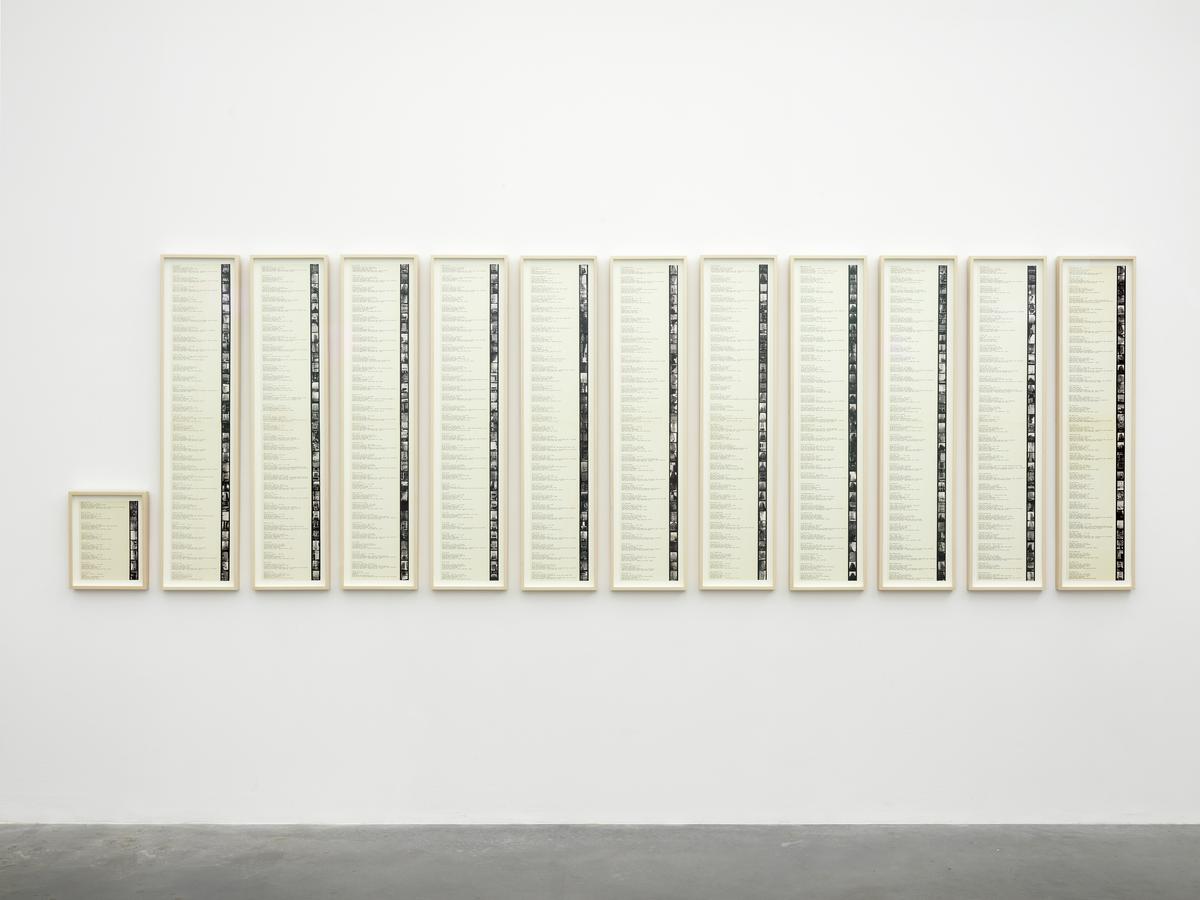 Hans Haacke
Sol Goldman and Alex DiLorenzo Manhattan Real Estate Holdings, a Real-Time Social System, as of May 1, 1971
1971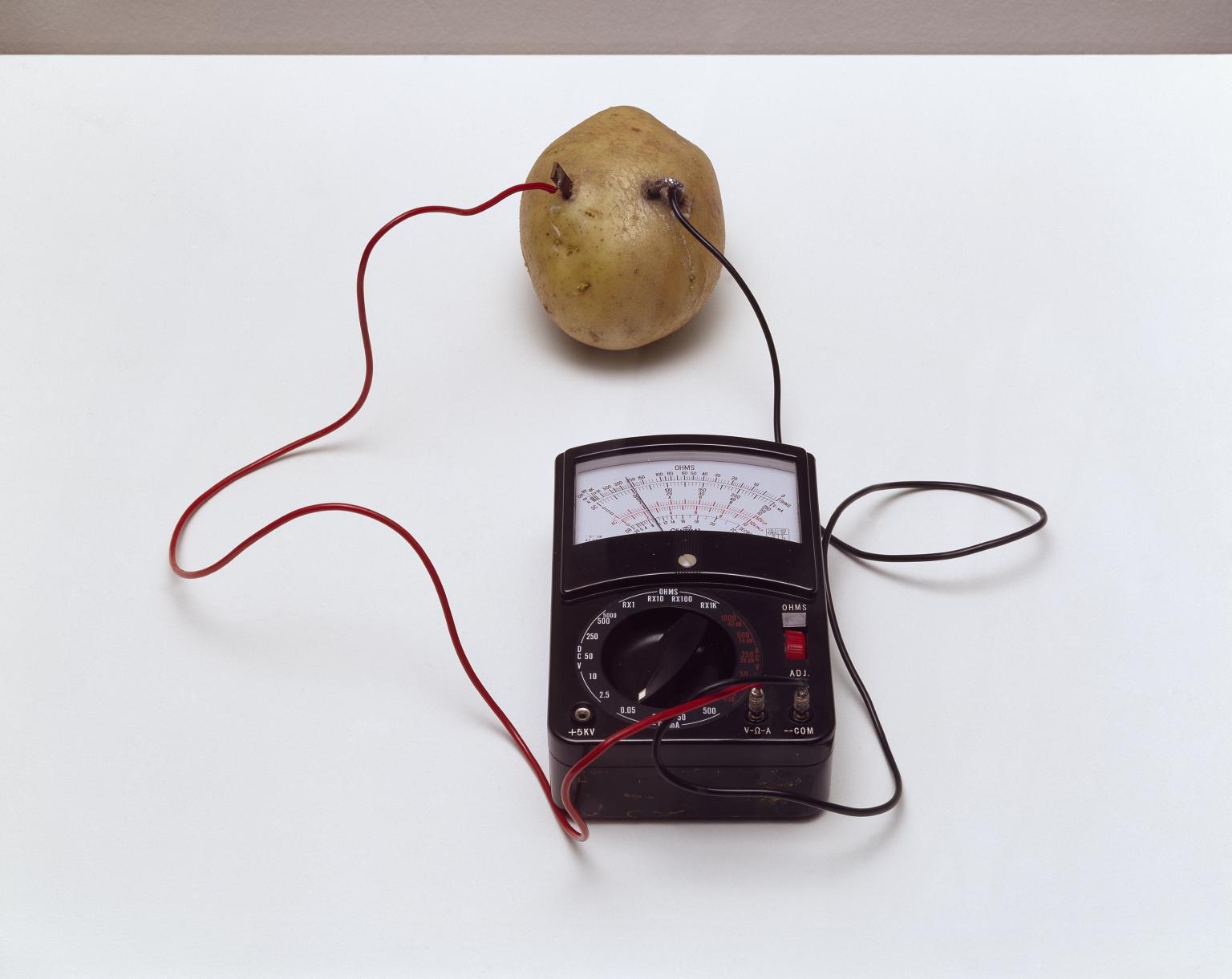 Victor Grippo
Energy of a Potato (or Untitled or Energy)
1972