What colours do you associate with festivals or celebrations?
The Start display shows art from a range of countries, cultures and times, linked by a focus on colour. The film in this first room shows red and black ants carry coloured confetti across the floor of the Brazilian rainforest. The brightly coloured discs contrast with the brown tones of the earth.
The title of the film translates as 'Ash Wednesday', the day marking the start of the Christian season of Lent. This is a forty-day period of fasting before Easter. It is also the last day of the Brazilian carnival festival, when colourful confetti is thrown in the streets. Perhaps the ants are tidying up after the end of the festival.
The film tries to capture the mood of the end of the festival, when there is a certain melancholy after the days of madness and excess.
Rivane Neuenschwander.
Tate Modern
Natalie Bell Building Level 2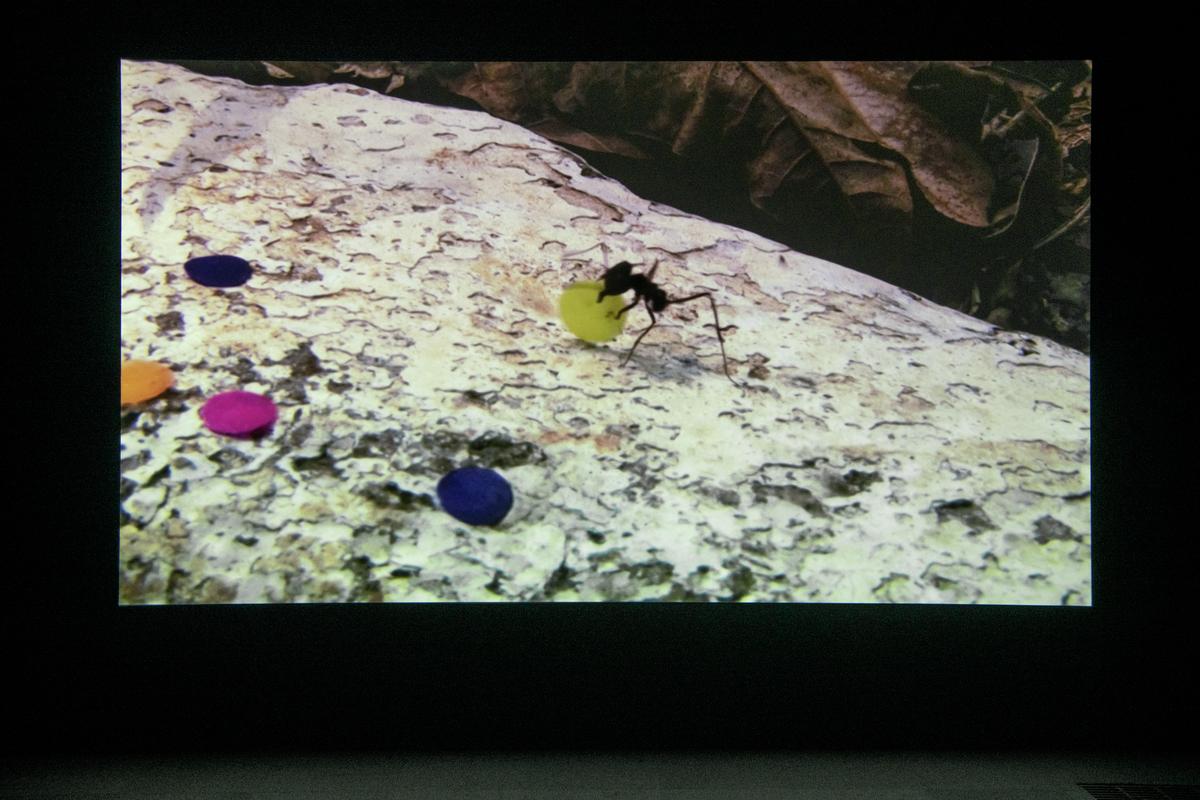 Rivane Neuenschwander, Cao Guimarães

,

Quarta-Feira de Cinzas / Epilogue

2006

Quarta-Feira de Cinzas / Epilogue 2006 is a single channel video lasting 5 minutes and 48 seconds and shown on a loop. It features a ground-level, close-up view of red and black ants carrying coloured confetti across the floor of the Brazilian rainforest. The film starts with one ant carrying a piece of gold confetti over a gritty surface, followed by shots of differently sized ants attempting to grip or drag confetti across soil and tree trunks. As the video progresses it begins to show multiple ants per scene: a pair collaborate to move a disc up a small hill, and a group fights over a piece of silver confetti. The vegetation surrounding the insects becomes denser and the shots show increasing numbers of ants and confetti pieces, the brightly coloured, often reflective discs contrasting with the earthy tones of the rainforest. The video concludes with a multitude of ants carrying their confetti into a dark crevice in the soil. The film's soundtrack combines ambient noises, such as bird calls, leaves rustling and cars passing, with the rhythmic sound of matchsticks hitting the ground. The latter are intermittent at first, becoming more constant during the film's second half. The work is displayed in a 5 x 7 or 6 x 8 metre room with black walls and a dark grey carpet, and projected onto the wall at a width of 3–4 metres. The projection area is covered with reflective white paint and positioned at a height that corresponds roughly to the eye level of the seated viewer (see 'Specifications for the Room', instructions from Galeria Fortes Vilaça to Tate, 4 April 2007, Tate Conservation File).
Art in this room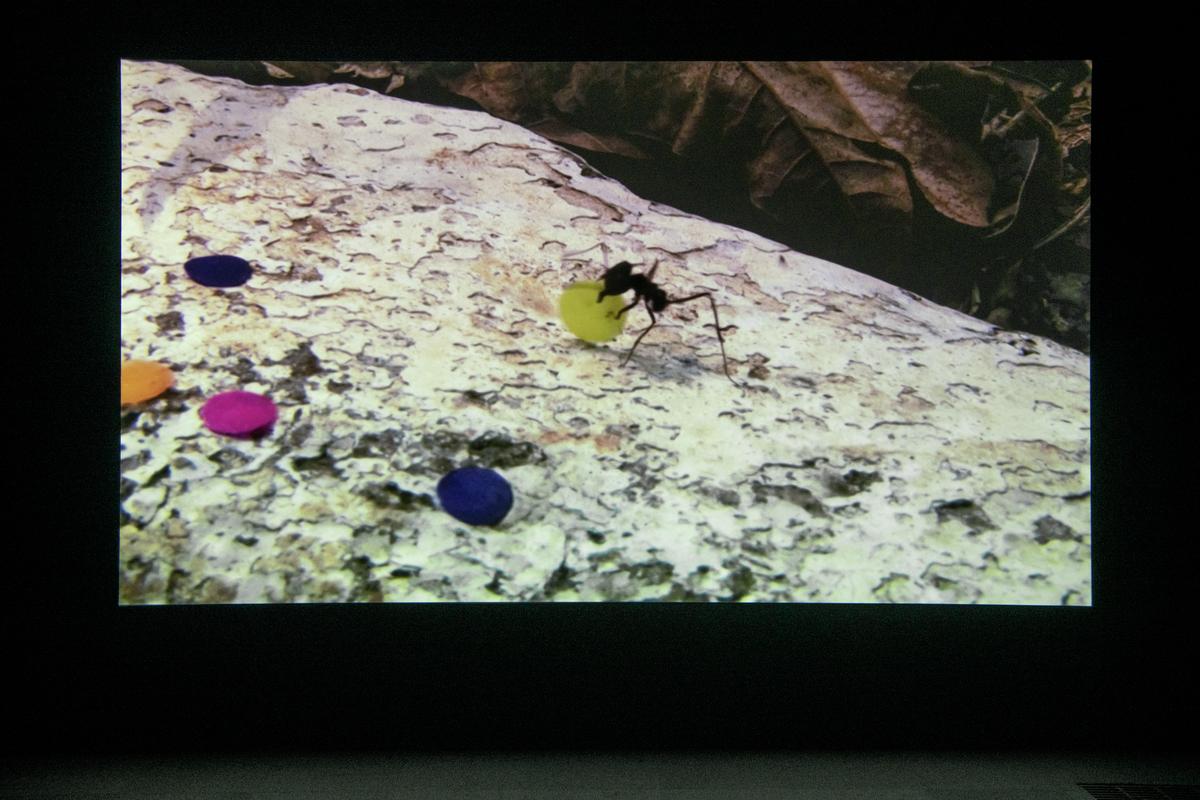 Rivane Neuenschwander, Cao Guimarães
Quarta-Feira de Cinzas / Epilogue
2006