If you remain in the cinema as the titles roll, you will, towards the end, see the foley artists given their credit. The original Mr. Foley has vanished from memory but his successors still practice their skill. When a film is in post-production, foley artists create sounds, usually those made by people. They use cloths, shoes, props and pits filled with different grades of grit and stone to manufacture footsteps, kisses, punches and movements. They work directly to screen in dubbing studios as the silent footage rolls. Foley artists represent an anachronism, the survival of acoustic invention in an era of digitised technology.
Tacita Dean has often worked within the framework of cinema. In Foley Artist 1996 she principally uses sound, rather than pictures or dialogue, to convey a story, and to evoke its mood and setting. Tacita Dean's story can be pieced together; someone leaving the theatre to the opening lines of Henry IV Part II ('Enter RUMOUR, full of painted tongues. 'Open your ears; for which of you will stop the vent of hearing when loud Rumour speaks?'), a back alley exit, a wet walk to the pub, then a sudden cut to a chase on the beach. It ends with a return to the theatre as the play ends ('my tongue is weary; when my legs are too, I will bid you good night'), and with kissing out on the sea front. One of the stories is circular and complete. Beginning and ending in the theatre during a stage performance it adheres to the classical unity of time, place and action. The other scene is suddenly introduced, like a short section from the middle of a film. It is purely cinematic and mysterious in its activities. Dramatic tension comes from this juxtaposition. Different story-lines affect each other without a logical connection. Cinema time, foley time, theatre time co-exist in our experience of the installation.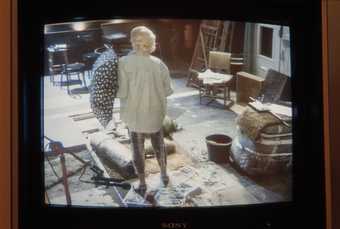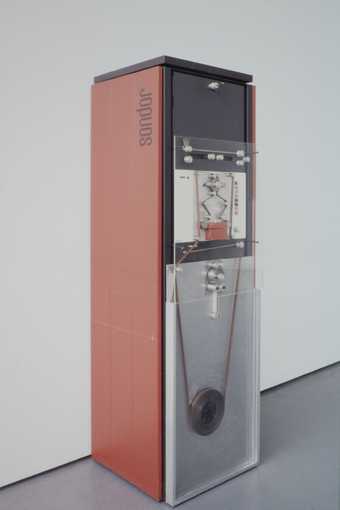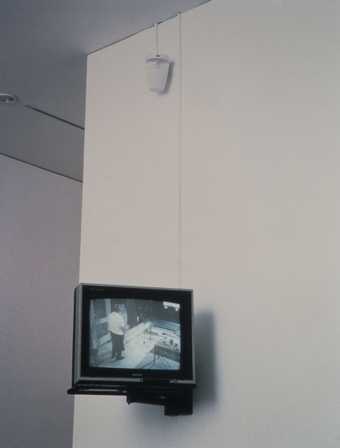 Sound animates the room. The space is empty except for an illuminated display, a monitor and a statuesque magnetic tape machine. Sound passing between speakers evokes movement and changes in location. The action can be reconstructed by reference to a lightbox. It recalls a cinema screen but illuminates a dubbing chart which functions like an orchestral score, notating sounds, and giving duration, cues and changes in dynamics. The monitor transmits footage of the foley artists at work. It forms a codicil to the installation, a quotation that makes visible the artifice of cinematic production. We hear the sound effects as they are documented making them. Between takes and in silence while other sounds are relayed, they prepare props, rest, make coffee. The tape spooling through the deck and loop box is a further manifestion of the plot moving along. Time can be measured in lengths; a few inches of tape for a breath or a creaking door.
Sound and image have remained the irreducible components of cinema for many decades. Each is as sophisticated and as carefully constructed as the other. As in filming, sound is recorded episodically take by take, later edited into a seamless whole and, finally, laid onto the film. In some ways it is harder to capture than the image. The microphone cannot without interference record sounds made more than a short distance away, unlike the zoom lens, which is able to bring into sharp focus distant actions. There is no comparable depth of field to the range of the camera lens. These are shortcomings made good by the skills of foley artists. The sound they create needs to be as three-dimensional as the scene from which they take their cues.
Dean's inclusion of older analogue technologies suggests a preference -almost a nostalgia -for devices that are mechanical not electronic; devices that move when something is happening. Foleys are the human parallel to these: real feet on the film footage. Ironically, only the newest technology synchronises and transmits this acoustic drama precisely. Moreover, the infinite refinements of digital coding and the miniaturisation of its processes can replicate any sound. But it fails to capture the essence. It appears alien to the poetry of analogy and equivalents; of sounds measured by lengths of magnetic tape.
Text written by Sean Rainbird

Biography
Born 1965 in England. 1985-8 Falmouth School of Art. 1990-2 The Slade School of Art. Lives and works in London.
Programme
The 1996-7 exhibition programme is supported by the Henry Moore Foundation, the Patrons of New Art and an anonymous donor.