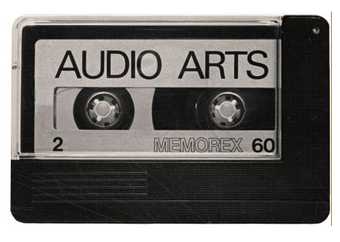 The innovative audio cassette-magazine Audio Arts was established by Bill Furlong in 1973. Edited and produced by Furlong, it comprises an integral element of his art practice.
A small part of the vast Audio Arts archive is shown here for the first time in Britain. Four hours of recorded clips can be accessed via headphones.
The idea of Audio Arts arose out of conversations between two young artists, William Furlong and Barry Barker, in the early 1970s. Its publication was a part of the conceptual experimentation taking place within the contemporary art of the time.
Since its inception in 1972, Audio Arts has grown to become the world's most comprehensive and coherently focused sound archive of artists' voices as well as sound art. The cassette-magazine has been in continuous and regular publication for thirty-five years, with over twenty-five volumes of four issues each.
The five vitrines on display contain original letters, documentation and publicity for Audio Arts, alongside related audio material from similar organisations and like minds. The archive itself (currently amounting to over 200 boxes) contains all of the unedited master tapes of recordings undertaken for the magazine. The equipment and materials required to undertake the recordings can be seen on plinths and four hours of recorded clips can be accessed via headphones from the benches beside the wall.
This display celebrates the acquisition by Tate Archive of the records and papers of Audio Arts (TGA 200414) from Bill Furlong in 2004. Bill Furlong would like to acknowledge the significant contributions to Audio Arts of Violet Barrett, Michael Archer and Mel Gooding, as well as the following interviewers; Zoe Irvine (and production), Jean Wainwright, also Chloe Briggs, Lucia Farinati, Kathy Kappinsky, Rachel Withers, Gray Watson, Helen Sumpter and Claudia Wegner. The recorded excerpts have been facilitated by Sonica. Audio Arts is grateful for the support of the Arts Council.
This display was curated by Bill Furlong and Adrian Glew.