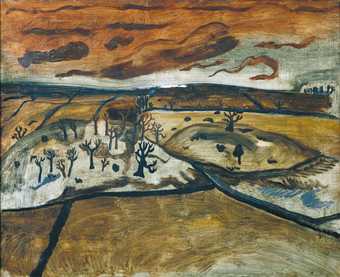 The present exhibition of works by Ben Nicholson was originally chosen by a committee of the British Council for the Venice Biennale.
Ben Nicholson's work has never been doctrinaire, and even when it approaches pure abstraction, as it does in the white reliefs of about 1935, it is still intensely personal.
It is not merely that the range of colour (always a clear indication of personal sensibility) remains constant; the symbolic forms used by the artist are also constant and personal and all over the work there is an utmost clarity and precision dictated, not by some metaphysical doctrine, but solely by the artist's subtle intelligence.
The present exhibition reveals the artist's evolution. The still-life paintings of 1921–24 are already essentially abstraction, and we pass by an easy and logical transition, by way of the paintings of 1932–33 to the white reliefs of the later 1930s.
The later works of the 1940s and 1950s, though essentially abstract, are not so uncompromising.
Herbert Read