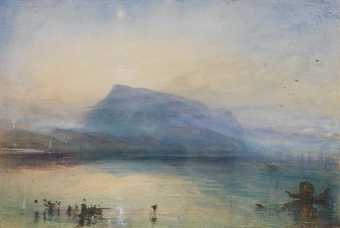 Dazzling, evocative and sublime, this exhibition provides a rare opportunity to see some of J.M.W. Turner's most spectacular works. Usually outnumbered by his grand oil paintings, around 150 of Turner's beautiful watercolours are displayed, giving a comprehensive view of the artist's astonishing use of watercolour, his techniques and his influences.
At the heart of the exhibition another seminal British artist, David Hockney, presents his own selection of Turner's unique colour studies or 'beginnings' and also provides commentary on the artist's techniques.
The exhibition tracks Turner's watercolour work through time. From architecture to topography, ideal and historic landscape to nature studies, and finished works to private sketches, the selection reveals Turner's extraordinary range as a watercolourist. At the same time, it shows the development of the virtuoso techniques that enabled him first to paint watercolours that could compete with oil paintings, and later to transform all aspects of his art by their example.
The exhibition includes The Blue Rigi c1841–2, Turner's magnificent work which was recently acquired by Tate with the help of the most successful public appeal ever organised by The Art Fund.
A hugely enjoyable and very beautiful exhibition
The Daily Telegraph

Breathtaking beauty
The Times