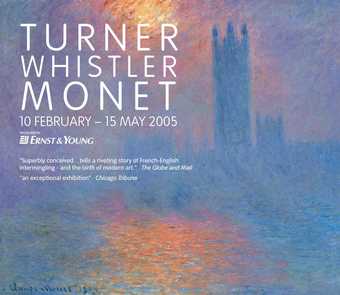 An unbeatable combination - three of the most popular artists of the 19th century plus plenty of sun-dappled water
Observer

Put Turner and Monet together and you have a fresh equation. Combine them with Whistler, who is much rarer, and you have a completely new recipe
Sunday Times
J.M.W. Turner, James Abbott McNeill Whistler and Claude Monet each changed the course of landscape painting and this exhibition, featuring 100 paintings, watercolours, prints and pastels, traces for the first time the artistic dialogue between them.
Whistler and Monet were friends and collaborators who shared a deep admiration for the work of Turner. Their work and aims made a vital contribution both to the development of Impressionism, the art movement that emerged in the 1870s, and the evolution of a symbolist landscape. On close examination, a pattern of themes and variations begun by Turner appears to have been developed in the artistic interchange between the younger artists Whistler and Monet.
For artists committed to working from nature and seeking beauty in contemporary environments, industrialism and its pollution presented an aesthetic dilemma. They directed their focus increasingly on transient effects of light and weather and revisited their subjects under varying conditions, experimenting with innovative painting techniques, adapting the tentative quality of the sketch, delicate veils of watercolour wash, and the chalky quality of pastel to their oil paintings, which led to accusations of lack of detail and finish. The exhibition focuses on views of the River Thames, the Seine and the city and lagoon of Venice, works which were controversial in their own day but are now seen as some of the most poetic, evocative images of nature ever produced.
The exhibition is divided into six thematic sections beginning with a room displaying some of Turner's oils and watercolours that were on view in London when Whistler and Monet visited and from which they went on to develop their own distinctive effects. This is followed by a room showing Whistler and Monet's early views of London, capturing its unique atmospheric conditions and beginning the transition from a realist to an impressionist approach to landscape. Whistler's Nocturnes, magical and dreamlike paintings of London by night, are given a section of their own.
Monet's paintings of Mornings on the Seine echo the Nocturnes and are displayed along with Turner's views of Lake Lucerne in Switzerland, showing both artists working in series. Whistler and Monet returned to London in the 1880s and 1890s and these later views of the city form the next room. It includes the extraordinary views of the Houses of Parliament by Monet and Whistler's charming lithographs depicting his panoramic view from the Savoy hotel. The exhibition closes with the three artists' visions of Venice. From Turner's watercolours of vast lagoon expanses, shimmering light and reflections to Whistler's shadowy forms and distinctive light effects to Monet's synthesis of the two, all three artists found inspiration in this sublime city.
This exhibition has been organised by the Art Gallery of Ontario, Toronto, Tate Britain, London, and the Réunion des musées Nationaux and musée d'Orsay, Paris. It is accompanied by a full-colour catalogue edited by Katharine Lochnan and featuring contributions from a range of international scholars. The curators at Tate Britain are Alison Smith and Ian Warrell.