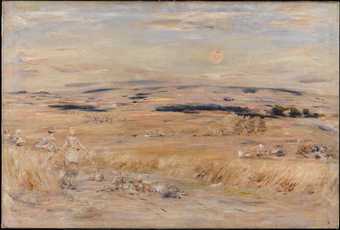 Even as a young man, as soon as William McTaggart had determined to be an artist, he seemed to have resolved to devote himself to painting people and the landscape of his native land, and was content to work and die in Scotland.
The centenary of his birth (1935) was considered an appropriate occasion for his introduction to a wider and as appreciative a public as that of his native land.
He remained unrepresented in the Tate Gallery until 1931, when Emigrants Leaving the Hebrides, a subject which kindled his imagination repeatedly in later years, was purchased.
Two years later Harvest Moon was acquired under the terms of the Chantrey Bequest.
The exhibition wanted to prove something of a revelation to those who had been inclined to regard his northern reputation as a matter of regional patriotism.
Davis Fincham