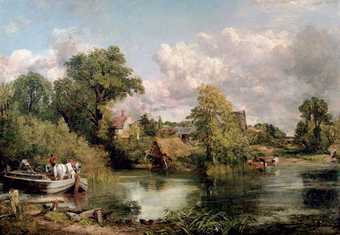 I do not consider myself at work without I am before a six-foot canvas
– Constable to John Fisher, 1821
This major exhibition offers the first opportunity to view John Constable's seminal six-foot exhibition canvases together. The 'six-footers' are among the best-known images in British art and comprise the famous series of views on the river Stour, which includes The Hay Wain 1820–1, as well as more expressive later works such as Hadleigh Castle 1829 and Salisbury Cathedral from the Meadows 1831. These paintings lie at the very heart of Constable's achievement and not even in the artist's lifetime were they ever brought together.
Constable's decision to start painting six-foot landscapes around 1818–9 marks a significant turning point in his career. He was determined to paint on a larger scale (about six foot by four and a half) both to attract more notice at the Royal Academy exhibitions but also, it seems, to project his ideas about landscape on a scale more in keeping with the achievements of classical landscape painting.
As important as the six-footers themselves was Constable's decision to paint related full-scale preliminary sketches for most of them. These large sketches, with their free and vigorous brushwork were unprecedented at the time and they continue to fascinate artists, scholars and the general public. It has been said that it is this practice more than any other aspect of Constable's work which establishes him as an avant-garde painter, resolved to re-think the demands of his art and to address them in an entirely new way. The exhibition re-unites the full-scale sketches with their corresponding finished pictures in order to explore their role in Constable's working practice.
The exhibition includes nine such pairings and some sixty-five works in total. Highlights will include the bringing together of the six river Stour pictures for the first time, allowing the visitor to appreciate how, as the series progresses, Constable succeeds in developing a single thematic concept – the life of the Suffolk river he had known since boyhood – and gradually invests it with a greater sense of drama, heroic action and narrative weight.
The exhibition is curated by Anne Lyles and Rachel Tant, together with Franklin Kelly at the National Gallery of Art, Washington. It will travel to the National Gallery of Art, Washington, in the autumn of 2006 before opening at the Huntington Library and Art Gallery, San Marino, in early 2007. The exhibition is accompanied by a fully illustrated catalogue published by Tate Publishing.