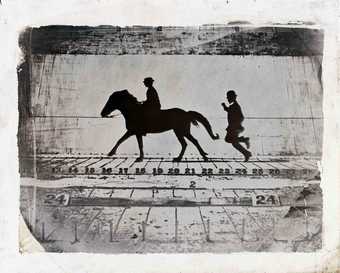 Eadweard Muybridge was the man who famously proved a horse can fly. Adapting the very latest technology to his ends, he proved his theory by getting a galloping horse to trigger the shutters of a bank of cameras. This experiment proved indisputably for the first time what no eye had previously seen – that a horse lifts all four hooves off the ground at one point in the action of running. Seeking a means of sharing his groundbreaking work, he invented the zoopraxiscope, a method of projecting animated versions of his photographs as short moving sequences, which anticipated subsequent developments in the history of cinema.
British-born Muybridge, who emigrated to the United States in the 1850s, is one of the most influential photographers of all time. He pushed the limits of the camera's possibilities, creating world-famous images of animals and humans in motion. Just as impressive are his vast panoramas of American landscapes, such as the Yosemite valley, and his documentation of the rapidly growing nation, particularly in San Francisco. His dramatic life included extensive travels in North and Central America, a career as a successful lecturer, and the scandal of his trial for the murder of his wife's lover.
This exhibition brings together the full range of his art for the first time, and explores the ways in which Muybridge created and honed his remarkable images, which continue to resonate with artists today. Highlights include a seventeen foot panorama of San Francisco and recreations of the zoopraxiscope in action. His influence has forever changed our understanding and interpretation of the world, and can be found in many diverse fields, from Marcel Duchamp's painting Nude Descending a Staircase and countless works by Francis Bacon, to the blockbuster film The Matrix and Philip Glass's opera The Photographer.
In addition to Muybridge at Tate Britain, his birthplace Kingston upon Thames celebrates and investigates its unique Muybridge Collection with special exhibitions at Kingston Museum and at the Stanley Picker Gallery, Kingston University. Visit the Muybridge in Kingston website for more information.