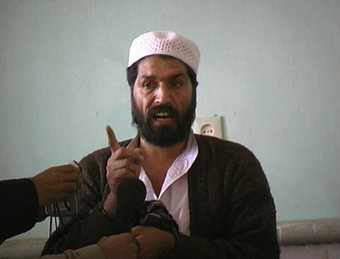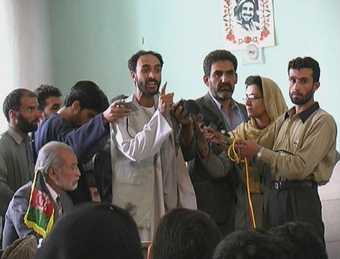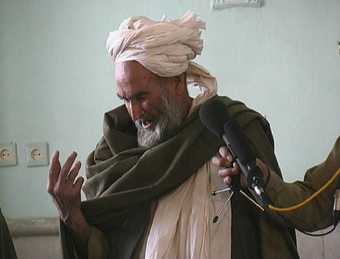 A work by Langlands & Bell, that was withdrawn from last year's Turner Prize on the advice of Tate's lawyers is now on display in the Lightbox space at Tate Britain.
At the time of the Turner Prize exhibition in October 2004, Tate and the artists were advised that the work, Zardad's Dog, could be in contempt of court if shown during the landmark trial, then taking place in London, of the Afghan warlord Faryadi Sarwar Zardad. Charged for conspiracy to torture and take hostages between 1992 and 1996, the court heard that as part of his reign of terror he and his men had kept a "human dog" to savage victims. Zardad was convicted on Monday 18 July 2005 after a retrial at the Old Bailey.
Zardad's Dog is a short film edited from live footage that the artists shot at the first capital trial since the fall of the Taliban. Filmed in the Supreme Court in Kabul in October 2002 the film depicts a crowded, rather run-down courtroom presided over by armed guards. Abdullah Shah, nicknamed Zardad's Dog because of his penchant for biting his victims before murdering them, is said to have killed three of his wives and five of his children. The video is simply edited, with only basic explanation provided. The introductory religious blessing, the prosecutor's speech, the witness statements and the defence's personal response, are all spoken in Afghan, yet we clearly follow the range of emotions, from fear, to defiance, to gravity, to hope – the significance of this historic event transcends language.
Zardad's Dog is one of a diverse collection of works that make up The House of Osama bin Laden which resulted from an intense two week stay in Afghanistan, commissioned by the Imperial War Museum, London. Using a still and digital video camera, the artists recorded visits to, among other places, the site of the giant statues of Buddha at Bamyan that were destroyed by the Taliban and after a long and dangerous journey, the former home of Osama bin Laden at Daruntah, where he lived for a period in the late 1990s. Each of the works serves to question our expectations and understanding of the aftermath of war in the twenty-first century.
Ben Langlands was born in London in 1955 and Nikki Bell was also born in London in 1959. They studied fine arts together at Middlesex Polytechnic from 1977-80 and have been working together since 1978. Langlands & Bell explore the web of relationships linking people and architecture, and the coded systems of circulation and exchange which surround us. Their work ranges from sculpture to new media projects and full-scale architecture. Both artists currently live and work in London.