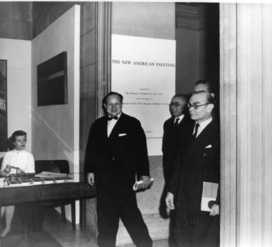 This is the second occasion on which The Museum of Modern Art has collaborated with the Arts Council and the Tate Gallery in bringing an exhibition of American art to the British public. The first was in 1956, when Modern Art in the United States: A Selection from the Collections of The Museum of Modern Art, New York was shown in London.
A survey of American painting, sculpture, and printmaking of the twentieth century, this exhibition was drawn exclusively from the collections of our museum and presented the wide variety of contemporary styles which have developed in our country, ranging from the so-called modern primitives and realists to the various schools of abstraction.
Particular attention by the English critics and the public was devoted to the work of the more recent Avant-garde of American painters included in this exhibition, which was widely held to be considered America's most distinctive contribution to contemporary art.
The New American Painting, showing works by seventeen painters, was arranged in response to these requests.
Since 1950, hundreds upon hundreds of American artists have turned to 'abstract expressionism', some of them, like Tworkov, in mid-career, others, like Hartigan and Frands, while they were still students. Sam Francis is unique as the only expatriate in the show and the only painter whose reputation was made without benefit of New York, having moved directly to Paris from San Francisco where Still and Rothko had been honoured and influential teachers. Sculptors related to, and sometimes closely allied with, the painters' movement should be mentioned, notably Herbert Ferber, David Hare, Ibram Lassaw, Seymour Lipton, Theodore Roszak and David Smith.
The movement, after several tentative early years, has flourished in its maturity since about 1948, roughly the starting point of this show. Naturally, because of its dominance, it has aroused much resistance in the United States among other artists and the public, but it has excited widespread interest and then influenced the painting of some of its most stubborn adversaries. Others are staunchly resisting what has inevitably become fashionable.
AHB