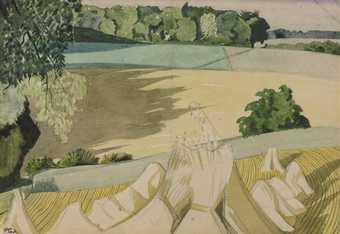 Generations of artists have been inspired by the beautiful and often stunning landscape around Britain. In turn their paintings have influenced our love of the countryside and have shaped the way we view Britain. Many of Britain's best known painters, including Turner, Gainsborough and Constable, had passionate relationships with the great outdoors and their paintings of dramatic seascapes, sublime mountains, picturesque coves and enchanting woods are the subject of this outstanding exhibition at Tate Britain.
A Picture of Britain is part of a unique collaboration with the BBC which is broadcasting a complementary six part BBC One programme presented by David Dimbleby. Both the TV programmes and the exhibition take six journeys around the country, covering the North, South, East and West of Britain, the Heart of England and the Highlands and Glens. By exploring the artistic response to the landscape, A Picture of Britain contemplates subjects such as travel, nationhood and romantic yearning.
A celebration of the British landscape, A Picture of Britain includes paintings of Snowdon in Wales, Glencoe in Scotland as well as the Lake District. Turner's Norham Castle, Gainsboroughs' Conard Wood, John Constable's Flatford Mill, L.S. Lowry's Industrial Landscape and James Ward's Gordale Scar are just some of the wonderful paintings in this exhibition. Drawing on major works from public and private collections as well as from Tate's own unrivalled collection of British landscape painting, the exhibition brings together over 250 works including oil paintings and watercolours as well as drawings, prints, photographs, ceramics, sculpture and other fascinating material.