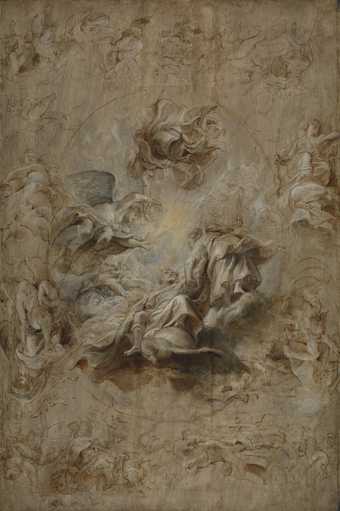 Sir Peter Paul Rubens (1577–1640) was one of the pre-eminent painters of the 17th century. Based in Spanish-ruled Flanders, he painted portraits, landscapes, altarpieces and mythological scenes for the leading figures of Europe.
Not only an artist, but also an important diplomat, Rubens was in London 1629–30 attempting to secure peace between Spain and England. During this time he was commissioned to paint the ceiling of the Banqueting House at Whitehall, then the main London residence of the monarch.
The finished paintings are the most important surviving commissions of their kind in London, and this very first sketch (probably shown to Charles I for approval) shows Rubens's earliest thoughts for the design and arrangement.
Once the initial design was approved, Rubens produced more detailed oil sketches for each of the scenes, but no other sketch for the overall composition of the ceiling exists, making this a unique treasure in the history of British art.
Valued at £11.5m, the painting is on offer to Tate at £6m net of special tax concessions. Tate has so far secured £1.5m towards this sum including a pledge of £500,000 from The Art Fund and £300,000 from Tate Members. We are actively seeking to raise the balance by the end of July 2008 with the help of The Art Fund. For more information on how you can help, please visit the special campaign website or call 0870 053 4433.