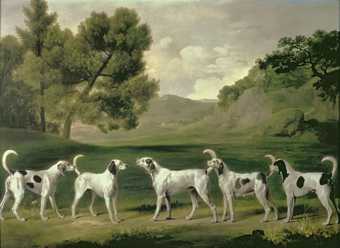 Marking the bicentenary of the death of George Stubbs (1724–1806), this special display will bring together a group of his very greatest paintings, showing the quality and range of his output as a painter of animals, of rural life, and portraits. Long admired for his paintings of horses, Stubbs's art reflects an age of innovation and change in British culture. The selection will draw attention to his treatment of 'exotic' animals, imported from abroad, his precise approach to portraiture, his technical daring, and his enduring images of the British countryside.
The display comprises of around thirty works, drawn from the exceptional collections of the Tate and the National Museums Liverpool, with further, important loans from a number of public and private collections. The Tate and the National Museums Liverpool are the two greatest British collections of this artist's work, and the display has been made possible by the a close collaboration between these two institutions, and the Frick Collection, New York, where the show travels in 2007.
This display is showing at the Walker Art Gallery, National Museums Liverpool, 7 April to 30 July 2006, prior to Tate Britain.