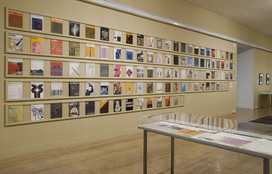 Peter Townsend edited Studio International magazine between 1965 and 1975. It was a time of social change, the Vietnam War and the moon landing. New art practices emerged to challenge the status quo and critique hierarchies of power within the art world.
Founded as The Studio in 1893, the magazine had a tradition of innovation and dissent. Townsend sought to revive its radical origins, maintain its legacy and embrace international art discourses.
Peter Townsend's initial innovations included commissioning young art historians emerging from the Courtauld Institute of Art as assistants and writers, and he helped launch the careers of generations of artists and writers. His editorial genius was in fostering diversity of practice among both emerging and established artists. The commissioned artists' covers grew out of discussing new ways to show work directly to a wide audience. Artists saw a commission to design the cover as an honour, despite being unpaid, some even considering it as more prestigious than a solo exhibition.
Townsend was regarded as the centre of the English art world. Artists and critics passing by the magazine's headquarters on Museum Street in London would drop in for a drink at nearby pubs The Plough or the Museum Tavern, which were seen as extensions of the office.
This display presents a selection of archival material from the ten-year period of Townsend's editorship, demonstrating the breadth of editorial policy.
– Jo Melvin, Senior Lecturer, Chelsea College of Art & Design, and curator of the display