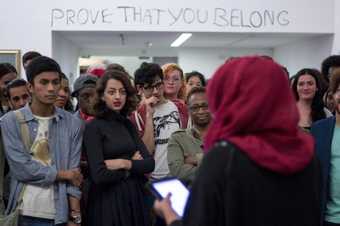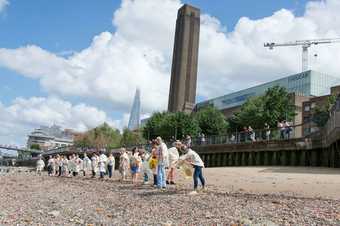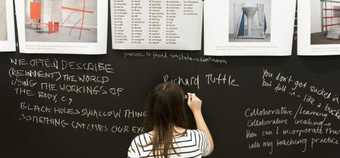 Digging up the past: The politics of the archive
We are delighted to announce that this year's Summer School will be led by artist Barby Asante and curator Teresa Cisneros.
Asante and Cisneros work collectively as part of Agency for Agency, a new London based contemporary arts agency focusing on the cross section between art, culture, politics and identity. Both have many years' experience of working on the creation and production of contemporary art projects, and as educators working with adults, children and young people in a variety of settings including schools, colleges, youth and community centres, galleries, museums, libraries, archives and streets.
Drawing on their shared interest in interrogating the known order of art and artistic practice, and ideas of subjectivity and the archive as a site for artistic intervention, this Summer School will explore questions of how stories are told through contemporary art.  The focus will be on the interventions artists make to tell stories that are not part of the cultural understanding of what is considered art. Five questions will underpin the activities of the workshop:
How can you rewrite a dominant narrative through art making?
How can we place ourselves and others at the centre of collective thinking / making / sharing / learning?
How does the personal and political inform the making of art?
How can the places we're from or the places we live stimulate and inspire our making?
Can we reflect on, redefine and remix the archive?
During the week long course, the invitation will be to explore some of the galleries and collections in Tate Modern and Tate Britain through making and questioning. You will investigate the possibility of archive and collective action by exploring a variety of art practices, curatorial engagements and creating a personal archival tool box. 
You will also be able to consider your role in the classroom and alternative learning settings as arts practitioners, and how your personal experiences and relationship to art and art practice can be something that can inform the creative experience of the groups you work with.  Barby and Teresa will be inviting some of their collaborators to join them in the presentation of this Summer School.  
About Summer School
The course felt like being at art school again, it was energising and refreshing. It reminded me of what I wanted to bring to secondary education when I first started teaching.
Summer School participant 2014
Summer School is framed by an artist's practice where it intersects with teaching and connects to Tate's collection and exhibitions. Each year the course programme explores the possibilities for using Tate as an exceptional resource for teachers. You are invited to contribute to an evolving conversation around new approaches to teaching and learning in the classroom.
Summer School attracts an exciting group of teachers and artists from around the world to create a dynamic and memorable learning experience.
We greatly value the opportunity to work with a diverse group of colleagues at Tate Summer School, including those visiting internationally. Conversation and discussion play an integral role in all Tate courses and so to ensure your enjoyment and maximise your experience it is essential that you are able to use and understand English well. Please do get in touch if you have any queries regarding this.

Biographies
Barby Asante
Barby Asante is an artist, curator, educator, workshop leader and lecturer on socially engaged and participatory art. Asante's own dialogic practice explores subjects including place, identity, representation and the cultural and social significance of these intersections in the formation of so called multicultural societies. She has worked both nationally and internationally, with recent exhibitions and projects including: Baldwin's Nigger R E L O A D E D, Iniva, (2014); To Gypsyland (with Delaine le Bas), 198 Contemporary Arts & Learning, London, Tramway, Glasgow, Bolton Museum and Art Gallery, Bolton and Metal, Peterborough, (2013-2014), Noise Summit, South London Gallery, Pelican and Wyndham & Comber estates, London, (2013-2014); The South London Black Music Archive, Peckham Platform and Tate Modern, London, (2012) and Anchor and Magnet, an ongoing project based in Brixton at this time of massive regeneration. She is an Associate Lecturer at Wimbledon and Central Saint Martins Colleges of Art and Co- Director of a new cultural start-up Agency for Agency.

Teresa Cisneros
Teresa Cisneros has worked in contemporary visual arts for over 15 years with people of all ages through formal and informal education settings and in gallery spaces.  She has worked both in the USA and UK utilising contemporary art to explore everyday politics and concerns. Through her work she collaborates with artists and non-artists to develop conversations exploring a variety of contemporary concerns. Most recently she was the Education Curator at Iniva for 8 years, where she established various learning programmes and arts initiatives supporting emerging visual artists.  She curated projects including: Becoming the Other (2014), On Borrowed Times (2014), A Place for Conversation (2014), Baldwin's Nigger R E L O A D E D (2014), and Occupied Spaces (2015). All projects were collaboratively developed with various artists. Teresa is currently Co-Director of a new cultural start-up Agency for Agency.