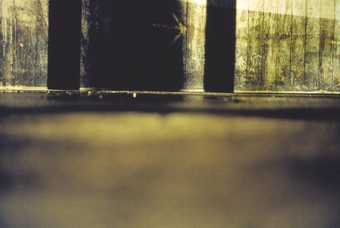 Richard Billingham was born in Birmingham in 1970. He studied fine art at the University of Sunderland where he began to take photographs as source material for his paintings. Gradually he dedicated himself exclusively to photography, winning the University's Prestige Photography Prize in 1994 and the Felix H Mann Memorial Prize in 1995. In 1994 he took part in his first group exhibition Who's Looking at the Family?, at the Barbican Art Gallery, London. His first solo exhibition was at the Anthony Reynolds Gallery in 1996. In 1997 he was awarded the first Citibank Private Bank Photography Prize. His work was included in the exhibitions Life/Live, at the Musée d'Art Moderne de la Ville de Paris (1996), Sensation, Royal Academy of Art, London (1997) and Wounds, Moderna Museet, Stockholm (1998). More recently he was included in Quotidiana, Castello di Rivoli, Turin (2000) and I am a Camera, Saatchi Gallery, London (2001). In the past year he has been given a major solo exhibition at the Ikon Gallery, Birmingham (2000), which then toured to various European venues.
Richard Billingham's work
Billingham works primarily in still photography, but has also made videos. He began by working in black and white, only later moving to colour, and for the most part leaving his photographs untitled. In 1996 a selection of his photographs of his working class family, for which he is best known, were collected in the book Ray's a Laugh. His video works include Fishtank 1998, a study of his father, commissioned by Artangel for BBC television and shown on BBC2 in December 1998, Liz Smoking 1998, Tony Smoking Backwards 1998, Ray in Bed 1999 and Playstation 1999.
Billingham's photographs of his family present a strikingly intimate view of life with his alcoholic father Ray and his mother Liz, his younger brother Jason, and numerous pets, in their high-rise flat. Billingham's work rests precariously between opportunistic family snapshot, journalistic document, and controlled work of art. The normal snapshot edits family history, focusing on happy memories and gatherings on special occasions. Yet underlying the optimistic narratives of the family album is another unspoken history and Billingham's inclusive approach to his family addresses this. Images such as that of Ray passed out drunk by the toilet break traditional taboos about which aspects of family life may be made public. In the photographs an atmosphere of extreme claustrophobia is established that appears to reflect the lives being led. This claustrophobia is emphasised by the extreme close-ups Billingham frequently uses. The photographs present an almost painfully candid picture of working class living and raise questions of social consciousness, class and wealth. Billingham has commented: 'I've been taking pictures of my close family in part as an attempt to comprehend myself and them more fully. Neither I nor they are shocked by the work's directness because we're all well enough acquainted with having to live with poverty. It is certainly not my intention to shock, offend, sentimentalise, be political or otherwise - only to make work that is as spiritually meaningful as I can make it, whatever the medium.'
In his most recent work Billingham has departed from his familial subject matter, turning instead to the British Midlands town, Cradley Heath, familiar to him from his chidhood. In sharp contrast to the family photographs these images are entirely unpopulated, evoking a sense of abandonment, and elaborately, even classically composed.