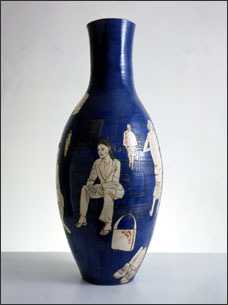 Grayson Perry was born in Chelmsford in 1960. He studied at Braintree College of Further Education and at Portsmouth Polytechnic.
Grayson Perry's work
In the early 1980s Perry was a member of the Neo-Naturist group, and took part in performance and film works. He has continued to make work in a variety of media which now includes embroidery and photography. Yet Perry is best known for his ceramic works: classically shaped vases covered with figures, patterns and text. The revealing and often dark subject matter depicted on these pots is at first disguised by their colourful, decorative appearance. His chosen topics include autobiographical images of himself, his transvestite alter ego Claire, and his family, as well as references to political events and an investigation of cultural stereotypes. Over the last five years Perry has also used embroidery and photography to explore these themes, for example Coming Out Dress 2000, a richly embroidered dress for Claire which Perry wore during a performance which merged his private female persona with his artwork.
Perry's subject matter sometimes comes from his upbringing in the Essex countryside, as depicted on the vase, I was an Angry Working Class Man 2001. This presents the recognisable iconography of motorbikes, pub signs and other images of manhood, topped off with the golden figure of an emasculated Pit Bull Terrier, mascot of the stereotypical Essex Man. He also engages directly with contemporary issues, for example in the vase We've Found the Body of your Child 2000, which deals with child abuse within the home. Perry simultaneously employs and subverts the craft form of ceramics. He revels in its second-class status within world of fine arts, in order to explore challenging, yet witty and thought provoking themes. As he says 'A lot of my work has always had a guerrilla tactic, a stealth tactic. I want to make something that lives with the eye as a beautiful piece of art, but on closer inspection, a polemic or an ideology will come out of it'.