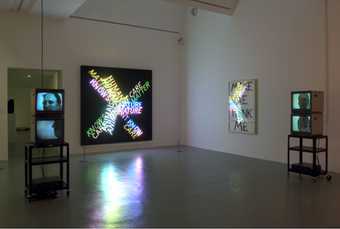 My work comes out of being frustrated about the human condition. And about how people refuse to understand other people. It's not that I think I can change that, but it's just such a frustrating part of human history.
American artist Bruce Nauman (born 1941) is regarded as one of the most important artists working today. His pioneering explorations of sculpture, performance, sound, video and environments have influenced artists internationally for over three decades. Focusing upon the artist's investigation into the human condition, Bruce Nauman: Make Me Think Me brings together a comprehensive selection of works from 1966-2005.
The first half of the exhibition looks at the artist's use of language through sculpture, sound, drawing, video and works in neon. Using multiple forms of wordplay – puns, palindromes, anagrams and repetition - Nauman questions the success and failure of one of the fundamental means of human interaction. Language is also used as a tool to control – we are invited to follow a series of instructions that direct our behaviour in the gallery.
The works in the second half of the exhibition look at the body and physical behaviour, starting with a series of films the artist made of himself performing mundane, yet demanding, actions in his studio, and continuing with several environments, entered by the audience, that dictate our movement and reactions. In Corridor Installation (Nick Wilder Installation), the audience navigates a series of corridors in which our movement is controlled and recorded on CCTV cameras, often with perplexing results.
The exhibition culminates with a selection of Nauman's animal and head casts, including two large scale hanging sculptures made from taxidermists' moulds. Also included is the recent Three Heads Fountain (Andrew, Juliet, Rinde) 2005 – a water fountain made from resin heads. These works represent some of Nauman's most powerful assessments of human nature to date.