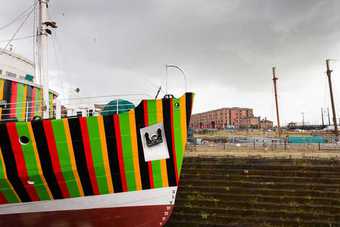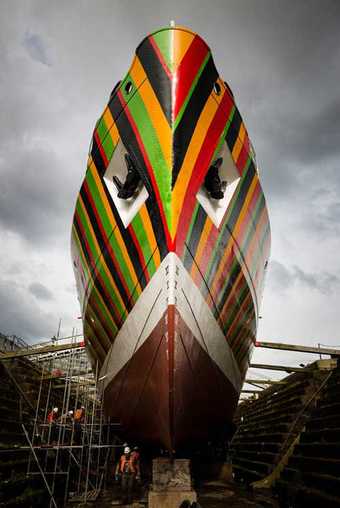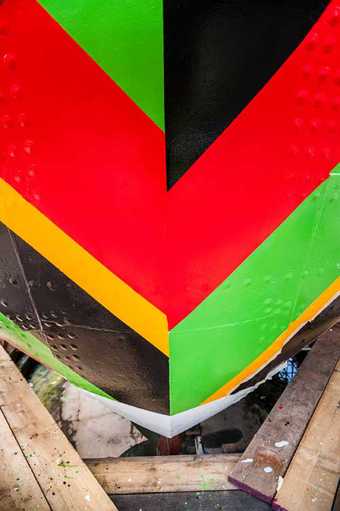 14-18 NOW, Liverpool Biennial and Tate Liverpool present a joint commission by Venezuelan artist Carlos Cruz-Diez. Cruz-Diez will paint a contemporary version of a 'dazzle ship' with 'dazzle' camouflage in partnership with Merseyside Maritime Museum. Edmund Gardner, a historic pilot ship owned and conserved by the Merseyside Martime Museum, is situated in the dry dock adjacent to Liverpool's Albert Dock will become a new public monument for the city.
Dazzle painting played a vital role in the protection of British naval and trade vessels during The First World War when it was introduced in late 1914 as a system for camouflaging ships. This dazzle camouflage was employed to optically distort the appearance of British ships in order to confuse the German submarines who were threatening to cut off Britain's trade and supplies. The optical illusion imposed by the 'dazzling' was intended to make the direction the ship was travelling in difficult for enemy submarines to identify. This would in turn lead to a difficulty in calculating an accurate angle of attack.
Dazzle camouflage was achieved by painting the ship in contrasting stripes and curves that broke up its shape. Characterised by garish colours and a sharp patchwork design of interlocking shapes, the spectacular dazzle style was heavily indebted to Cubism. The inventor of dazzle painting, Norman Wilkinson, employed techniques influenced by avant-garde British painters such as Wyndham Lewis and David Bomberg. The close relationship of dazzle technology to British art extended right through its manufacture. Each British pattern was unique, and many of the designs were created by women from the Royal Academy of Arts, London. Designs were tested on wooden models, viewed through a periscope in a studio in order to assess how they would work at sea. Artist Edward Wadsworth, who supervised the application of dazzle patterning to over 2,000 ships, later made a series of paintings on the subject.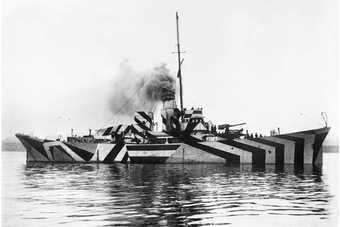 Although the practice of dazzle painting became obsolete following the invention of radar, dazzle remains a source of inspiration to artists today.
The ship will be accompanied by a display exploring the history of Dazzle Ships and the role of artists in the First World War.
In London, HMS President, which was formerly a Dazzle Ship during the First World War, will also be 'dazzled' by a contemporary artist.
Create your own 3D dazzle artwork with the free Dazzle It app
Digital Dazzle Resource
Use this free resource in and outside the classroom to find out more about dazzle camouflage and the role artists played in the First World War. It features a host of information and exciting interactive activities, covering subjects such as art, history, maths, geography, history, english and science.
http://www.biennial.com/dazzleferry-education
In association with the Merseyside Maritime Museum. Co-commissioned by 14-18NOW, Liverpool Biennial and Tate Liverpool.