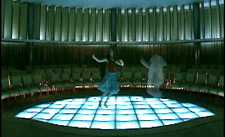 Liverpool Biennial is the UK's only recognised festival of contemporary visual art. Tate Liverpool is a major venue for International 04 – one of the four core programme strands – and is collaborating with the Biennial's exhibition team to realise new commissions by a wide range of international artists.
The character and culture of Liverpool is once again at the heart of the Biennial with the commissioning process emphasising research of the city as a context for the artworks.
International 04 partners are Tate Liverpool, Bluecoat Arts Centre, Foundation for Art and Creative Technology (FACT), Open Eye Gallery and Liverpool Biennial. The other programme strands are John Moores Exhibition of Contemporary Painting, Bloomberg New Contemporaries 2004 and Independents 04.