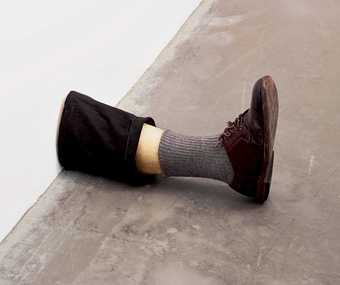 Mike Kelley, Los Angeles-based sculptor, performance and installation artist, is one of the most significant artists working today. Hard to categorise, Kelley has dissected the moral and cultural conventions and practices of contemporary society with deadpan humour in performances, installations, architectural models, paintings, drawings and music. The Uncanny is the first large-scale solo show devoted to the artist in the UK since his survey exhibition at the ICA, London in 1992. The exhibition is based on a project originally curated by Kelley more than a decade ago, which has been revised and updated for Tate Liverpool in close collaboration with the artist.
Sigmund Freud described the uncanny as 'a hidden, familiar thing that has undergone repression and then emerged from it'. In The Uncanny, Kelley explores memory, recollection, horror and anxiety through the juxtaposition of a highly personal collection of objects with realist figurative sculpture.
The central element of the exhibition consists of a substantial number of polychrome figurative sculptures that embody the feeling of the uncanny through their scale and use of colour, form and material. Kelley relates these to the idea of the 'double' – the disturbingly realistic representation of the human figure suspended between life and death. Non-art objects include a variety of historical and contemporary anatomical models, wax figures, animatronic puppets and mounted (stuffed) animals. This section is complemented by a large collection of black and white documentary photographs depicting figurative sculpture, including wax figures, Dada and Surrealist mannequins, film stills, newspaper clippings and cartoons, whose imagery and subject matter evoke the sense of the uncanny.
These works are complemented by the Harems: sixteen groups of object types accumulated by the artist throughout his lifetime, bringing together autobiographical elements with an investigation into the urge to collect and categorise, as a means of understanding but also controlling the world.
The exhibition at Tate Liverpool is an opportunity not only for the artist to recreate The Uncanny, but to update it, so that the exhibition itself becomes a work in progress.