Drop into Tate Exchange and share skills, ideas and stories in a pop-up SWOP SHOP, designed and built by students from the Birmingham School of Art.
Drawing on traditional notions of exchange, SWOP SHOP is not a platform where money changes hands, but rather objects, skills and ideas are swapped. The items that are in the "shop" will be objects, images, assemblages and zines made by students from Birmingham School of Art.
SWOP SHOP will exist initially over a four-day period at Tate Liverpool and the objects up for swapping can be viewed online. For the first two days, the shop will be open for browsing and on the Saturday 30 June you are invited to come in with objects to swap for one of the objects in the shop.
SWOP SHOP creates an approachable and interactive platform that demonstrates how artistic processes and debate can inform exchanges between people centring on value. It is an experimental project made and run by artists who have put time and effort into making things that reflect their practice and values. These objects have been specially created to engage with people and make us think about around the concept of value - personal, public and collective.
SWAPPING CRITERIA
If you would like to swap an object or skill in SWOP SHOP, the criteria for each exchange is that your object or skill has a personal, social or political value to you. It could refer to your heritage or the heritage of the region or city. All objects that are donated will go on to become artworks that are then exhibited again when SWOP SHOP pop's up at Selfridges Birmingham later this year.

Drop in to Tate Exchange from 10.00 till 18.00 or join us for an informal in-conversation with guest speakers from Birmingham City University each day. Please see below for times and themes that will be explored.
SCHEDULE
Thursday 28 June
14.00 onwards
This will involve a presentation of the SWOP SHOP project and the ideas behind some of the objects on display. The talk will cover areas of artistic practice that explores ideas around exchange.
Friday 29 June
15.00 onwards
Join us for a discussion on the Tate Exchange Year 2 theme of production which explores skills, knowledge, transformation, material & production.
Saturday 30 June and Sunday 1 July
16.00 onwards
Explore how art embraces the themes of borders, thresholds and collective identities citing works in the Tate Collections.
HOW TO SWAP
Bring in your item between 10.00 - 15.00 on Saturday 30 June. You will be asked a few informal questions and to identify the object you would like to swap it for. The only criteria we have for items that we can accept are the following:
It doesn't have to have any level of monetary value but the idea is that it has some value to you in some way, so for example it could be something that you wish to give away but somehow represents some significance to you.
Please do not swap anything of deep personal value that you would be unhappy to see modified in the future as the objects you donate for your swap will go to the students for them to make into an artwork.
Please do not bring in food, unsealed liquids or perishable items as these are prohibited within the gallery.
The outcome of your swap will be announced at 17.00 and the artwork will be presented in a box to take away.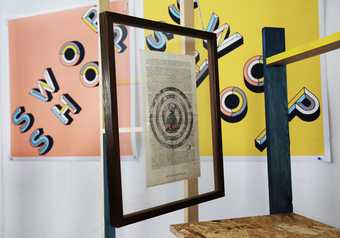 For more information on the pieces or to book places on the talks please contact Birmingham City University.
This project has been programmed by Birmingham City University, a Tate Exchange Associate, with support from Selfridges. SWOP SHOP will pop up again in September 2018 at Selfridges Birmingham.