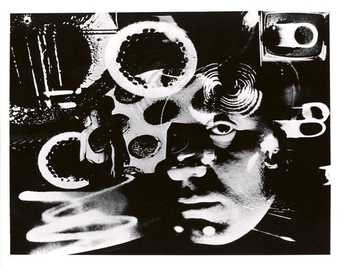 Aldo Tambellini (born 1930) was a pioneer of expanded media in the 1960s, and one of the first artists to use video and television as a medium. Specially conceived for the Tanks, Retracing Black draws upon his early work to create an immersive media environment.
Tambellini began to explore more participatory Electromedia work in 1963, fusing slide and film projections with music, dance, video, spoken word, performance, poetry and politics. Retracing Black reflects on his transition from paint to film to video to experimental performance, highlighting his fascination with circular shapes and blackness.
A triptych of hand-painted 16 mm films from the Black Film Series is featured along with unreleased works filmed by the artist in 1960s New York, while a series of projected 'lumagrams' – hand-painted glass slides – transforms cellular forms into a sculptural, kinetic installation. Electronic sound compositions are intertwined with the spoken words of Calvin C. Hernton, a poet and member of the Black Art Movement.
Television footage of 1960s political events and fragments filmed in working-class areas of Brooklyn and Manhattan reveals the transformation of New York City and its shattered political and economic system. Tambellini focuses on the merging of the private dimension of everyday life and the public dimension of television.
Tambellini's video works subvert the power of the television image, turning to the structure of the cathode emission itself. The study of light and real-time transmission are the key points of the Black Video series, resulting in an 'aerial painting' of throbbing and pulsating blinding flashes, caught in constant movement.
In 1967, Tambellini and Otto Piene established The Black Gate Theatre, a crucible for intermedia performances. Their collaborative work Black Gate Cologne was an Electromedia happening recorded in a Cologne television studio. Broadcast in January 1969, it was the first full-scale work of art for broadcast television.
There will be a screening of Tambellini's films in the Starr Auditorium on 13 October at 18.00 and a performance in The Tanks on 13 October at 21.00.
Curated by Pia Blognesi and Giulio Bursi with Stuart Comer
Assistant curator: Capucine Perrot 
Curatorial assistant: Laura Hensser
With thanks to Anna Salamone and Harvard Film Archive
Credits:
Curators
Pia Bolognesi and Giulio Bursi with Stuart Comer
Assistant Curator: Capucine Perrot
Curatorial Assistant: Laura Hensser
Production Management
Adam Hooper and Steve Wald
Production Team
Sam Barrett
Marty Langthorne
Nao Nagai
Rachel Shipp
Natalie Smith
Retracing Black 
Multimedia installation for three 16 mm projectors, five video monitors and three 35 mm slide carousels, b/w, sound, 22 min. 
Conceived by: Aldo Tambellini with Pia Bolognesi and Giulio Bursi
Editing: Gianandrea Sasso (La Camera Ottica/Crea)
16 mm 2k transfer: La Camera Ottica Film and Video Restoration
16 mm film recording: Marco Emiliani and Mirco Santi
16 mm print sources: Harvard Film Archive and Aldo Tambellini Archive
Slides duplication: Claudio Domini (Errata Corrige)
Sound digital transfer: Erik Taros (EatDesign)
Sound restoration, editing and mastering: Lorenzo Della Rovere (La Camera Ottica)
Produced by: Pia Bolognesi and Giulio Bursi
Part of the series The Tanks: Art in Action