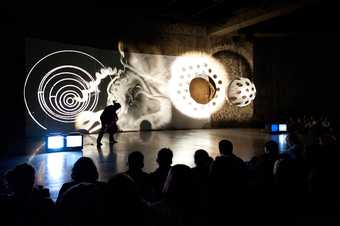 Responding to the subterranean darkness of the Tanks and the pioneering experiments in projection and action included in the Tanks' opening programme, this symposium examines how artists and filmmakers have critically occupied the spaces between light and darkness, image and action. The symposium highlights a new generation of scholars whose work explores expanded media and intersections between art, film and the live event.
The notion of performative projection, from phantasmagorias and shadow plays to expanded cinema and psychedelia, will be investigated through a collection of talks and discussions in the Starr Auditorium, with free screenings and performances in the Tanks highlighting a long tradition of work that animates our primal connection to the play of projected light and shadow. Reconsidering the obscure side of modernism, this symposium moves out of the white cube and into the darkness, the space of projection, and towards artists' efforts to intervene directly in the apparatus of cinema.
Symposium speakers include Lucy Reynolds, Lars Bang Larsen, Melissa Ragona, Duncan White, Gil Leung and Noam M. Elcott, with related performances by, Patrick Staff, Tina Keane, Kerry Tribe and Aura Satz happening in the Tanks across Friday 26 October and Saturday 27 October.
Symposium programme
14.00 Welcome and Introduction by Stuart Comer
14.10 Lucy Reynolds Free Agent: Filmaktion's Radical Spectatorship
14.35 Lars Bang Larsen Good Shit
15.00 Q&A chaired by Stuart Comer
15.30 Melissa Ragona Black Abstraction and White Noise: Discursive Sound Objects in the work of Aldo Tambellini, Hollis Frampton and Lis Rhodes
15.55 Duncan White Black and Light: Observation and Destruction in Post-War Artists' Film
16.20 Q&A chaired by Gil Leung
16.50 Tea and coffee will be served in the Starr Auditorium foyer
17.05 Welcome back to final session
17.10 Keynote: Noam M. Elcott In Praise of Darkness
17.55 Q&A chaired by Stuart Comer
18.25 Closing remarks
Related events