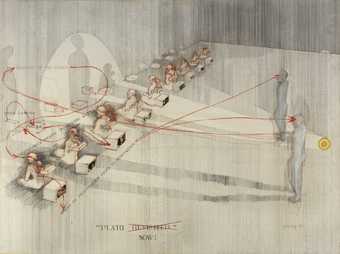 Juan Downey (1940–1993) was a Chilean artist working in New York whose innovations in video, sculpture and interactive performance encouraged reflection on perception and the self to generate a more complex multicultural discourse. Drawing together advances in technology with an interest in the rituals of his native Latin America, Downey engineered 'invisible architectures' to rethink connections between society, history, information and the environment. His groundbreaking 1973 video performance Plato Now will be restaged for the first time as a continuous performance for four days in the Tanks, leading up to Playing in the Shadows, a symposium and performance series on 26 and 27 October.
In 1969 Downey relocated to New York, where he became part of the community associated with the journal Radical Software and the Raindance collective, who were amongst the first artists to articulate the technical, theoretical and political potential of video. Purchasing a video camera in 1970, Downey exploited the possibilities of feedback to explore and expand space and time. Mirrors, light, shadow and the 'radiant nature' of electro-magnetic energy became key tools through which he began to navigate the 'dematerialized cities' of the information age.
Radical Software published a statement about Downey's 1973 video performance Plato Now, a work presented originally at the Everson Museum of Art in Syracuse, NY and restaged for the first time as part of the Tanks opening programme. The 1973 event consisted of nine participants (including the artist Bill Viola and the curator David Ross) meditating with their backs to the audience. A row of nine video monitors positioned between the meditators and the audience allowed spectators to view the faces of the performers on closed-circuit television while shadows of the public animated the wall behind. 
Those participating in meditation were provided with sensors to monitor the alpha waves generated by their brain activity. When a certain level of neuronal energy was achieved, the sensors triggered the transmission of pre-recorded quotations from Plato's Dialogues to headphones worn by each performer. This complex network of psychic trance, mediated gazes and silent communication reconsiders the allegory of Plato's cave for the Cybernetic age, challenging the hierarchies of the original parable. Downey's phantasmagoria of shadows and feedback, monitors and spectral projections reassesses our enslavement to sensorial experience, anticipating the complexities of global electronic communication in which the image, as one of the quotes from Plato states, 'is always a moving shadow of something else'.
With special thanks to Marilys Downey, David Ross and Pablo Leon de la Barra.
Plato Now is linked to the symposium Playing in the Shadows exploring the subterranean darkness of The Tanks and radical experiments in projection and performance.
Part of the series The Tanks: Art in Action